If you purchase an independently reviewed item through our site, we earn an affiliate commission. Read our affiliate disclosure.
With many beekeeping supply companies in the market, beekeepers have to be very careful about the equipment they buy. You want stuff that will last for long and work as advertised. The VIVO BEE-V002C 2 Frame Stainless Steel Manual Honey Extractor is made by a trusted beekeeping supply company with a number of products under their belt (including a range of honey extractors). The extractor is hand cranked and and can hold 2 frames at a time.
About the VIVO BEE-V002C 2 Frame Honey Extractor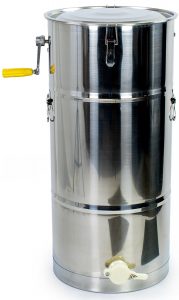 The VIVO BEE-V002C 2 Frame Stainless Steel Manual Honey Extractor is largely made of stainless steel. It is resistant to rust and clean for your honey. Stainless steel does not add flavors or odors to honey. The extractor is built to take frames of different sizes. It works well with large, medium and shallow frames, but can only hold two frames at most at a time.
The VIVO BEE-V002C Honey Extractor is manually powered via hand cranking. The crank works well and achieves a nice speed of rotation, though it is not very durable. The cranking does not overly tire you and with enough cranking, the extractor is able to easily remove all honey from honeycombs.
Cranking the honey extractor is easy with the grooved plastic handle of the crank. It fits nicely into your hand and provides excellent an grip. The crank system is also made soft to require minimum effort, though perhaps it is this softness that makes it not so durable. The tray holding frames inside the honey extractor spins easily and fast to make honey extraction a pleasant activity. The gears used in the extractor are made of steel. A sturdy clamp on the side of this extractor's drum fastens the lid securely onto the extractor.
Honey extraction using a hand cranked extractor can be tedious when you have to empty your extractor very frequently. However once you have set up the VIVO BEE-V002C Honey Extractor, you will not have to stop and drain honey from the extractor too often, as it has a drum height of 29 inches and a diameter of 13.5 inches, which is enough to hold a large amount of honey.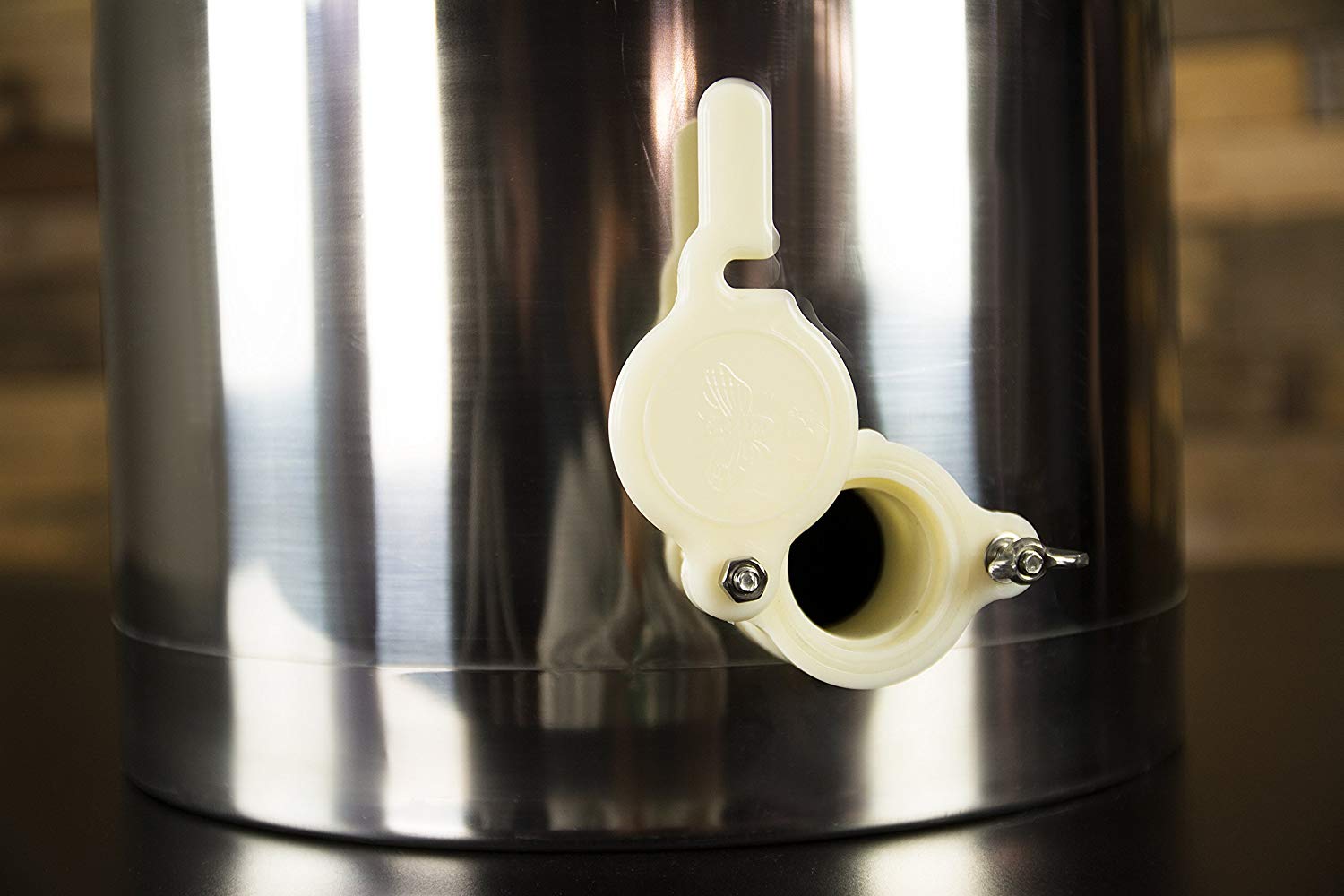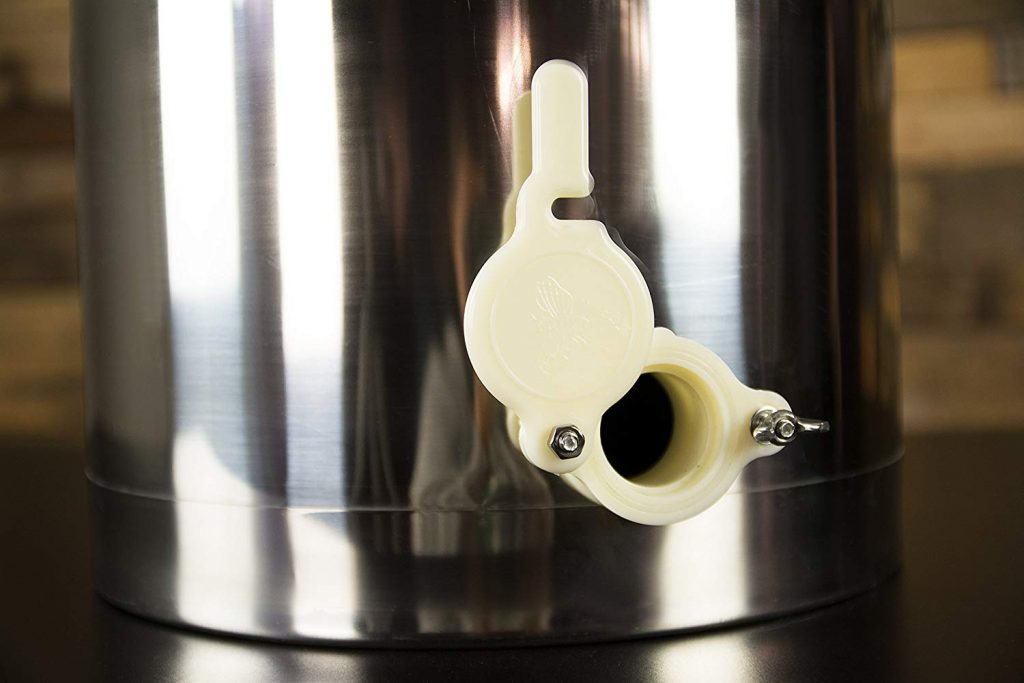 The extractor comes with a metal lid for covering it when you are extracting honey. Being made of metal, the lid is not transparent and you can't monitor progress while extracting. There are two handles on the side of the extractor make handling and moving it very easy and friendly. The extractor itself is light. Even with some honey in it, you will not have a tough time moving around with it.
Once you have extracted honey, letting it out is quite easy. The extractor has a 2-inch outlet with a stopper. The honey gate is easy to operate and lets out honey quickly. Once it is closed, the honey gate closes in a tight seal.
The VIVO BEE-V002C Honey Extractor is very easy to clean and wash. A long brush is all you need. Some clean water and soap also come in handy in cleaning. Before and after every use, make sure to clean your extractor. It is a major step towards meeting the levels of hygiene required in handling human food.
Check Price and Availability of the VIVO BEE-V002C 2 Frame Honey Extractor
Pros and Cons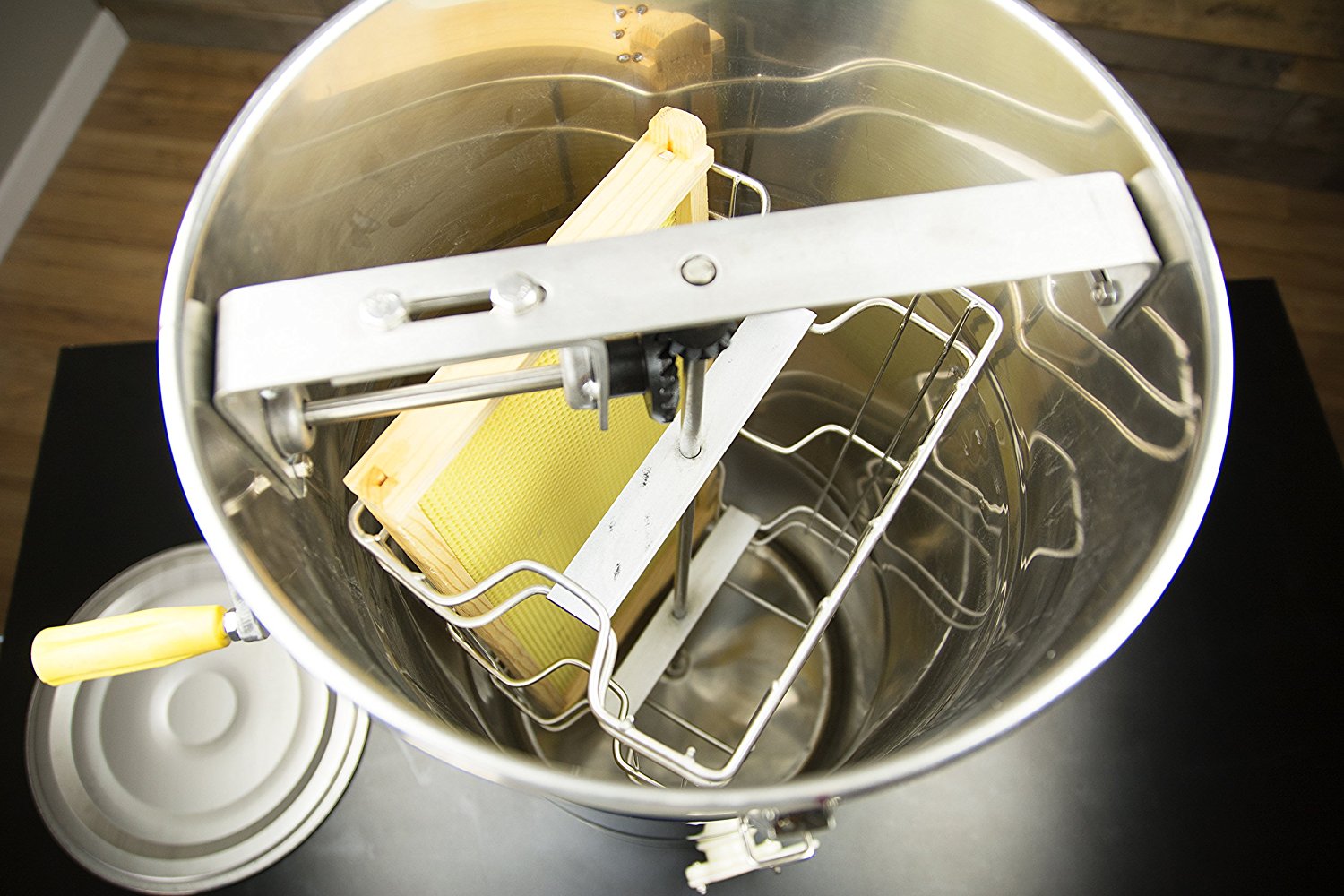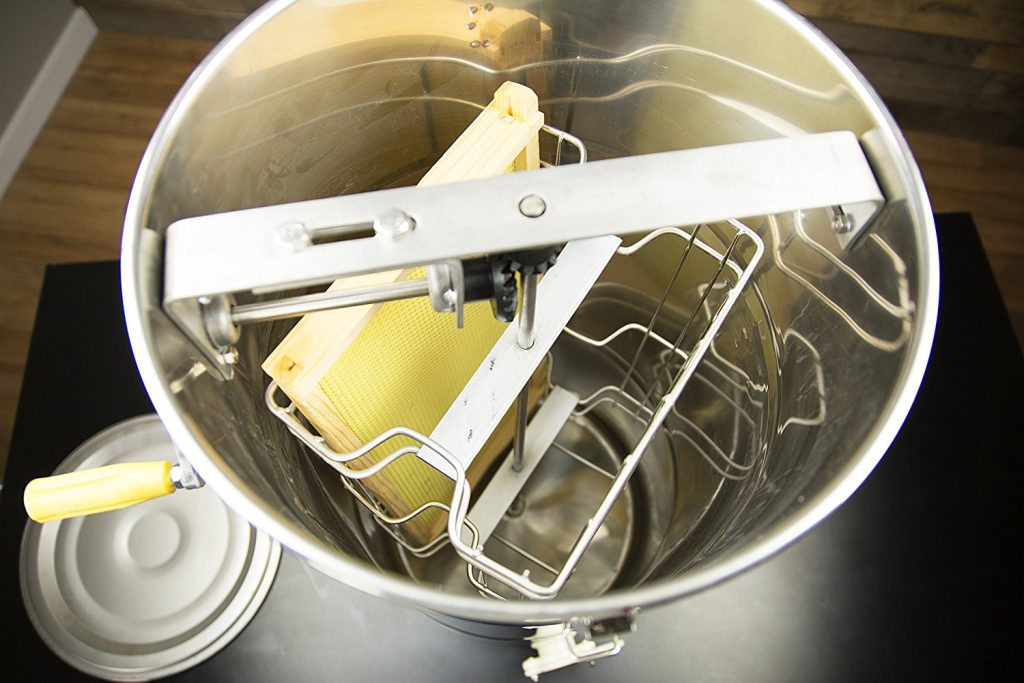 Pros
Its price makes it very suitable for beekeeping beginners and hobbyists. Beekeepers with a few hives to harvest honey from will appreciate most what this extractor offers.
You do not need to take apart the extractor all the time for cleaning purposes. All you need is a brush with a long handle, some soap and water.
The extractor is easy to figure out. Though VIVO should additionally consider adding an instructions manual to the package.
Cons
The metal top cover does not allow you to monitor progress while extracting as it is not transparent.
The handle is not very durable and may even break if you crank too hard.
Has no legs, so draining the honey into a bucket will prove difficult. You'll have to put the extractor on a raised table or stand with a bucket beneath it in order to get the honey out.
There is no instruction manual provided with this honey extractor. It may fluster amateur beekeepers and those who have not owned an extractor previously.
This honey extractor is not suitable for large scale beekeepers.
Further Thoughts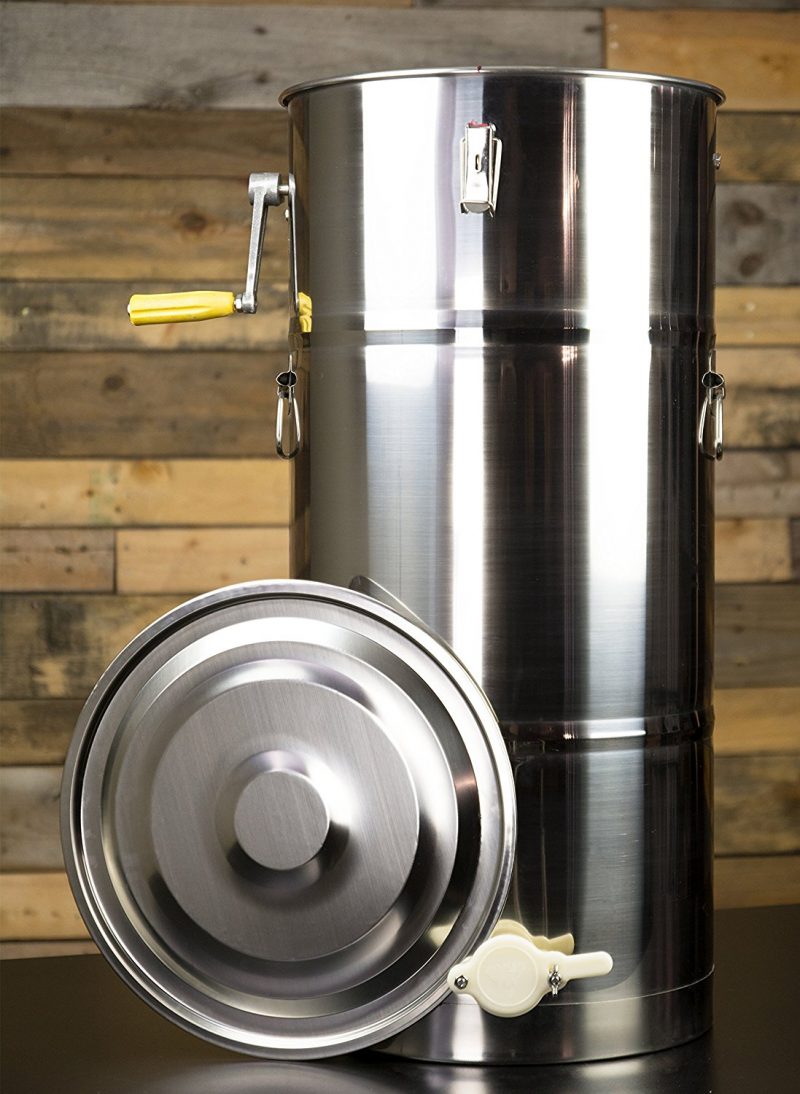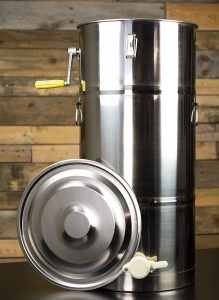 As with most extractors, the VIVO BEE-V002C Honey Extractor does not come with a filter or sieve inside it. The extracted honey may contain impurities that you want out. While pouring out honey from the extractor, you may apply a sieve or filter. Usually, this is easily done since you will be pouring out the honey into a bucket. Honey that may not immediately go through the sieve is allowed a few minutes to percolate through.
VIVO have made the VIVO BEE-V002C Honey Extractor without support legs. The extractor sits firmly on the floor or any other surface you place it on well. However I think this is quite an unprecedented, even strange move. On one hand, it eliminates possible weaknesses in support during extraction as some extractors tend to get wobbly. One the other hand, it makes getting the honey out of the extractor a bit more of a pain. You would need a table or raised surface to place the extractor on in order to get the honey into a bucket.
Conclusion
The VIVO BEE-V002C 2 Frame Stainless Steel Manual Honey Extractor is best suited for beginners look for an affordable and quick solution to their honey extracting needs. It has some glaring flaws and oversights but does a good job of extracting.
Since honey extraction is seasonal, be sure to store your the extractor properly. Clean it well after use and dry it out. Keep it in a safe place away from the weather. If you can manage to, you may dust-proof it. You may also adopt the practice of cleaning it all the time before and after use.
VIVO is dedicated to making it easy for beekeepers to produce honey. The beekeeping supplies company has invested in creative professionals who turn innovative ideas into solutions that are affordable. While the VIVO BEE-V002C Honey Extractor does a good job of its main function, it is not perfect. Nonetheless, for an affordable honey extraction solution, it's worth your consideration.
Have you ever used the VIVO BEE-V002C 2 Frame Manual Honey Extractor? Leave a comment below and let us know what your experience was like.
Check Price