If you purchase an independently reviewed item through our site, we earn an affiliate commission. Read our affiliate disclosure.
Quick Overview
The Natural Apiary Apiarist Beekeeping Suit is hand down a top class beekeeping suit.
Natural Apiary has been a popular brand among beekeepers for some time now. The company has invested heavily in the research and development of beekeeping equipment. Natural Apiary beekeeping supplies and clothing come in a wide variety. They are designed with both seasoned and beginner beekeepers in mind. Natural Apiary enjoys making beekeeping suits as much as you enjoy wearing them, so let's check out one of their latest – the Natural Apiary Apiarist Beekeeping Suit.
About the Natural Apiary Apiarist Beekeeping Suit
The Natural Apiary Apiarist Beekeeping Suit is a premium suit with a fencing veil. It is made of 35% polyester and 65% cotton. This blend of fabric is machine washable. This beekeeping suit is big on its ability to effectively keep bees out. The suit features very well-placed pockets and elastic-fitted forearms and ankles. Its strong YKK zippers complete the assembly and give the suit a touch of durability and ease while putting it on or taking it off. Furthermore, its veil is detachable.
Sizes


The Apiarist beekeeping suit is available in a wide selection of sizes. While making your purchase, you are able to choose the best size for you, whether you are small-bodied or more comfortable in the XXL sizes. Available sizes are XX-Small, X-Small, Small Medium, Medium, Large, X-Large, XX-Large, and XXX-Large.
While picking your suit, it is recommended that you go for one size larger than your usual clothes size. It allows you to wear something under the suit and not feel constricted while going about your duty. This is important for your ease of movement. The suit allows easy movement without opening up spots through which bees may reach your skin and sting you.
Colors


There are five color options to choose from in your purchase of this suit. They are White, Camouflage, Khaki, Pink, and Sand brown.
Beekeepers are very concerned about not being stung, friendliness to bees, and comfort in a suit. The Natural Apiary Apiarist beekeeping suit is able to achieve these criteria quite easily. However, one glaring shortcoming is the camouflage suit. Despite the macho image it may give you, it can stress out your bees. Light colors tend to aggravate bees less.
A few points:
It is recommended that you cause minimum stress to bees during hive inspection and honey harvesting.
If you are against the white colored suit, a good compromise is a sand brown suit. It is less harsh than the camouflage color while still giving you great comfort.
Though, it should be noted that the camouflage color option of the suit is not lacking a redeeming feature. It's the same suit with the same features, just in a different color. The zip on the camouflage version is outlined in white. The detailing is very fashionable and gives the suit a touch of modernity. Detailing in white is also seen on the zip around the shoulders, which matches well with the fencing veil.
Check Price, Size and Availability of the Natural Apiary Apiarist Beekeeping Suit
Pros and Cons
Pros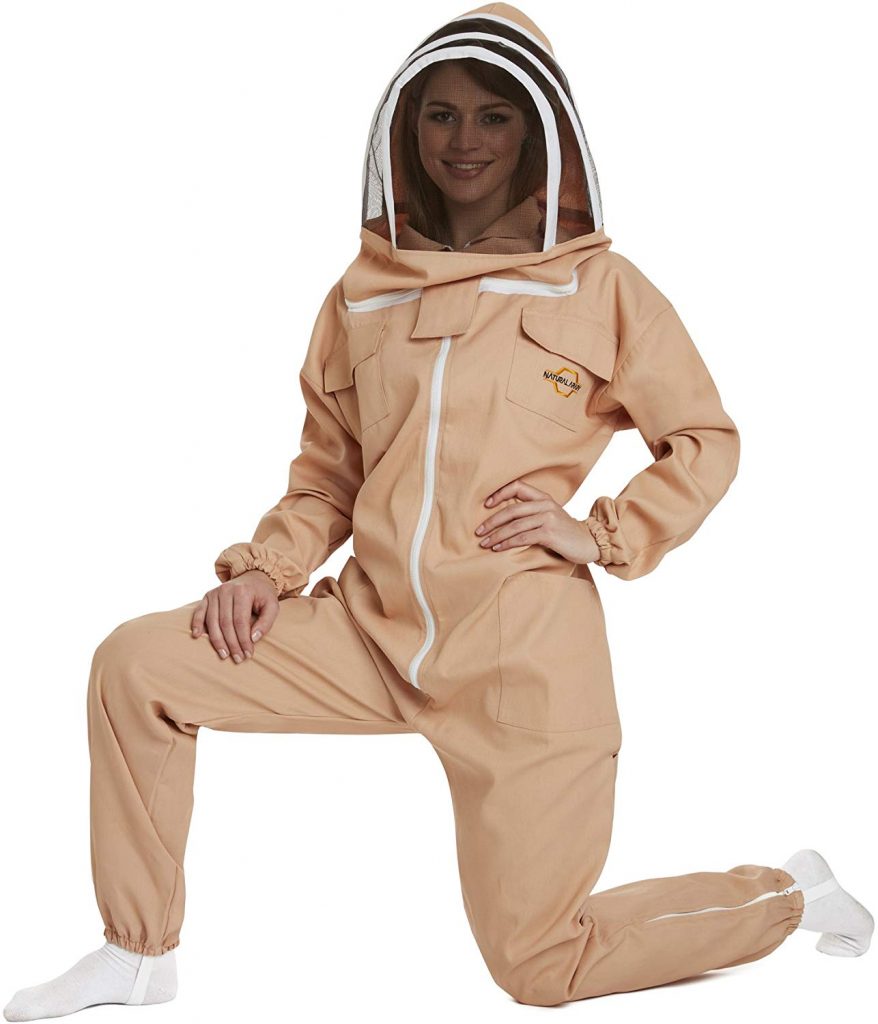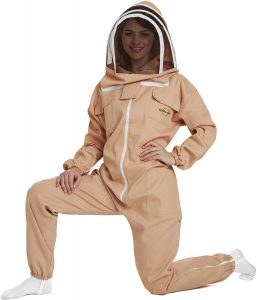 Long-lasting. The blend of fabric used on the suit makes it long-lasting and able to withstand numerous machine washes.
Both amateurs and professionals are invited to try this Natural Apiary beekeeping suit. The suit works great with pros at beekeeping as well as hobbyists and those taking their first steps in beekeeping.
Elastic on the wrists and ankles make the suit very comfortable. It fits nicely while covering wrists where bees may crawl through. The suit works well with most beekeeping gloves and footwear in the market.
The suit has well-shaped and placed pockets. The pockets are deep enough to take most hive tools. The suit also works with a tool belt if you fancy one. There are 4 pockets in total on the suit.
The suit is a ventilated suit. The suit is built with tiny ventilation holes through the fabric that allows air to enter the fabric excellently. Bee stings are not long enough to penetrate the thickness of the fabric. This is why the suit is so comfortable to wear.
Cons
Despite being an all-in-one suit, it does not come with gloves.
Further Thoughts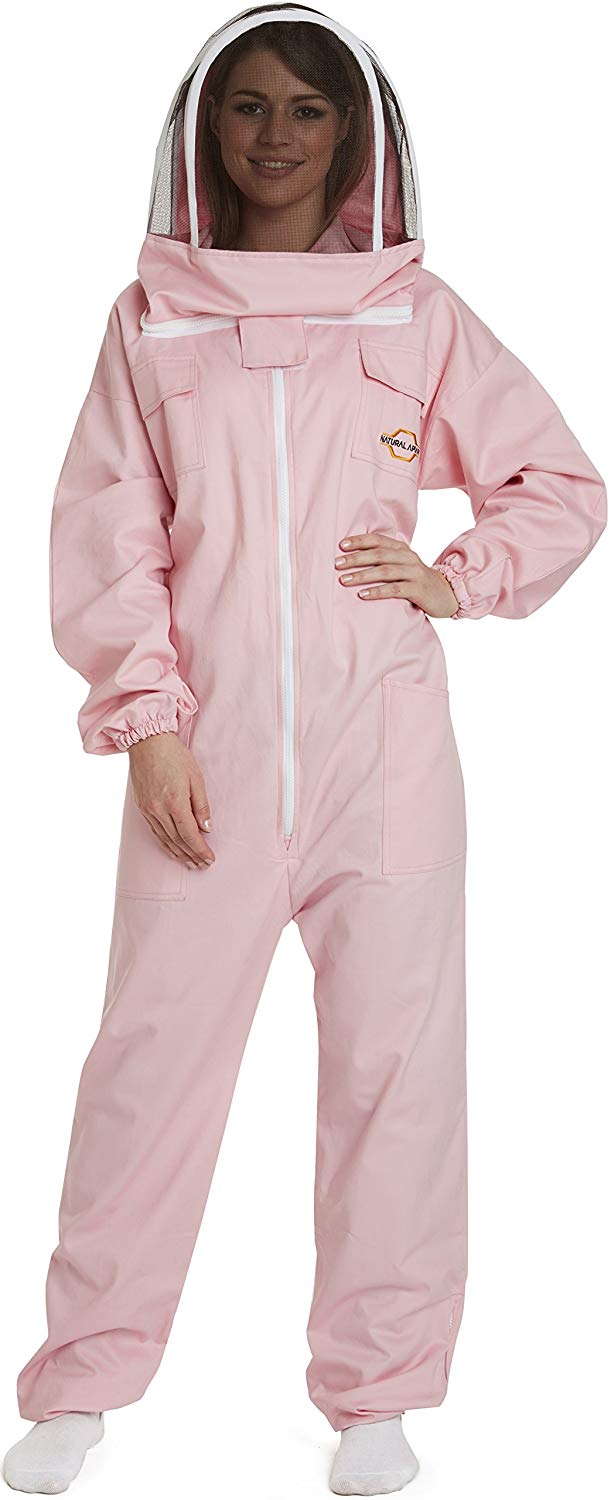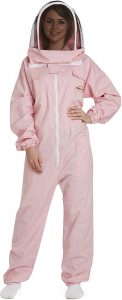 The Natural Apiary Apiarist beekeeping suit is all-in-one, that is, it goes all the way from your toes to your neck. It has nice attachments for the detachable fencing veil.
You may also use other veils if you fancy them.
Make sure that the zip type of accessory veils bought separately fits well with the one on the suit.
The fencing veil that comes with the suit is very nice and comfortable that you will not want another veil anyway. You do not want to risk damaging your suit in any way and losing out on the Natural Apiary guarantee on this beekeeping suit.
Four strong YKK used in the zip areas of the suit makes the suit very reliable. The zips are found down the front of the suit and at the neck shoulder area for veil attachment. The zip down the front is for getting in and out of the suit. It seals up well and does not allow bee stings through it. A zip down each outer line of the leg from the ankle to near the knee makes the suit easy to get into and out of.
Natural Apiary has so much faith in this beekeeping suit that they have a money-back guarantee on it. This guarantee is also a characteristic of other Natural Apiary products. You are assured that it is a quality suit that does what it claims to do. Natural Apiary is known for its commitment to its customers. The bees and their stings stay out and you have a comfortable suit that you'll enjoy being in.
Conclusion
The Natural Apiary Apiarist Beekeeping Suit is a highly recommended suit built with the needs of beekeepers in mind. The suit even has a key fob to cap its dedication to keeping everything secure. It is a good investment for those going into beekeeping as a long-term activity. The suit is quite durable and gives excellent value. It has met all quality standards for beekeeping suits.
Do you own the Natural Apiary Apiarist Beekeeping Suit? Leave a comment below and let us know what you think of it.
Check Price on Natural Apiary
Check Price on Amazon