The Honey Keeper Pro 2 Frame Stainless Steel Honey Extractor is made from stainless steel for ensuring its durability. It saves time and money while extracting honey. This extractor comes with a metallic lid that has two handles for carrying it easily. The inside bottom is shaped like a cone for draining honey into its two-inch outlet with a honey gate.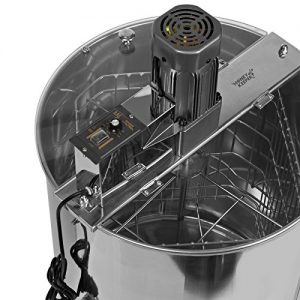 This honey extractor fits shallow, medium, and deep frames. I love its smooth stainless finish, however, it must be noted that only the drum is made of stainless steel. It came with a protective wrap which will necessitate removal. I like using this honey extractor because I finished the harvesting process within 45 minutes of starting. It is also quite affordable when compared to other extractors in the market.
I was pleased with the crack, gear, and handle as they are on top of the extractor. I also noticed that this extractor required a good scrubbing right after receiving it. It had some metal shavings and cutting oil, which while easy to clean, was disappointing considering that  it was a bran new extractor. It is also advisable to clean any item before use whether it looks dirty or not. Cleaning is relatively easy as it involves just removing the top most bolts and scrubbing. This extractor has a smooth and efficient operation that extracts all honey to the last drop. Keeping it clean after honey extraction is easy for me because it takes minimal time and effort.
The Honey Keeper Pro 2 Frame Stainless Steel Honey Extractor provides good value for money. At times, before purchasing this extractor, I was skeptical with its functionality, but it proved to work well beyond my expectations. It is well made and sturdy to withstand a long time of usage. I have used it several times, and the results are positive. I do not need instructions to install as the parts are easy to see where they fit. The manufacturer makes arrangement for warranty when purchasing this item. This extractor weighs close to 50kg.
Check Price and Availability of the Honey Keeper 2 Frame Honey Extractor over at Amazon.com.
Pros and Cons
Pros
It has two handles for making it easy to carry.
It is easy to clean.
The pro two frame honey extractor is relatively affordable in the market.
Cons
Only the drum is made of stainless steel construction.