If you purchase an independently reviewed item through our site, we earn an affiliate commission. Read our affiliate disclosure.
Right off the bat, the Honey Keeper Pro 2 Frame Stainless Steel Honey Extractor is one of the most affordable you can find on the market. That affordability comes at a great cost however, at the expense of its durability and longevity.
This extractor comes with a metallic lid that has two handles for carrying it around easily. The inside bottom is shaped like a cone for draining honey into its 2-inch outlet via the honey gate. The extractor fits shallow, medium, and deep frames. I liked its smooth stainless finish, however, it must be noted that only the drum is made of stainless steel. It came with a protective wrap which you will need to remove.
As mentioned, it is quite affordable when compared to other extractors in the market, but not quite as durable and long lasting. I noticed that the extractor required a good scrubbing right after receiving it. It had some metal shavings and cutting oil splashed about, which while easy to clean, was disappointing considering that it was a brand new extractor. It is also advisable to clean any extractor before use whether it looks dirty or not. Thankfully, cleaning is relatively easy as it involves just removing the top most bolts and scrubbing.
About the Honey Keeper Pro 2 Frame Stainless Steel Honey Extractor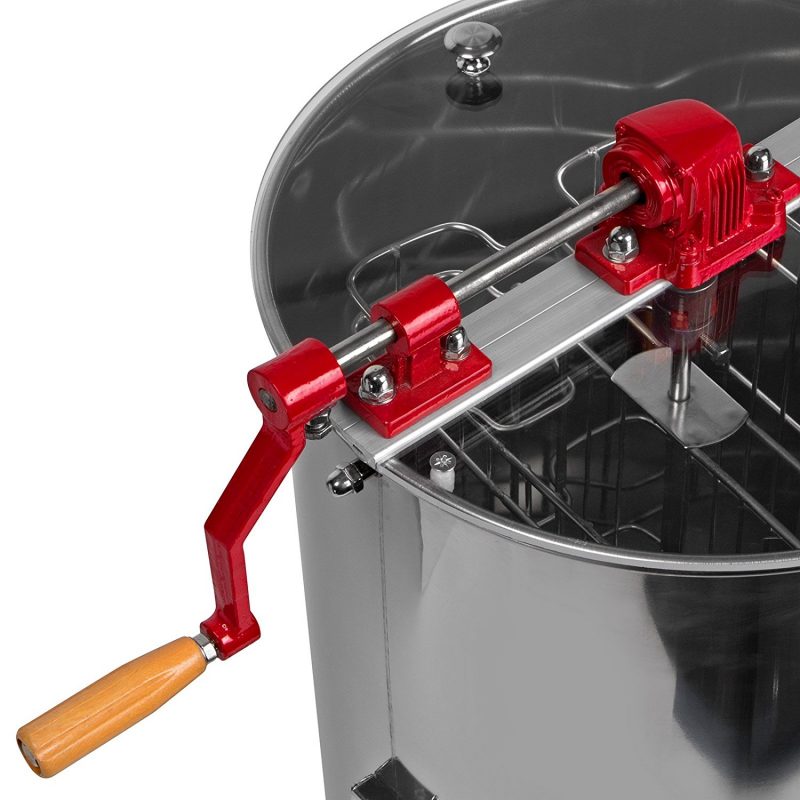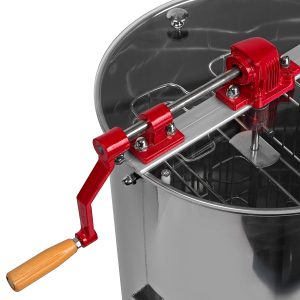 Honey Keeper is a brand name that is not alien to any beekeeper who has been around for a while. They offer a wide selection of beekeeping equipment including honey extractors. The Honey Keeper Pro 2 Frame Honey Extractor is unfortunately not their best offering. Let's check out the features that it offers at a glance:
Made using rust-proof heavy duty stainless steel material.
Manually operated honey extractor.
Serves well the beekeeper that has as little as 1 hive and as much as 10 hives.
Capable of spinning 2 standard deep, shallow, and medium frames.
Comes with stainless steel stands or legs that can be bolted to the floor. The legs are also removable when you want to use it on top of a table.
Can create space of up to 15 inches underneath that will fit a 5-gallon bucket for collecting the honey.
The clear plastic lids make it easy for the user to monitor the honey extraction.
Sealed bearings in addition to steel gears make the spinning process effortless.
It is easy to put together the entire unit.
One of the easiest to clean. All needed is warm water and soap.
The unit has dimensions of 42 inches high x 23 inches in width.
It weighs 26.4 pounds.
Check Price and Availability of the Honey Keeper 2 Frame Honey Extractor
Pros and Cons
Pros
It has two handles for making it easy to carry.
It is easy to clean.
Food safe and resistant to rust.
Easy to assemble.
Capable of fitting a 5-gallon bucket underneath it.
It can be used on table top as well. All you need to do is remove the legs.
You can monitor the extraction process easily thanks to the clear plastic lids.
Does not demand electric power in order to operate.
Cons
Only the drum is made of stainless steel construction.
Poor durability – there are many reports of the crank breaking during operation, among other manufacturing issues.
Below standard customer service.
Further Thoughts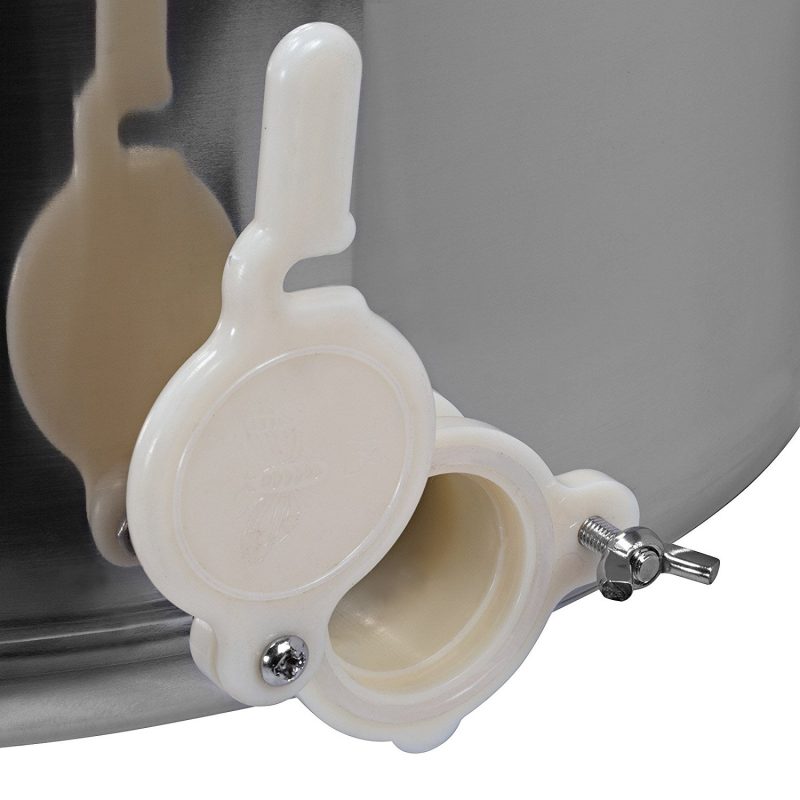 Manual honey extractors have become so much popular among beekeepers. In fact, it is not surprising to find a commercial beekeeper that has one or two manually-operated honey extractors. These units do not use electricity and therefore allows the beekeeper to extract the honey even when there is no power. I liked the removable leg stands that come with the Honey Keeper Pro 2 frame extractor. You can also attach the stands to the ground by bolting which is a plus for the beekeeper. This unit is also capable of accommodating a 5-gallon bucket beneath it so as to make it easy for the user to collect the honey. Its gearbox is strong and will withstand extreme pressure. It is also easy to assemble and works seamlessly. The unit is also easy to clean and does not leave hone residues on walls.
Conclusion
The Honey Keeper Pro 2-Frame Honey Extractor will serve you in all areas including remote areas where there is no electric power. It is built of stainless steel which is food safe, rust-resistant and durable. There are some users that like it since it can be use either on the ground or on top of a table. You will also find it easy to carry the extractor around since it weighs only 26.4 pounds.
However, if you have been shopping around for an excellent quality, well-built, and durable, all-rounded unit, then look elsewhere. The Honey Keeper Pro 2 Frame Honey Extractor is overall a disappointing unit. You get what you pay for and it is better to invest in another extractor that will provide you better value for money. I found the Honey Keeper 4 Frame Manual Honey Extractor to be a much better offering, so be sure to check that out.
Have you ever used the Honey Keeper Pro 2 Frame Honey Extractor? Leave a comment below and let us know what your experience was like.
Check Price