If you purchase an independently reviewed item through our site, we earn an affiliate commission. Read our affiliate disclosure.
Beekeeping can be an enjoyable hobby but it comes with its share of challenges, more so, when your operations expand. Your one beehive that initially required a little work easily demands more once your hives are more than you can handle. Fortunately, beehive lifting equipment and carts grant some leverage at this point of your operation. These ingeniously designed technological advancements help eliminate the heavy work required while working at the apiary. The thoughtful and tested gadgets help avoid back pain and allow the beekeeper to work more efficiently without straining.
Some of the beekeeping equipment that requires some muscle to move around include beehives, loaded honey supers (50+ pounds), supplement feed buckets, honey pails, hive stand blocks and other beekeeping equipment. Winter is particularly the time of the year when you might be forced to carry the hives in and out of the apiary. Furthermore, the peak honey seasons for huge operations prove to be the most challenging. Ferrying tonnes of full supers is a task that will require some special equipment. As such, in this article, we'll discuss the best beehive lifting equipment and carts that do a great job at the task.
Purpose of a Beehive Cart
Beehive lifting equipment and carts as the name implies, not only help transport hives but are essential for transporting other beekeeping equipment and tools. Below are some of the purposes of a beehive cart:
It eliminates heavy manual work and will save your back from occasional pain experienced by too much physical work. It is a form of leverage that can make your work much easier especially if you are a solo beekeeper.
For safe transportation or movement of delicate beekeeping equipment and tools. Heavy honey supers, beehives, and other hive components are delicate and require utmost care while transporting. The carts and beehive lifting equipment make it possible to ferry these without damage. The carts and equipment are fitted with straps that secure the items in place and prevent them from sliding off while in transit. You won't want to drop heavily filled supers on the way, and neither would you want to damage the newly assembled hive before being installed at the apiary. These hive equipment do not come cheap and hence the need to transport them safely to the desired destination.
Time and money saving – carts and beehive lifting equipment will save you time and money since it makes your work easier and boosts your efficiency. It will take a lesser time to carry equipment that would have wasted an entire day. You will also do your work alone instead of hiring someone to help out when in need of an extra hand during transportation. This will save you time and money.
Best Beehive Lifting Equipment and Carts
If you are considering procuring a practical beehive lifting equipment or cart, then below are the best ones to check out.

1. Apilift Beehive Lifter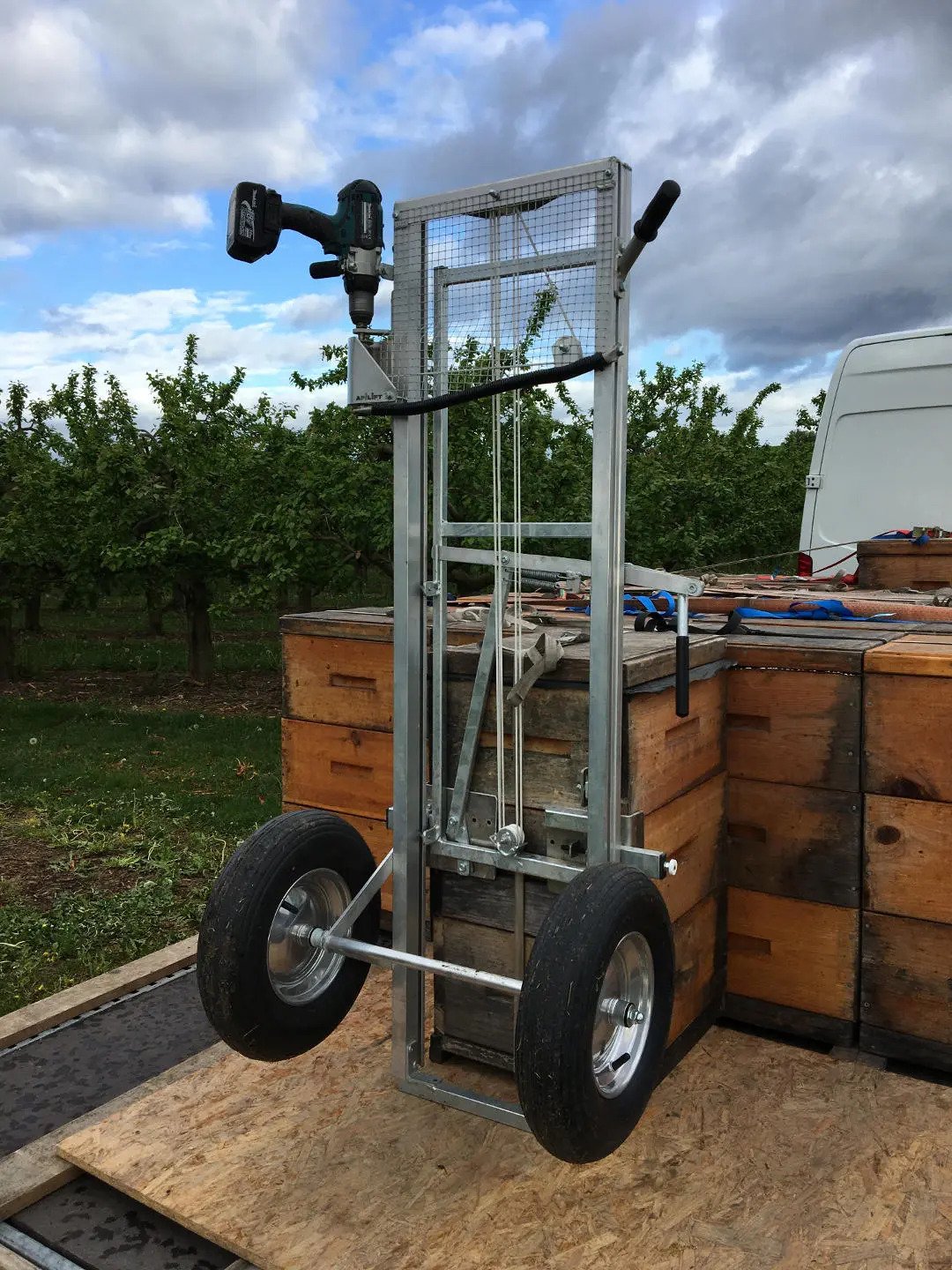 This beehive lifter with modern design features is made with the beekeeper in mind. It is an all-season cart that aims at easing your workload especially if you are a solo beekeeper. You can use the cart while collecting and transporting beehives and other essential beekeeping equipment and tools.
The cart will also address your transport needs asides from loading beehives. It is well-made and sturdy with the capability of transporting a maximum weight of 130kg. Its design also allows the beekeeper to lift for a maximum of 1.4 meters. Additionally, the cart is fitted with a clamping device of between 340 to 1100 mm fit making it possible to secure the goods firmly in place during haulage.
This is a brand-designed beehive cart that is delivered in original packaging with its country of manufacture being Poland. The cart is ideal for all beekeepers irrespective of the size of their operation. Most beekeepers that are elderly or those impaired by health issues such as arthritis in the fingers for some reason will benefit from this invention. It is easy to set up, operate, and fold the device.
Pros
Easy to assemble.
Easy to handle.
Ease to collapse.
A practical solution to heavy lifting.
Affordable.
Well-made and sturdy.
Provides maximum mechanical advantage.
Durable.
Can also be used to ferry other luggage when the need arises.
Good elevation of the easy lifting of goods.
Cons
View Manufacturer's Website
Check Price on eBay
2. Magline HMK15AUA4 Heavy Duty Aluminum Hand Truck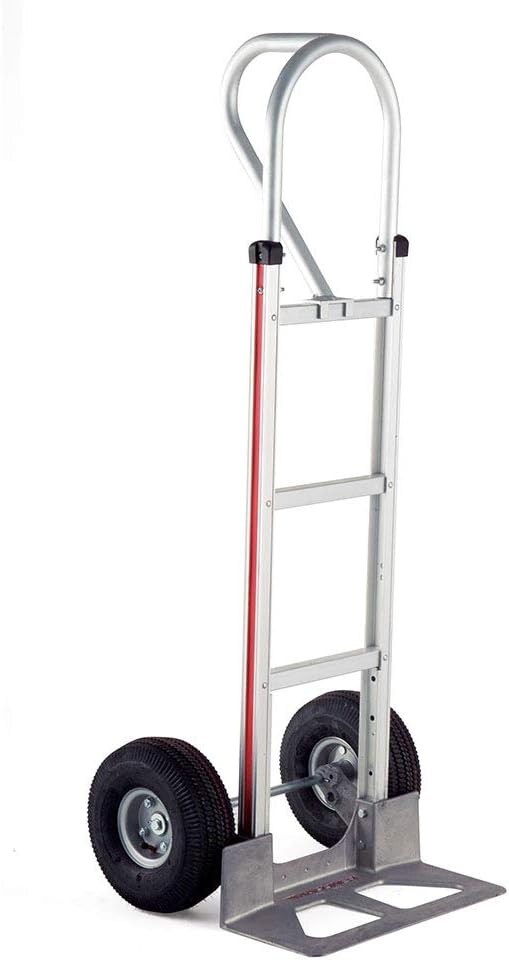 This heavy-duty aluminium hand truck with its 10-inch wheels, vertical handle, and a load capacity of 500 pounds will come in handy when the need arises to move tools and equipment within the apiary. The two-wheeler truck is 52.25 inches high affording the beekeeper some ease when it comes to loading the goods into the truck. It is also 17.5 inches wide to accommodate as much load as possible.
The beehive lifting truck is designed for both small and large jobs. It is fitted with semi-precision wheels that eliminate friction and supports heavy loads. The two handles are also comfortable to hold and its steel frame is sturdy enough to sustain the heavy weight. This truck is also rust-resistant and much lighter since it is made of aluminium. The heavy-duty truck is highly versatile and will meet the needs of a wide variety of commercial and residential operations.
You can transport heavy or bulky items using this two-wheeler without breaking a sweat. Its design is intuitive and the mode of use is a no-brainer. With its handles at the top, two wheels underneath, and a platform for placing the load, you can load it and get moving. Its design eliminates physical strain, injury, and stress.
Pros
Excellent design for easy assembly.
Easy to operate.
Ideal for a wide variety of uses including commercial and residential use.
Resistant to rust.
Lightweight.
Heavy duty supporting heavy loads.
Convenient and safe to use.
Comfortable to handle.
Durable.
Cons
Check Price
3. Solejazz Folding Hand Truck Dolly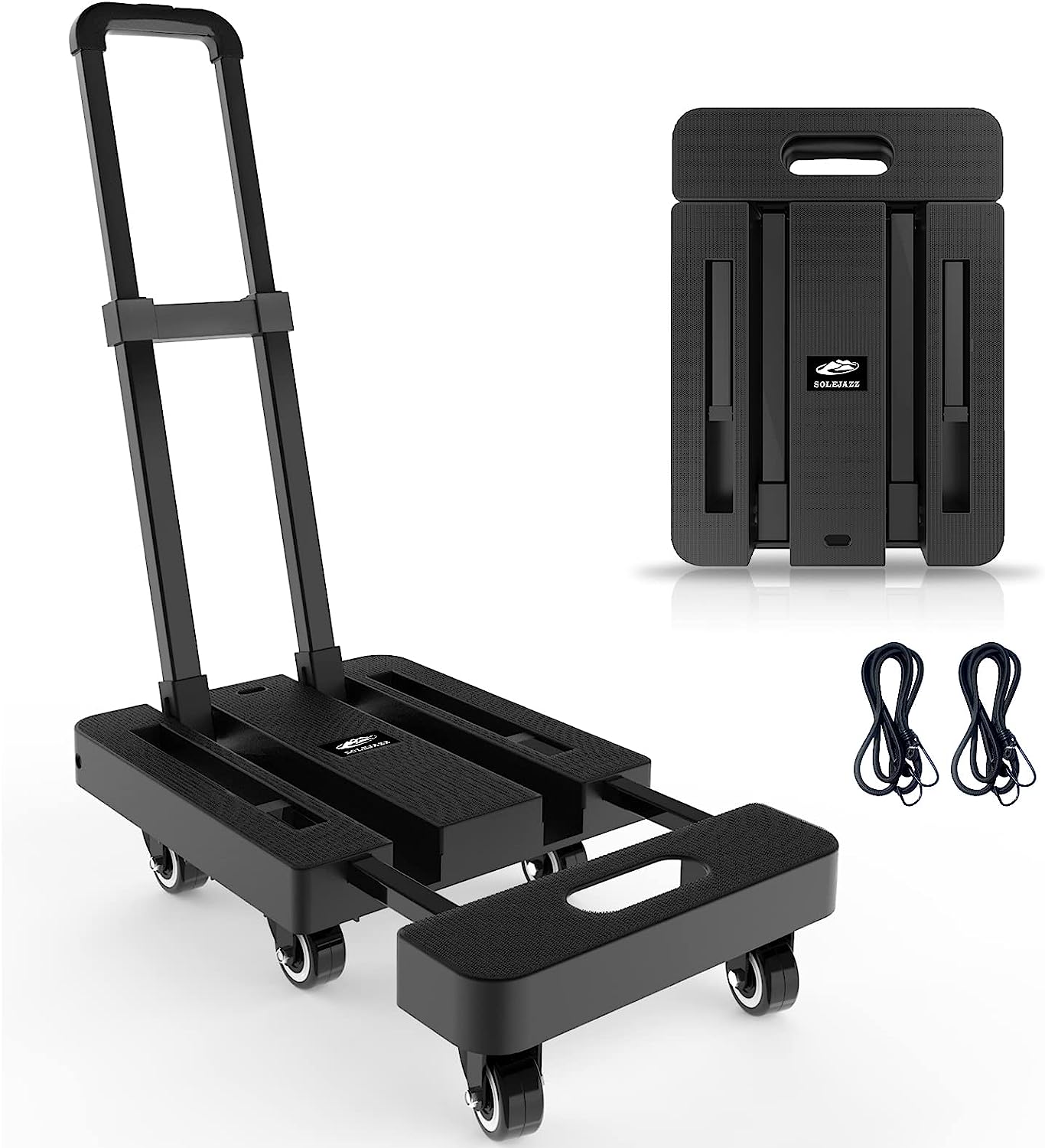 Hand trucks are popular across a number of industries and beekeeping is no exception. These handy gadgets are designed to ease heavy weightlifting and transportation in any operation. The Solejazz hand truck is a portable dolly that is designed to hold loads of up to 500 lb. It is a 6-wheeler truck with 2 bungee cords for securing loads.
Convenience and ease of use are two words that best define this handy truck. First off, a 3-level adjustable handle is designed to meet the needs of different heights. The top button does the magic and will save effort while ferrying any load. Secondly, an adjustable base plate makes it possible to extend or reduce the available space in order to accommodate the goods. Finally, all six wheels are fitted with ball bearings to provide a stable and smooth ride no matter the terrain.
The Solejazz hand truck is portable and multifunctional. It takes a few seconds to fold and unfold the truck and will fit into your car with ease. It is ideal for moving all manner of cargo whether gardening, beekeeping, office use, warehousing, business travel, moving house, or any other use.
Pros
Portability and multi-functionality.
Ease of use.
More stability.
Adjustable base plate and handles.
Affordable.
Good quality.
Durable.
Heavy duty and sturdy.
Accommodative.
Lightweight to carry.
Easy to store.
Opens and closes easily.
Cons
Instructions to install wheels are not clear.
Check Price
4. Vestil A-LIFT-R Fixed Straddle Hand Winch Lift Truck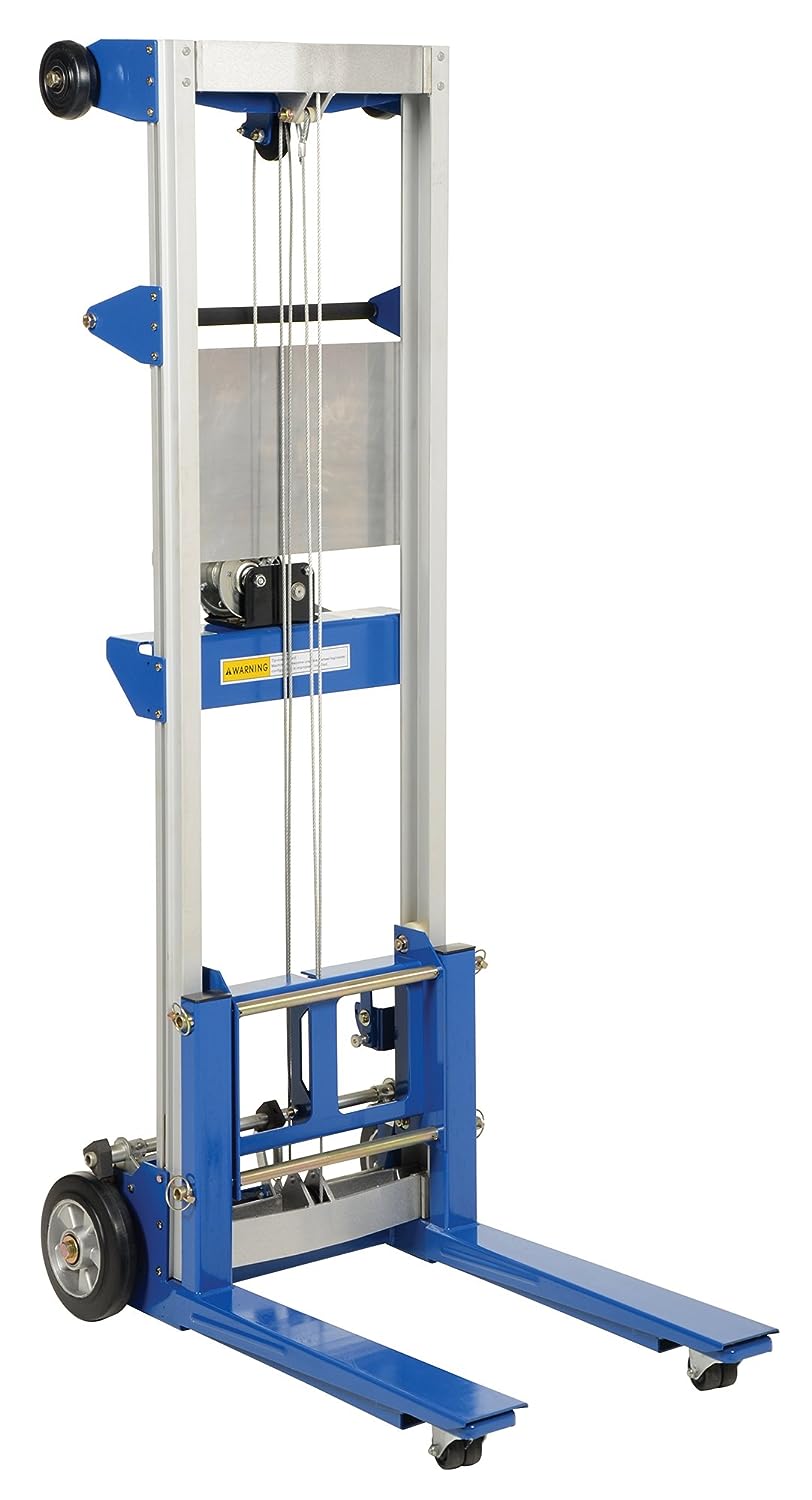 Measuring 35 inches in length, 25 inches in width, a height of 67-1/2 inches and with the capability of supporting 500 lbs is this winch lift truck designed for a wide variety of applications. The aluminium alloy steel truck is designed to make your work hassle-free especially when ferrying heavy loads such as full honey supers. You can also use it to carry heavy beehives and other beekeeping equipment.
This hand-winch truck is designed for not only ease of use but also for portability. It comes with a counterbalance feature that helps keep the load stable and prevents it from toppling over. Available also is a manual cable winch that can be used for raising and lowering forks. You will also find the hold-down device convenient since it ensures the load is properly secured during transportation.
This winch lift truck has six wheels with 2-inch diameter front wheels fitted with a swivel for excellent navigation. Additionally, there are other 2 rear wheels of 8-inch diameter and 2 loading wheels close to the frame.
Pros
Versatile and thus ideal for a wide variety of applications.
Portable.
Adjustable for easy loading and offloading.
Comes with a foot brake to keep it from rolling.
Durable.
Easy to use.
It is lightweight.
Good capacity.
Stable and easy to manoeuvre.
Quality for money.
Cons
Winch anti-drop locking does not work as expected.
The plastic railing is not of the best quality.
Check Price
5. Wellmax Push Cart Dolly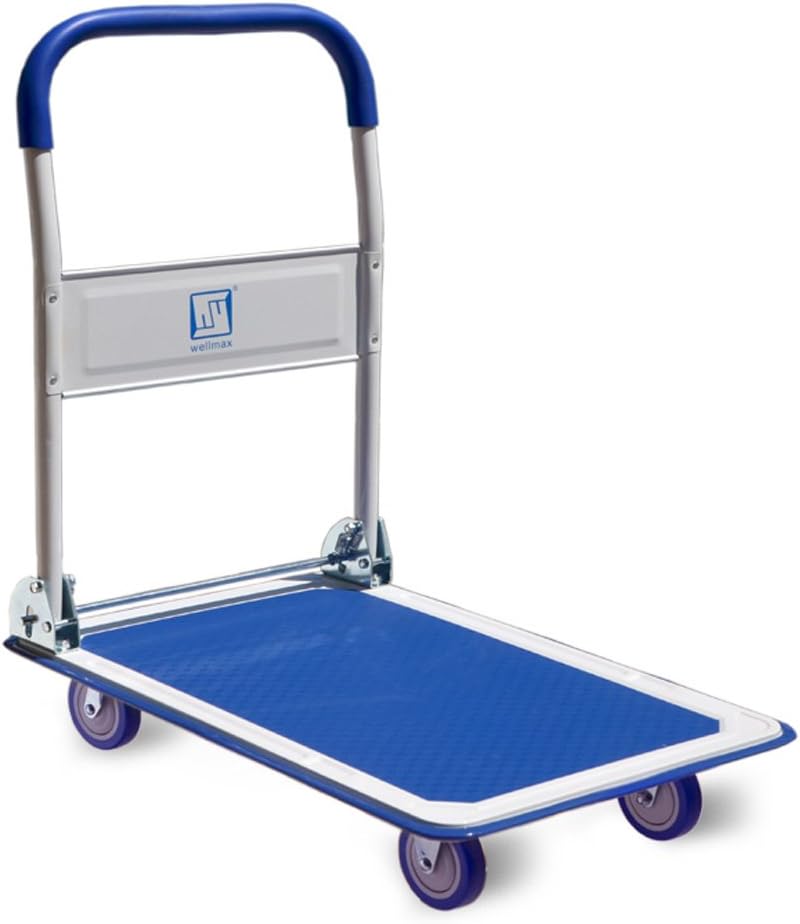 The foldable push cart from Wellmax is designed for use in different applications. It is a multi-purpose cart that will serve well any beekeeper. It can be used to move heavy loads such as beehives, supers, beekeeping tools, and many others. It is made of heavy-duty alloy steel that will guarantee an extended life in service.
This cart is compact and foldable making it easy to transport and use. It will take up small space at the back of your truck during transportation and will also fold easily for storage. You can simply fold its padded handle and lay it flat in your storage area. It will take the least amount of space in your garage, warehouse, trunk, basement, or storage closet.
This cart comes with 4 heavy-duty wheels that are highly stable and easy to manoeuvre. Available also are two back wheels that can swivel at 360 degrees making it easier to navigate sharp corners. Furthermore, there is a custom support guard that prevents the heavy load from slipping backwards thus ensuring it is delivered safely to its destination. It is available in various models that will support loads of between 330 lbs to 660 lbs.
Pros
Portable.
Compact design.
Foldable.
Easy to manoeuvre.
Stable.
Good capacity for carrying heavy loads.
Durable.
Easy to install. Clear instructions provided.
Available in various models for your choice.
Made of sturdy alloy steel material.
Well-made and worth the price.
Easy to use.
Ideal for both indoor and outdoor use.
A multi-purpose cart that will serve many purposes.
Cons
The wrench that comes with it takes longer than expected.
Check Price
6. American Lifting Quick Change 4-in-1 Convertible Hand Truck & Cart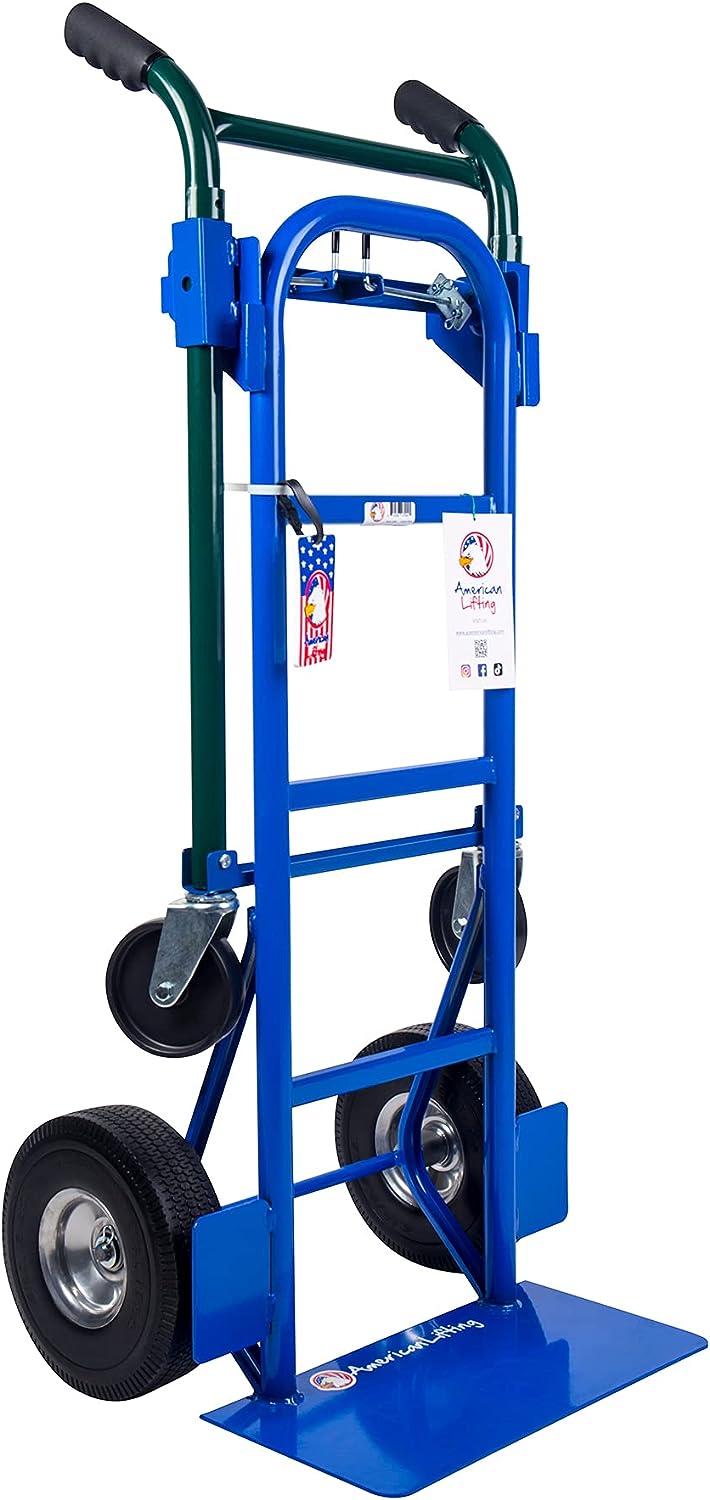 The key elements that would make beehive lifting equipment and carts an ideal choice for any beekeeper would be; weight, practicality, portability, and cost-friendliness. You might also check out some important features such as the material make and additional conveniences such as rotating wheels. This convertible hand truck is made of a combination of materials that include alloy steel, glass-filled nylon, metal, nylon, plastic, and aluminium.
This hand truck is convertible since you can convert it from a 2-wheel to a 4-wheel truck within seconds. It can handle loads of up to 700 lb. It comes with built-in stair glides that make your work much easier when moving on stairs and curbs.
Pros
It has durable rubber tires.
Lightweight.
Sturdy and durable.
Rust, corrosion and chemical-resistant frame.
Convertible for more convenience.
Assembled except wheels, axle, base plate, and casters.
Excellent manoeuvrability.
Cons
Check Price
7. HaulPro Heavy Duty Double-Grip Handle Hand Truck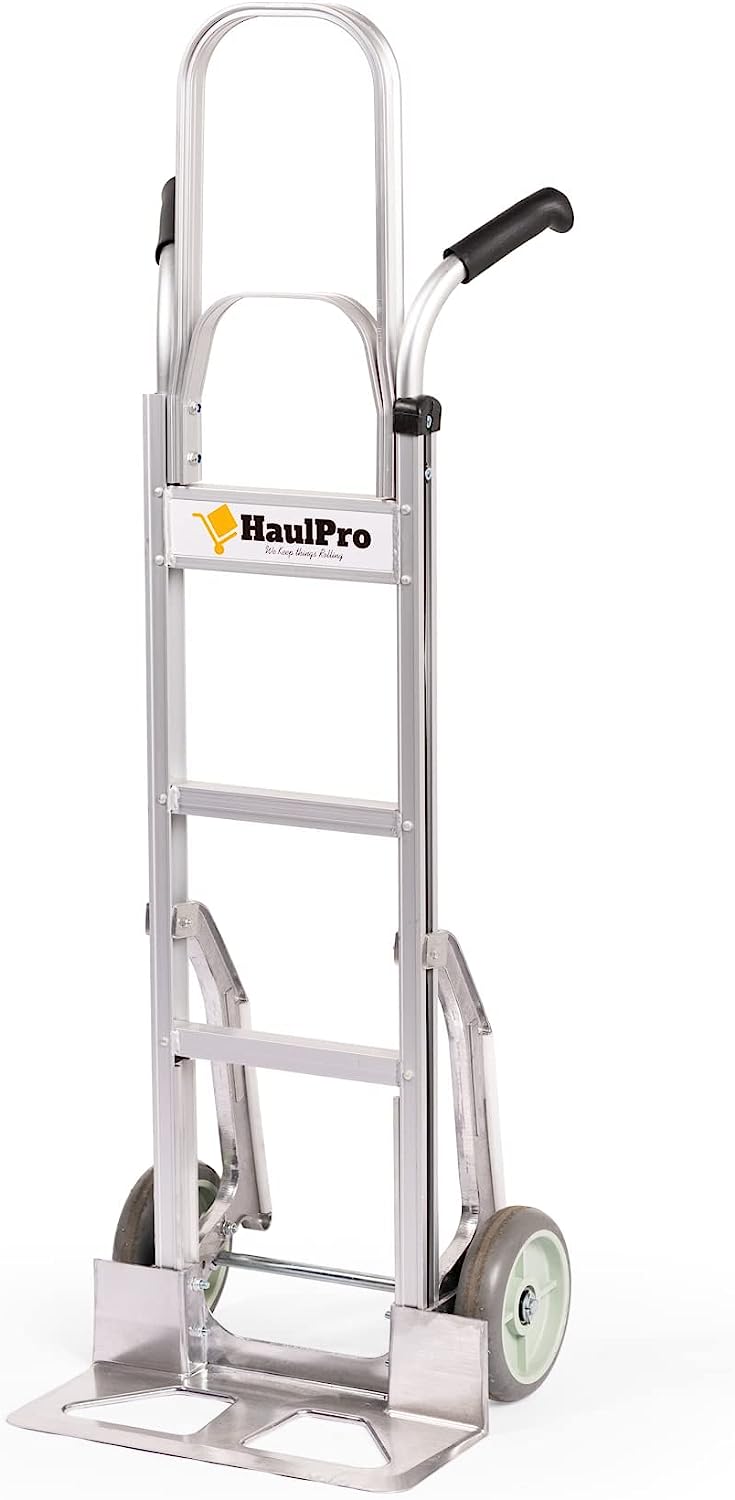 The popularity of beekeeping is far and wide. Initially, it was not common across all ages and gender. However, things have changed over the years and that is apparent. You can now find almost anyone engaging in apiculture. Women, men, and children are all involved in the business hence the need for tools and equipment that assist with moving and lifting. Luckily, designers, beekeeping clubs, and equipment dealers have taken note of this and come up with practical solutions. Beehive lifting equipment and carts such as this hand truck that has enabled this wide variety of users to eliminate lifting restrictions and any other potential limitations.
This truck is designed for a wide variety of users ranging from residential to commercial uses. The push cart features low-friction skid bars to make your pulling work easier over stairs and other obstacles. The entire unit is made of industrial-grade aluminium material that is sturdy and durable. It can handle loads of up to 500 pounds despite its lightweight design of only 20 pounds.
Pros
Sturdy and durable.
It's a multi-use cart that can serve many purposes.
Convenient even under rough surfaces or obstacles.
Good quality rubber wheels designed to last a lifetime.
Any of its parts is replaceable.
Easy-to-read assembly manual provided.
Lightweight and easy to use.
Excellent capacity.
Affordable.
Cons
You should have your hand tool for assembly.
Check Price
8. Vestil A-LIFT-S-HP Lift Truck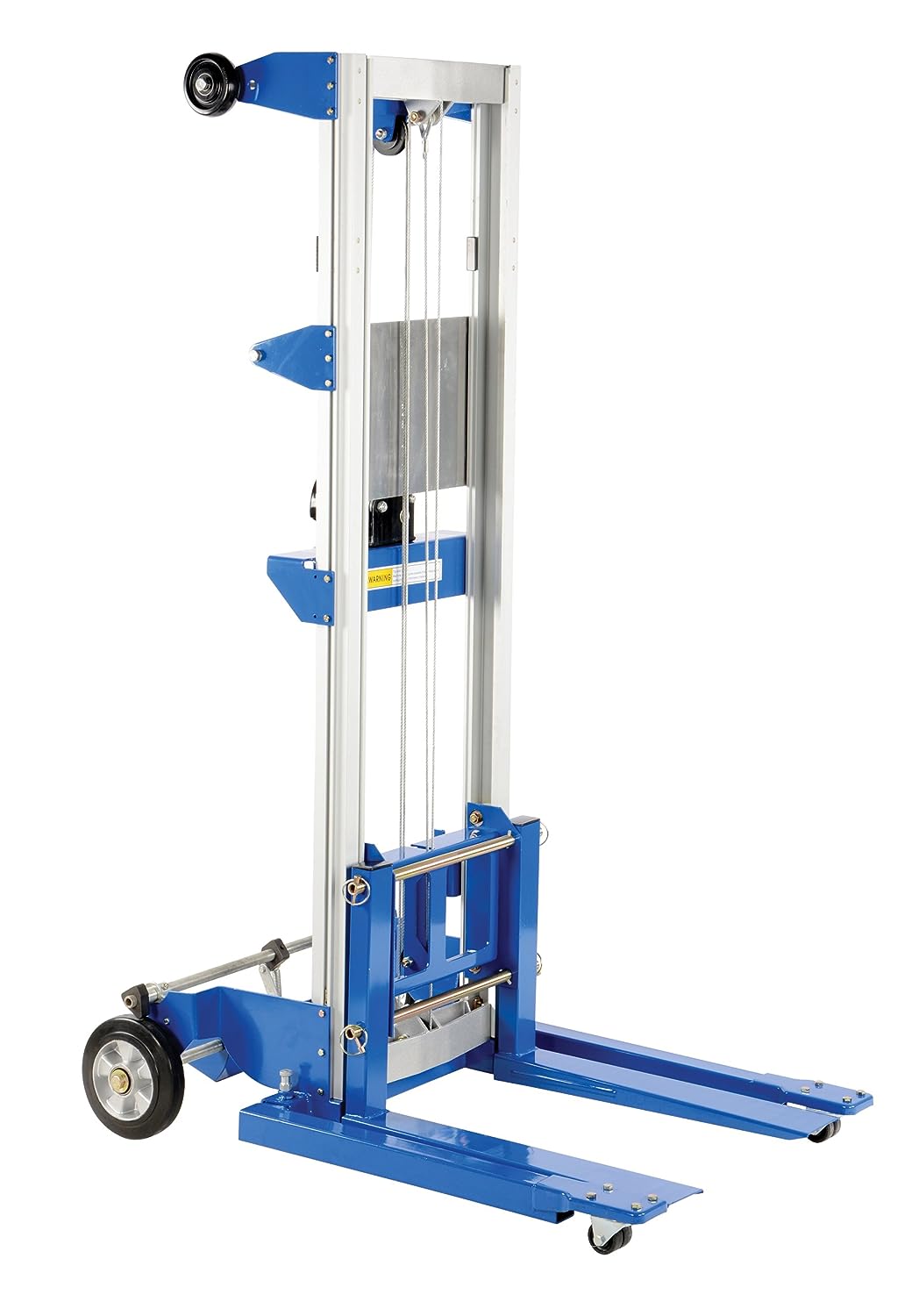 For starters, your initial plan might not be even close to owning more than 10 hives. Sooner than later, your single beehive leads to more hives, which was never your plan in the beginning. It is at this point that tasks that were hassle-free such as lifting and moving full supers become straining, given the number of supers at hand. Logistics now become a problem and a need for leverage creeps in. That is where the Vestil A-LIFT-S-HP Lift Truck comes in. It is a 400 lbs capacity hand winch lift truck that is made of solid aluminium and alloy steel designed to make your work much easier.
You can utilize this manual portable lift across hundreds of applications including beekeeping. The featured manual cable makes it possible to raise and lower forks with ease. Available also is a counterbalance that helps stabilize the load and prevents the unit from toppling over when heavily loaded. Additionally, a hold-down device helps secure the load during transportation.
Pros
Ideal for heavy loads.
Easy to use.
Stable and keeps the load in place without tipping.
Made of high-quality aluminium and alloy steel.
Durable.
Ideal for many applications.
Adjustable to make loading and offloading hassle-free.
Can handle wide loads given its adjustable width base.
Lightweight.
Good quality and is well-made.
The wheel brake is available for more convenience.
Cons
Check Price
Conclusion
For any ambitious beekeeper, growth is a given. Initially, you would be contented with only a single beehive in your backyard but things will change and that single hive will bring in a few more hives. You will now require a truck and some loading equipment to make your work easier. Beehive lifting equipment and carts are designed to meet this need. They help eliminate the strenuous manual work and grant leverage to the beekeeper. The best beehive lifting equipment and carts reviewed here will come in handy for any beekeeper. They will provide some convenience, ease of use, and affordable solution to your beehive lifting needs.