If you purchase an independently reviewed item through our site, we earn an affiliate commission. Read our affiliate disclosure.
Since the tools needed in beekeeping are readily available, the only thing that needs to be done is to get the bees. It may sound tricky at first, but there are two ways that you can do to get the bees. First, you can simply purchase the bees from a bee shop or a similar establishment. You can also buy them from private owners. The second way, which is more exciting and fulfilling, is to catch the bees by yourself. If you're new to this, we're not asking you to carelessly catch them in nature. You might end up hurting yourself as well as the bees. There's a convenient and effective way to catch the bees and that's through the use of bee swarm traps.
How Do Bee Swarm Traps Work?
Trapping bees is a common activity in beekeeping. Improving the genetic pool of your apiary or filling that new beehive with a honeybee colony requires you to bring in new bees. Bee traps are designed to catch swarming bees. There are many types of traps built by various manufacturers and beekeeping equipment suppliers. The basic principles that bee traps use to catch swarming bees are:
Swarming bees are looking for a new home. Bee traps promise safety and space for the swarm. If the scout bees find the trap is suitable as a new home, they bring in the swarm to the trap.
The use of bait and lures in bee traps attracts scout bees. Bait is usually in form of a little honey split in the trap or honeycomb placed somewhere in the trap. Lures are often scent-based and aim to mimic beehive odors as well as queen bee pheromone. Lemongrass essential oil is also effective as a lure.
How to Setup Bee Swarm Traps
Setting up a bee trap is an easy procedure for both beginner and experienced beekeepers. Bee traps may come assembled or in parts that you have to put together yourself. If your bee trap comes in parts, you only need a few tools to bring it nicely together. It should be accompanied by a manual or instructions to guide you on how to put it together. Tools that you need for the job include screws, nails, screw drivers and a hammer.
After your bee trap is assembled, or if it comes readily built, you need to bait it and add a lure. Bait is easy to get for beekeepers that already have a beehive or two. Old honeycomb is enough as bait. It may contain some honey or not.
Lures for bee traps are based on scents. They are easy to purchase and work very well. Lemongrass lures are great for bee traps. They mimic queen pheromones. Other lures may include trace elements that are attractive to scout bees.
Place the bait and bee swarm lure into your bee trap and hang it up. A distance of 10-15 feet above the ground is great. A pole is fine for the trap, but a tree branch is better. Make sure that there are no obstructions covering the entrance of your bee trap.
You should regularly check the trap every few days for a swarm of bees. Once you have caught yourself a swarm, transfer it quickly into a beehive.
Setting up a bee trap is great when you want to have a new honeybee colony. It is a fun activity for beekeepers and gives you a fresh set of genes for your apiary. Use the information detailed here to improve your understanding of how bee traps work and become a better bee trapper.
What Makes a Good Bee Swarm Trap?
There are many manufacturers and sellers of bee traps. Beekeepers may find it difficult choosing between the available bee traps in the market. There are some qualities of bee traps you should look out for before making your purchase. The best bee traps have these qualities:
The material used to make the bee trap is strong and durable. Wood pulp is a favorite material for bee traps. Other light wood products can also be used for your bee trap. Some bee traps have wires in them, or other mechanisms to keep bees inside even if they want to leave.
The bee trap is weatherproof. It must protect the swarm you catch from strong winds and rain water. Swarming bees quickly seal up gaps and spaces in the trap with propolis and wax. They will leave the trap if they find it has large open spaces and gaps that are difficult to seal. It is not great as a new home for them.
Bee traps should be easy to setup and hang. The best bee traps have hooks and loops that make it easy to hang them up a tree or pole. They are also easy to open, place bait and lures, and close up ready for a honeybee swarm.
A good bee trap is light when empty. This makes it easy to hoist up a tree or pole when hanging the trap. It also makes the trap less weighty when bringing it down while it is full of bees. A heavy trap will be cumbersome to work with.
Good bee traps have enough space for a swarm of bees, without being too bulky. If a swarm trap is too small, it will never catch you a swarm. If it is too big, it becomes bulky and difficult to work with. On average, the bee trap should have a volume of 40-50 liters. It should comfortably house a swarm that has up to thirty thousand bees.
We'll now move on to discuss the best bee swarm traps that you can buy on the market. They have different design features so, it's up to you to choose the ideal bee swarm trap that would suit you best.
Overview of the Best Bee Swarm Traps
9. Yuniroom Black Bee Cage Swarm Trap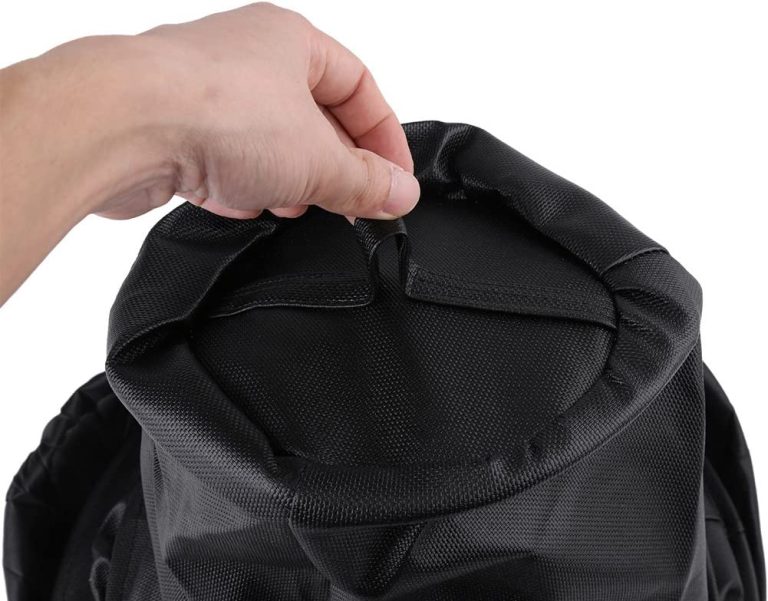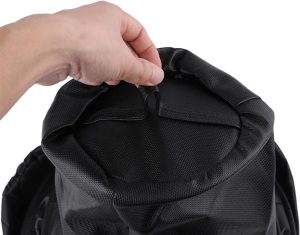 This is a cloth swarm trap. The swarm trap comes in a black color. It has 3 steel wire rings to keep the trap in shape. This swarm trap is spacious and well made to mimic a hollow space in a tree. Honeybees are attracted to such spaces. Additionally, the trap is light so getting it up a tree is not difficult. It is easy to install using the loop provided at the top of the trap. At its bottom, the trap has a small opening that can be completely closed using a drawstring. This is useful for when you need to move the trap and the swarm of bees it has caught. Applying spray lures and other types of lures including solid wax in this trap is easy.
Yuniroom Black Beekeeper Tool Bee Cage Swarm Trap is eco-friendly. It is also a nice warm home for your swarm of bees. The trap is water and wind proof. It is colored black so it warms quickly in the sun. Be sure to protect it from too much direct sunlight so it does not get too hot for honeybees. Additionally, inspect the installed trap frequently so that honeybees caught in the swarm do not stay in it for too long and start making honeycomb in the trap. This trap is well made with strong seams. It holds up to some rough treatment without coming apart or getting damaged.
Check Price
8. Blythewood Bee Company Wood Pulp Honeybee Swarm Trap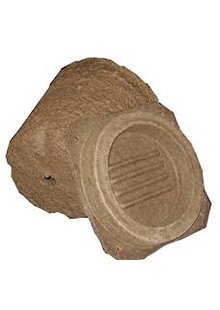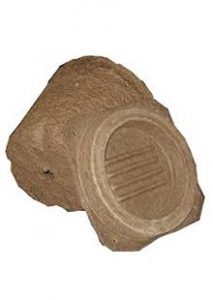 One of the easiest ways to capture bee swarms is through the use of a wood pulp swarm trap. A swarm trap is an effective tool in attracting and capturing bees. Blythewood Bee Company offers their Wood Pulp Honeybee Swarm Trap which is made of molded water-resistant fiber. It is a cone swarm trap type that looks like a flower pot. To use, simply set this swarm trap in a tree at 8 to 10 feet above the ground. Place a swarm lure to attract the queen bee which is always followed by her army of soldiers and workers. This trap requires regular inspection as bees tend to seal the gap between the base and the bucket. Once the bees are in place, simply detach the bucket from the base and transfer the bees in their new colony wherein they can thrive for a long time. It has dimensions of 16 x 16 x 16 inches and weighs about 5 pounds.
Check Price on Amazon
Check Price on Blythewood Bee Company
7. WALFRONT Black Bee Cage Swarm Trap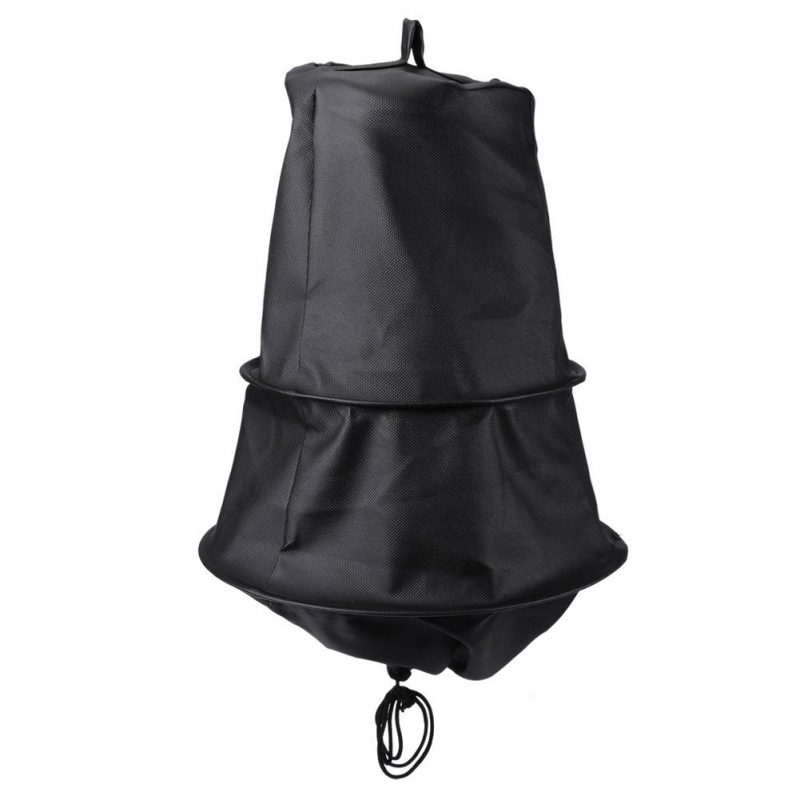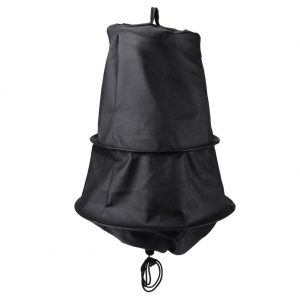 Keeping the bees safe while trapping them is essential in beekeeping. You have to make sure that your trap is effective enough to avoid them from getting hurt. The WALFRONT Black Bee Cage Swarm Trap is an ideal trap to keep bees safe. It is eco-friendly and made of high-quality materials. This bee swarm trap is water-resistant and can withstand wind making it an excellent tool to be used outdoors. The trap features a soft loop on top of the equipment which can be attached to a pole so you can place it into a bush or tree. There are three layers of wire to prevent bees from escaping. This bee swarm trap also features a bottom tie which can be easily closed once the swarm of bees is captured. The materials used for this trap includes leather, cloth, and steel wire. It comes in black. The top part of this trap measures 18.5 centimeters or 7.28 inches. The middle segment measures 27 centimeters or 10.63 inches. The maximum diameter is 33 centimeters or 13 inches. This bee swarm trap weighs 272 grams when empty.
Check Price
6. Vikye Bee Swarm Trap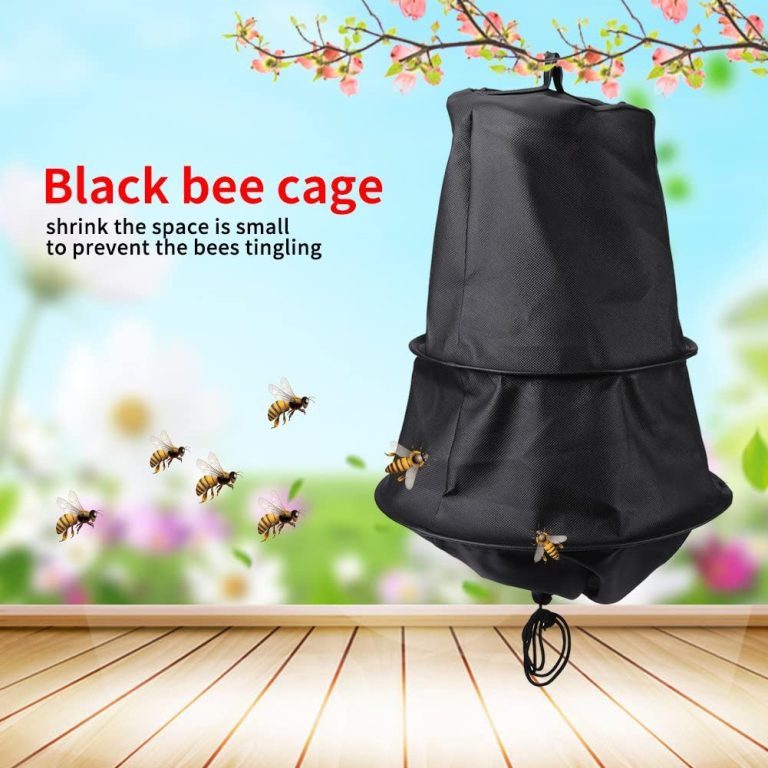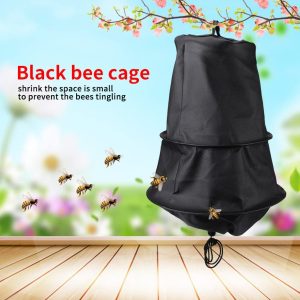 The Vikye Swarm Trap is a black cloth and leather trap. It is well made and does not allow in too much wind or any water inside it. The trap is spacious enough for a swarm of bees. It has a top diameter of 18.5 centimeters. The bottom diameter on this trap is 33 centimeters. This trap features a loop at the top for hanging it in your chosen location. This bee swarm trap is light and durable. It is also very friendly to honeybees. The trap comes with an opening at its bottom that you close up using a drawstring one you have caught a swarm in the trap. It makes moving the swarm to another location easy. This also helps with easy installation of the swarm in a beehive that you have prepared.
This swarm trap has 3 layers of wire supporting the cloth to maintain the shape and hollowness of the trap. These wires are at the top, the middle and at the bottom of the trap. Vikye Swarm Trap is nicely sized to hold a swarm of honeybees in it. Once you have caught a swarm in the trap, be sure to quickly move it to a beehive box so it does not start drawing comb onto the cloth surface inside the trap. The cloth used to make this swarm trap is thick and well sewn together. It holds together well so the trap lasts for long.
Check Price
5. TOPINCN Black Bee Cage Swarm Trap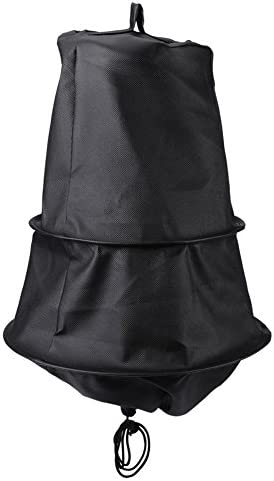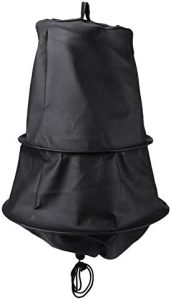 This is a cloth and PU-Leather bee swarm trap. It has a wide bottom cylindrical shape with a narrow top. The TOPINCN Black Bee Cage Swarm Trap has a bottom diameter of 33 centimeters and a top diameter of 18.5 centimeters. Its midsection has a diameter of 27 centimeters. The trap is black in color. At the top, the middle and at the bottom are steel wires that help maintain the overall shape of the trap by supporting the cloth. This swarm trap is portable and a great addition in your swarm catching arsenal. It has enough space for a large swarm.
You are provided with a mechanism to tie up the bottom opening of this trap once you have caught a swarm in it. You then transfer the swarm into a nuc hive or beehive box. TOPINCN Black Bee Cage Swarm Trap is eco-friendly and safe. The material used to make it is of high quality. The trap is durable and designed for outdoor use. It is waterproof and does not let the wind inside. Placing or spraying honeybee swarm lures in this TOPINCN trap is easy. Both beginner and experienced beekeepers are able to use this swarm trap to catch a new swarm of bees for their beekeeping operation. Using this trap requires you to hang it on a tree branch. You are provided with a loop at the top of the trap for this.
Check Price
4. RefuBees Swarm Trap – Reusable & Environmentally Friendly Honey Bees Trap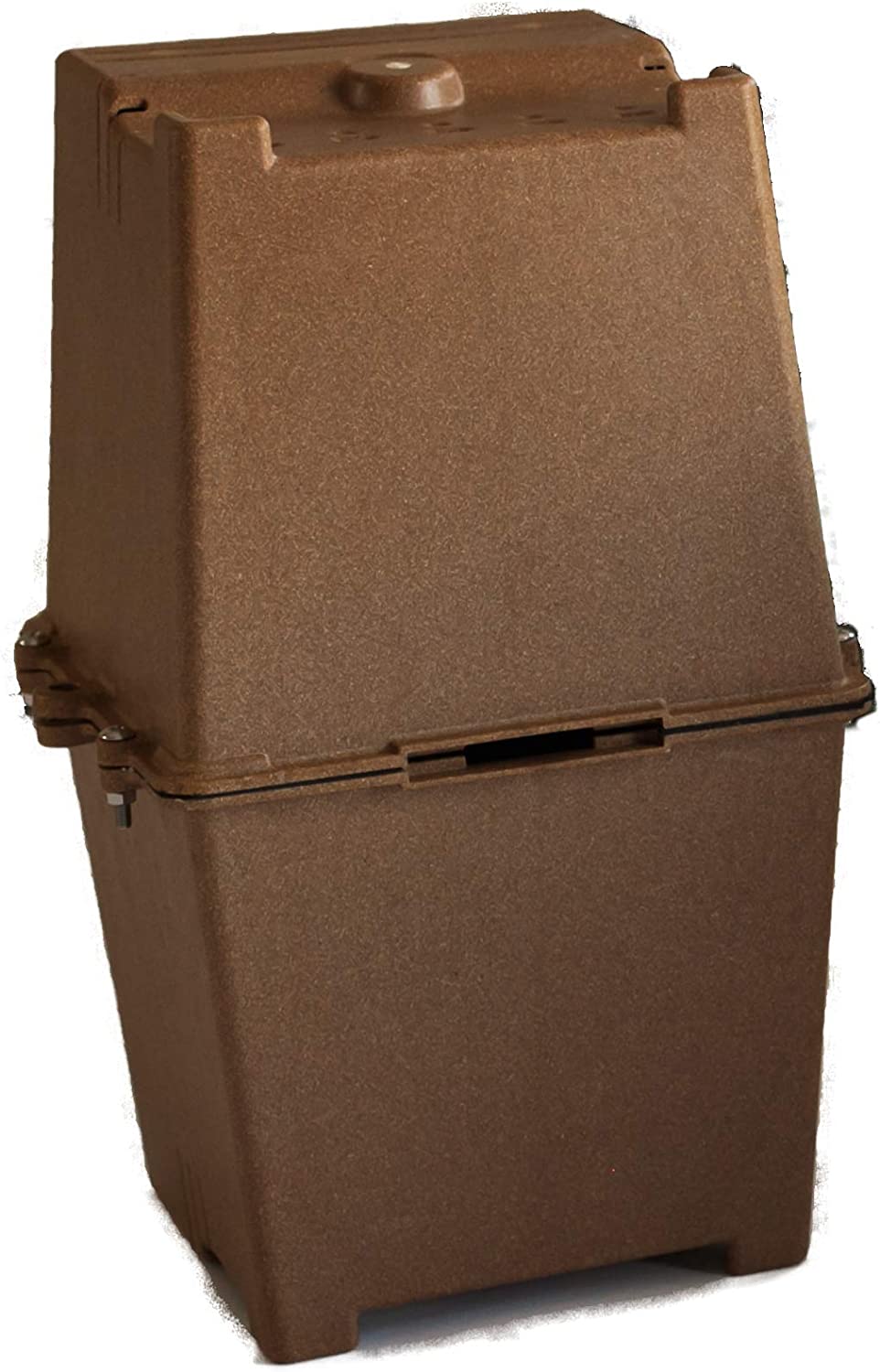 Get catching new swarms for your beekeeping operation with the RefuBees Swarm Trap. It is a well designed swarm trap made using bee friendly materials. The swarm trap comes with various components needed to successfully catch swarming bees including some swarm lure. This trap package is environmentally friendly and reusable. The main trap assembly is in two halves that fit into each other for easy storage without taking up too much space. It is made by RefuBees in the USA. Each trap package includes a swarm trap, nuts, bolts and some liquid trap lure. The swarm lure included in each RefuBees Swarm Trap package is enough for many applications.
The RefuBees Swarm Trap works both with frames and without frames. When used with frames, the trap accommodates both plastic and wooden frames well. Installing the trap in your chosen location is easy. You can use wire or some cord to tie it in place. Both beginner and experienced beekeepers are suited to use this swarm trap with lure. The trap is spacious and designed to accommodate both small and large honeybee swarms with ease. It is also attractive to bees that have swarmed from a mother-hive. Each trap holds up to 6 beehive frames comfortably. Assembly of the RefuBees swarm trap is done using the supplied bolts and nuts.
Check Price
3. East Coast Bees Honey Bee Swarm Trap with Frames and Swarm Lure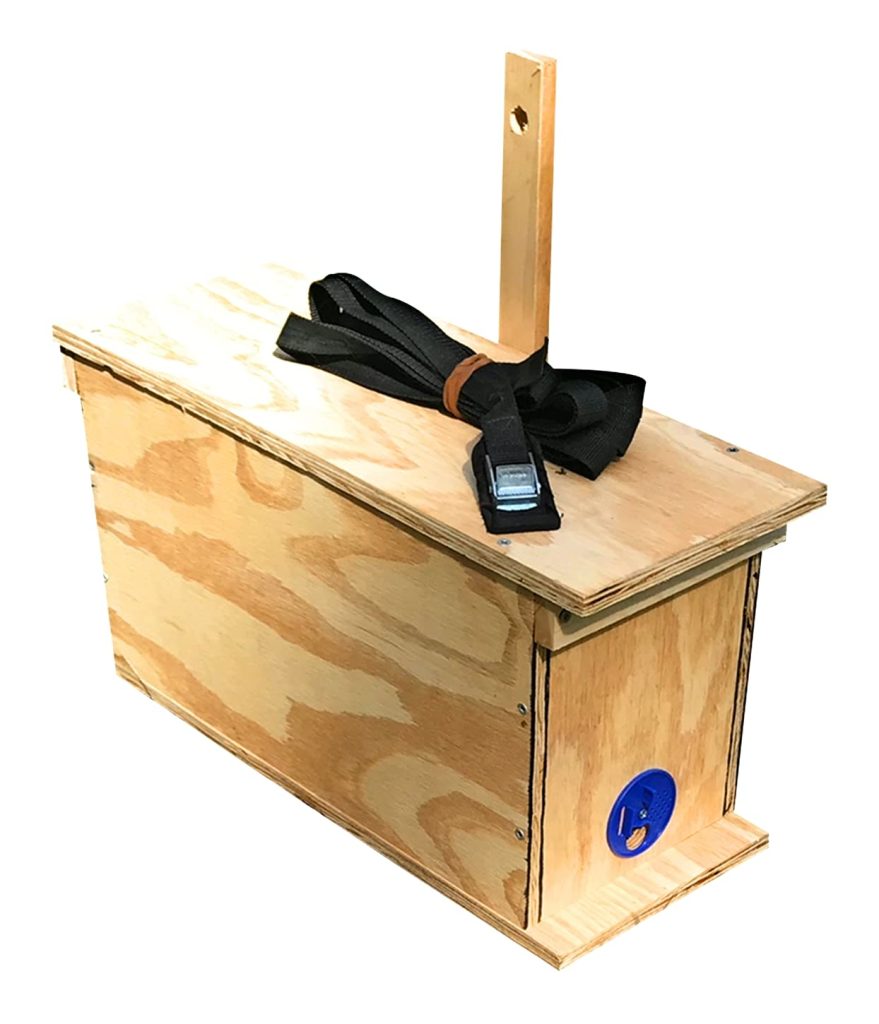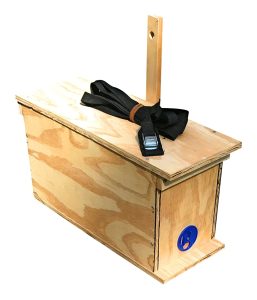 This Honey Bee Swarm Trap with Frames and Swarm Lure by East Coast Bees is a wooden construction for catching swarming honeybees. It is well designed and assembled. The trap comes in a wooden brown color. It is not painted over. East Coast Bees has made the trap in a size that fits a large swarm of bees so you do not leave out any of the bees in a swarm. You get your trap already assembled and sprayed with a swarm lure preparation. All you need is place it in a suitable place up a tree and wait for it to catch a swarm of bees. The trap comes with 5 standard frames for use.
For attachment of the swarm trap box to trees, there is a protruding piece of wood up the top of the trap. The piece of wood has a hole at its top. You may also use a strap to secure the trap box better. This trap box is suitable for use at any height you want to place it. Its ease of use and excellent construction make it a great addition to your swarm catching tools and equipment set. Both small and large beekeeping operations are suited to use this wooden East Coast Bees swarm trap.
Check Price
2. Hilitand Swarm Trap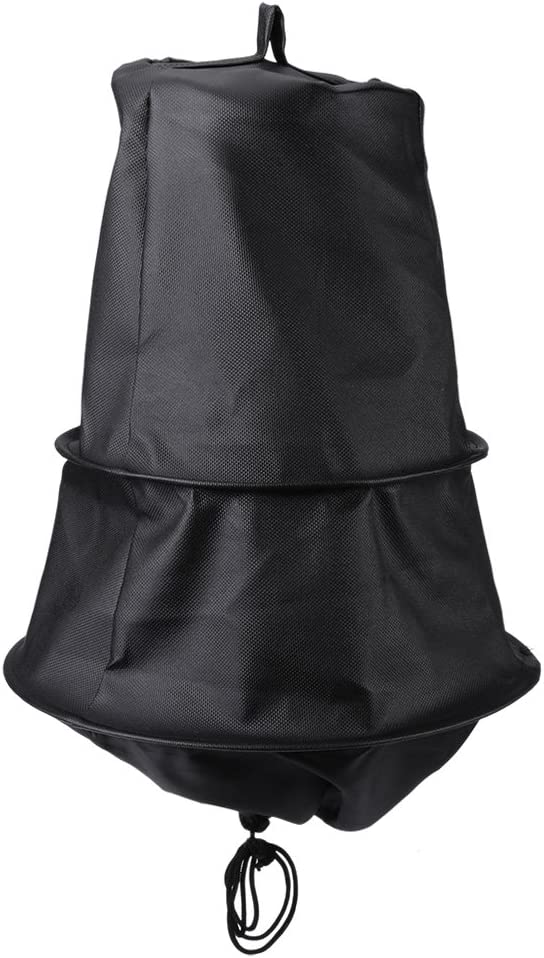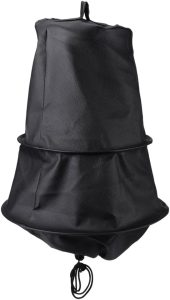 This is a cloth and metal bee swarm trap. Hilitand Swarm Trap Bee Swarming Catcher Honeybee Bee Cage is made using eco-friendly materials. It is safe for bees and does not irritate your skin either. The trap is collapsible. It is made in a conical frustum shape with the top smaller than the bottom. You install this swarm trap on tree branches by hanging it using a loop provided at the top of the trap. The trap is closed at the top, with a single opening at its bottom. Swarming honeybees go into the trap through the bottom. At the bottom entrance of this Hilitand swarm trap, a drawstring is provided for closing up the trap. Close up the trap using this drawstring when moving the swarm of bees you have caught to a Nuc hive or to a beehive you have prepared.
You have a reliably sized swarm trap in this Hilitand honeybee swarm catcher trap. It has a volume of more than 19 liters. The cloth used to make this swarm trap is thick. Additionally, a layer of leather over the cloth adds waterproofing and wind proofing to the trap. This trap has a diameter of 18.5 centimeters at the top and a diameter of 33 centimeters at the bottom. Its height is approximately 37 centimeters or more. To maintain the shape of the trap, steel wire rings are used at the top rim, in the middle and at the bottom rim of this Hilitand bee swarm trap. Applying lures and baits of various types in this trap is possible.
Check Price
1. Blythewood Bee Company Refubees Swarm Trap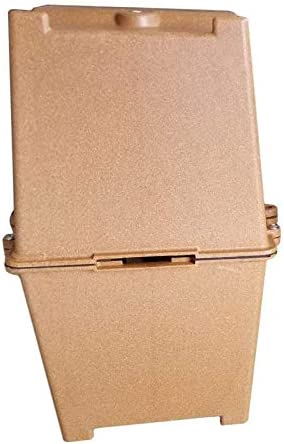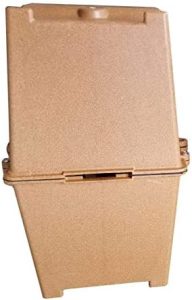 Use this Blythewood Bee Company Refubees Swarm Trap to add a touch of modernity to your beekeeping operation. The trap boasts of being the newest swarm trap design in the market. It is made in a double-bin design and holds up to 6 medium size beehive frames in it. This trap has a 40-liter capacity. Refubees swarm traps are shipped unassembled, so you need to bring it all together by yourself. Assembly is not difficult, both beginner and experienced beekeepers are doing it. All hardware needed for assembly comes in the package you get upon purchase of the trap. Each trap measures 11.25 inches in length. It has a height of 11.25 inches too and a width of 11 inches.
This swarm trap is a product of innovative processes in beekeeping by Horizons Innovation. It is made using strong food grade plastic. The trap is textured so it looks like it is made using wood pulp! Mounting this trap on any surface you choose is a breeze. There are enough mounting points molded onto the body of the trap. You are also free to use a bungee cord to secure the trap. This trap is easy to bait using lures and other swarm attractants. The trap does not let in water and wind, so the swarm you catch in it will be very safe from these weather elements. This is a light swarm trap, it weighs 4.6 lbs. Your trap comes with 2 Blythewood Bee Company Swarm Commander Premium swarm lures.
Check Price on Amazon
Check Price on Blythewood Bee Company
Further Thoughts
History teaches us that beekeeping has been around for thousands of years. Early humans learned the art of culturing bees through trial and error, observation, and in-depth study. They learned that their old ways of gathering honey destroyed the hives leaving no chance of continuity. As years passed, beekeeping methodologies improved with the focus of keeping the hive intact after extracting the honey. This led to a series of innovations in equipment and processes. Today, more and more beekeepers help in the continuance of productive beekeeping through the use of conventional, traditional, and modern knowledge and equipment.
Beekeeping is a fun way to have a productive hobby. You can also turn it into a large-scale business wherein you'll also enjoy the perks of earning money from honey and beeswax. There are lots of information on how to guide you to become a successful beekeeper, and alongside the guides are effective equipment that you can use to maintain and manage bees. Whether as a beginner or as a long-time beekeeper, the success in this field depends on how well you utilize the knowledge and tools available for you.
Conclusion
These are the best bee swarm traps available on the market today. Each one of these products offer the best value for your money. With these items, you no longer have to spend a lot of time searching for the ideal bee swarm trap. Alternatively, if you're good with your hands, you may consider building your own bee swarm trap.
Do you own any of the bee swarm traps on this list? Which bee swarm trap(s) do you think should be added to this list? Leave a comment below and let us know.