Thanks for visiting our website. For us to continue writing great content, we rely on our display ads. Please consider disabling your ad-blocker or whitelisting our website before proceeding.
If you purchase an independently reviewed item through our site, we earn an affiliate commission. Read our affiliate disclosure.
Swarming is a natural phenomenon for bees. It is not uncommon to see a mass group of bees on a tree or crevice within your neighborhood. It is this swarm of bees that is captured by humans and used for building a colony. As a beekeeper, you may decide to buy a bee colony that has already been established and ready to make honey. Alternatively, you can capture a swarm of bees then use it to build a new colony. An understanding of bee swarming can make it easier for the beekeeper to know how to capture and use bee swarms. The bait or an empty hive is used for capturing bee swarms. You may also have to use a swarm lure in order to increase your chances of success.
Bees are particularly very selective when considering a new home. Some of the areas that seem to allure bees include: a place where bees have lived before, dry areas, a spacious area for storing enough food, a strategic location for defense, a sheltered area, and close proximity to water and flowers. Bees also tend to be attracted by locations that are inconvenient for beekeepers and homeowners. They are naturally drawn to locations that are out of reach for humans.
What are Swarm Lures
A swarm lure refers to what is used to attract a bee swarm into a hive or trap. The trap is different from what takes place when trying to attract a bee colony out of their dwelling. The swarm is usually a natural split for a bigger colony. They usually move with the queen and send out spies or scout bees to look for a good place to live in. In that way, bee swarming is a natural occurrence that helps bee colonies multiply. It is a natural way of building the future generation. The scout bees are usually attracted to a trap because of its scent. Once an ideal home is found, the scouts head back to the swarm and lead them to the new box.
Bee swarms usually occur in May to June and you can catch one successfully if it has occurred in close proximity to your location. The scout bees should also be undertaking their surveillance within your area and should sense the scent of your lure.
The alternative to trapping a bee swarm is simply getting a package. This is a popular choice among beekeepers since it is so much easier. The bee package is usually shaken from various hives and placed into a package or cage that has specific weight. Once this is achieved, the queen bee is pulled out of a small cage then added to the package. This is then sealed and shipped to the beekeeper. This means that different bees are brought together which may be a disadvantage to some extent.
The bee swarm is usually composed of a mother queen who has left with the first swarm. The swarm's worker bees in this case belong to the same mother and may have different fathers. They are therefore related from start which is a huge advantage. The swarm also consumes plenty of honey before moving out of an existing colony. Therefore, they will immediately begin to draw wax when placed on foundation comb. This can explain why a swarm that just moved in begins to make combs on the branch or stone crevice within a few hours. Bees that have gorged on honey begin making wax from their bodies immediately which is a good thing for the beekeeper that just started out with foundation combs.
To the uninitiated, a swarm of bees seems to be a frightening sight to behold, but any beekeeper will tell you that it is exciting. A swarm means a new hive to the professional beekeeper as it is time to bring in a new cluster of bees. The swarms do not move around with babies and this is a huge advantage since they are docile and have no one to protect. However, you should avoid meddling with them since they can attack when provoked. It is also important to note that bee swarms never last for long and therefore should be trapped as soon as possible. You should also contact a local beekeeper's association or professional beekeeper if you are not trained on how to catch a swarm of bees. It is better to be safe than sorry and remember not to experiment with bees.
With that said, let's check out the best swarm lures that you can make use of to attract bees into your traps.
Best Swarm Lures
10. Rut Grenade Old Doc's Swarm Bait Hive with Lure Scents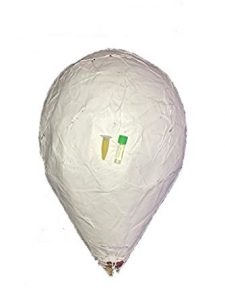 This is another great swarm lure that has been tested and found to attract bees. This is ideally a swarm bait hive combined with organic compounds that attract bee swarms. The handmade bait hive contains traces of elements that usually appeal to scout bees when seeking a new home for a swarm. The scent system utilized is particularly one of the most successful in attracting bees.
This trap lure combo for bee swarms comes with two scent attractants, one a anchor scent that has 32 trace elements with natural bees wax included. Second is a Nasanov pheromone which highly appeals to scout bees. The hive is re-usable and this is a huge advantage to any beekeeper.
Pros
It has been used for over 50 years to catch bees.
Contains trace elements that attract scout bees.
The swarm lure contains 2 scents irresistible to bees: anchor scent and Nasanov pheromone. These are natural elements that mimic bee pheromones.
It can be recycled after offloading the swarm into your hive.
Easy to use and set up.
Instructions provided.
Cons
A bit more expensive if you're just looking to buy a swarm lure and not a trap.
No closure at the entrance of the swarm bait. This makes transportation of a trapped swarm a challenge.
Check Price

9. Blythewood Bee Company Wood Pulp Honeybee Swarm Trap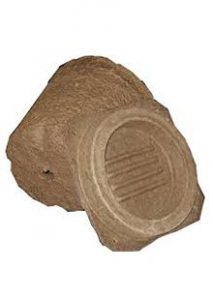 This is a great option for those who would like to get a trap that is easy to handle and set. Bees are particularly allured by wood pulp due to the natural smell of wood. This lure for honeybees is made of molded fiber that is water-resistant. The design of the lure is conical shape and has dimensions of 16 x 16 x 16 inches. The unit also weighs only 5 pounds which is easy to carry and place on top of a tree. It mainly targets the queen bee. Once the queen is captured it becomes easy to get the army of soldiers that follow her.
Pros
It is easy to carry and set up.
Lightweight.
Easily captures the queen bee.
Made of natural wood.
Alluring to bees.
Spacious to capture a swarm of bees.
Cons
You may have to apply some bee pheromone to the lure.
Check Price

8. Rut Grenade Honey Bee Swarm Lure Nasanov Pheromone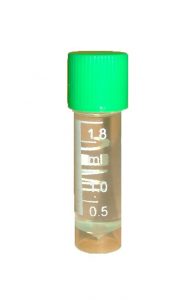 This is another great choice for large scale beekeepers, hobbyists, and mobile pollinators. It is a great formulation for those who would like to attract swarm bees to a trap or bait hive. It can also be used for orientating bees to a new home. This lure is made up of industrial grade Nasanov pheromone that has been tested and proven to be effective in attracting bees. All you need to do is apply one or two drops of the substance at the entrance of your bait or hive. It is an eco-friendly choice and therefore an investment in this means you are part of a good course.
Pros
Contains pheromones that bees love.
Easy to apply.
A few drops of the formulation deliver good results.
Eco-friendly choice.
Economical.
Professional grade pheromone.
Bees respond to the lure.
Cons
No negative feature noted.
Check Price

7. Mann Lake HD376 Swarm Lure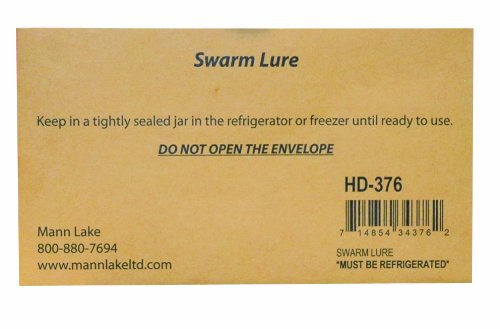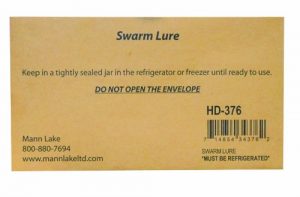 The Mann Lake HD376 swarm lure is one of those products that have been formulated with the right blend of pheromones and natural ingredients that bees can never resist. It is a natural bee swarm attractant that is formulated for all beekeepers irrespective of skill level. The 0.32 ounce lure with its dimensions of 4.2 x 25 x 0.2 inches will last one swarm season. Those lures that are not used should be safely stored in a fridge or freezer. The rich pheromones released by the lure entice scout bees that eventually bring in the awaiting swarm of bees.
Pros
Powerful pheromones attract scout bees.
Long lasting.
Economical
Works as advertised.
Affordable
Reputed manufacturer.
Cons
May not work for everyone.
Check Price

6. Bountiful Bee Long Lasting Swarm Lure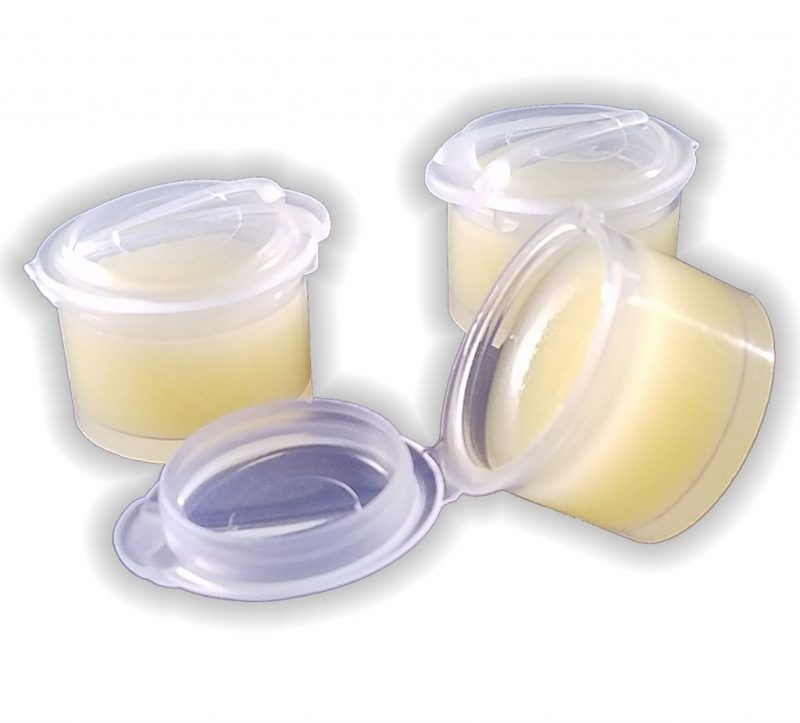 A first glance on the 0.48 ounce bottle containing the swarm lure could be misleading. One would be led into believing that this small bottle won't last for long. Surprisingly, this pheromone rich substance has been tested and proven to work. The 1 x 1 x 3 inches bottle hides a all natural bee bait that is rich in Nasonov pheromone that attract scout bees that normally seek a new home for a swarm, of bees. The synthetic Nasonov pheromone is blended with additional ingredients that are naturally acquired. All these mimic the attractive scents that attract and keep bees within a colony.
Pros
Increases chances of attracting bees.
A small drop works for a full season.
The product can last for up to 1 year when unused.
Works as advertised.
Superior quality product.
Affordable.
Increases chances of bees sticking around once attracted.
Cons
Chances of success may vary.
Check Price

5. Blythewood Bee Company Swarm Commander Swarm Lure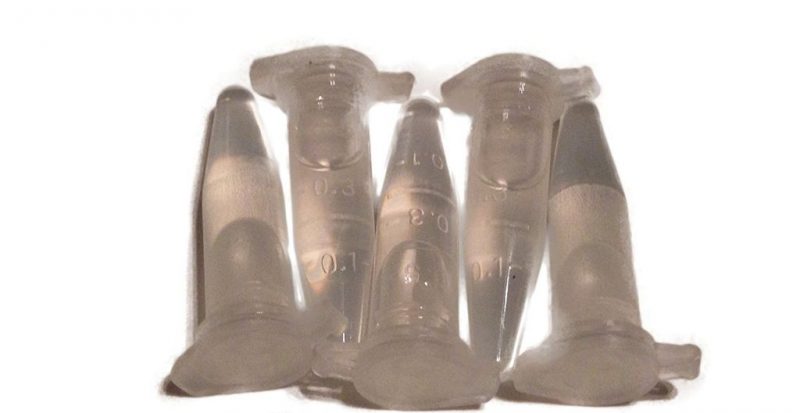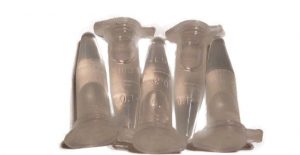 Wild bees that are swarming are usually desperate to get a new place, but it is challenging for them bees to trace their way to an empty hive. This is precisely due to the fact that bees are more sensitive to certain pheromones. The discovery of the swarm lure therefore has made things so much easier for both the bees and the beekeeper. The pheromones contained swarm lures are easily detected by scout bees which then head to the spot to survey the area. This increases the likelihood that the swarm of bees will move in to the empty hive or bait hive. The Swarm Commander Swarm Lure follows the same concept. It is a formulation that contains powerful pheromones for attracting wild bees. This will help direct swarm bees to your trap. The substance is held in a 3.5 x 2x 0.2 inch bottle that weighs 0.8 ounces.
Pros
It works.
Affordable.
Longer lasting scent.
Does not degrade with time.
Easy to detect.
Easy to use.
Cons
Check Price

4. Farmstand Supply Swarm Lures for Beekeepers
The Farmstand Supply swarm lures are an excellent product for attracting wild bees. If you have been trying to trap a swarm of bees for a while but with no success, then you should try this product. The 2 inch bottle carries one of the most powerful pheromone-rich product that has been tried and proven to deliver good results. However small the bottle may look, it can last for many years. A single application will attract a swarm of bees for up to 3 months. The bottle has dimensions of 9 x 7 x 0.1 inches and weighs 0.32 ounces.
Pros
Single application works for up to 3 months.
Highly effective.
Affordable.
Easy to detect.
Greater chances for success guaranteed.
Easy to use.
Instructions provided.
Cons
Results may not be guaranteed.
Check Price

3. Bountiful Bees Bee Bait Swarm Lure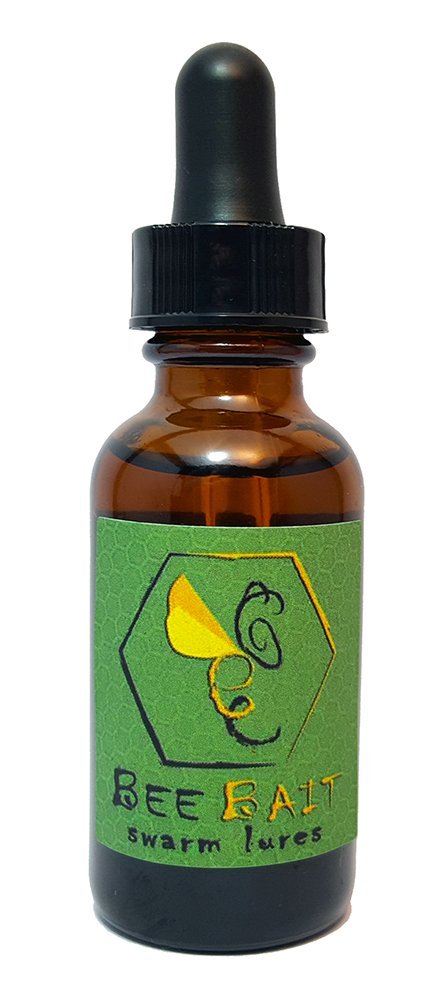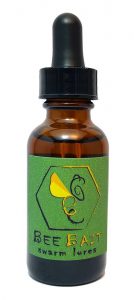 To start off our list of the best swarm lures is this product from Bountiful Bees. It is one of the most powerful pheromone-rich bee attractants that has been proven to last for up to 3 weeks in the hive depending on your location. A single bottle of the substance can service up to 100 hives, thus making it economical to use. This pheromone will increase your chance of catching the swarm up to 75%. According to the manufacturer, the product is made up with a natural ingredient that mimics the natural scent of a beehive. This is irresistible to bees.
The highly potent Bee Bait Swarm Lures comes in a 1 ounce bottle that has a stopper for regulating the amount of the fluid applied. You can use this for up to 2 years.
Pros
Long lasting.
Economical.
Made up of natural ingredients that attract bees.
Affordable.
Cons
No instructions provided on how to use.
Check Price

2. Honey Bee Swarm Attractant Lures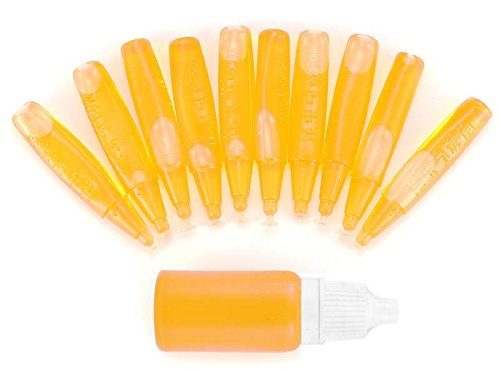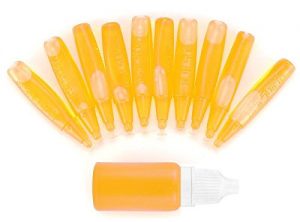 Available in 2ml and 10ml bottles is a yellow substance that does an excellent job in attracting swarm of bees. It is formulated for the beekeeper who wants to trap his new colony of bees without buying a package of bees from bee suppliers. The substance is made of bee queen pheromone and other natural components such as oils that allure to bee and keep the colony together. The manufacturer has put much effort into research geared towards adding Geraniol based compounds to the lure. This is one of the chemicals found in queen bee pheromones. This is included in all bottles so as to improve the efficacy of the lure.
This swarm lure is one of the most effective.
Pros
Highly effective in attracting bees.
Made up of oils and other natural bee attractants.
Easy to use.
Longer lasting. You have two choices; 2ml and 10 ml bottles.
Affordable.
Improved quality.
Popular brand.
Cons
Check Price

1. Janolia Honey Bee Swarm Attractant Lures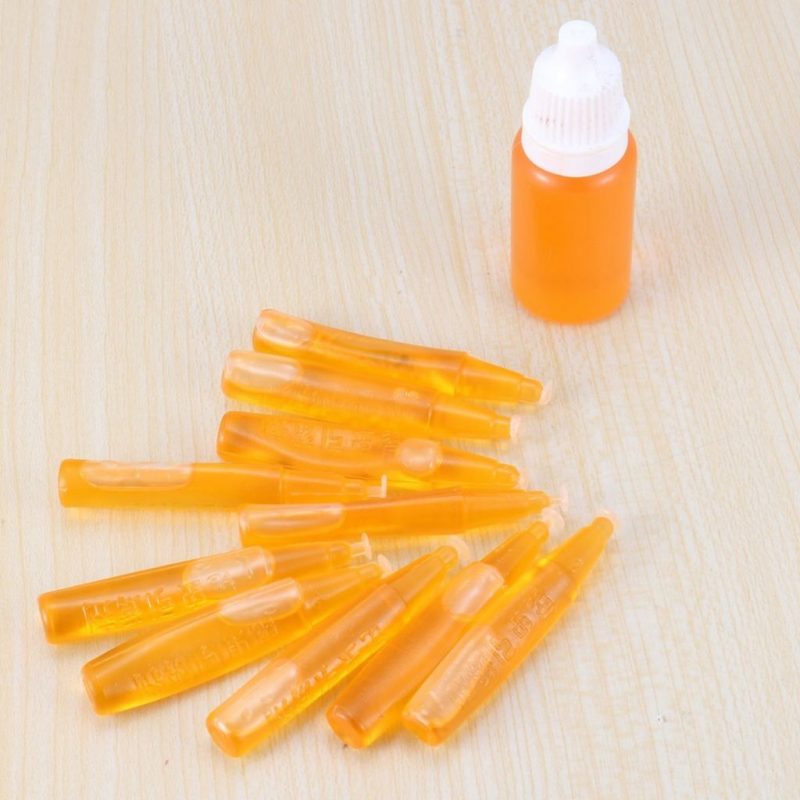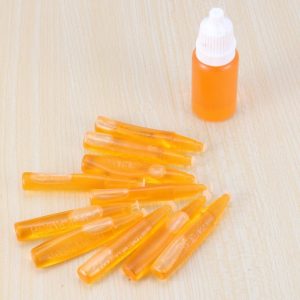 This honeybee lure is made of oils and various natural components. It is a highly potent formulation that has been perfected over the years through trial and error. The current product is ideally more advanced and is composed of a substance referred to as Geraniol. This substance is usually found in the queen bee pheromone. The product is packaged in 2ml and 10ml bottles, both of which come at an affordable price.
Pros
Chances of success greatly enhanced.
Affordable.
Works as advertised.
Easy to apply.
Two options available; 2ml and 10ml bottles.
Cons
Its efficacy might vary with trap position.
Check Price

Conclusion
If you have been thinking of trapping a bee swarm then, it is time to delve into this exciting activity. If you are a newbie, then do not undertake your first attempt on your own. Seek some assistance from a professional then join him or her from time to time when collecting a swarm of bees. This will give you confidence and help you learn how it is done. The above mentioned best swarm lures are the ultimate choices in the market right now and will make it easy for you to trap the swarm of bees. You can pick any one or two that appeal to you.
Do you own any of the swarm lures on this list? Which lure(s) do you think should be added to this list? Leave a comment below and let us know.