If you purchase an independently reviewed item through our site, we earn an affiliate commission. Read our affiliate disclosure.
Bee jewelry is not only beautiful but allows you to celebrate the passion you have for bees. Our BeeKeepShop offers you these and more bee-inspired adornments made using sterling silver. They are all high quality, durable and strong jewels. Bee lovers looking for bee jewelry will appreciate our picks for the must-have sterling silver bee jewelry that are detailed in this article. The article helps you settle on that signature bee piece or gift that you are looking to get for yourself or gift to someone dear to you. Please note that the items are listed in no particular order.
Must-have Sterling Silver Bee Jewelry
24. Silver Round Bee Pendant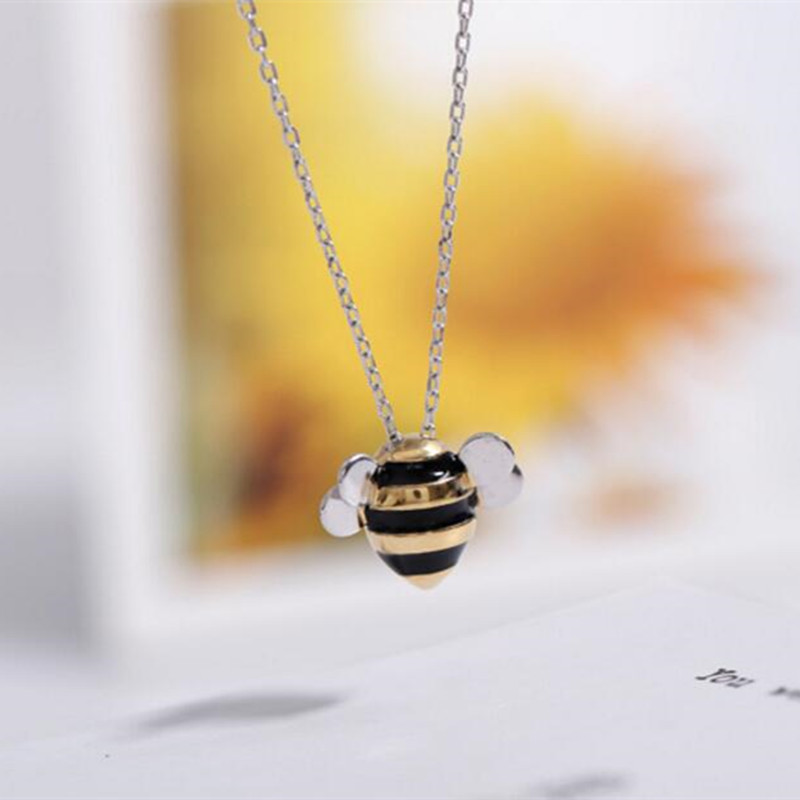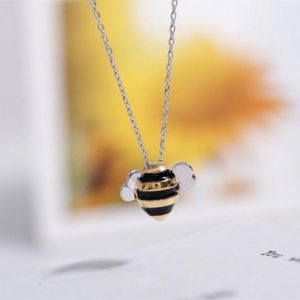 This silver bee pendant has an irresistible look that adds life to your outfit. It is made to dangle the pendant on a strong link chain that also works as a mood tracker. The chain is silver in color. It holds a bee-shaped drop pendant with silver wings that make it look like a real bee.
The black and yellow colors on the pendant body make it look very lifelike. It is cute, small and will bring a river of compliments to the wearer. This round sterling silver pendant is perfect for ladies. Get one and give it to a woman in your life. The necklace and pendant weigh approximately 0.01 kg.
Buy Now
23. Sterling Silver Bee Pendant Necklace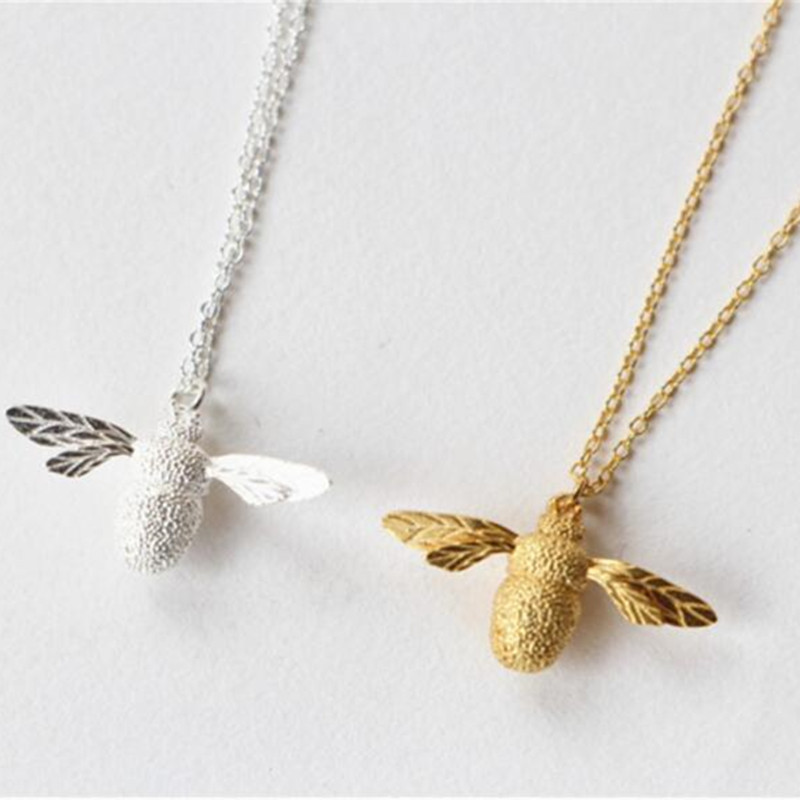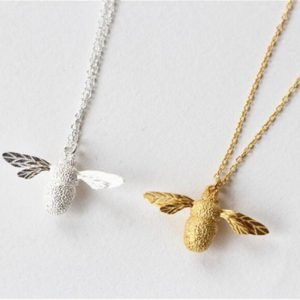 Get free worldwide shipping with this sterling silver bee pendant necklace. The pendant necklace comes with a 100% money back guarantee too! For a very reasonable price, you can have this beautiful necklace adorning your neck. This necklace is fun to wear and depicts your personality very well. It has a strong link chain that can stand being pulled on by children.
The pendant and necklace are made using 925 sterling silver. They both come in two tones' gold and silver. This pendant necklace is a great gift for ladies. It flatters their natural looks without being too obtrusive. It is durable and does not tarnish or rust. The pendant is shaped like a bee, a bonus for lovers of nature.
Buy Now
22. Cubic Zirconia Bee Brooch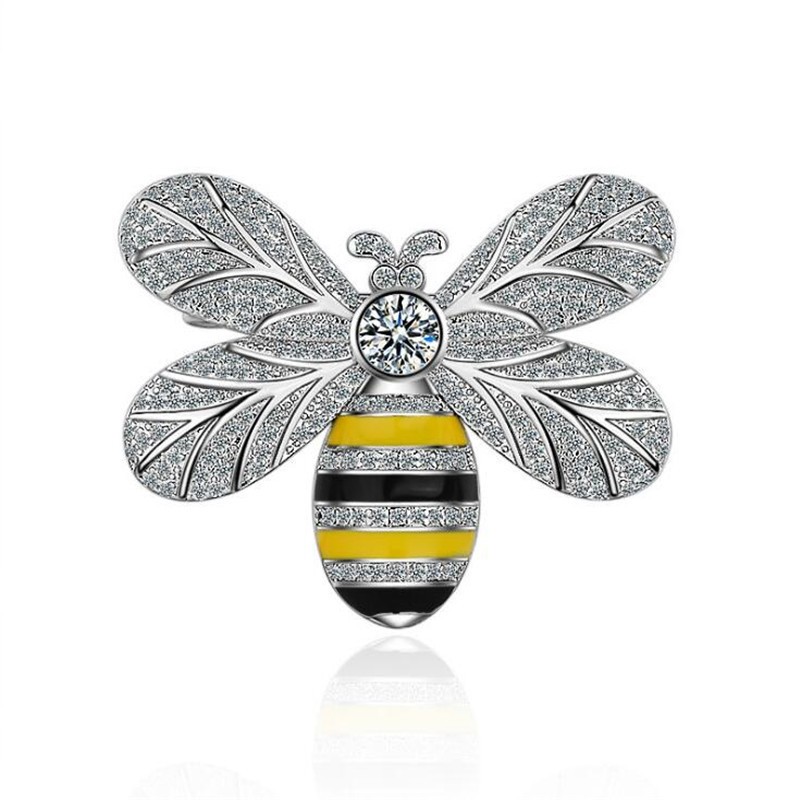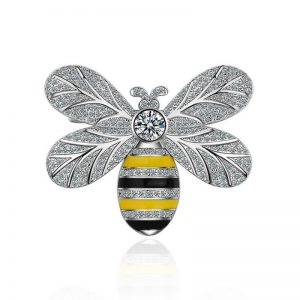 Brooches are excellent fashion pieces that add a personalized touch to any outfit you are wearing. They can be worn on the breast, on hats and can be used to fasten scarves. This Cubic Zirconia Bee Brooch is artistic and can be customized. This durable bee brooch that does not rust or tarnish.
This Cubic Zirconia Bee Brooch is made to resemble an adult bee with wings, head, thorax and abdomen. It is made using sterling silver and does not fade. This brooch does not irritate the skin either. There are two color options available: gold and silver. The difference is in the wings of the brooch, with the body remaining a constant striped black and yellow.
Buy Now
21. Honeycomb Bee Dangle Pendant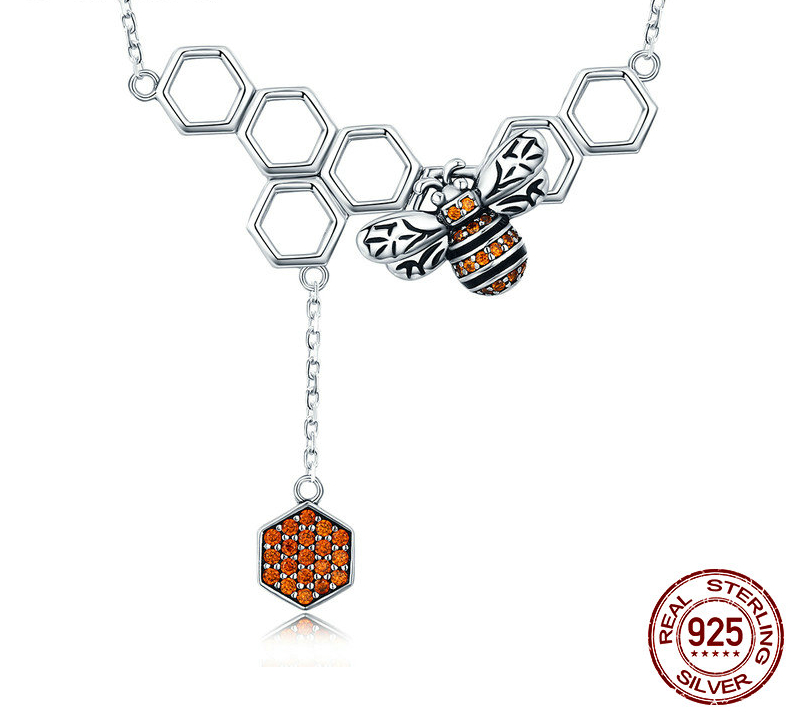 Modern fashion trends have made the necklace a priority accessory for women. A good necklace such as this Honeycomb Bee Dangle Pendant transforms an outfit from boring to interesting. This necklace is great; it spruces up your look with ease and simplicity. It has you feeling confident all day.
This Honeycomb Bee Dangle Pendant has a silver link chain that ends in a honeycomb design with a bee on it. A hexagonal honey cell pendant dangles from the honeycomb on a small chain. The colors used on this pendant necklace are silver, black and orange-yellow. They make the honeycomb bee dangle pendant cute and very romantic.
Buy Now
20. Snowflake Bee Pendant Necklace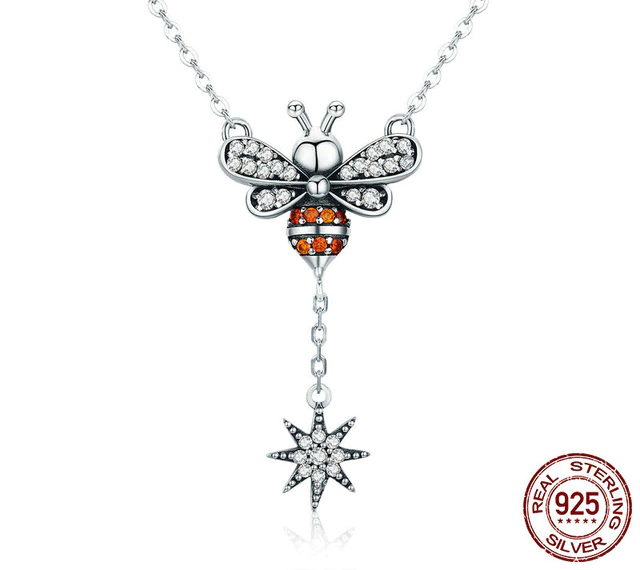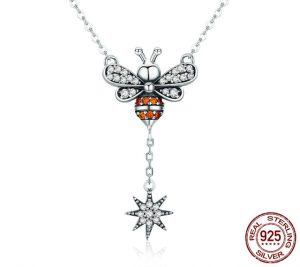 This necklace features a bee pendant hanging from a silver link chain. From the bee pendant's abdomen is another smaller chain from which hangs a silver snowflake. This pendant makes a lot of use of sterling silver to stay shining year after year. It is a must-have pendant necklace for women of fashion.
This snowflake pendant necklace has its bee pendant in silver white, black and orange colors. It features a single silver band punctuated by black on an orange abdomen. The bee is not to scale but very cute nonetheless. It has all the features of a bee including antennae, the head, thorax, abdomen and wings.
Buy Now
19. Silver Honeycomb Bee Pendant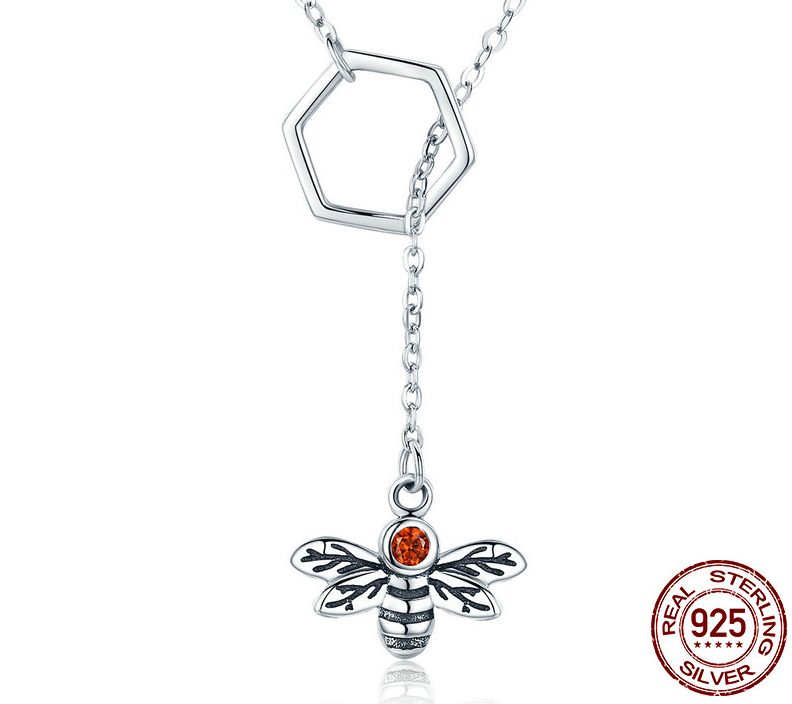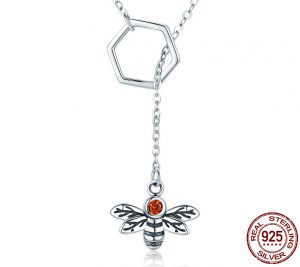 Look elegant and dazzling with this high-quality sterling silver jewel. The silver honeycomb bee pendant speaks of your good taste and sophistication. Step out with this pendant adorning your neck and turn heads wherever you go. The honeycomb bee pendant is dangling from a water-wave chain. It uses a simple clasping mechanism that sees it go through a hexagonal loop.
This pendant is made into the shape of a bee. It is colored black on the wings and abdomen, and orange on the thorax. The head of the bee form makes the loop through which the pendant hangs from the link chain. This silver honeycomb bee pendant is very fairly priced.
Buy Now
18. Honeycomb Heart Necklace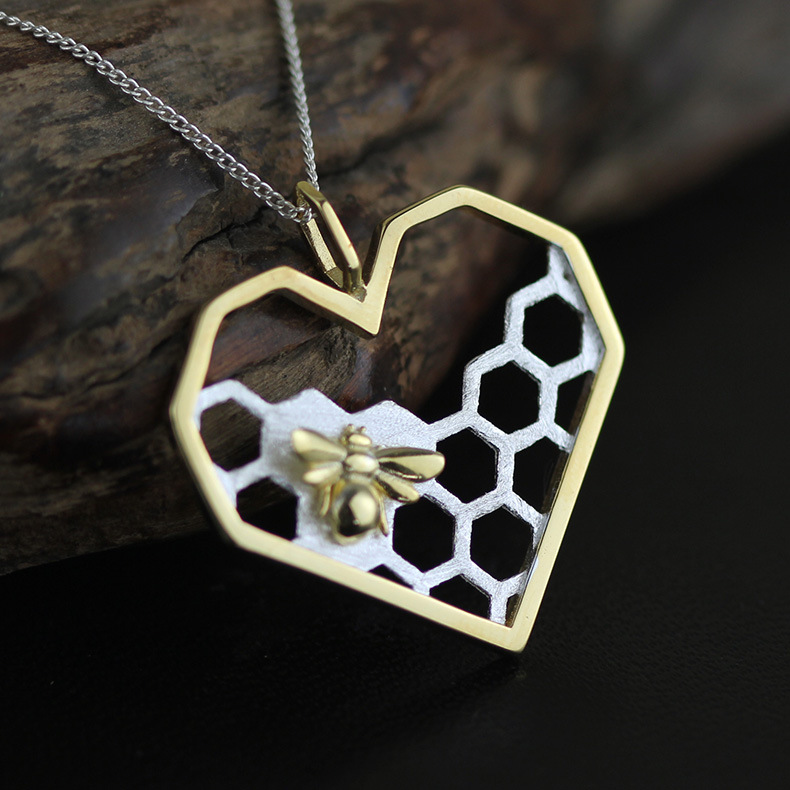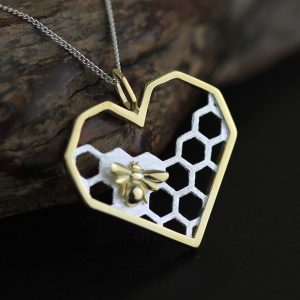 At 0.005 kg, this honeycomb heart necklace is a lightweight heart-shaped pendant necklace. It is very well suited for women and has a chain length of 43 cm. It is all made using sterling silver to give it unmatched durability. Spread the love with this necklace that features a honeycomb design in the heart-shaped pendant.
An adult gold bee is featured on the honeycomb part. The Honeycomb Heart Necklace can be purchased in two options: pendant only and pendant with chain. Make yours a noticeable striking figure with this exquisite silver bee jewelry.
Buy Now
17. Orange Cubic Zirconia Bee Drop Earrings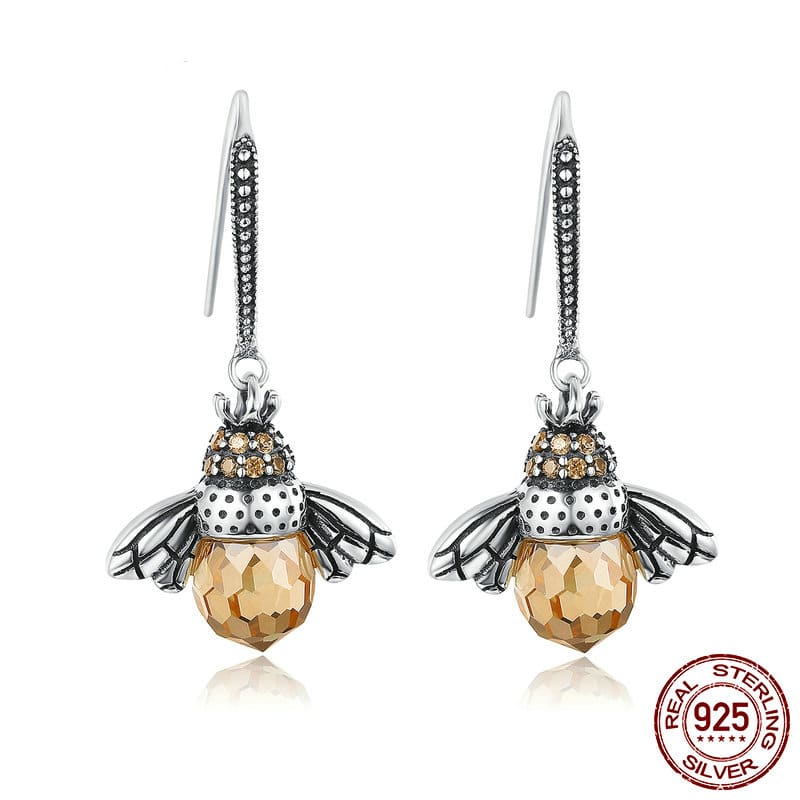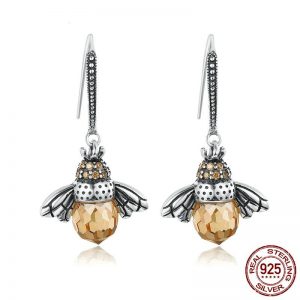 These orange cubic zirconia earrings are modeled from bees. They make ladies feel truly special with their unique and sophisticated look. The earrings are made using cubic zirconia and sterling silver. They are absolutely free of lead and nickel, making them very safe to wear.
The Orange Zirconia Bee Drop Earrings have unmatched beauty which they confer to the wearer. They have black detailing and a prominent orange color. The earrings easily make you the center of attention in the gathering. Grab a pair of these 0.03 kg drop earrings that give you excellent value for your money.
Buy Now
16. Gold/Silver Baby Bee Necklace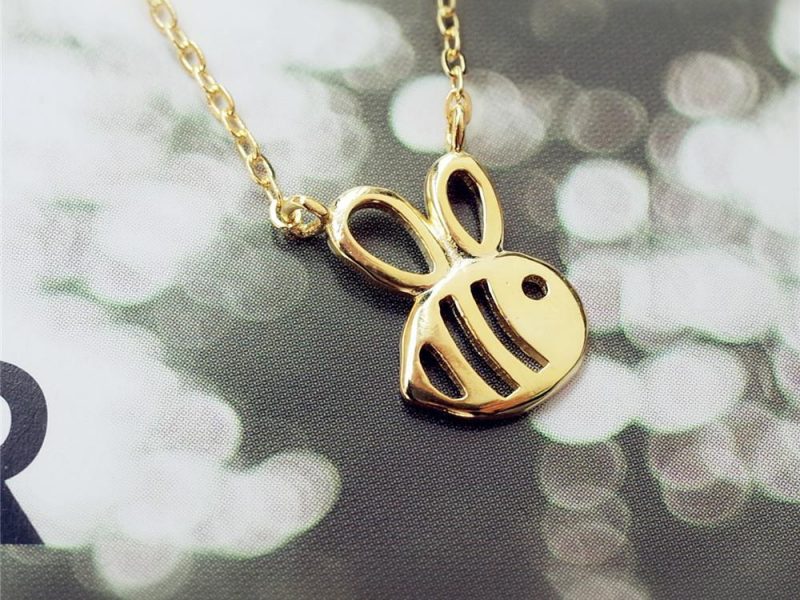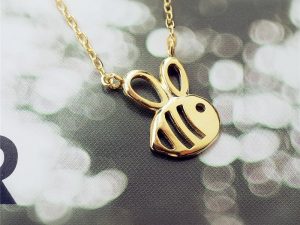 The gold/silver necklace is an elegant necklace. It has a strong link chain holding a baby bee pendant. The pendant and chain both have a gold color. They are made using sterling silver to give them strength and longevity. The necklace is safe to wear even when it comes into contact with your skin.
The two wings of the baby bee pendant make attachment points for the chain in this necklace. It speaks simplicity, elegance and sophistication. Step out while donning this necklace and discreetly tell of your passion for bees and nature. This gold and silver bee necklace is especially suited for women.
Buy Now
15. Sterling Silver Honeycomb Bee Necklace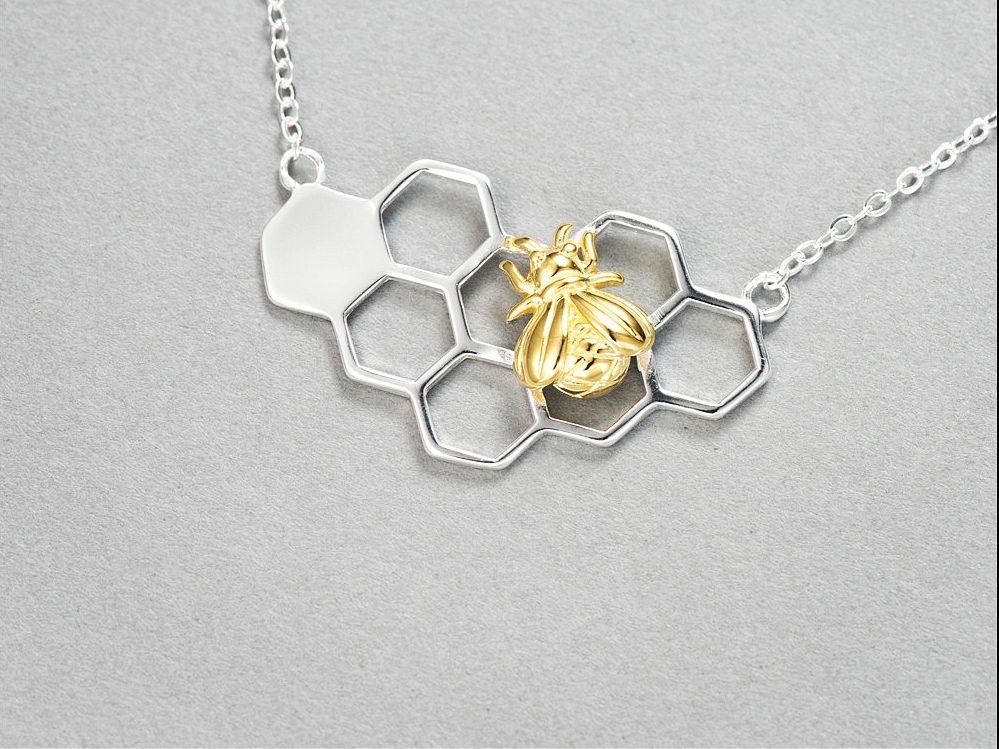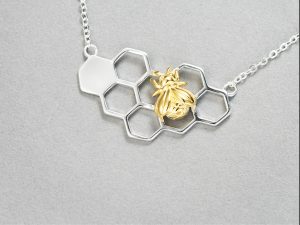 This Sterling Silver Honeycomb Bee Necklace is another one of the high quality bee jewelry available on the BeeKeepShop. It has a silver appearance on its pendant and link chain. The design of the pendant features eight honey cells with one of the cells capped.
A golden colored bee is slightly to the side, off-center on the honeycomb part of the pendant. It contrasts very well from the silver color of the honeycomb and gives this necklace a unique look. The whole necklace speaks elegance and unmatched beauty. This is a necklace that every nature loving woman wants. It is gorgeous and versatile since it can be worn with a wide range of outfits of varying colors.
Buy Now
14. Black & Yellow Bee Stud Earrings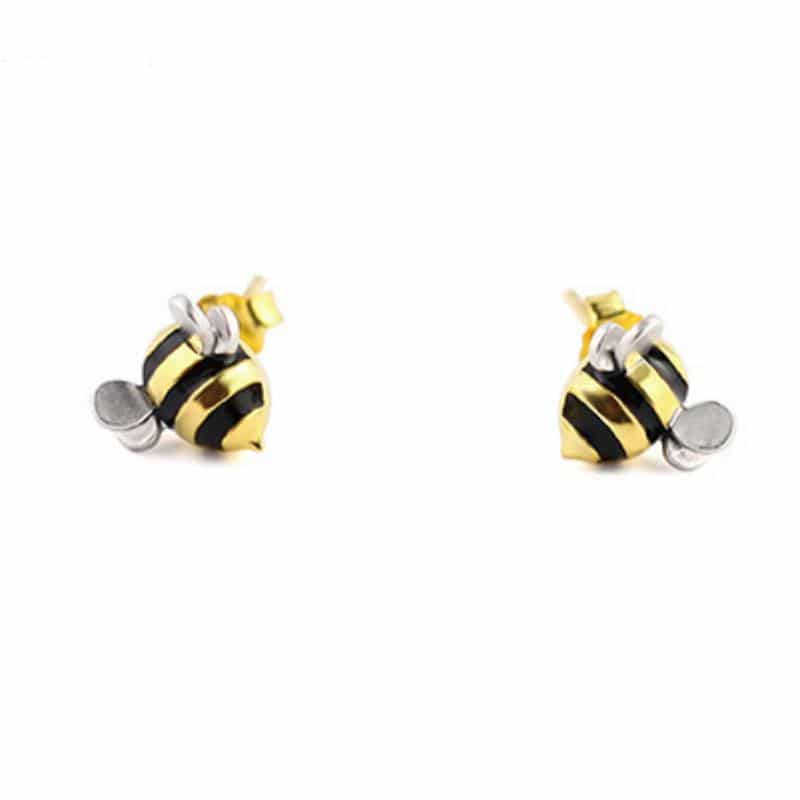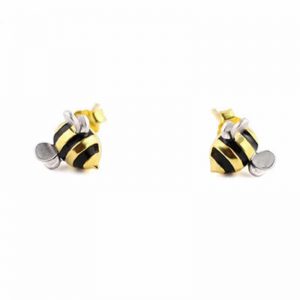 This black and yellow earring is made in the ear stud style. It presents as a bee perched on your earlobe. It is colored metallic silver, black and yellow. The bee figure of the ear stud is complete with wings. It weighs 0.003 kg only and is very good looking on women.
The size of each of these ear studs is 0.7 cm x 0.7 cm. these black and yellow bee stud earrings are beautiful. You get them quickly delivered once ordered. Intrigue a woman today by buying them a pair of these ear studs as a gift. They are very safe to wear since they do not irritate the skin.
Buy Now
13. Sterling Silver Bee Stud Earrings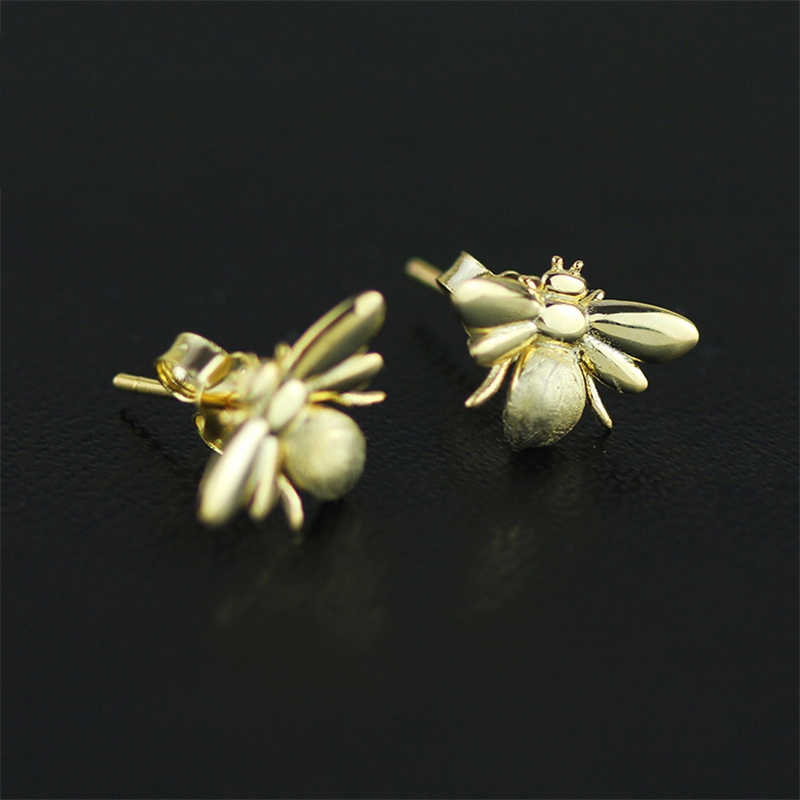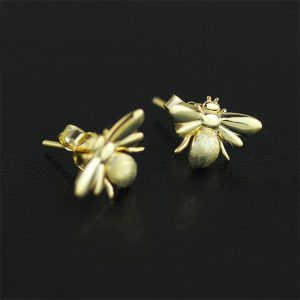 Get these sterling silver bee stud earrings. The studs are lightweight and very beautiful. They add elegance to your looks and help you make a nature-conscious fashion statement. The stud earrings are made to resemble bees to scale. They have clear cubic zirconia jewels embedded on the wings, antennae and abdomen of the bee replica. A silver band adorns the middle of the abdomen.
These ear studs combine black, silver and orange-yellow colors to achieve a glamorous appearance. Set new trends in fashion with these 0.03 kg screw-back stud earrings for women. Their quality is guaranteed by a money back guarantee that comes in addition to free worldwide shipping.
Buy Now
12. Honeycomb Bee Drop Earrings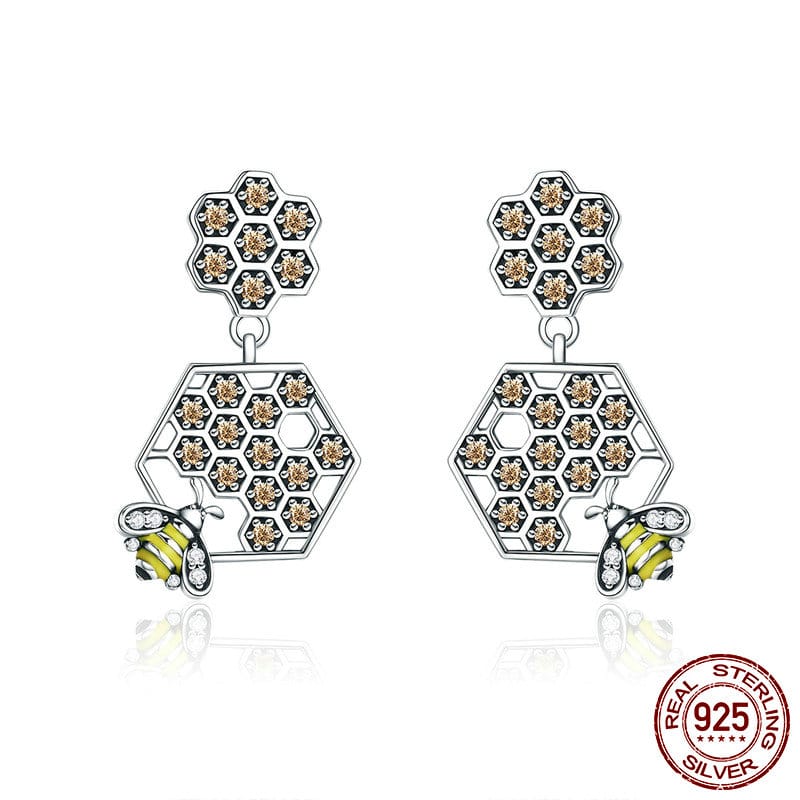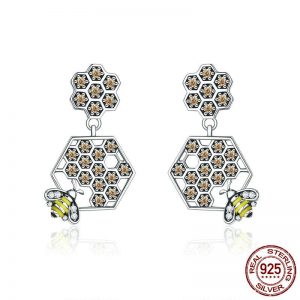 These bee drop earrings are inspired by nature. They feature honeycomb cells and a bee. Each earring has two distinct sections. The upper part is made of seven honey cells. It has the earring clasp on it.
A simple hinge links the upper and lower part that has more honey cell replicas in a hexagonal arrangement. On the lower part of the earrings is a beautiful black, silver and yellow bee replica. These earrings are visible. They are great for the adventurous woman aiming to connect with nature. This set of sterling silver bee jewelry is a great gift for a female beekeeper you know.
Buy Now
11. Silver Honeycomb & Bee Earrings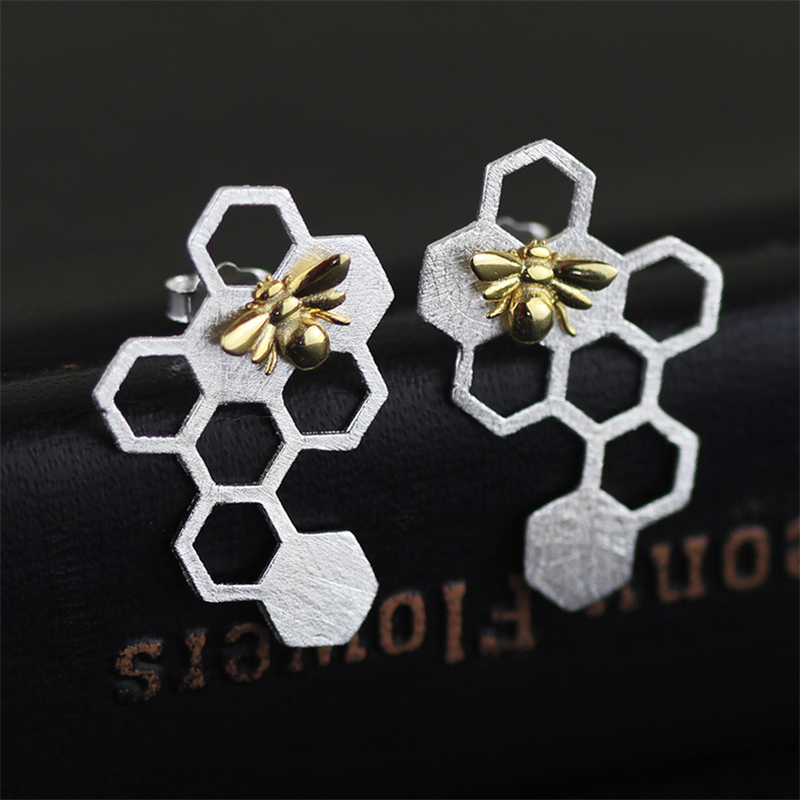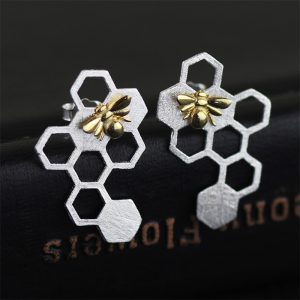 These silver honeycomb and bee earrings are a trendy addition to your earrings collection. They feature a golden bee on silver honey cell tops. The eight honey cells are arranged in a broken line, giving the earrings a very fashionable and unique appearance. Step out with these earrings for a bargain as they come at a great price. They give you a casual yet exciting look. The Silver Honeycomb & Bee Earrings help you make a fashion statement effortlessly.
These earrings are safe to wear on all types of skins. They are made using sterling silver that does not irritate your skin. Women in your life will appreciate these earrings when you gift them with a pair on their graduation, mother's day or Valentine's Day.
Buy Now
10. Authentic Sterling Silver Zirconia Bee Ring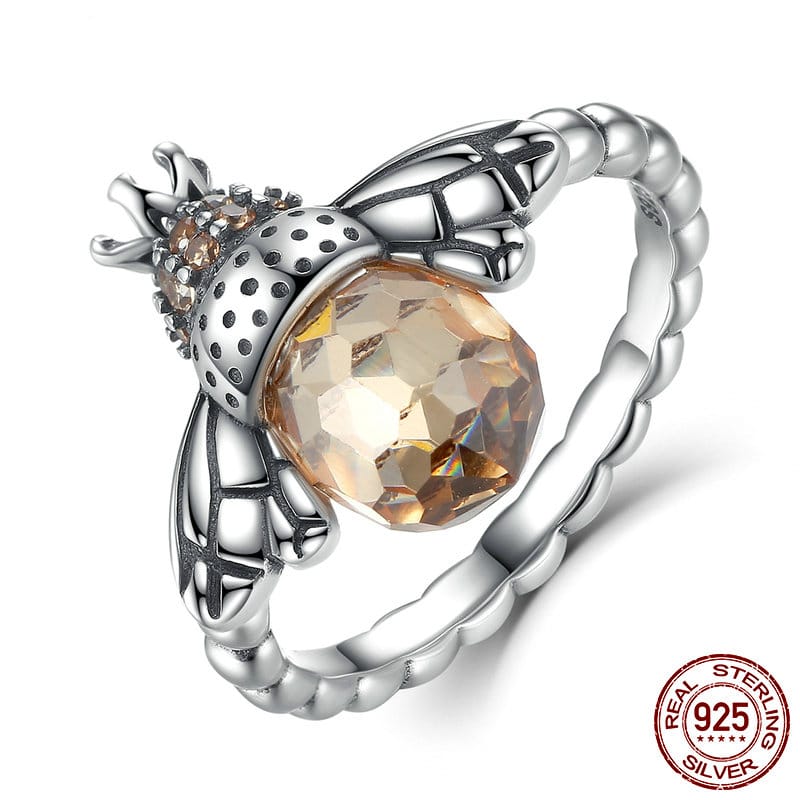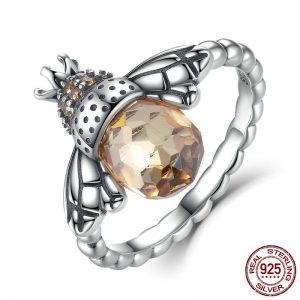 The BeeKeepShop presents you with this authentic sterling silver and zirconia bee ring. The ring is available in four finger sizes: 6, 7, 8 and 9 that easily fit the favorite fingers of adults. Sterling silver and oxidized silver are used to give the ring its silver and black colors. They work well with the inlaid cubic zirconia to bring out your beauty.
With this ring on your finger, you feel confident and ready to take on the world. The ring is built in a freshly unique design. It features a bee complete with wings that spread out to form the loop of the ring. Buy one for yourself, or for a woman you love today.
Buy Now
9. Sterling Silver & Zirconia Bee Charm Pendant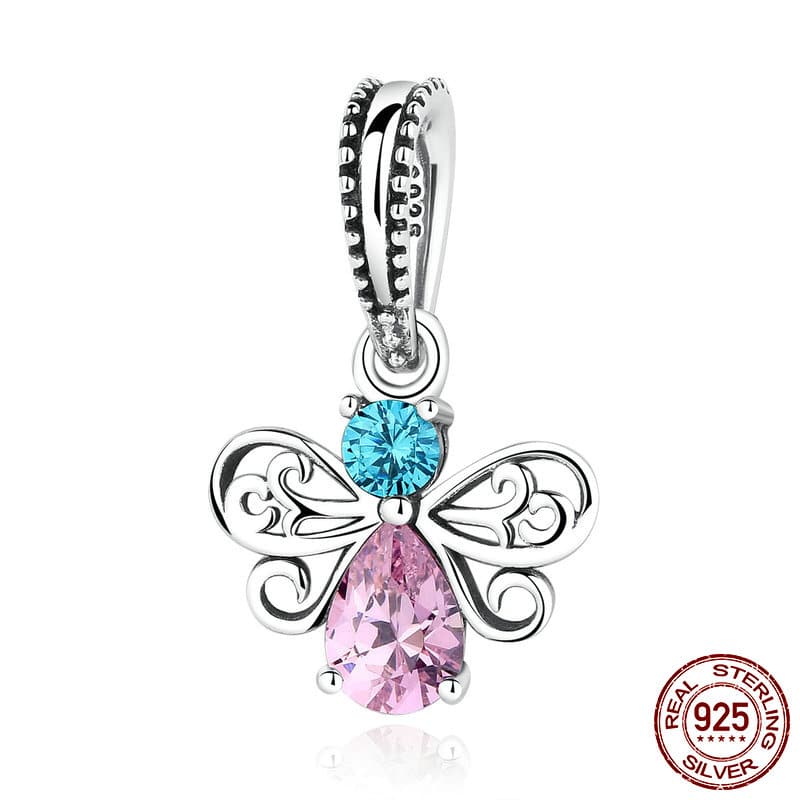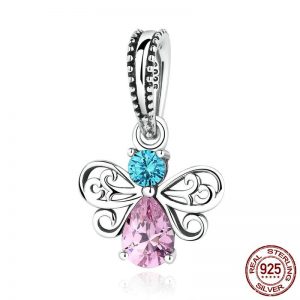 This is a 1-gram charm pendant suitable for women. It combines silver, blue and pink colors to bring class and elegance. The beautiful charm pendant works with silver and gold neck chains very well. This high-quality bee charm pendant is made using sterling silver and cubic zirconia. The charm pendant shows excellent craftsmanship and attention to detail in its making.
For a great price you can be the proud owner of this sterling silver and zirconia bee charm pendant. The pendant is the perfect accessory to create lasting memories as a gift. The pendant has unmatched sophistication and works with the outfit you are wearing to bring out your natural beauty.
Buy Now
8. Sterling Silver Yellow Crystal Bee Pendant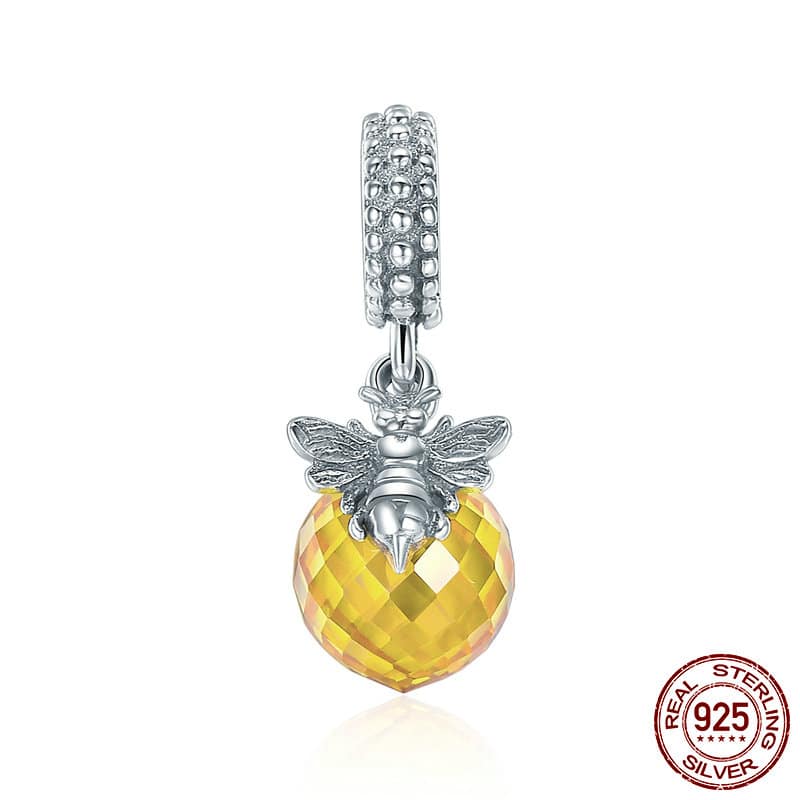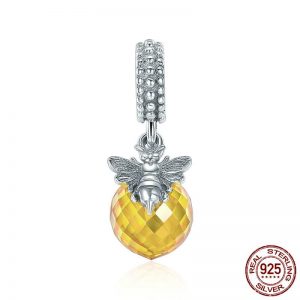 Made using sterling silver and yellow crystal, this bee pendant is a charming addition to your attire any day. It warms your spirit and gives you a spring in your step. The sterling silver yellow crystal bee pendant has two parts: the yellow crystal and the bee. The bee is made using sterling silver and swings free of the crystal. It can also rest on top of the crystal.
This pendant is beautiful, elegant and discreet. It brings out your uniqueness without being too bold. Use this sterling silver yellow crystal bee pendant to tell of your love for nature at any gathering you are in. A free velvet jewel bag comes with every purchase.
Buy Now
7. Sterling Silver Orange Zirconia Bee Pendant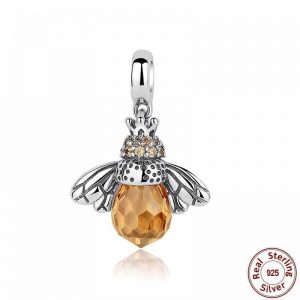 This sterling silver pendant incorporates cubic zirconia to achieve unparalleled simplicity and elegance. It is a unique pendant that works with any necklace you have. The pendant comes at a great price. Get yourself one today and enjoy its bold classic style.
This pendant makes a fashion statement on your neck every time you put it on. It is great to wear to wedding parties, birthdays or other formal and informal events you are attending. This small faceted beautiful pendant gives you confidence with its easy charming nature. The pendant is not going to irritate your skin, so add one to your pendants' box today or pamper a woman with one.
Buy Now
6. Silver Princess Crown Bee Ring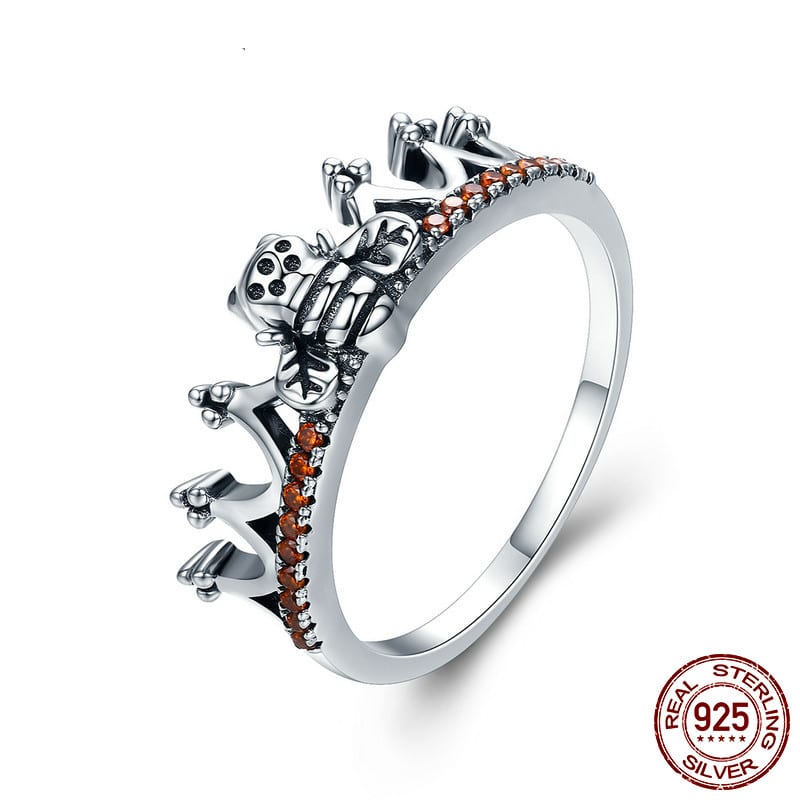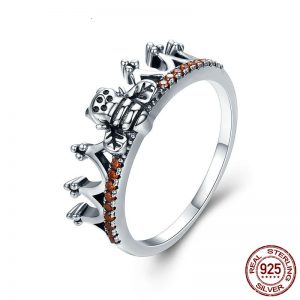 Get this great gift for your wife or girlfriend today. The ring is made using sterling silver, some oxidized silver and crystals. At the head of the ring is a black and silver bee. It is succeeded by inlaid crystals towards the outside. Unobtrusive crown points rise from the rim of the ring to complete the mimicry of a crown.
This elegant bee is great for an anniversary or engagement. It comes in three finger sizes: 6, 7, and 8.  It is sure to lighten up the face of whoever you give it to, so try it today. The ring is made in a carefully crafted prong setting with a surface width of 2 mm.
Buy Now
5. Daisy Flower Open Bee Ring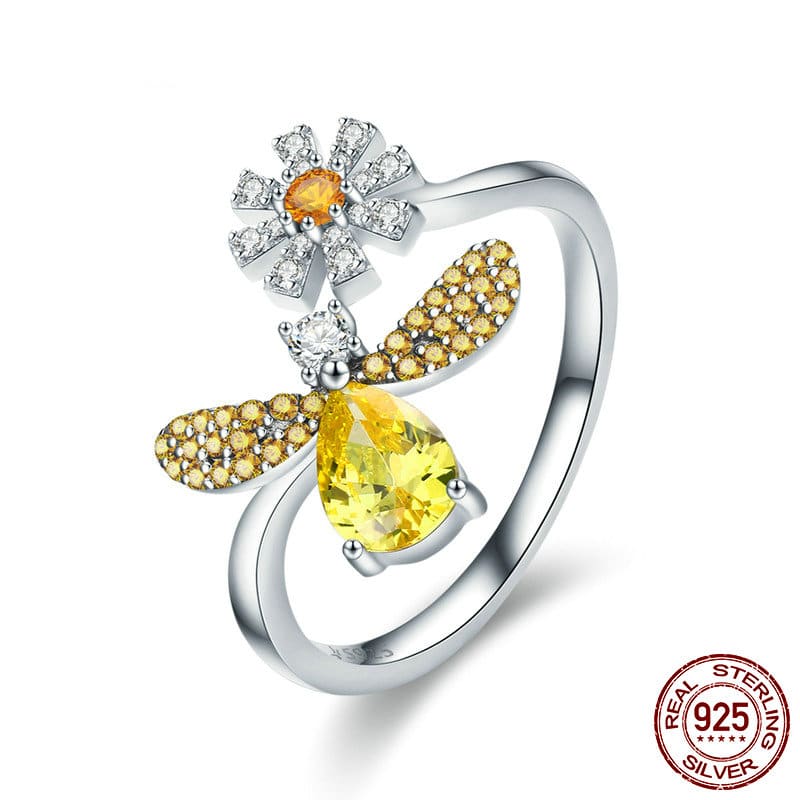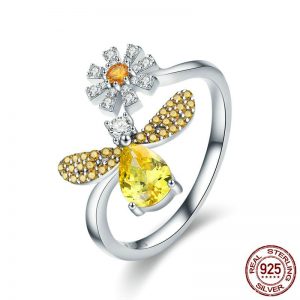 Daisy flowers have a lot of significance in love. They symbolize innocence, new beginnings, beauty, love and fertility. The flowers are a darling to bees too. This flower ring is the gift you should give to the woman of your love. The ring is built in an open ring style that allows it to fit more than one finger size. It is made using authentic sterling steel with crystals embedded in it.
The deep yellow color of the crystals matches the silver of the ring to make the whole assembly very beautiful. Get this ring today and receive a free bonus velvet jewelry bag.
Buy Now
4. Sterling Silver Butterfly & Bee Open Ring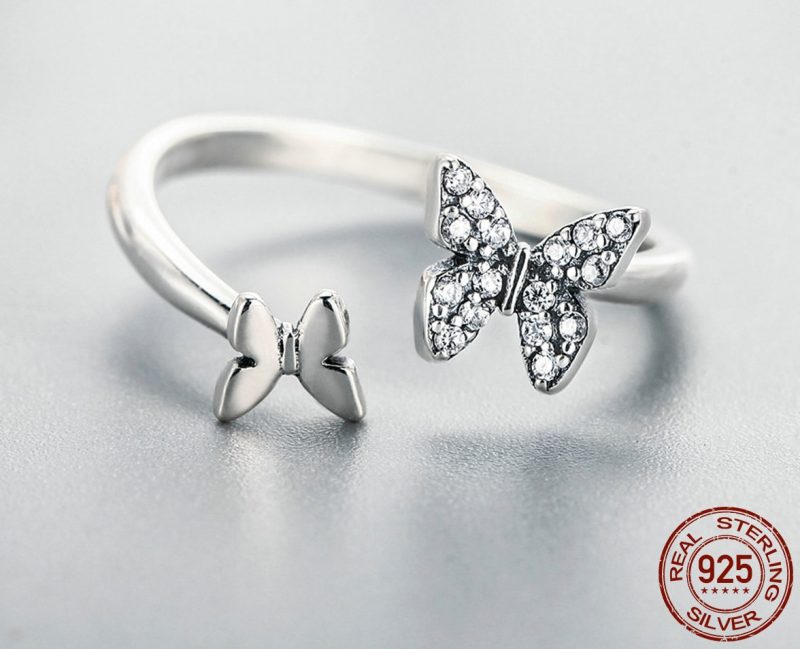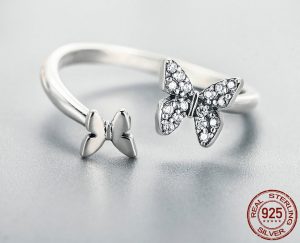 The sterling silver butterfly and bee open ring is a queenly ring for women. Gift it to any woman in your life and win their hearts. The ring is beautifully made in an open ring design with a butterfly on one end and a bee on the other. It comes in two color options to suit different tastes.
This ring is the one that breaks the monotony of commitment rings. It is inspired by nature and masterfully crafted using the best materials for rings. The beauty on the ring is in its own league and adds alluring sophistication to the wearer. This ring is great for nature lovers.
Buy Now
3. Sterling Silver & Pearl Adjustable Bee Ring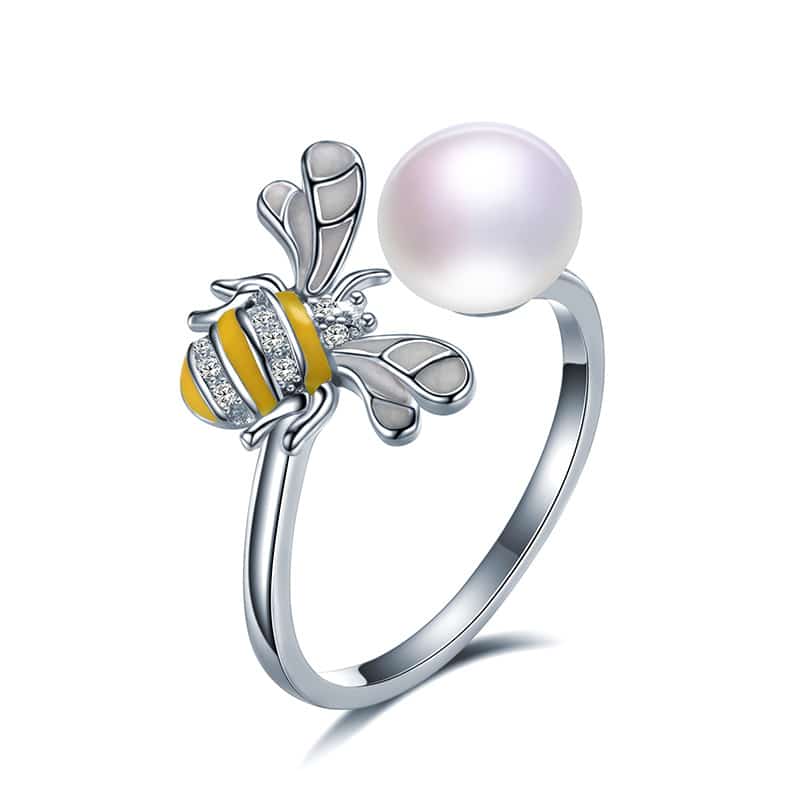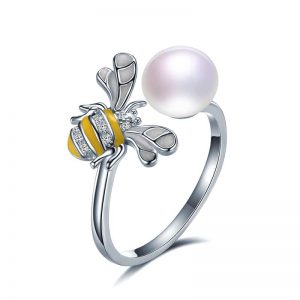 Another ring makes it into this compilation of our must-have sterling silver bee jewelry. This Sterling Silver & Pearl Adjustable Bee Ring is resizable and comes in 10 main stone color options. The ring is built in the open ring design. It sports a main stone on one end and a bee on the other. The bee is in yellow, silver and oxidized silver black colors. This ring is quite a bargain too.
A free jewelry bag comes with this bee ring. Use this ring as a commitment or party ring and you will not regret it. The ring is an irresistible combination of beauty that every woman should have.
Buy Now
2. Sterling Silver Open Honeycomb Bee Ring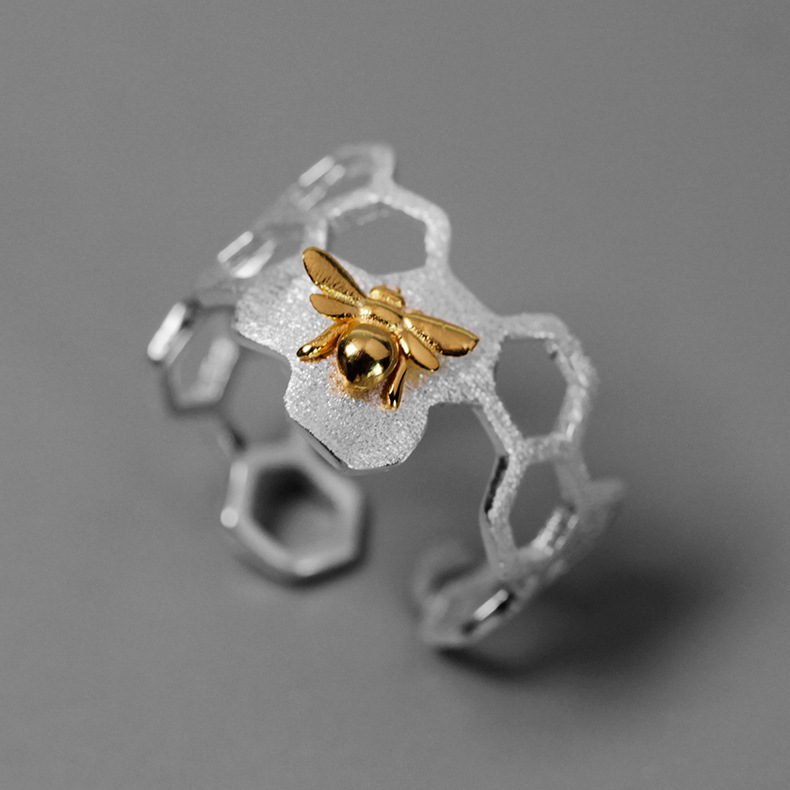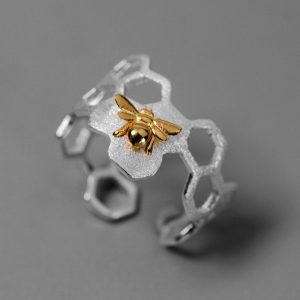 Get this lovely ring today and you won't regret it. The ring is made in the open ring style to allow it to fit a range of finger sizes. It features hexagonal honey cell-like figurines and a bee as the crown of the ring. Excellent craftsmanship is seen in the ring. Silver and gold colors used on the ring contrast well and make the ring very beautiful to behold.
This ring is impressively wide. It allows the ring to be worn as a statement jewel. The ring exudes elegance and sophistication while making you stand out from the crowd. It gives you confidence and transfers its chic opulence to your personality.
Buy Now
1. Vintage Handmade Bee Stud Earrings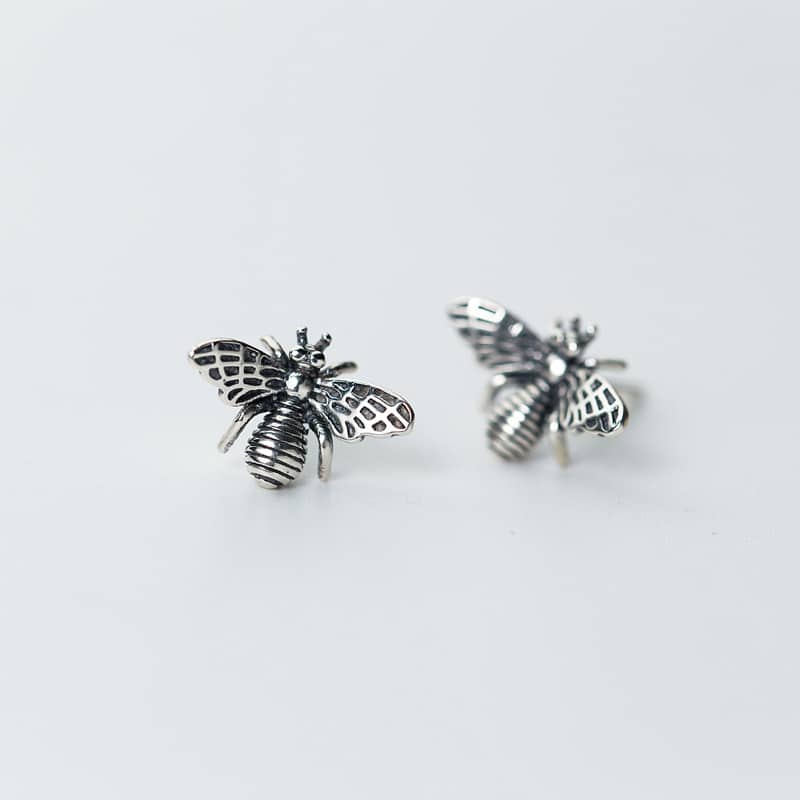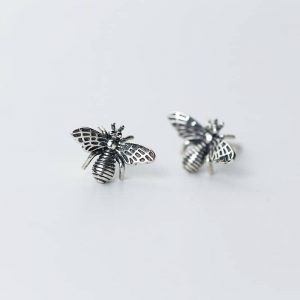 Enjoy free worldwide shipping with your purchase of these handmade stud earrings. The pair of Vintage Handmade Bee Stud Earrings comes in black and silver colors. They are beautiful adornments for your ears. The small studs discreetly add a neo-gothic look to your attire. These bee stud earrings are shaped like bees and very comfortable to wear. They are made using sterling silver that does not irritate your skin.
Any woman you buy these ear studs for will appreciate and give you a special place in their heart. The stud earrings have great quality and very durable. They weigh 2 grams and have push-back back finding. Make a vintage fashion statement with these handmade bee stud earrings.
Buy Now
A Final Word
An awesome property of sterling silver that makes it great for jewelry is that it rarely wears down. Sterling silver is made using 95% silver alloyed with other metals, most often copper. These must-have sterling silver bee jewelry pieces are great for beekeepers who want to showcase their love for bees. They also make nice gift items you can give to your friends, relatives and dear ones.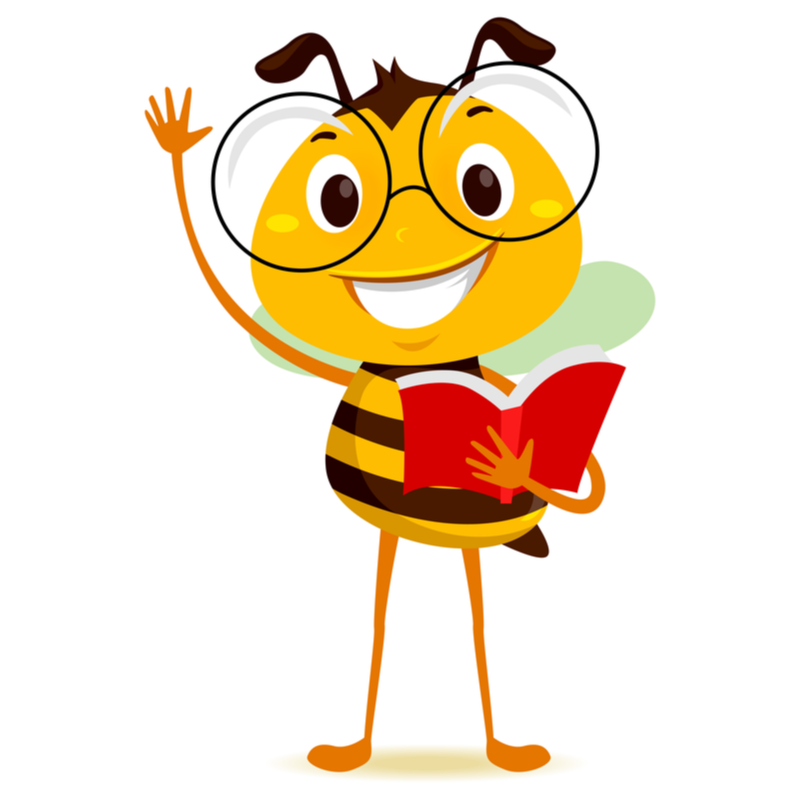 GET YOUR FREE EBOOKS BEFORE YOU GO!
As our gift to you, we're offering you our very own eBook bundle on getting started in beekeeping. Just enter your email and we'll send them to you.
No thanks, I don't want the free ebooks.