If you purchase an independently reviewed item through our site, we earn an affiliate commission. Read our affiliate disclosure.
Review Overview
The OxaVap ProVap 110 Oxalic Acid Vaporizer is a robust tool for beekeepers, designed to combat Varroa and thoracic mites efficiently. It heats quickly, maintaining temperature without the need to open hives, minimizing bee disturbance. Its compact design and ease of use, even for those with many hives, make it a practical investment for both amateur and professional beekeepers. While it requires an additional hole in the hive, the benefits, including a measuring spoon and a spare cap, outweigh this minor inconvenience. OxaVap's customer service is also highlighted as a valuable resource for users. This vaporizer is a solid choice for maintaining healthy colonies.
OxaVap is a little-known company that specializes in creating oxalic acid vaporizers. In this article, we'll be reviewing the OxaVap ProVap 110 Oxalic Acid Vaporizer – a fast vaporizing tool that allows you to treat beehives quickly for Varroa mites.
About the OxaVap ProVap 110 Oxalic Acid Vaporizer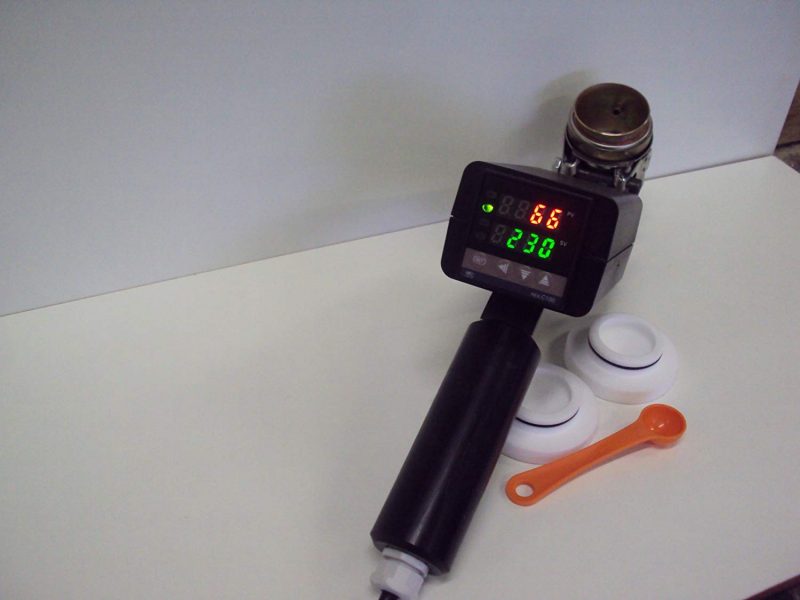 The OxaVap ProVap 110 Oxalic Acid Vaporizer runs on 110 volts of AC electric power. It comes with a standard 3-prong earthed plug. Beekeepers using this oxalic acid vaporizer can use a car battery and an inverter to power it. This is however only necessary when your beehives are located far from the house or main power outlet. The consumption rating of the vaporizer is 250 watts or 2.2 amperes. It does not require you to have a compressor for it to work.
The vaporization temperature of oxalic acid is 1570 C. This is easily reached by the OxaVap ProVap 110 Oxalic Acid Vaporizer. It comes preset to a temperature of 2300 C, which is higher than the vaporization temperature of oxalic acid. It allows the vaporizer to quickly vaporize oxalic acid crystals. A red sequence readout on the vaporizer displays '230' when the preset operating temperature is reached. The display is very handy in informing beekeepers that it is ready for use.
The vaporizer weighs 4 lbs and measures 13.25 x 10 x 4 inches.
Using the OxaVap ProVap 110 Oxalic Acid Vaporizer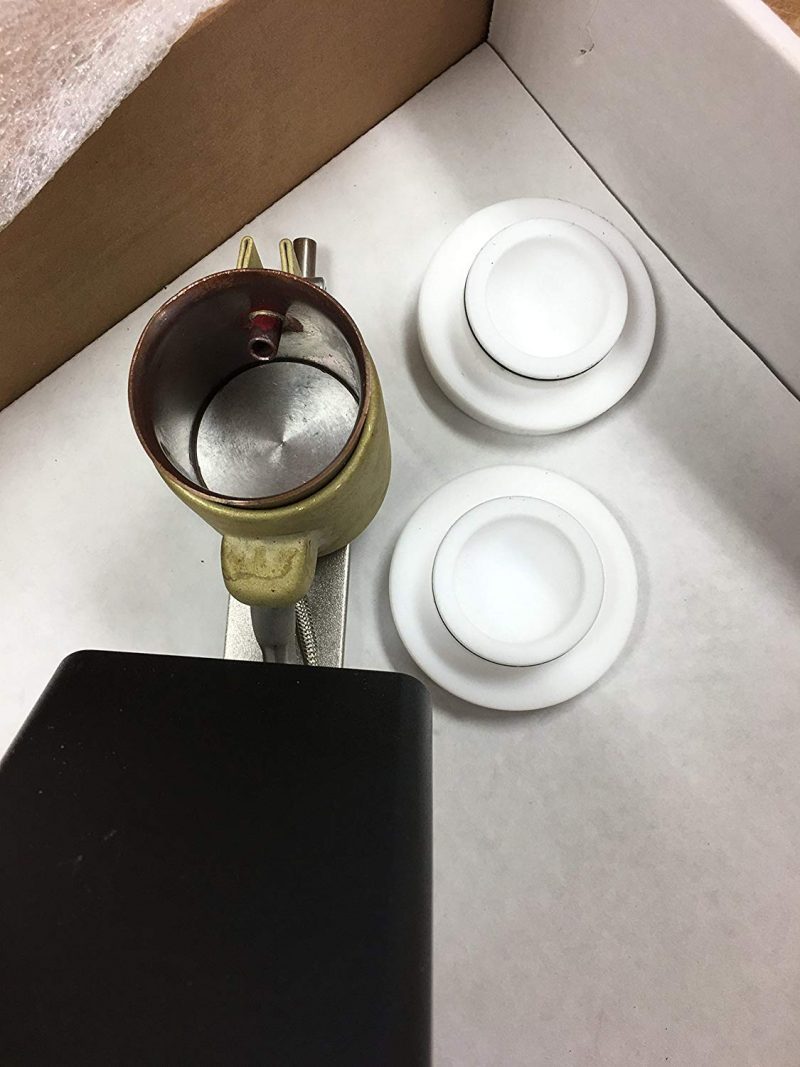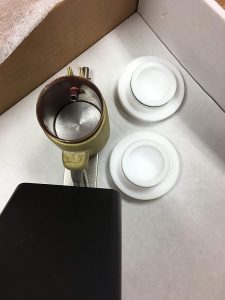 Using the OxaVap ProVap 110 Oxalic Acid Vaporizer is an easy and simple process. Once you have connected the vaporizer to a power outlet, allow it to heat up. Next, add some oxalic acid to the cap. Attach the cap to the vaporizer cup while holding it upside down. To start vaporization, turn the vaporizer right side up. The oxalic acid will fall onto the sublimation plate of the vaporizer and get sublimated. Oxalic acid crystals work very well with this vaporizer.
Using the OxaVap ProVap 110 Oxalic Acid Vaporizer you are able to move from one beehive to the next very quickly. This is because the vaporizer does not need to cool down once it has been heated up. Once the beehive has been treated, you only need to turn the vaporizer upside down, remove the cap, and refill the acid cup with oxalic acid. You can then move to the next hive where you turn the vaporizer right side up when ready to treat the hive. This makes the vaporizer very suitable for those with many beehives.
Pros and Cons
Pros
The tool vaporizes oxalic acid quickly. It reaches its operating temperature in a short time. The temperature does not drop too low during vaporization.
You do not need to open up the hive to treat your beehives for Varroa mites. This vaporizer works very well via a small hole drilled in the back of the hive. It helps beekeepers avoid placing hot elements in beehives.
By allowing beekeepers to work from the back of the hive, the vaporizer causes minimum disturbance to bees. This is unlike other vaporizers that require you to work from the front of the hive at the beehive entrance.
The vaporizer is relatively light and compact. It is easy to move around between hive treatments. Stowing it away for storage does not eat up too much of your space.
Upon purchase, the vaporizer comes ready to use. It requires no additional assembly by the beekeeper. It comes with an oxalic acid measuring spoon as a bonus. The vaporizer also comes with a spare cap in case you lose or damage one.
Cons
Where your beehives are located far from your house or mains power supply, you require additional equipment to use the vaporizer. You will need a battery and an inverter to power the vaporizer.
This vaporizer requires you to drill an additional hole in your beehives. The hole then needs to be covered up once you are done treating the hive.
Using Oxalic Acid
Oxalic acid has proven to be an effective treatment for the control of Varroa mites and thoracic mites in honeybee hives. Left unchecked, these parasites can cause serious damage to a honeybee colony. It leads to deformed wings in the colony and can eventually lead to the loss of the entire colony. In heavy infestations, the colony absconds from the hive. Using oxalic acid is one option that beekeepers may employ (click here for more) to avoid these losses with one or two treatments per hive every year.
Purchasing Oxalic Acid
Further Thoughts
The OxaVap ProVap 110 Oxalic Acid Vaporizer is well-made and durable. It works well through repeated use. It is nicely put together. Electrical parts are soldered into place. The vaporizer has no moving parts that are prone to breaking down. It is great for use by both professional beekeepers and amateurs. It is suitable for beekeepers with many beehives that may need to be treated for Varroa mites in a short period of time. The vaporizer gives you excellent returns on your investment and helps your honeybee colonies to thrive.
Conclusion
Beekeepers should not leave their honeybee colonies to be annihilated by Varroa and thoracic mites. The OxaVap ProVap 110 Oxalic Acid Vaporizer provides a reliable and efficient way to control these parasites of honey bees. The vaporizer comes with an instruction manual that is well-detailed. It allows the vaporizer to be used even by beekeepers who are not so good with electronic products. If you encounter any problems, OxaVap has easy-to-reach customer care that is ready to help you out.
Have you ever used the OxaVap ProVap 110 Oxalic Acid Vaporizer? Leave a comment below and let us know what your experience was like.
Check Price