If you purchase an independently reviewed item through our site, we earn an affiliate commission. Read our affiliate disclosure.
Review Overview
The Powerblanket BB05GV Bee Blanket Honey Heater provides a great and safe solution to the problem of heating honey.
The honey heating blanket is a must have for every beekeeper that bottles honey for long periods of time. The device offers a great solution for decrystallizing and warming up honey. This helps ensure the honey is never overheated. One of the most popular honey heating blankets is the Powerblanket BB05GV Bee Blanket Honey Heater (not to be mistaken with a simple wool blanket or similar). It comes with inbuilt thermostats that keep temperature levels on check. It is available in various options which differ in terms of thermostat type and the maximum temperature capability.
About the Powerblanket BB05GV Bee Blanket Honey Heater
Available in a variety of options is the Powerblanket BB05GV Bee Blanket Honey Heater designed to meet the needs of various users. It is a heating solution that is designed to maintain the same temperature levels as that in the beehive. This ensures the honey remains liquid and in excellent condition. The internal thermostats have been designed with low settings so that the honey can remain within the unit without worries of spoiling it. This product is ideal for honey bottlers and honey producers. The vinyl heat blanket helps maintain the required level of heat so as the honey remains in good condition as required for bottling and for use in honey stores.
Features of the Powerblanket BB05GV Bee Blanket Honey Heater
All models are designed to fit a 5 gallon bucket.
The voltage capacity for all models is 120 Volts.
It has a uniform heat zone which ensures a balanced distribution of heat across the unit.
Comes with an adjustable thermostat that allows the blanket temperature to go up to a maximum of 150°F.
It is acceptable to use containers and pails made of poly and steel on the heat blanket, whether drums, buckets, or barrels.
It does not overheat honey and it never causes honey to crystallize.
The honey is kept at hive temperature which keeps all the honey nutrients whole. It therefore keeps the potent features of the honey unchanged irrespective of how long the honey is stored.
It comes with cinch straps that help ensure a tight fit around the 5 gallon bucket.
The units can be used both indoors and outdoors and are resistant to water.
The heat blanket is energy efficient and is an excellent time saver.
The wattage varies for the various models with BB55 boasting 400/800 watts and BB55PRO 800 watts. The BB05, BB05GV, and BB05PRO have 120 watts. The later have amperage of 1 each whereas the BB55 has 3.33/6.67 and BB55PRO 6.67 amperage.
The thermostat type varies across the various models. BB05, BB05GV and BB55 have an internal thermostat that is fixed, and BB55PRO and BB05PRO come with an adjustable thermostat controller. The BB55PRO is particularly more advanced since it has an external thermostat that is adjustable. This gives more control to the user.
The maximum temperature capability of BB05, BB05GV, and BB55 of 110 °F. The BB05PRO and BB55PRO can go for up to a maximum of 145 °F.
A fully crystallized 55-gallon drum or barrel with honey will take a more powerful model to warm and remove crystals from honey. The BB55PRO model has the capability of handling this.
Pro models feature three independent heat zones for maximum distribution across the barrel or honey drum. This offers immense benefits unlike the other models.
It helps keep honey in good condition since it does not impact negatively the honey viscosity.
All models boast low-level thermostats. Therefore, it means you never risk burning the honey.
The blanket models have been checked and certified and hence meet the safety standards set by CE, ETL, CSA, and UL.
It is a product designed by Powerblanket – a USA based manufacturer. All models are designed and manufactured within the USA.
Check Price and Availability of the Powerblanket BB05GV Bee Blanket Honey Heater
Pros and Cons
Pros
It is one of the best solutions for heating honey.
Reliable.
No overheating of honey.
Easy to use.
Keeps honey in good condition for a long time.
It is energy efficient.
Time saver.
Water resistant models.
Works perfectly in a wide number of containers including plastic or steel buckets and drums.
Works well as expected.
Easily and promptly liquefies crystallized honey.
Certified product.
Highly durable and excellent quality product.
Cons
Not possible to use in case you lack electricity.
Expensive.
You have to place a stand or wooden board below so as to prevent loss of heat.
Further Thoughts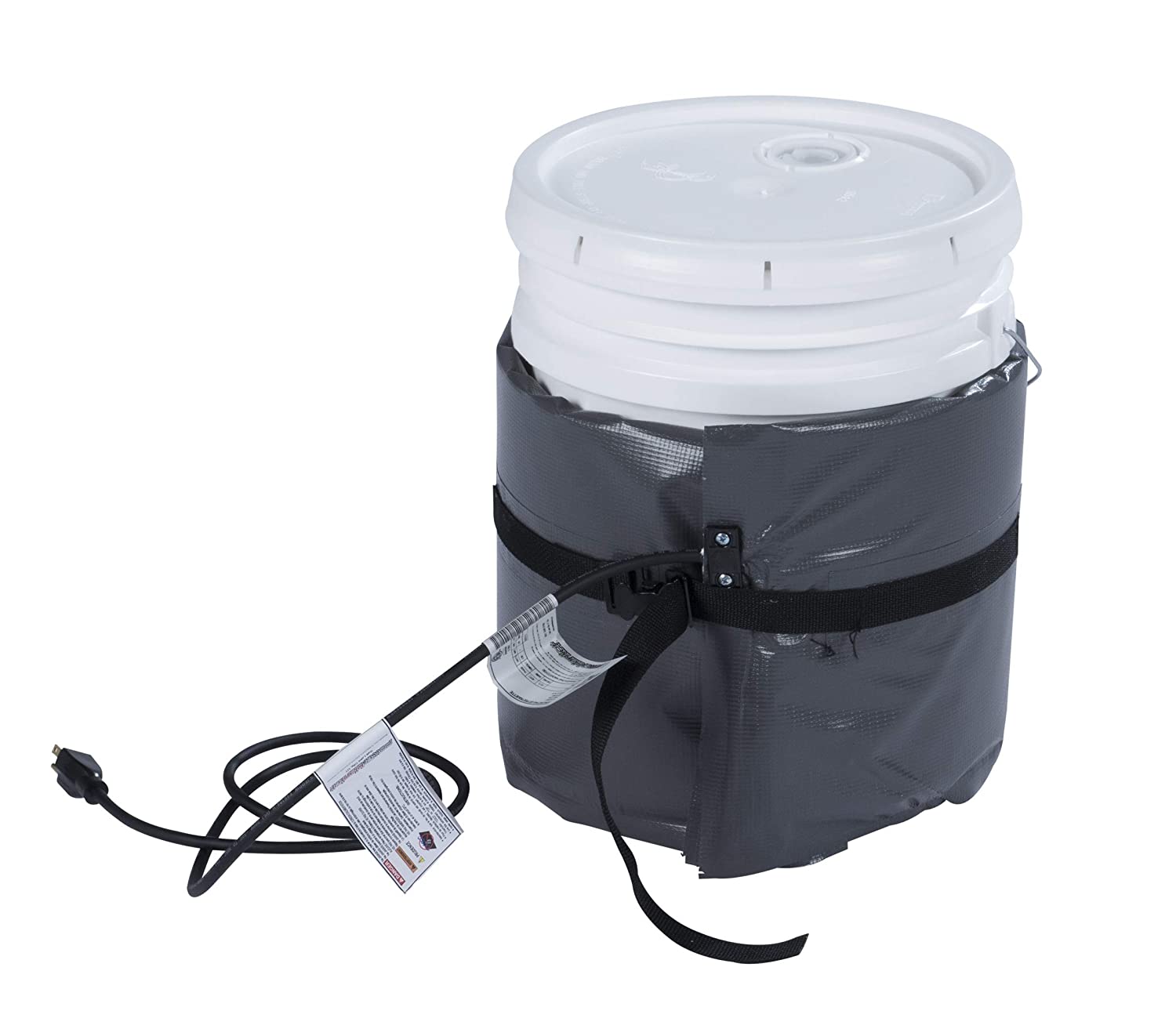 For many years beekeepers have tried all manner of techniques when it comes to heating honey. The Powerblanket BB05GV Bee Blanket Honey Heater happens to be an ingenious solution that has come at the right time. One of the things I love about it is the fact that it can be used in all kinds of containers whether steel or plastic buckets or drums. It is energy efficient and takes approximately 18 hours to liquefy fully crystallized 5-gallon honey. I however find it useful to place a rigid board underneath it and also use a towel so as to prevent or reduce heat loss.
When it comes to safety, you do not have to worry since this product has been tested and certified by various reputed regulators including: the ETL to the UL & CSA. It is therefore safe to liquefy honey for use or bottling. In terms of price, it is a bit expensive, but given its quality and benefits does provide great value for money.
Conclusion
The Powerblanket BB05GV Bee Blanket Honey Heater does indeed work well and does not affect the natural components of the honey. Gone are the days when you would find yourself overheating honey instead of applying sufficient amount of heat; this blanket serves you well.
Do you own the Powerblanket BB05GV Bee Blanket Honey Heater? Leave a comment below and let us know what you think of it.
Check Price