If you purchase an independently reviewed item through our site, we earn an affiliate commission. Read our affiliate disclosure.
Working with honey requires beekeepers, honey inspectors and large honey buyers to be able to ascertain the quality of honey they are getting. The MISCO BKPR-1 Digital Handheld Refractometer is a simple gadget that allows you to measure the moisture of honey quickly and easily. It is reverse calibrated to give you the measurement of moisture in honey instead of the usual market refractometers only that give you the amount of solids in water.
About Honey Refractometers
Moisture content in honey is a very important determinant of quality. High moisture content leads to fermentation of honey. The best moisture content for your honey is any figure below 18%. Honey refractometers give you a more proper measure of moisture as required in the beekeeping industry. Honey refractometers are usually small in size and not difficult to use.
Beekeepers using a honey refractometer should take steps to get good quality honey and keep it that way. They should only harvest completely processed honey. They will know this since the bees will have reduced the moisture content in the honey to around 14%. Once you have harvested the honey, store it in airtight containers in a dry place. This is because honey is hygroscopic – it attracts moisture from the environment. A honey refractometer helps you easily determine if honey is completely processed, and do regular checkups on honey in storage.
About the MISCO BKPR-1 Digital Handheld Refractometer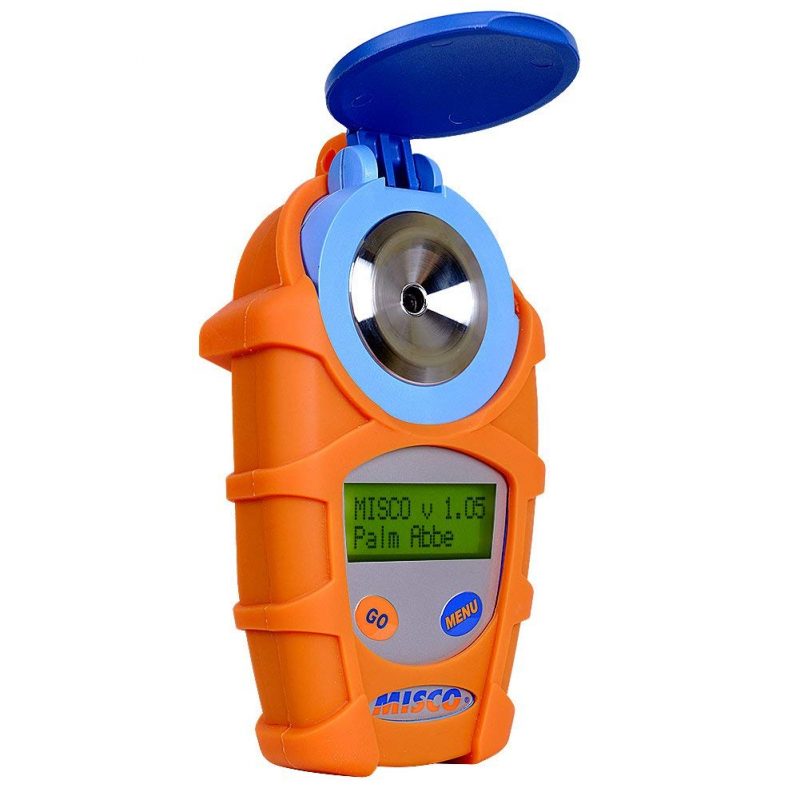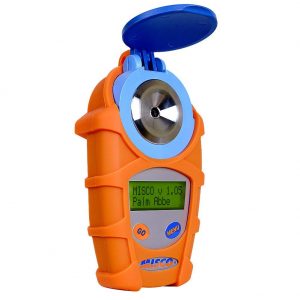 The MISCO BKPR-1 Digital Handheld Refractometer is made in the USA so you are better assured of quality and fast arrival once you have purchased it. MISCO has included a host of features that make this refractometer an excellent buy for beekeepers, but which also makes it quite expensive. It's price-point makes it not an option for the hobbyist beekeeper. Indeed, it is designed for government honey inspectors, professional beekeepers and anyone else who produces honey on a commercial scale.
The MISCO BKPR-1 Digital Handheld Refractometer gives consistent and accurate readings. Furthermore, it is made with honey moisture measurement in mind. It compensates for the unique mix of sugars found in honey. This is because honey is made up of glucose, fructose and water. The two sugars can be problematic to deal with in a single solution for other refractometers but not this one. The readings on the refractometer are automatically temperature compensated for using a specific compensation scale for honey. This eliminates the error that refractometers using sucrose compensation encounter at some temperatures.
Features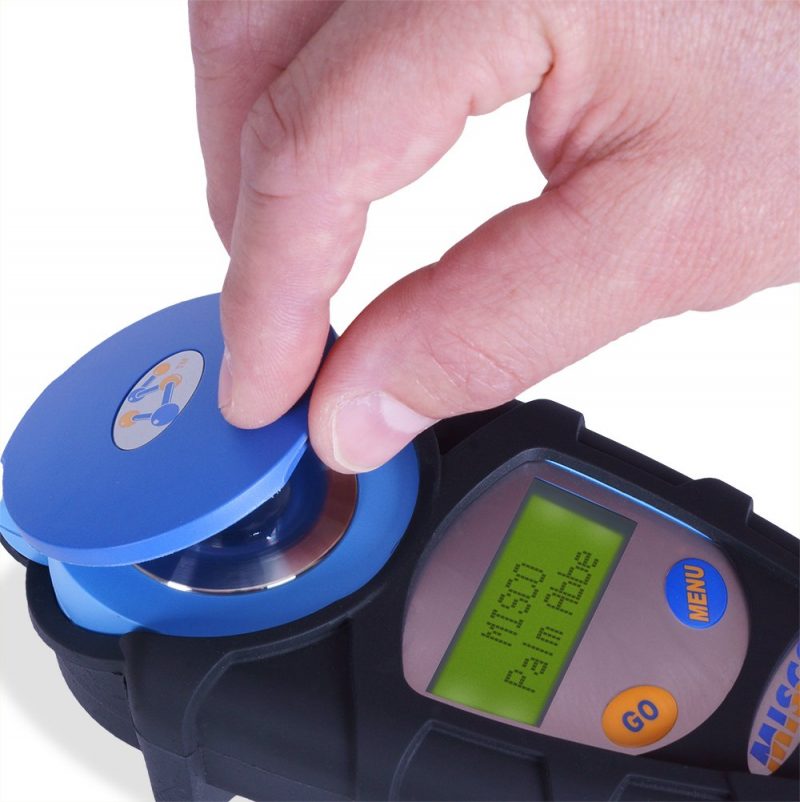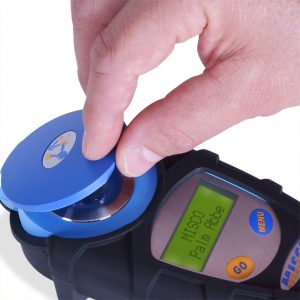 It has a rugged protective rubber jacket that gives you a good grip when holding it.
The refractometer utilizes the reliable MISCO Optical Engine® technology. This includes the incorporation of Sapphire optics. Also included is a high definition 1,024 element detector array. The sample well of this refractometer is made using stainless steel. It features a protective evaporation cover over the sample well.
This is digital refractometer, so taking readings is a breeze. It has a large LCD display that goes up to 24 characters. The display is backlit so you can easily take your readings even in low light conditions. The refractometer is easy to use; it has one button to take your honey moisture readings and another one to help you cycle through the menu options.
The refractometer is arguably the most current definition of the best developments in the area of honey measurement. It meets and exceeds the requirements in place for honey refractometers. It passes the standards for honey refractometers approved for use in grading and inspecting honey set by the USFDA, the United Nations through the Food and Agriculture Organization and the Canadian Food Inspection Agency.
The refractometer is quite intelligent. It can be calibrated using distilled water, but you cannot use water to test the working of the refractometer. The refractometer is preset with characteristics and qualities of the various fluids you can safely put in it. It can tell the difference between water, honey and the special span calibration fluid.
It features automatic temperature compensation.
Check Price and Availability of the MISCO BKPR-1 Digital Handheld Refractometer
Using the MISCO BKPR-1 Digital Handheld Refractometer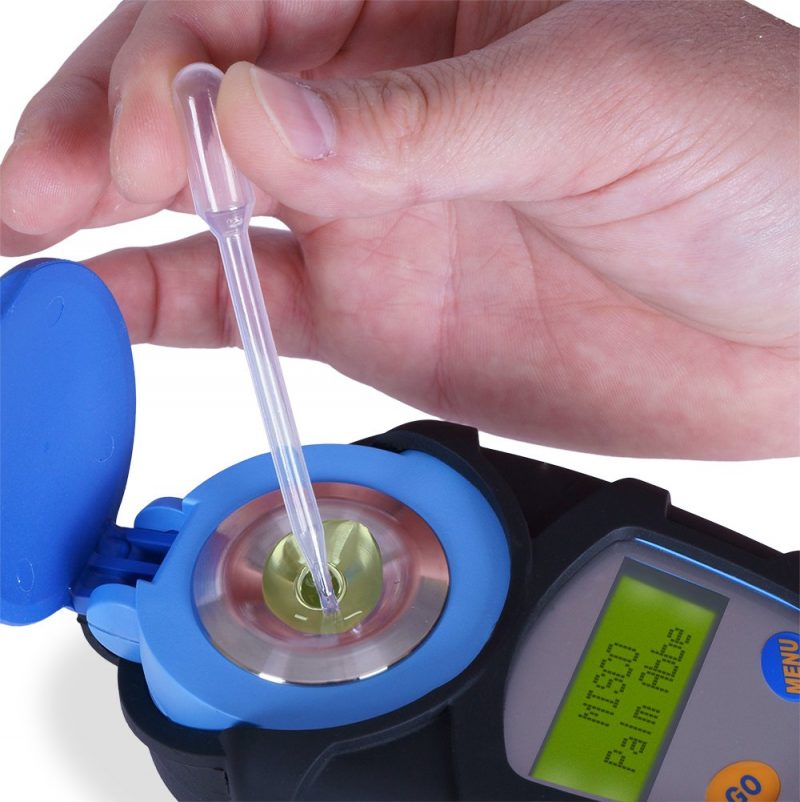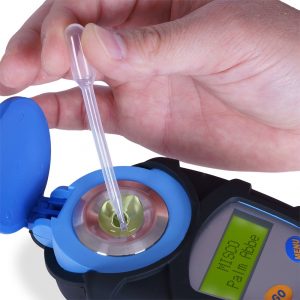 To get best results from your honey quality checks, it is important you follow the right procedure to measure moisture content. To do this with the MISCO BKPR-1 Digital Handheld Refractometer;
Calibrate the device. This is done using some small amount of deionized or distilled water. Do not use any other liquid to do calibration.
Add a drop of honey to the sample well and close the cover of the well. Even if you try this step with another fluid, you will get an error that the sample is not honey.
Focus the eyepiece of the refractometer. Make sure to get it correctly in place so no light can go into the sample well.
Get the readout from the 24 character LCD display of the refractometer.
You should take precautions to make sure your reading is accurate. There are two main things you should do:
Mix honey in the container just before sampling. This is because honey shows a difference in moisture concentration at the top and bottom. If you do not mix up the honey and take a sample from the top, you will not get the true moisture content value of the honey in the container. Mixing up the honey allows you to get the average moisture content value of all the honey in the container.
Do not take only one sample. More samples give you a number of readings that you can then average to increase the accuracy of your entire honey quality checking exercise.
Conclusion
Honey quality varies from one hive to another and even from one cell to the next one. Good quality honey has moisture content at approved levels and goes for long without fermenting. The MISCO BKPR-1 Digital Handheld Refractometer gives you an easy and quick way to check on the quality of your honey. It comes with an instruction manual so you cannot go wrong with it. It also has an optional protective case available to those who want a spare one.
Do you own the MISCO BKPR-1 Digital Handheld Refractometer? Leave a comment below and let us know what you think of it.
Check Price