If you purchase an independently reviewed item through our site, we earn an affiliate commission. Read our affiliate disclosure.
Moving large numbers of honeybee colonies over long distances is necessary in pollination season. Beekeepers providing pollination services to farmers have come up with ways to ensure honeybee colonies arrive at their destination safely. One measure taken by such beekeepers is using bee hauling nets and tarps. The tarps used in beehive haulage allow air and water to pass through so that bees can be cooled and ventilated. Various manufacturers use different materials to make their nets and tarps. This article looks at the best bee hauling tarps and nets you can use when transporting beehives.
Purpose of a Bee Hauling Tarp
Bee hauling tarps and nets are important when transporting honeybee colonies. They are used on the flatbed trucks that are popular for beehive transport. A bee hauling net allows air and water to pass through it. This provides ventilation for the honeybee colonies in their beehives. Water is sometimes spray on the hauling net to cool down the bees. Using a bee hauling net also ensures the security of your load. In addition to tie downs, they keep beehives firmly secured on the bed of the truck. In the event of bees escaping from their hive, the bee hauling net contains them so they do not fly around and sting people.
Let us know discuss some of the best bee hauling nets you can get.
Overview of the Best Bee Hauling Tarps and Nets
3. Bee Net / Bee Hauling Tarp 4' Drop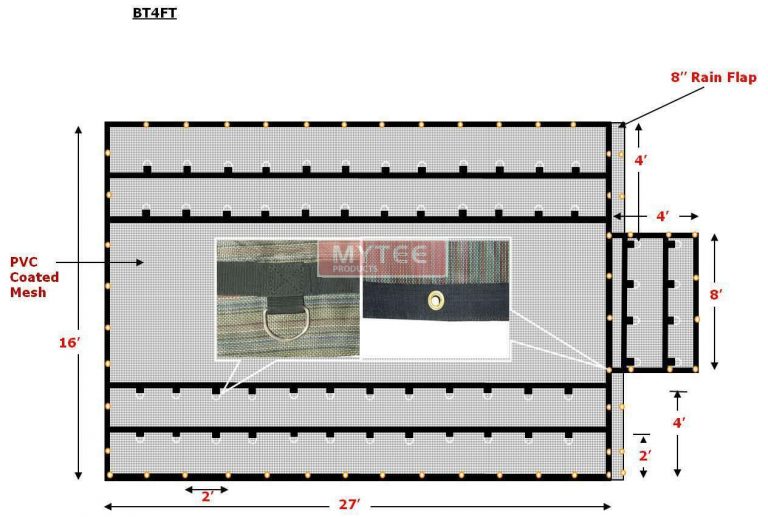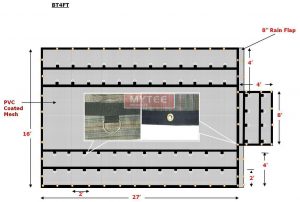 This bee hauling tarp with a 4-foot drop is a product of MYTEE. The tarp is made for the purpose of covering cargo that requires ventilation and cooling on flatbed trucks. This tarp comes in a size that makes it great for use in beekeeping when honeybees are transported in their beehives. One side of the tarp measures 16 feet by 27 feet. The other flap measures 4 feet by 8 feet. This allows the tarp to fit onto flatbed trucks with ease and cover beehives under it. MYTEE is a reliable manufacturer of nets and tarps for securing cargo onto trucks. The company promises high quality products that are durable and which serve their purpose excellently.
The 4' drop bee hauling net has some rain flaps at its ends to keep rain from reaching your beehives. The surface of the tarp is also made to be rainproof. It is coated with PVC to make sure it makes rainwater drip to the ground. To make this tarp, MYTEE coats a mesh of fabric wit PVC and then sews pieces together. This process of manufacturing the tarp makes it strong, functional and durable. The tarp remains breathable and can allow some water for cooling beehives through it. Final production processes are done in a way that makes the PVC stay on the mesh for many years even with frequent use. This tarp is a great investment for beekeepers. It can be used when transporting honeybee colonies and for other uses in your beekeeping too.
This tarp features 2 rows of D-rings for tying it down onto the bed of your truck. The D-rings are box stitched onto the tarp on three flaps of the tarp. These are the flaps that go down the sides of the stack of beehives. The tarp also has grommets clinched into it along the lower edges of the flaps. Brass metal is used to make the grommets in his tarp. They are strong and very durable. The brass grommets are toothed too for best grip.
Pros
This tarp is very handy when you are transporting honeybees in beehives. It helps secure beehives onto the truck you are using. The tarp allows for easy ventilation and cooling of the beehives.
Waterproofing is added to this tarp using a coating of PVC material. Production of the tarp follows strict controls that ensure it is of high quality, long lasting and works as advertised.
Cons
The fabric of this bee hauling tarp is not strong enough to take direct pressure and abrasion. In the event that the tarp is subjected to abrasive surfaces, it tears and can become useless for the purposes you were using it for.
Check Price
2. Bee Net / Bee Hauling Tarp 8' Drop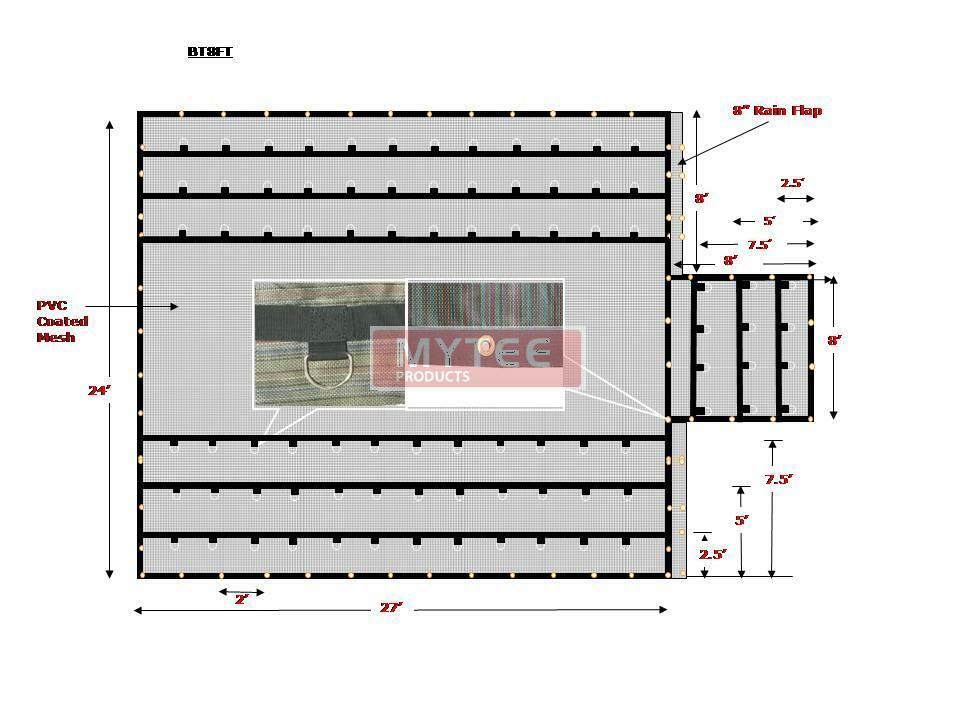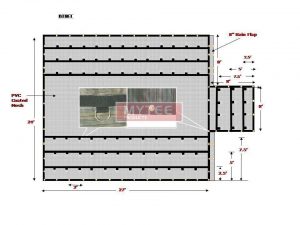 This is a bee hauling tarp with an 8-foot drop. The tarp has 3 flaps for covering beehives down the sides and rear of the truck. The side flaps of this bee hauling tarp measure 24 feet by 27 feet. The tail of the tarp measures 8 feet by 8 feet. This tarp also has rain flaps to keep rainwater from reaching the beehives. MYTEE is the manufacturer of this bee hauling tarp. They promise the tarp keeps your bees protected from strong winds and can contain bees if they get out of the beehive. The company puts years of experience making tarps and nets for cargo transportation into the making of this bee hauling tarp.
The MYTEE bee hauling net / tarp is made using several materials for strength and best functionality. A mesh is first made and then coated with PVC to produce this tarp. It allows for the tarp to remain breathable while giving it waterproof qualities. PVC is resistant to abrasion and contributes to the long life of this tarp. The mesh of the tarp is made out of a fabric that can allow a little water through to cool beehives. Furthermore, it also allows air through it at reduced speed. This bees hauling tarp is very useful for beekeepers moving their beehives in open flatbed trucks and want to protect them from strong winds when the truck is moving at great speed.
Hems on bee hauling tarps and nets are critical points that should not be weak. Tarps and nets that come apart easily at the hems are not suitable for transporting bees. They allow bees that have escaped their beehives to go out of the tarp through gaps in the split hems. All hems of this bee hauling tarp are double stitched. It makes the hems very strong so that do not come apart when sections of the tarp are pulled tightly. In addition to being double stitched, the hems on this MYTEE bee hauling tarp are reinforced with webbing. This makes the hems very strong and improves the durability of the bee hauling tarp.
Pros
This bee hauling tarp comes with brass grommets for tying it down. The grommets are added at every 2 feet interval. They are tough solid toothed grommets.
Enough D-rings are stitched onto this bee hauling tarp. There are 3 rows of D-rings on each section of the tarp. These D-rings are great for tightly and securely tying down the tarp to cover beehives and contain escaped bees.
Cons
The D-rings and grommets on this bee hauling tarp can rust. They should be dried before the tarp is rolled up. Rusty D-rings and grommets get rough and can cut through parts of the tarp.
Check Price
1. Bee Net / Hauling Tarp 10ft Nursery Mesh Tarps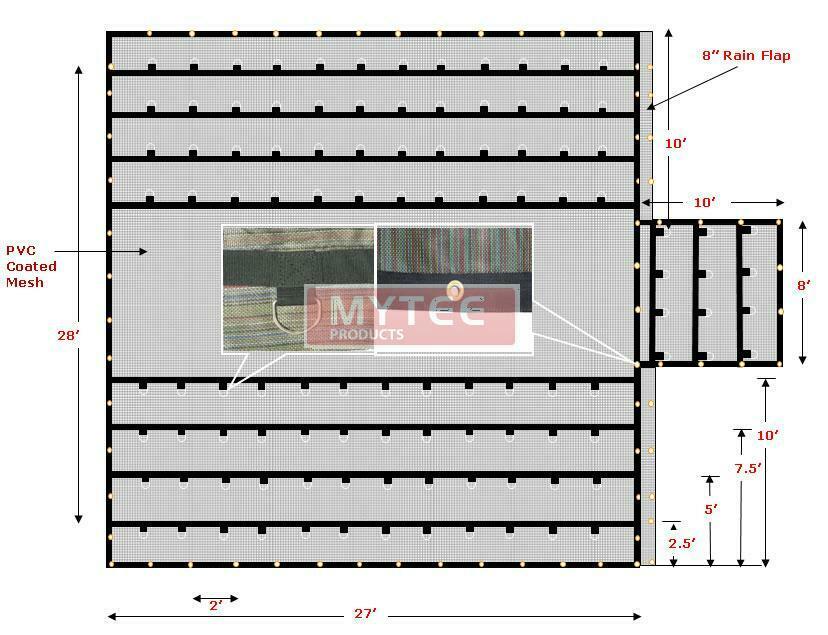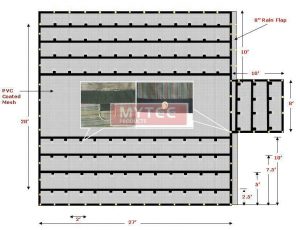 MYTEE presents this bee hauling net to beekeepers moving their honeybee colonies in beehives over long distances. The net is made in the popular style of MYTEE nets and tarps where a fabric mesh is coated with PVC. It makes the net water resistant. The net remains breathable and allows excellent ventilation of the beehives it is covering. At high speeds, the net slows down winds hitting it before allowing the air into the beehives where it ventilates and cools the beehive. Bees can get very hostile when in transit. They cannot go out of the beehive to forage during transportation. Using a net ensures that angry bees that might escape their beehive do not start stinging nearby people and animals.
This bee hauling net is sold by a reputable company for cargo covering tarps and nets. MYTEE promises to provide secure, fast and cost effective solutions to flatbed truck users. The net goes over beehives with ease and is easy to secure onto the bed of a truck. It measures 28 feet by 27 feet on the side flaps and has a drop of 10 feet by 8 feet. This bee hauling net also has rain flaps on the sides. They are useful for preventing rain water from reaching beehives under the net. Treatment of the net with some PVC gives it further waterproofing. This net weighs approximately 80 lbs.
The bee net / hauling tarp has its sides clinched with grommets. Brass metal is used on the grommets to make them long lasting. It is a tough solid metal. The grommets are toothed. On the net, there is a grommet every 2 feet. These grommets are great for securing down both the cargo of beehives and the net itself. Additionally, there are four rows of D-rings on this bee hauling net. The D-rings are stitched into the nets in the popular box stitching style. These D-rings can be used for securing down the bee net / hauling tarp.
Pros
This bee hauling tarp is large in size. As such, it can go over cargo of large sizes. Beekeepers with many beehives to transport on a truck are suited by this bee hauling net. Provision for tying down the net are adequately provided to cater for its large size.
Both beginner and experienced beekeepers can use this bee hauling net with ease. Setting it over the beehives on the bed of a truck and tying it down is easy even with no prior experience.
Cons
The webbing holding the D-rings on this bee hauling net rips off the main fabric when stressed. It does not handle too much tension well. It takes limited bungee tension and then rips off the hauling net.
Conclusion
Pollination services are an important source of income for some beekeeping operations. Beekeeping equipment and honeybee colonies are an investment by beekeepers in their beekeeping operation. Transportation of bees is necessary to provide pollination services. Entire honeybee colonies are transported across varying distances in their beehives. Covering the beehives during transit is important for temperature control. It also helps improve safety for the bees, people and animals along the route followed. Bee hauling tarps and nets are essential for covering beehives during transportation.
Using the best bee hauling nets and tarps additionally improves the security of your beehives from theft because they are tied down.
Have you ever used any of the bee hauling tarps and nets discussed above? Leave a comment below and let us know your thoughts.