If you purchase an independently reviewed item through our site, we earn an affiliate commission. Read our affiliate disclosure.
The honey extractor is one among the essential honey harvesting equipment every beekeeper must have. You will only use these tools once the bee colony has grown and made honey. Most honey harvesting equipment can be procured online or designed at home. An extractor like the Yescom 2 Frame Manual Honey Extractor will come in handy after the honey combs have been harvested and it is time to safely remove the honey from the combs. An extractor allows the beekeeper extract the honey from the combs without damaging them. This is a safe way of removing honey and will allow the bees to reuse the combs.
You have two choices when selecting your honey extractor: manual or electric honey extractor. The manual extractor is powered by physical effort and will work even when there is no power. As for electric, it only works where electric power is available. The manual may be effective in honey extraction but it is not as efficient as the electric unit. However, the manual extractor is cheaper and will work just like the electric unit. It will suit those whose hives are situated in remote areas and also come in handy as a backup to an electric unit.
You may be wondering if the Yescom 2 Frame Manual Honey Extractor is right for you; well read on to find out.
Honey Harvesting Equipment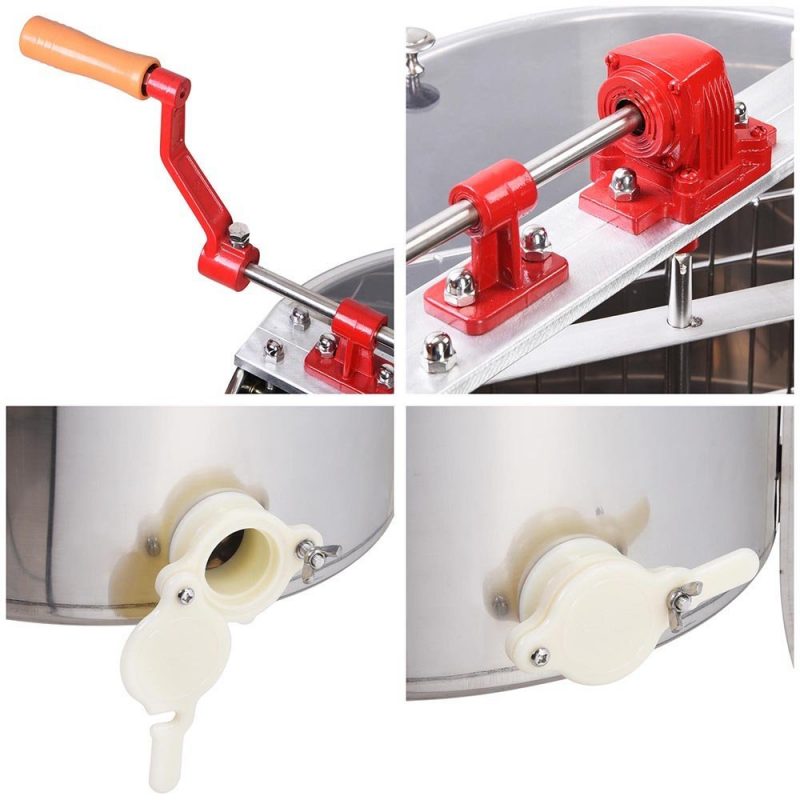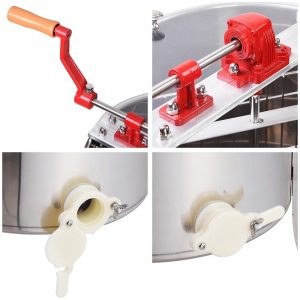 On top of the list of honey harvesting equipment is the extractor. This equipment spins honey comb and in the process removes the honey for collection. It utilizes centrifugal force and comes in various styles and sizes. Every beekeeper irrespective of need and budget will get a unit that will suit their operation. The extractor can accommodate different frames at a time: 2, 4 or 6 frames. You can buy your own honey extractor or simply rent out one from local beekeepers, nature centers, or beekeeping clubs. A better option would be to own one. This helps avoid any inconveniences whenever in need.
The uncapping knife is another honey harvesting equipment that is used for removing the wax cappings that form a seal on the honey cells. Electric or heated knives can be used for this job but the former is more reliable.
You also require a honey strainer when harvesting the honey. Straining of honey helps remove little pieces of wax, sticky bee, and wood particles from the honey. A kitchen strainer or a fine-sieved colander does a good job when straining honey. The stainless steel honey strainers are commonly used by most beekeepers.
Other important equipment in honey harvesting includes: double uncapping tank, uncapping fork, and a bottling bucket. All these ensure the honey is safely harvested and stored for immediate or latter use.
About the Yescom 2 Frame Manual Honey Extractor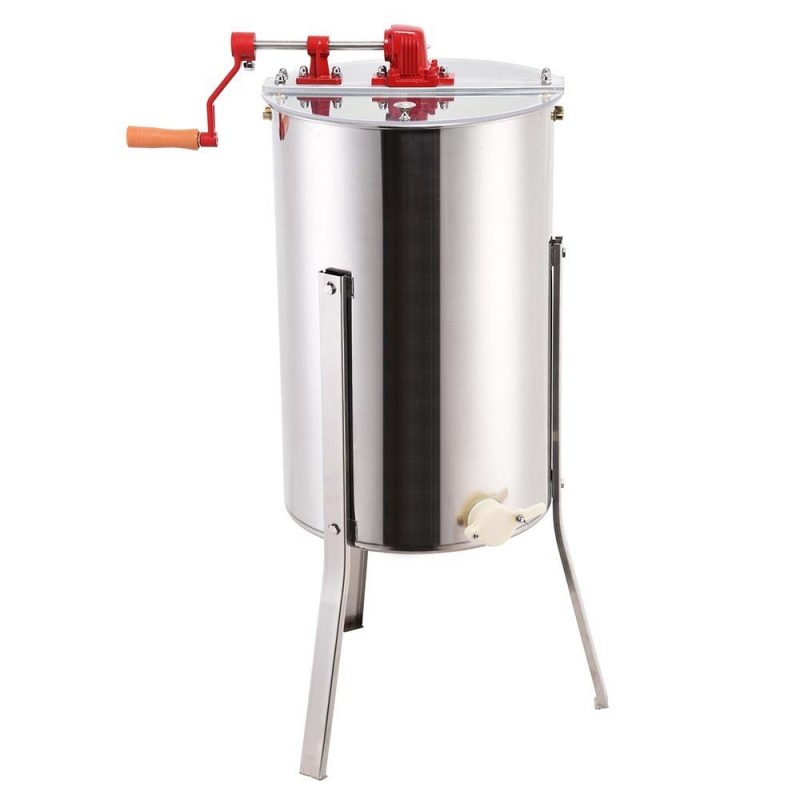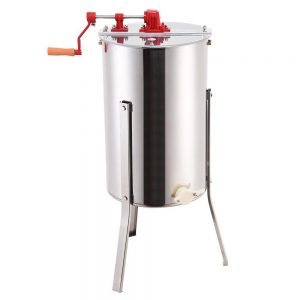 The Yescom 2 Frame Manual Honey Extractor is an affordable unit designed for the beginner beekeeper. The unit has a galvanized iron stand, has dimensions of 16 x 16 x 38 inches and weighs 26.9 pounds. The drum, stand, and stopper are highly functional making the honey harvesting easy and hassle free. An investment in the unit comes with some extra benefits as beekeeping gloves and a protective jacket are delivered with the package. Some of the notable features and benefits of the unit include the following:
The stainless steel construction makes the unit food safe and resistant to rust and abrasion.
The unit is manually operated and that means it can work without electric power. This suits remote areas and can make an great backup to an electric extractor.
The unit comes with 2 clear lids that make it easy for the user to monitor the honey extraction.
Inside the drum is a solid crank that turns the basket efficiently and smoothly.
The honey outlet has a gate or stop that helps regulate the honey and avoid wastage.
The drum is capable of holding shallow, medium and deep frames.
It comes with a beekeeping jacket. This is made of 100% polyester and has round hat and strong ring that helps keep bees away from your face. It is easy to wear and is lightweight. Comes in XL only.
The goatskin gloves delivered with the unit are comfortable to wear. They are XL in size and are made of high quality cotton and goatskin.
Check Price and Availability of the Yescom 2 Frame Honey Extractor
Pros and Cons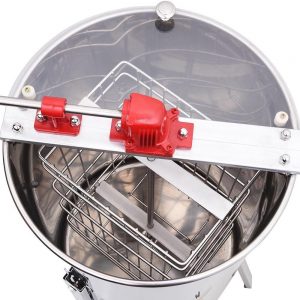 Pros
The crank within the drum works smoothly and efficiently.
Extra benefits with your purchase. You get XL goatskin gloves and a beekeeping jacket.
The extractor is lightweight.
Cons
The XL beekeeping jacket and gloves will not fit everyone.
The extractor scratches easily.
There have been instances of the extractor arriving damaged upon delivery.
Further Thoughts
A manual honey extractor ideally works just like an electric unit. However, it will take more effort if you need to extract honey from many frames. A unit such as the Yescom 2 Frame Manual Honey Extractor will better serve the less demanding user. This extractor is efficient and operates smoothly. It is capable of accommodating shallow, medium, and deep frames too.
Conclusion
Overall, the Yescom 2 Frame Manual Honey Extractor is decent. It is food safe, durable, spins efficiently, and is easy to operate. However, it does suffer from durability issues.
You also get some extra benefits when you invest in this unit; a lightweight beekeeping jacket with a veil, and goatskin gloves, which is more than you get with most extractors around a similar price.
Have you ever used the Yescom 2 Frame Manual Honey Extractor? Leave a comment below and let us know what your experience was like.
Check Price