If you purchase an independently reviewed item through our site, we earn an affiliate commission. Read our affiliate disclosure.
Vingli is a prolific manufacturer of products for lovers of the outdoors. The Vingli Manual Crank 2 Frame Honey Extractor is one of many products offered by the company. Vingli does not have many products for beekeepers, so in this article we'll discuss how they fared. It is hand cranked and is suitable for use by both beginners and professional beekeepers.
About the Vingli Manual Crank 2 Frame Honey Extractor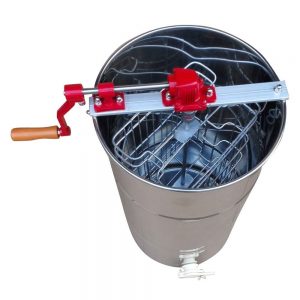 Design
The Vingli Manual Crank 2 Frame Honey Extractor is largely shiny silver in color due to extensive use of stainless steel. It has red detailing on the handle, and on some sections of the cranking mechanism. The honey extractor is light in weight yet sturdy. You may easily move it between locations to extract honey near your apiary. This manual honey extractor is great for beekeepers whose beehives are a significant distance from home. It does not require you to have an electricity connection at the site of your honey extraction.
Cranking Mechanism
Vingli has been able to achieve smooth rotation of the baskets inside the honey extractor, thanks to the sturdy cranking mechanism. It is one of the upgraded features of this model. The cranking mechanism is not easy to release and features a durable handle with a square screw dent. The handle of the extractor does not stop turning when it is released. The cranking mechanism is set to achieve high speeds of rotation with little energy applied by beekeepers. It allows for easier extraction of all honey from your beehive frames.
Materials and Cleaning
Stainless steel is used in the construction of the Vingli Manual Crank 2 Frame Honey Extractor. It is safe to use with human food such as honey. Stainless steel is also easy to work with and clean. After every use of the extractor, you should clean it using some soap and warm water. You should also clean the extractor before use – after it has been in storage for a long period of time. Between honey extractions, you do not have to dissemble the extractor. The inside of the drum found on this extractor is smooth. It does not injure you if you are cautious enough during cleaning.
Assembly
The Vingli Manual Crank 2 Frame Honey Extractor has an overall height of 30 inches. Its diameter is 15.7 inches and weighs 22.44 lbs. Upon purchase of the honey extractor, you will be required to do some assembling. The honey extractor comes with a well written instructions manual for assembly. You are able to do this easily with only a few common home tools needed. The clear plastic covers, honey gate and cranking mechanism come detached from the extractor.
Check Price and Availability of the Vingli Manual Crank 2 Frame Honey Extractor
Pros and Cons
Pros
Not having to dissemble the extractor during each cleaning adds to its longevity.
The steel used in making the extractor is anti-rust.
The honey drum that largely makes up the extractor is seamlessly welded to give it a sleek finish.
Clear plastic covers for the top of the extractor allow beekeepers to see how much honey has collected in the drum and determine if they should drain it out.
The extractor has a honey valve that is easy to install and use.
The honey gate is large enough to allow honey to drain out quickly. It seals up well to avoid honey leaking out, and is easy to clean alongside the rest of the extractor.
Cons
Has no legs, so you would have to place the extractor on a table top in order to drain the extracted honey.
Some units are shipped with missing parts. While contact the manufacturer will remedy the situation, this is a huge oversight.
Further Thoughts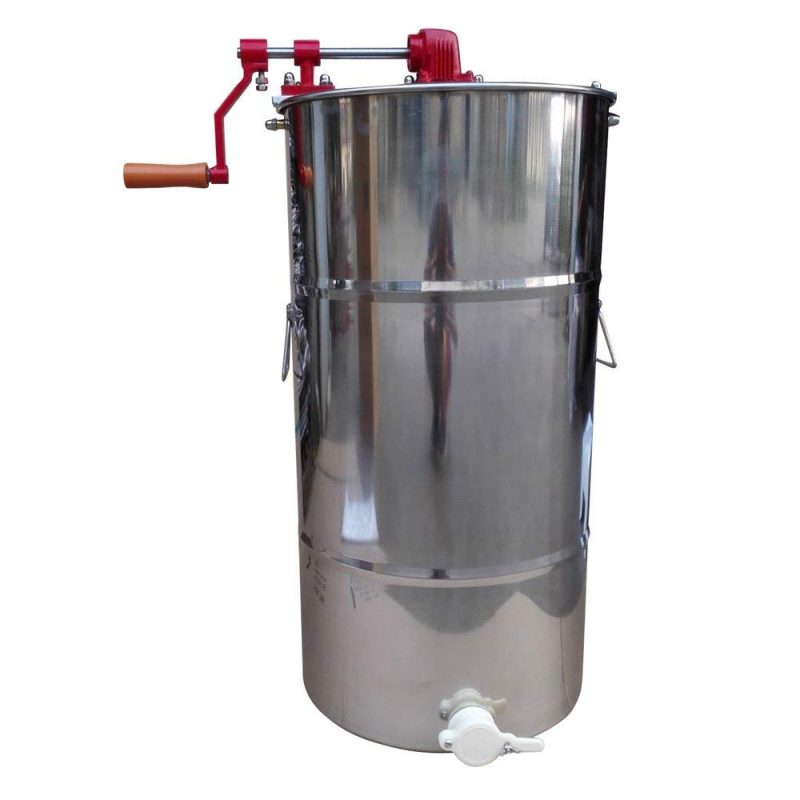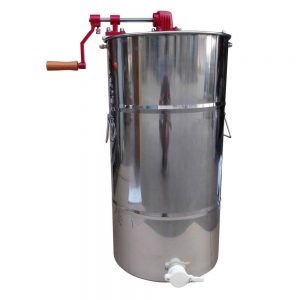 The Vingli Manual Crank 2 Frame Honey Extractor comes with the honey frames basket largely set up. You may however give it a look-over to make sure everything is in good order. Vingli is happy to work with beekeepers both directly and via authorized sellers to replace any broken, missing or improperly working parts of the honey extractor.
This honey extractor gives you good value for your money. It is great for both household beekeepers and professional beekeepers with large apiaries. The Vingli Manual Crank 2 Frame Honey Extractor gets through your beehive frames quickly so you do not spend too much time extracting honey. This extractor takes up to 2 frames at a time and is suitable for a beekeeper with a few hives. The frames may be of any size since the basket in the extractor is large enough for shallow, medium and deep frame sizes. The basket is designed with Langstroth beehive frames in mind but can work with top bar and Layens beehives frames.
Conclusion
Beekeepers are promised a reliable product in the Vingli Manual Crank 2 Frame Honey Extractor. It largely lives up to its promise. This honey extractor leaves your honey frames with intact comb. This is because the speed of rotation is easily controlled by the beekeeper. Blowouts are not often seen with the extractor. Vingli has a made a good product that is well worth your consideration.
Have you ever used the Vingli Manual Crank 2 Frame Honey Extractor? Leave a comment below and let us know what your experience was like.
Check Price