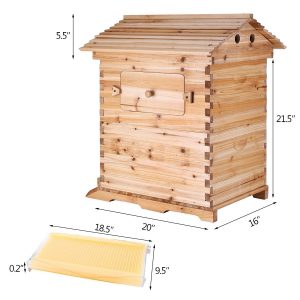 The VEVOR Auto Flow Honey Wooden Beehive is built in the beloved Langstroth style. The beehive is in a bee house design to keep your bees safe and dry. Bee houses are popular in beekeeping because they afford you adequate space for your bees. A bee house allows you to have a large hive body and a good-sized super. The hive body of this VEVOR wooden beehive is where your bees stay and do their brooding. In the super, your bees store honey. Using a queen excluder between the super and hive body ensures the queen does not lay eggs within the space of the super.
The VEVOR Auto Flow Honey Wooden Beehive comes with everything you need for your hive. All parts such as the honey flow key, queen excluder, flow frames and a screened bottom board are included. You also get an inner cover and a brood box. The only parts you need to buy as additions are the honey flow frames. The Vevor wooden beehive comfortably accommodates 7 honey flow frames.
Assembly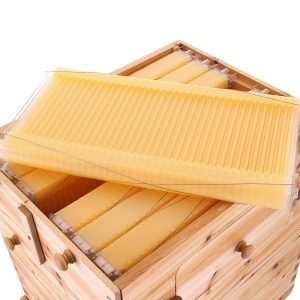 Putting together the VEVOR Auto Flow Honey Wooden Beehive is easy. Wooden pieces of the beehive come together in dovetail joints. There were no included instructions in the package but luckily we're here to help you out.
To add strength to the whole structure, it is a good idea to use some screws.
Use pilot holes on different pieces of the beehive. Pilot holes save you from split wood pieces that are not easy to replace.
Make sure that various parts are aligned to each other and properly mating before tightening your screws.
Nails could be an alternative if you do not have screws or the equipment you would need to work with screws. Nails however attract hammering and tend to split the wooden pieces of this beehive.
Durability and Ventilation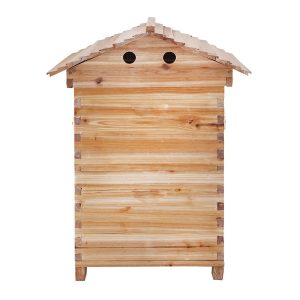 The VEVOR Auto Flow Honey Wooden Beehive comes already coated with a layer of wax. Bees do not want wind and water entering the hive at will. The wax seal on this excellent beehive is very well applied both inside and on the outer surfaces of the beehive. This makes the beehive durable and water resistant. Wax sealing makes the starting of honeycombs very easy for your bees.
Keeping the elements out, and the bees in, is a major concern for every beekeeper. Bees do not want excess water in their hive. Light and wind too are not welcome inside the beehive either. The VEVOR Auto Flow Honey Wooden Beehive keeps out water by being sealed up tightly along with having a roof. The roof of the beehive is a double slanting roof. It has interlocking slats that drain water away from the beehive. For additional assurance that your roof is working well, you may add a sheet over the wooden slats. Such a sheet could be metal or plastic, depending on your individual preference.
Ventilation for your bees within the beehive is not a challenge. The beehive has enough aeration avenues. Entrances at the bottom allow some amount of aeration. There are additional vent holes in the upper sections of this VEVOR wooden beehive.
Materials and Design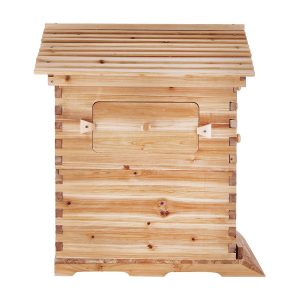 Beekeepers have to make sure that their bees live in the best environment possible. The VEVOR Auto Flow Honey Wooden Beehive is made of cedar wood which is a good type of wood for beehives. Cedar wood does not easily contract and expand. Your beehive remains as it is since the day you bought it without getting cracks and fissures. Another advantage of cedar wood is that it is not easily attacked by insects and mites that degrade wood over time. As a beekeeper that loves and values his bees, you are sure about the structural integrity of the VEVOR Auto Flow Honey Wooden Beehive.
After you have set up the VEVOR Auto Flow Honey Wooden Beehive, it will easily attract a swarm of bees to live in it. The beehive has two side panels that allow for a look into your hive without opening it up. Inspection of your beehive is thus made easier. You are also able to see how the bee colony is faring on through one of the side panels. The second side panel is for checking if your bees have accumulated enough honey. When they have stowed away adequate honey as seen through the panel, it is time for you to do some honey harvesting.
Pros and Cons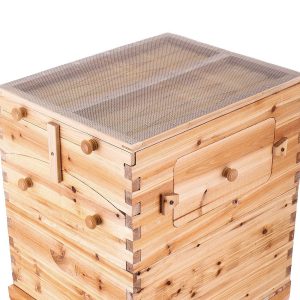 Pros
The beehive is spacious and roomy enough for a large colony of bees.
The entrance reducer on the beehive is an excellent safety idea for your bees.
The base of the beehive allows for an external feeder to be attached when it is necessary to do so.
Cons
While presenting beekeepers with a great piece of equipment for their beekeeping, VEVOR might have overlooked one or two items.
Firstly, no honey flow frames are included upon purchase of this beehive. This means that beekeepers purchasing this beehive need to buy frames separately.
Secondly, the beehive does not have an inbuilt slant. When deciding on the final position for your beehive, be sure to slant it down a little. Harvesting honey using the automatic honey flow technique requires a slant to enable you drain all the honey that is available.
Thirdly, no assembly instructions.
A Final Word
The VEVOR Wooden Beehive allows you to work with honey flow frames in your beehive. The automatic honey flow frames make the job of harvesting honey easy. They additionally infuse your beekeeping life with convenience. This innovative method of harvesting honey is safe. It causes very little disturbance to your bees. Hive activities proceed as usual.
Honey flow frames break open cells in your super. The honey stored in the cells flows out and is directed to a spout. Cells that are broken open during honey harvesting are resealed by your bees and filled with honey. Within a short time, the VEVOR Auto Flow Honey Wooden Beehive is ready for another round of harvesting.
Do you own the VEVOR Auto Flow Honey Wooden Beehive? Leave a comment below and let us know what you think of it.
Check Price