Thanks for visiting our website. For us to continue writing great content, we rely on our display ads. Please consider disabling your ad-blocker or whitelisting our website before proceeding.
If you purchase an independently reviewed item through our site, we earn an affiliate commission. Read our affiliate disclosure.
Bird netting is used in both urban and rural areas to keep birds from accessing areas that you want to protect. Using bird netting to protect your gardens is great for ensuring you get to harvest all that is produced in your garden. Birds are naturally occurring animals, but they can often cause a lot of destruction in backyard gardens and even in plantations of various crops.
Netting to keep birds from reaching your plants comes in many shapes, sizes and forms. A mesh of 1 cm to 2 cm is the most popular in many bird netting products. The netting can be made from woven polyethylene or bi-oriented polypropylene.
Many bird nettings come in a black color. The carbon black inhibits passage of harmful UV rays to your plants. Having a small mesh in bird netting helps you prevent damage to your crops by birds, small animals, large animals such as deer and hailstones.
You have the options of buying bird netting in large jumbo rolls or in smaller lengths that can be custom-cut by your retailer to suit your smaller needs. Popular uses of bird netting are in crop protection, fish protection, building protection and covering mining ponds. You should provide a suitable support structure for your bird netting installation such as cables, wooden frame or a metallic frame structure.
Garden Guard Garden Netting | Bird Netting for Garden Protection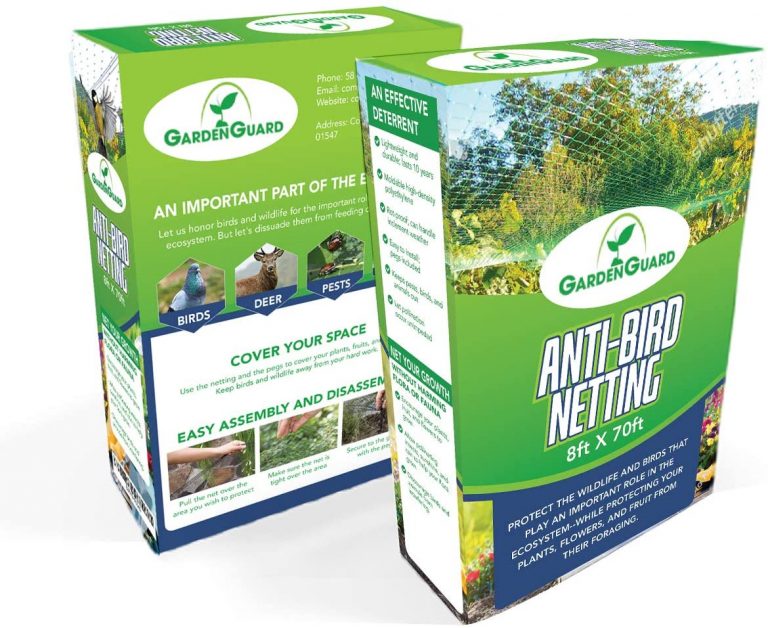 The Garden Guard garden netting offers heavy duty protection for your outdoors garden from destructive birds of all species. This bird netting is made using soft-stretch technology to make it safe for birds, animals and the gardener as well. It does not cut into your plants or the wildlife that comes into contact with it. The netting is safe for use in areas where you have deer, squirrels, raccoons and birds causing you problems in your garden. It is also great for use covering ponds where you are rearing fish. In beekeeping, the net does an awesome job keeping your beehives safe from birds and animals that prey on honeybees.
Effectiveness and durability are assured with this garden bird netting produced with 4-strand braiding technique. The technique allows for superior strength of the bird netting while still being quite flexible. This netting beats its rivals with its black production color that works well at keeping UV rays from reaching your bees, plants and fish. It provides gentle cover from hot rays of the sun while allowing enough light through the netting. When used to protect plants in your backyard garden, the Garden Guard garden netting keeps pests out while allowing pollinators to reach your crops.
Pros
This bird netting can be cut up into pieces of your most suitable length. This allows you to cover spaces adequately, leaving no gaps through which unwanted animals can enter the space you aim to protect using the bird netting.
The Garden Guard garden netting comes with free stakes to pin it to the ground if you need to.
Cons
The manufacturer does not provide instructions for use, assembly and setup with your purchase of this bird netting. Your only source of guidance on how to use the bird netting are videos posted on online video hosting websites.