Honey Extractors are the rugged and simple mechanical devices used for extracting honey from honeycombs. They simply utilize centrifugal force within a drum or a container that has frame baskets. This is where the combs are spun and the honey flung out. Extracting is one of the final steps in the beekeeping process, and it's where you reap your rewards for all you've sowed.
There are great benefits associated with honey extractors and these cannot be ignored. Its primary benefit is that it ensures the combs remain intact and can be reused by the bees to make more honey.There are two types of extractors to choose from: radial or tangential. The main difference between them lies in the manner in which the frames are held within the basket. With the various honey extractor brands available in the market you can never run short of a choice if considering getting one. Here are the top 5 best honey extractors available on the market:
5. Best Choice Products 2 Frame Stainless Steel Honey Extractor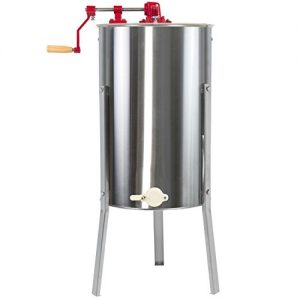 The Best Choice Products 2 Frame Stainless Steel Honey Extractor comes at an affordable price and does not disappoint when it comes to performance. One of its key pros is the fact that it comes with clear and easy-to-understand instructions. It is also easy to use and has a well functioning honey gate. It is an excellent fit for the beginner or casual beekeeper.
Some of the other striking features of this product include a clear and double-sided lid. This allows for easy viewing of the drum and a solid metal crank that is reliable when it comes to spinning the drum baskets. One of the major setbacks associated with this extractor is the fact that it has sharp edges on its legs. If you are not careful you may end up getting injured. Overall, it is an excellent unit and I would recommend it to anyone especially if you just started you beekeeping business. It is a good performer and definitely good value for money.
Check Price
4. The VIVO BEE-V002 2 Frame Stainless Steel Honey Extractor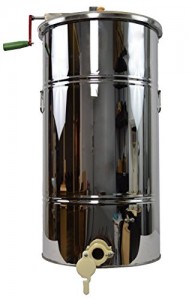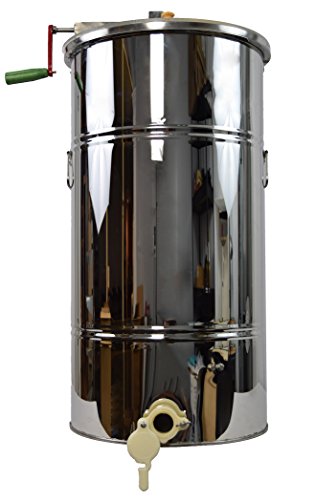 VIVO is one of the top global brands known for its excellent quality beekeeping products. The VIVO 2 Frame Stainless Steel Honey Extractor is a solidly built unit that is designed for the casual beekeeper. It comes with a stainless steel finish and has two carrying handles for easy handling. It also has a well functioning stopper or honey gate. Its drum of 29 inches is sufficient in accommodating a reasonable number of frames.
Some of the main pros of this unit include: value for money, durability, and how easy it is carry. On the flipside it has some design issues and the sharp edges pose a risk of injuring the user. Overall, this unit is an good performer. The price is reasonable and it has all you need as a casual or amateur beekeeper.
Check Price
3. The Little Giant Farm & Ag EXT2SS Stainless Steel Honey Extractor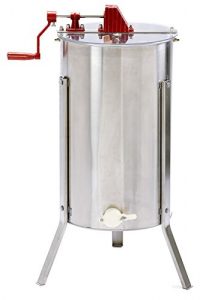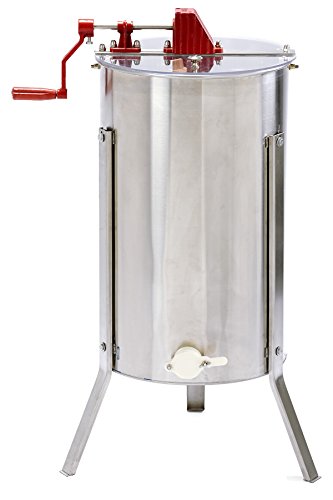 If you are a more experienced beekeeper then you can never go wrong with the Little Giant Farm & Ag Stainless Steel Honey Extractor. It is a tangential extractor that is well pleasing thanks to its amazing inner and exterior features. It has a clear plexiglass lid so you can monitor progress, and its overall build is sturdy and durable. What particularly intrigues me about this stainless steel extractor is the fact that it is a capable performer. It is highly efficient and will hardly ever disappoint.
Some beginners might find it frustrating to use this honey extractor but overtime, with practice it should become easier to use. This is due to the fact that it does come not come with any instructions. There is also some slight paint chipping on the extractor so I'd advise to inspect carefully before use.
Check Price
2. The Goplus 2 Frame Stainless Steel Honey Extractor
The Goplus 2 Frame Stainless Steel Honey Extractor is also a top notch honey extractor. It is particularly built for those on a low budget, especially the hobbyists who simply want to get a basic extractor for less demanding honey extraction.
I like the Goplus 2 Frame Stainless Steel Honey Extractor because of the great quality it provides. However it also has its shortcomings. Some of its key features include the clear lids that allow the user to view the drum and monitor progress. It is also of a decent size and not bulky. You will therefore find it easy to carry it around your beekeeping enterprise. Professional beekeepers may find this unit to be a bit limiting.
This honey extractor from Goplus is built to last and is also easy to use. If you are just starting out as a beekeeper, it will suit you well. It is one of those units that will grow with your business. The unit does not come with instructions for assembly or product maintenance and thus you have to go an extra mile in learning about them. However, this unit still remains a favorite to many beekeepers.
Check Price
1. The Hardin Professional 3 Frame Manual Honey Extractor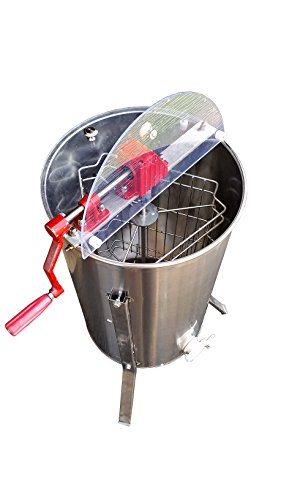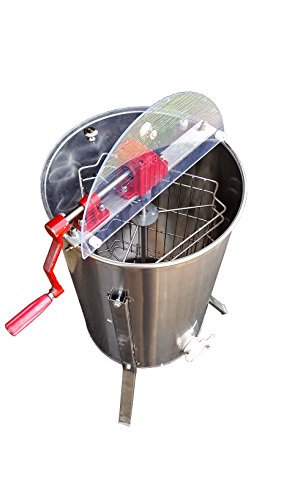 This is an excellent honey extractor for the money. It is a manual extractor with a 16 gauge Stainless Steel Tank. It also has a clear plexiglasss top that allows you to monitor the honey extraction process. Other great features of this extractor include: an optional stand or leg and a steel gear construction that has sealed bearings.
You will never be disappointed by this top notch honey extractor. In case you are not satisfied with it you can return it since it is covered by a lifetime warranty. This extractor is definitely worth every penny.
Check Price
Before you buy your honey extractor ensure you evaluate its features and compare various brands before you settle on one. Buy a unit that is build to last and can perform efficiently well.