If you purchase an independently reviewed item through our site, we earn an affiliate commission. Read our affiliate disclosure.
Honey extraction is an important activity for beekeepers. It is the last part of honey harvesting before packaging honey. The Thaoya 3 Frame Stainless Steel Honey Extractor is made for use in getting honey from beehive frames, while keeping the comb intact. It is designed for use with frames from a variety of beehive types including Langstroth beehives and top bar hives. Thaoya produces a number of items for beekeepers including beekeeping suits.
About the Thaoya 3 Frame Stainless Steel Honey Extractor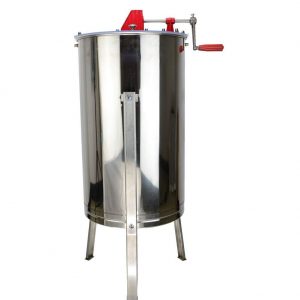 The Thaoya 3 Frame Stainless Steel Honey Extractor is manually operated. The drum on the extractor is made of stainless steel. It has the manual cranking mechanism outlined in red. The extractor features Plexiglas at the top. The Plexiglas allows beekeepers using the honey extractor to see how much honey has been extracted from each beehive frame. The extractor can take up to 3 frames of various sizes at a time, ranging from shallow frames to deep frames for larger sized beehive boxes. It greatly speeds up the process of honey extraction even for beekeepers with many frames to extract honey from.
Cranking Mechanism
This manual honey extractor has a sturdy cranking mechanism. It is easy to turn and does not break down easily. Beekeepers using the honey extractor do not get tired quickly. The crank achieves good speeds with little effort. This allows you to quickly extract honey from each set of 3 frames that you put in the extractor.
Build Quality
The Thaoya 3 Frame Stainless Steel Honey Extractor has a sturdy build. It feels solid and shows excellent craftsmanship. This extractor is durable and does not require expensive maintenance. It saves beekeepers some money on power bills since it does not use electricity to power rotation. Thaoya promises beekeepers a reliable honey extractor, and that is exactly what they deliver.
Honey Filters
The Thaoya 3 Frame Stainless Steel Honey Extractor has two internal honey filters. The two filters are in a series near the honey gate. These two filters eliminate the need for beekeepers to sieve their honey after extracting it from beehive frames. The lower filter on the honey extractor is finer than the upper filter.
Legs
Collecting honey from the Thaoya 3 Frame Stainless Steel Honey Extractor once you have extracted it is a breeze. The honey extractor has strong sturdy legs that raise it well off the ground. Nearly all standard honey collection containers fit well under the honey extractor. This includes the popular 5- gallon honey buckets that most beekeepers use.
Honey Gate
Honey flows out of the extractor via a honey gate. The honey gate comes included with the extractor. The honey gate is simple to use and seals up well. It does not allow any honey through it until you open it. Additionally, the honey gate is made large enough to allow honey to flow out quickly.
Check Price and Availability of the Thaoya 3 Frame Stainless Steel Honey Extractor
Pros and Cons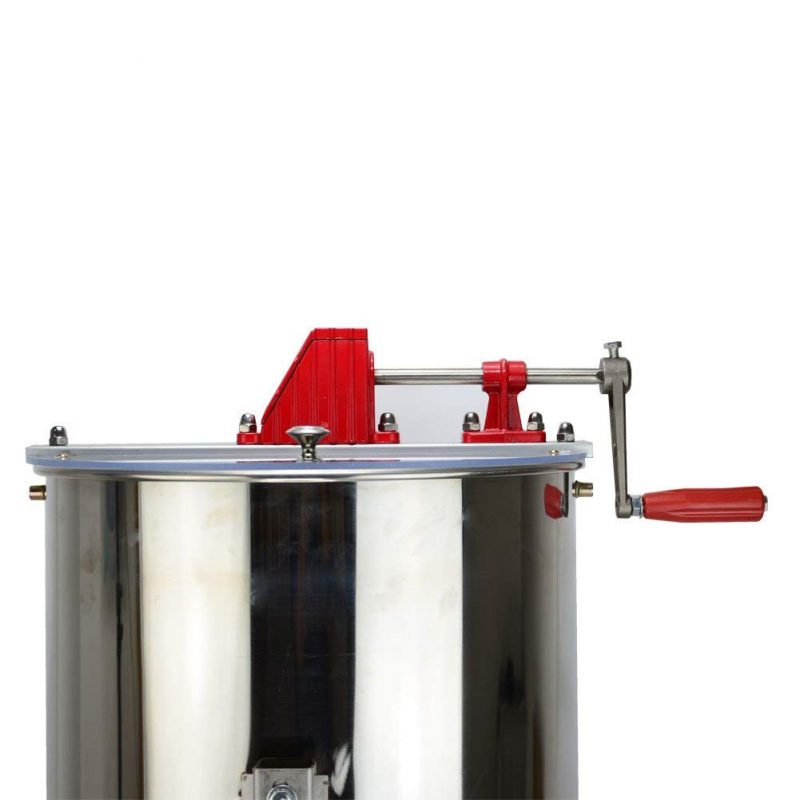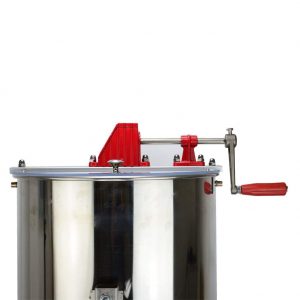 Pros
Stainless steel used in the drum of the honey extractor is food safe. It does not add odors or flavors to honey.
The drum is easy to clean before and after every use of the honey extractor.
The cranking mechanism of the honey extractor is strong, rotates with ease and achieves a speed high enough to extract all honey from your beehive frames.
Cons
There is no clear warranty on the honey extractor. Beekeepers finding defects in any of the items in their honey extractor package may have a difficult time getting replacement parts.
The honey extractor shows poor packaging. The items promised upon purchase of the extractor may all be included, but they are jumbled up in the drum of the extractor.
Very expensive for a manual honey extractor.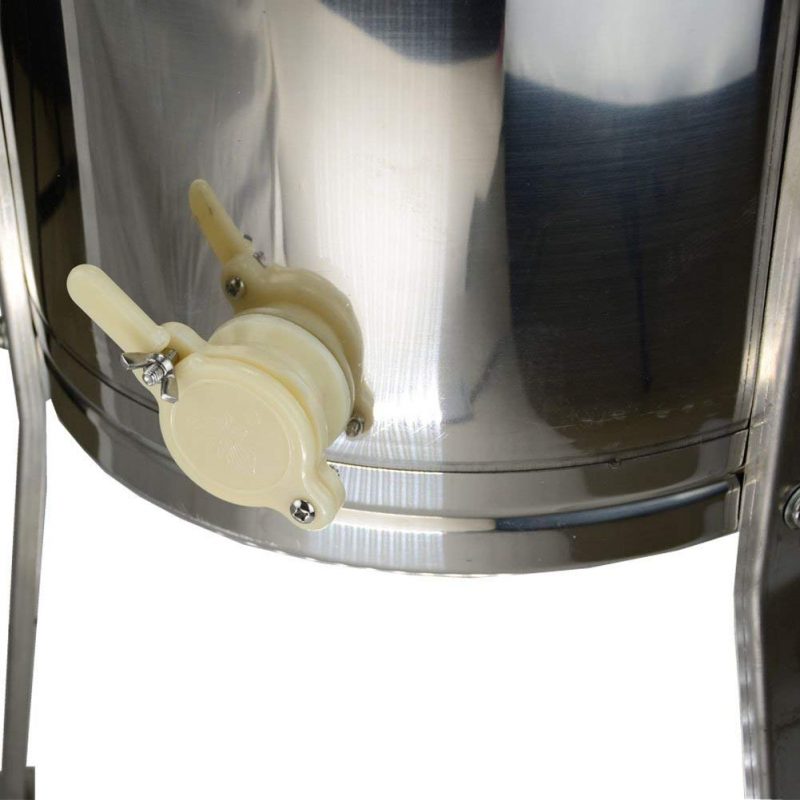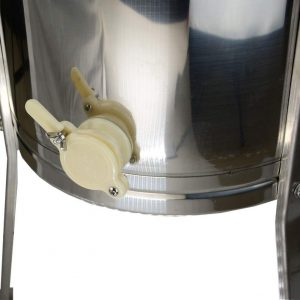 Further Thoughts
The Thaoya 3 Frame Stainless Steel Honey Extractor is suitable for beekeepers with between 1 and 15 hives. Beekeepers with many hives or with hives that have many stacked beehive boxes may get tired during prolonged honey extraction. You may require taking a break or two to avoid tiring yourself out.
General use of this honey extractor is easy for both professional and beginner beekeepers. Once you have your honey frames, you only need to uncap them and put them 3-at-a-time in the extractor. You then need to cover the top using the clear Plexiglas covers provided. Once this is done, beekeepers may commence cranking the honey extractor. Beekeepers should extract honey in a 50-100-50 sequence to avoid blowouts. This extractor can achieve rotation speeds that can cause honey comb blowouts despite it being a manually cranked honey extractor, so you'll need to be cautious during use. Removing fully extracted beehive frames from the honey extractor is easy with the frame grip tool.
Conclusion
Thaoya has provided beekeepers with a good product in the Thaoya 3 Frame Stainless Steel Honey Extractor. It comes from a company that has experience making various tools and items for daily use at home and in your garden. This manual honey extractor can be purchased online with ease.
Have you ever used the Thaoya 3 Frame Stainless Steel Honey Extractor? Leave a comment below and let us know what your experience was like.
Check Price