Thanks for visiting our website. For us to continue writing great content, we rely on our display ads. Please consider disabling your ad-blocker or whitelisting our website before proceeding.
If you purchase an independently reviewed item through our site, we earn an affiliate commission. Read our affiliate disclosure.
The honey extractor is essential for any beekeeping enterprise, more so, to the beekeeper who is capable of producing a substantial amount of honey each season. Other traditional methods of extracting honey damage the honey combs and that is why it is prudent for any beekeeper to own at least one extractor. The honey extractor will help you reuse the combs which ultimately results in greater yields since the bees are not forced to make other combs from scratch. Instead they can focus on other activities. While choosing a honey extractor, quality matters, and right off the bat I'll say that the Tek Motion 4 Frame Large Stainless Steel Honey Extractor is a quality product. It has been designed to meet the varying needs of all beekeeping skill levels and is made of sturdy and highly durable stainless steel material.
How to Find a Honey Extractor that Suits You
While choosing you honey extractor, consider these:
For the hobbyists with a maximum of 10 colonies
The ideal one for the hobbyist is a small extracting set that features everything you need for extracting the honey. A good one would be the extractor that can take 4 deep or 8 shallow frames.
The small beekeeper with 10 to 50 colonies
This type of beekeeper is more demanding when compared to the hobbyist. An ideal extractor is one that is motorized. They need an efficient self-turning extractor which is reliable and fast. The size of extractor to choose will depend on the number of colonies the beekeeper has. For honey extractors that can fit these requirements and more, click here to check out our rankings of the best honey extractors.
Part-time beekeeper with up to 200 colonies
Once your bee farm has up to 200 colonies, you would prefer big radial extractors with a capacity of 36 to 60 frames. Alternatively, a self-turning extractor that has 12 to 16 frames will be fine. Most of the beekeepers on this category in Europe use the self-turning extractor. This may be attributed to the fact that they have bigger frame sizes and the honey viscosity is higher. As for the radial extractors, they are more common in Southern Europe since they work best on shallow frames. The honey is also more liquid in these areas due to the higher outside temperature.
The professional with more than 200 colonies
At this level, the work peaks are extremely demanding and thus several people work during the season. Semi or fully automatic uncapping machines are used in these apiaries. They also use complete honey extracting lines. The lines have been designed with an efficient uncapping machine in addition to a semiautomatic conveyor that lead to a horizontal extractor with a capacity of a minimum of 60 frames. This type of machine saves time and substantially minimizes human labor.
About the Tek Motion 4 Frame Large Stainless Steel Honey Extractor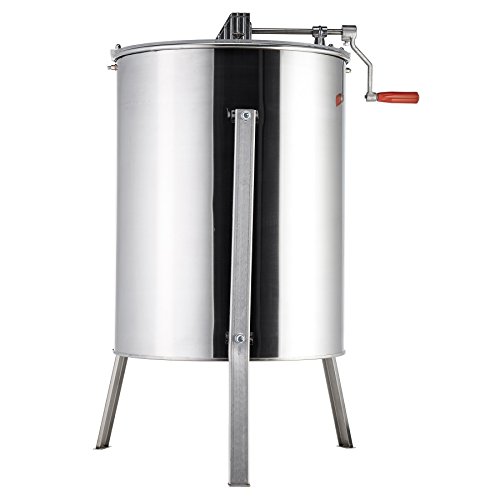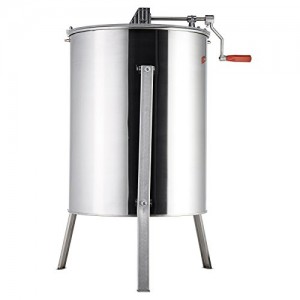 Of all the honey extractors I've tested, this one is definitely one of my favourites. The Tek Motion 4 Frame Large Stainless Steel Honey Extractor is ideal for the beekeeper with 10 colonies or so. Its drum is made of 201 stainless steel and its inner frames are made of 304 stainless steel. This sturdy and solid construction makes it very durable. It is ideal for shallow, medium, and deep frames. Furthermore, its cast iron gears operate smoothly and easily.
Features
Made of sturdy and reliable stainless steel material.
It has a large 4 frame structure.
Ideal for shallow, medium, and deep frames.
Its easily removable 2 clear acrylic lids allow you monitor progress during honey extraction.
Built with a 3 legged stand.
The honey gate material is nylon.
Product dimensions: 28.7 x 20.9 x 20.7 inches.
Designed with a slanted bottom for draining honey easily.
Has cast steel gear that operates smoothly and easily.
Check Price and Availability of the Tek Motion 4 Frame Honey Extractor 
Pros and Cons
Pros
Easy to clean.
Holds four frames hence it saves time and labor.
Pretty easy and fast to assemble.
It will grow with your enterprise.
Manual spinning that is well geared.
Cons
You need to slant it a bit so as to pour out all the raw honey from its large and flat bottom.
Further Thoughts
I am well pleased with the Tek Motion 4 Frame Large Stainless Steel Honey Extractor, and I recommend it to any beekeeper with a small scale operation. I have tested many honey extractors, and this one ranks among the best.
It comes unassembled but it's quite easy to put together. Its ability to hold 4 frames at a time speeds up the extraction process, giving you a bigger yield in a shorter amount of time. The extractor is manual but well-geared and spins fast without much effort. Just be sure to switch arms whenever one gets tired.
The Tek Motion 4 Frame Honey Extractor is quite efficient and is ideal for anyone who wants a tool that will grow with their beekeeping enterprise. It may look like you are overdoing it at the start if you have only one hive but as you increase the number of your hives, you will appreciate its value.
Conclusion
The Tek Motion 4 Frame Large Stainless Steel Honey Extractor has been built for any beekeeper who wants a quality product at an affordable cost. It is durable and since it is a bit big, a beginner will find it useful as the scale of the operation expands.
You will save a lot on labor and time when you use this extractor since it can take in 4 frames at a time. It is also surprisingly efficient in honey extraction thanks to its cast iron gears that are easy to operate and are smooth. You will apply very little effort in getting your work done. Furthermore, it has 2 clear acrylic lids that allow the operator to monitor progress of the honey extraction process. It will spin perfectly your shallow, medium, or deep frames. What else would you ask for of any manual honey extractor?
Have you ever used the Tek Motion 4 Frame Large Honey Extractor? Leave a comment below and let us know what your experience was like.
Check Price