Thanks for visiting our website. For us to continue writing great content, we rely on our display ads. Please consider disabling your ad-blocker or whitelisting our website before proceeding.
If you purchase an independently reviewed item through our site, we earn an affiliate commission. Read our affiliate disclosure.
The SummerHawk Ranch 38525 Backyard Bee Hive is described as, as its name suggests, "made for the backyard". This stunning little beehive gives you the opportunity to harvest your own honey while enhancing the look of your flower garden.
About the SummerHawk Ranch 38525 Backyard Bee Hive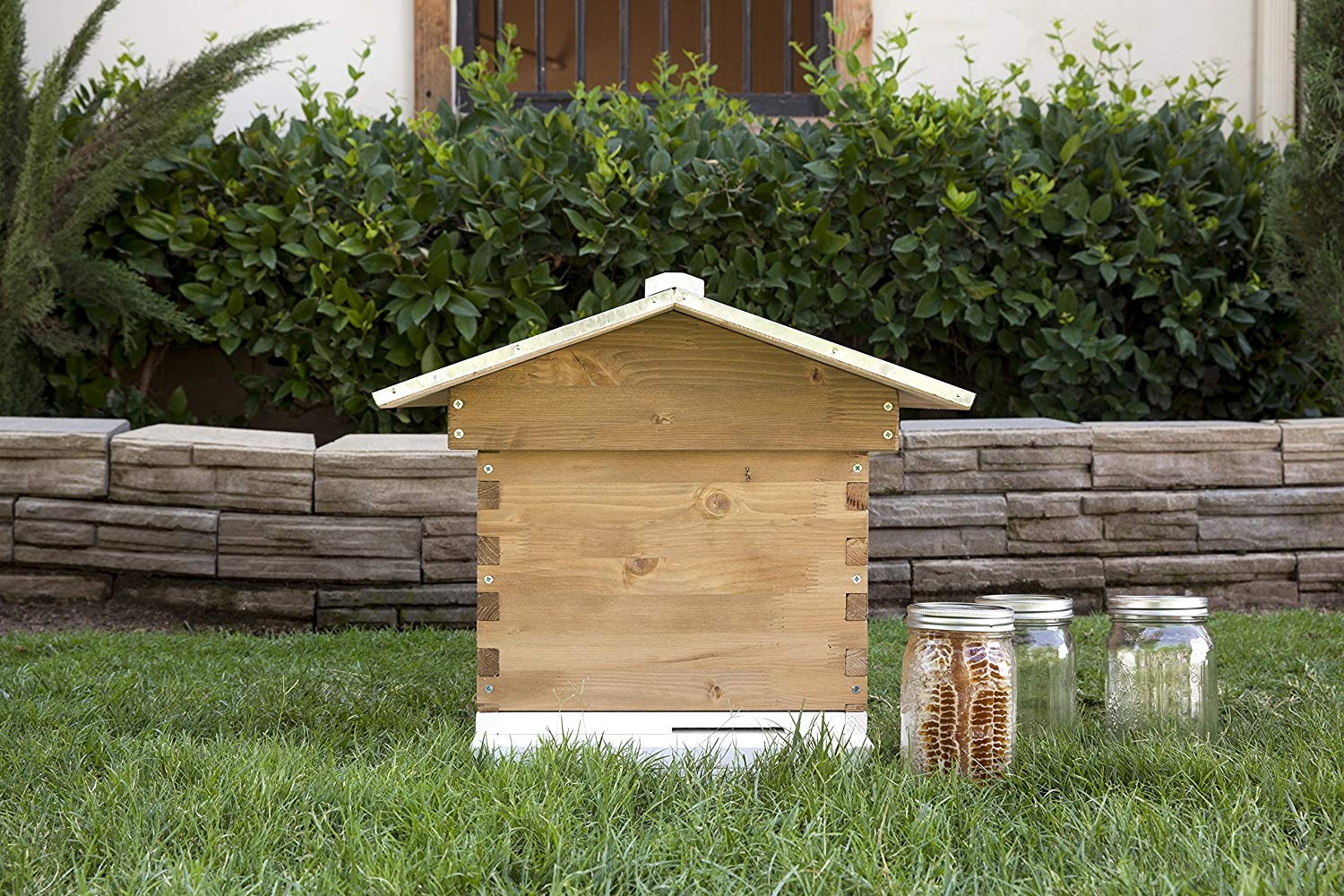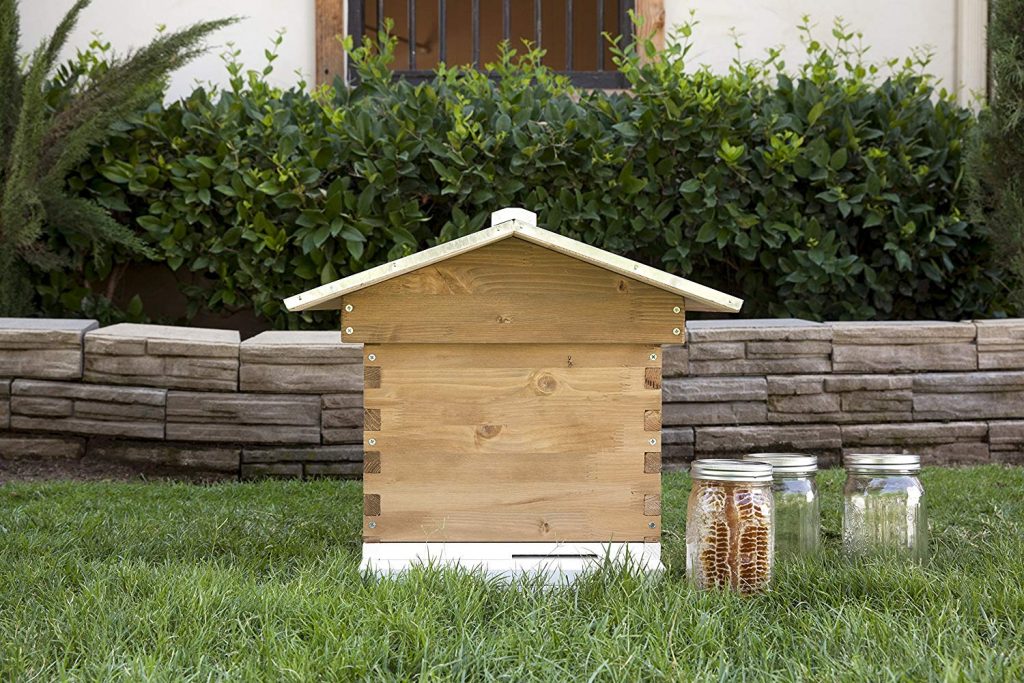 The SummerHawk Ranch 38525 Backyard Bee Hive is built using wood from sustainable Canadian hemlock trees. It is decorated with finger joint construction along the edges. It has dimensions of 20.9 x 27.7 x 20.7 inches and weighs 36 pounds.
The hive is plain when it arrives so you get to paint it any colour you want. It can be decorated to match your outdoor décor or to reflect your personal style. If you're not up to painting, you can always highlight that stunning finger joint construction with a wood stain or a varnish. This is sure to add to the aesthetic appeal of your garden or backyard.
Quick Check Window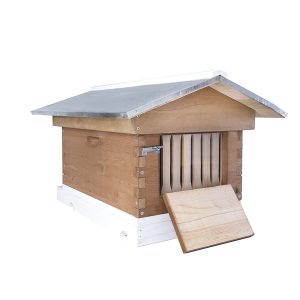 The SummerHawk Ranch 38525 Backyard Bee Hive is equipped with the manufacturer's signature quick check window on the rear of the super. The quick check window is a revolutionary design developed by the manufacturer which allows the beekeeper to monitor the colony without disturbing the bees. Traditionally, the beekeeper would have to take the hive apart to see how the bees are developing. This method is more time consuming and can be risky.  Removing frames one by one from the hive can anger the bees and cause them to swarm. With the quick check super these issues are all but eliminated.
The beekeeper need only look through the quick check window to examine the bees. He will be able to make sure that the queen is laying brood and that the bees are making honey. Any problems that the hive is facing will also be easy to detect. An infestation of Varroa mites, for example, can be noticed and treated before it becomes so widespread that it takes over your entire hive.
As a matter of note, Varroa mites are perhaps the most dangerous parasites that can threaten your beehive. They attach themselves to the backs of the bees and feed off of them. Bees infected with these mites develop deformities to their wings and infections like viruses or fungi. Be sure sure to check out our article on some of the best treatments for varroa mites.
Additionally, the quick check window isn't only for monitoring your bees. It can be used to increase air flow into the hive. This helps to keep the bees from getting too hot. It also helps to keep moisture from collecting on the inside of the hive. Moisture can pose a deadly threat to bees. Drops of moisture can fall on the bees and get their wings wet. The bees are then unable to fly around to feed themselves and they can starve to death.
Check Price and Availability of the SummerHawk Ranch 38525 Backyard Bee Hive
Frames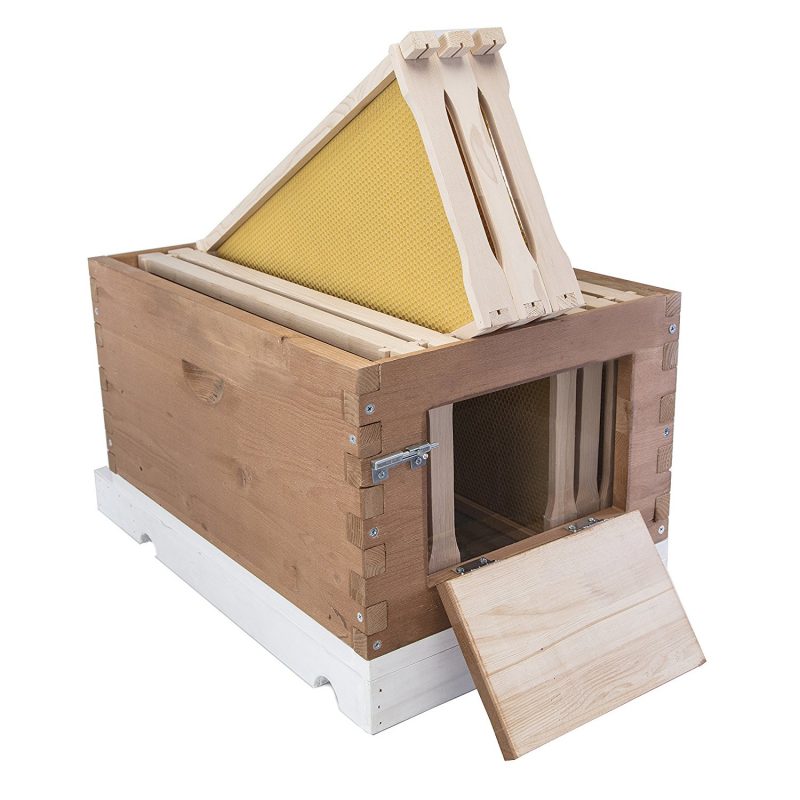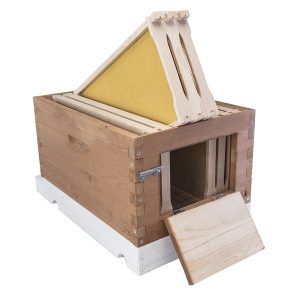 The hive has custom made frames which help make the inside of the hive more visible. Each frame has a special contoured shape, specifically designed to have wider spaces between frames so that a person looking through the quick check window can easily see all the way into the hive.
The SummerHawk Ranch 38525 Backyard Bee Hive supports 8 frames. The frames all come equipped with pre-waxed honeycomb foundations. This means that the queen can start laying brood immediately after being placed in the hive. This also means that the bees can start making honey quicker. Normally bees would have to first make honey comb and then start making honey.
This backyard bee hive can accommodate any 8 frame super. When your bees have out grown the 8 frames, you simply add any eight frame super that strikes your fancy. When it's time to add the honey super to the hive, you can choose to either add a regular super with frames or you can try one of SummerHawk Ranch's signature Mason jar supers. The SummerHawk Ranch Mason jar supers also have the quick check window so you will be able to monitor your honey levels without disturbing the bees.
Further Thoughts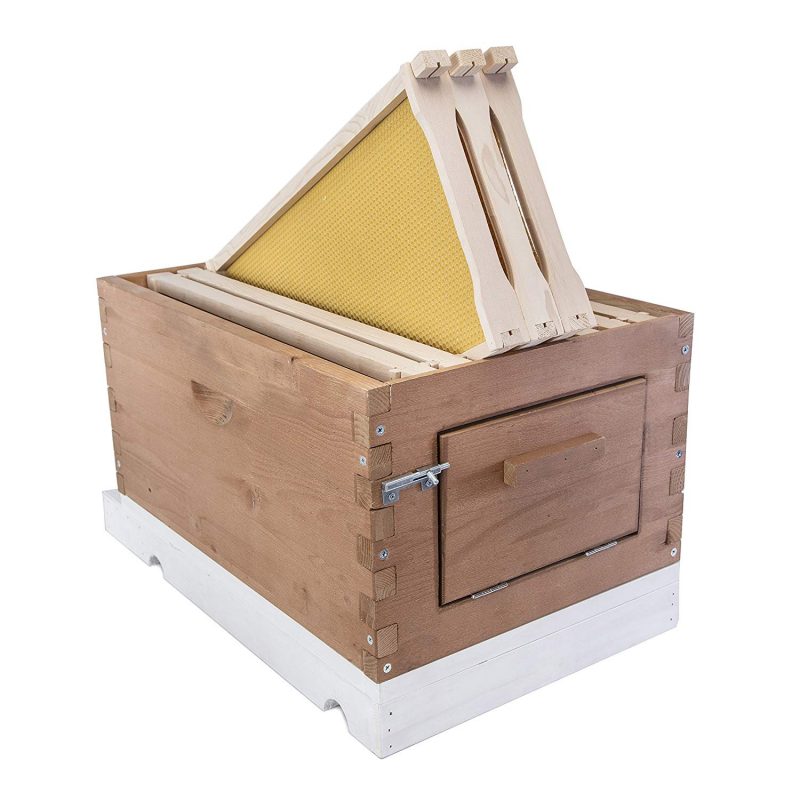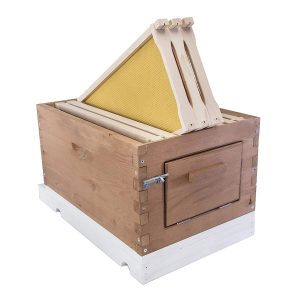 Gorgeous and functional, SummerHawk Ranch's 38525 Backyard Bee Hive will enable you to have the experience of harvesting your own honey no matter the size of your yard or garden space. It is smaller than the average 10 frame hive and can even be placed in a rooftop garden.
Using the quick check window, you can introduce your friends to the wonders of beekeeping. They will be able to witness the activities going on in the hive by peeking through the window. Since the bees won't be disturbed, they are less likely to swarm and you won't have to worry about getting stung. Still, it is good practice to wear a beekeeping suit while conducting your activities on the hive.
Even your kids will find the this beehive interesting. They are going to love observing the bees through the window and will be eager to learn everything they can about bees and beekeeping.
Conclusion
Any serious gardener will appreciate the advantages of having a beehive in close proximity to their fruits, vegetables and flowers. Bees are known for pollinating the flowers and fruits growing around them. Unfortunately they are quickly becoming an endangered species. Many species of plants re slowly dying out because there are very little honey bees left to pollinate them. For example, the world's chocolate supply is slowly dwindling because there are fewer and fewer honey bees to pollinate the cocoa plants every year. A beehive such this goes a long way in helping to alleviate the problem.
The SummerHawk Ranch's 38525 Backyard Bee Hive is simple and easy to use. Any body who is interested in beekeeping, from novices who are just starting out to experienced beekeepers, will find something to love about this beehive.
Do you own the SummerHawk Ranch's 38525 Backyard Bee Hive? Leave a comment below and let us know what you think of it.
Check Price