Thanks for visiting our website. For us to continue writing great content, we rely on our display ads. Please consider disabling your ad-blocker or whitelisting our website before proceeding.
If you purchase an independently reviewed item through our site, we earn an affiliate commission. Read our affiliate disclosure.
Beekeeping is an agricultural practice that has been carried out since ancient times. Over the years, the sector has experienced a significant growth. Better ways of bee farming have come up. Even better the efficiency of extracting the honey from the hive frames has improved. This is due to extractors. They allow for faster collection and cleaner produce.
There are many honey extraction methods, each using different technologies. With an industry saturated with extractors, it can be difficult to find one that will best suit your needs. The SucceBuy 4 Frame Stainless Steel Honey Extractor is a well kept secret every beekeeper needs to know about. It is a great extractor to have with you and this is because of a number of reasons which we will discuss.
About the Succebuy 4 Frame Stainless Steel Honey Extractor
Construction Materials and Structure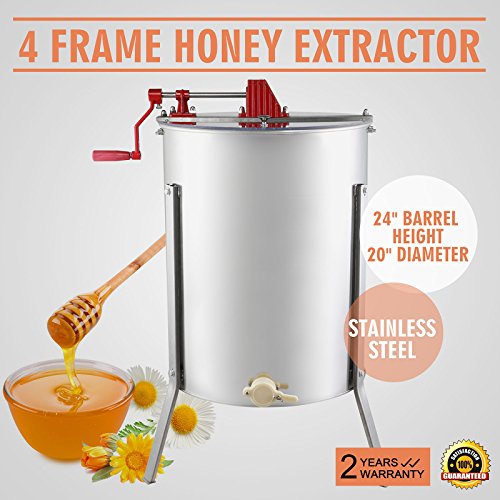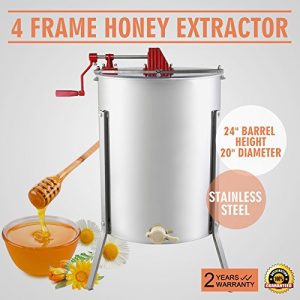 The SucceBuy 4 Frame Stainless Steel Honey Extractor is very well constructed. It is rolled by machine, which gives the extractor a well-rounded and seamless finish without sharp edges. This great design makes it among the most sleek honey extractors in the market.
The extractor is made of high grade stainless steel that is safe for use with food. This general superior method of construction using high quality materials make this extractor free from spillage or leaking. The steel itself is reinforced making this extractor's body very strong.
The top of this extractor is covered up with two pieces of Perspex, which is a very hard but clear glass. This glass acts as a seal preventing impurities from contaminating your honey as you collect it. They also prevent splashing of the honey as the extractor rotates. The transparency helps you monitor the honey visually as it is extracted. The manual rotation handle is also easy to handle and does not blister your hands as you rotate it. The conical shape at the bottom of the extractor makes collection of honey easier.
Size and Space for Your Work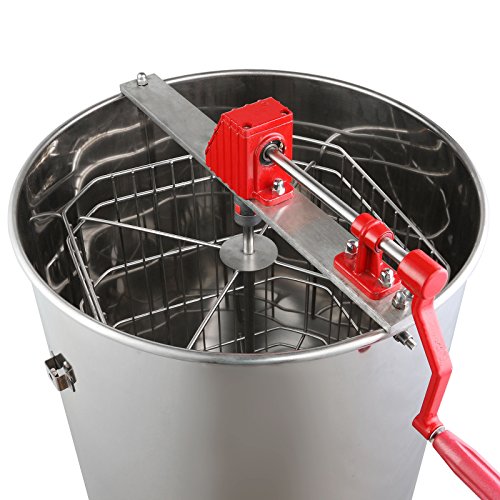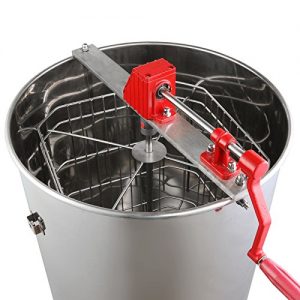 The drum height of the SucceBuy 4 Frame Stainless Steel Honey Extractor is a massive 24 inches. These combined with a 20 inch diameter make this honey extractor quite big. This honey extractor can fit up to four large frames or eight small frames, depending on how you place them. You can extract a good amount of honey at one time. Placed strategically around the bottom is a 2 inch honey gate. This allows you freedom to regulate the flow of your honey to your strainer or collection bucket.
Simplicity is seen in the assembly and build of this sturdy and reliable honey extractor. The SucceBuy Honey Extractor has three stands. These stands can be removed and the extractor placed on a table. However when the stands are fixed, the extractor has an impressive ground clearance of 15 inches to the honey gate. You can use a large collection bucket comfortably. The stands have holes at the bottom. This means you can bolt the extractor to a floor to reduce shaking or movement when rotating.
Unlike other competitors in the market, the SucceBuy 4 Frame Stainless Steel Honey Extractor has a mesh that is rounded. Slightly rounding this mesh on the inside makes sure that your honey combs do not break easily despite the centrifugal force used in honey extraction.
You need an easy-to-use Honey Extractor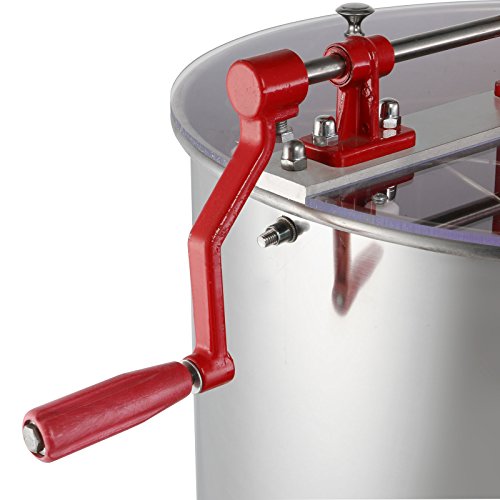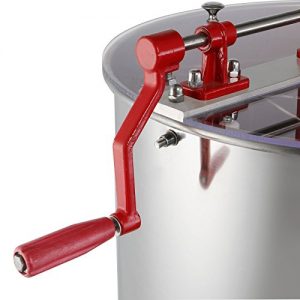 The only thing that needs assembly on the SucceBuy 4 Frame Stainless Steel Honey Extractor are the three detachable stands. This extractor is quite easy to use as it is not complex. Whether you are a beginner or a professional beekeeper, SucceBuy give you a very user-friendly honey extractor. It is so simple to set up that you do not need the included instruction booklet to put it up.
Once done using this extractor, cleaning it is equally as easy. Just some warm water and some soap is all it takes. If you are a beginner in honey extraction, then the SucceBuy 4 Frame Stainless Steel Honey Extractor will make a reliable asset. With this unique piece of beekeeping equipment from SucceBuy, you enjoy all these benefits.
Check Price and Availability of the Succebuy 4 Frame Stainless Steel Honey Extractor
Pros and Cons
Pros
Fully rounded frame made of stainless steel that is food grade and superbly polished. It not only looks good but also minimizes spillage.
Conical base with huge 2 inch spillage gate allow for easy draining and collection of the honey.
3 detachable silver stands that can be bolted down. They make the honey extractor extra sturdy.
Impressive ground clearance for use with large collection vessels.
Huge capacity load.
Longevity and durability.
It is friendly to your pockets.
The superior design of curving the inner mesh helps protect your honey comb.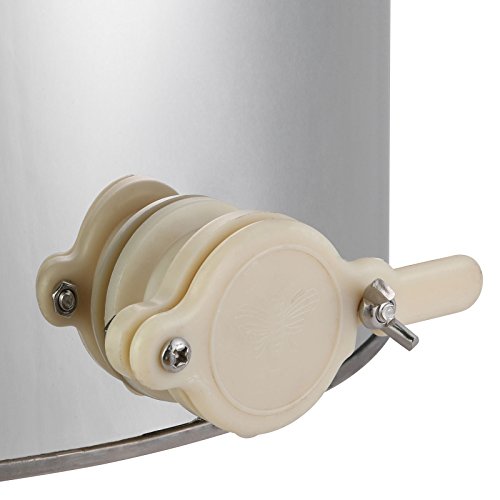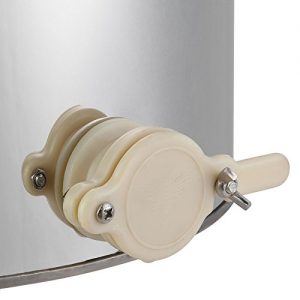 Cons
The plastic honey gate is painted. Over some long period of usage, the paint may start peeling off.
The manual operation of the extractor can be laboring. Electric honey extractors are less tiresome.
During cleaning you should take care not to lose small parts. Some parts that help in rotation like bearings may prove costly if lost.
Conclusion
To best and fully extract unpasteurized honey that has no impurities, the SucceBuy 4 Frame Stainless Steel Honey Extractor must be used with other accessories. They make work easier and also complement the extractor. You may buy an uncapping knife and fork. You also require a sieve or strainer and a collection jar or bucket.
The SucceBuy 4 Frame Honey Extractor is a great addition to your beekeeping tools of trade. It is also a great practical gift for a friend or family relation who may be a beekeeper. Consider throwing it into your bag of goodies when you show up at their door next time.
Have you ever used the SucceBuy 4 Frame Honey Extractor? Leave a comment below and let us know what your experience was like.
Check Price