If you purchase an independently reviewed item through our site, we earn an affiliate commission. Read our affiliate disclosure.
Scott Bee Farm brings a wealth of information and know-how to the oxalic acid vaporizer market with the heavy duty version 15.12. The company has a number of vaporizers that have found acclaim among beekeepers. This version of the Scott Bee Farm oxalic acid vaporizer is made in the USA so you are better assured of quality – and quicker arrival upon purchase. The vaporizer works well in the important exercise of controlling Varroa and tracheal mites. It is easy to use, effective and very simple in its construction.
Controlling Pests
The control of pests in beehives is a crucial activity. It ensures honeybee colony health. Beekeepers that do not control pests, especially the Varroa mite should be sure to get reduced beehive products yield, and eventually lose their honey bee colonies. The Scott Bee Farm Heavy Duty Oxalic Acid Vaporizer is used to release of oxalic acid in vapor form in beehives. Oxalic acid is a proven form of Varroa mite control, and has its advantages including reduced risk of Varroa mites developing resistance to the acid.
About the Scott Bee Farm Heavy Duty Oxalic Acid Vaporizer v.15.12
This vaporizer is constructed using high quality materials. It promises durability, reliability and ease of use. It is a highly functional beekeeping equipment that every beekeeper should consider. The vaporizer is a great companion for the beekeeper with less than 10 beehives. It works well and does the job quite fast.
Putting together the 15.12 version of the Scott Bee Farm oxalic acid vaporizer is done by highly trained professionals. They understand the needs of beekeepers and appreciate the importance of delivering high quality. The parts of the vaporizer are made using the best materials and technologies with the oxalic acid pan being CNC machined. The vaporizer features a glow plug, a stabilization tray, 12 feet of protected electrical wire and soldered battery clips. They come together and are held in place by strong aluminum tubing.
Design and Usage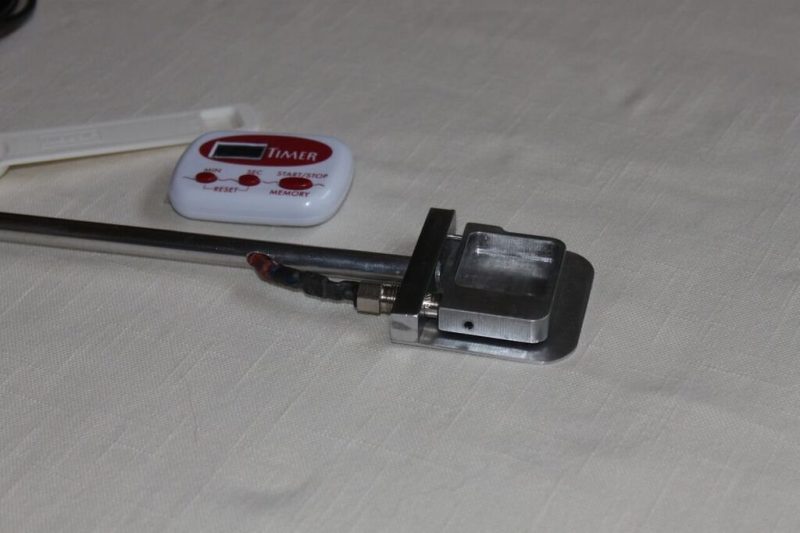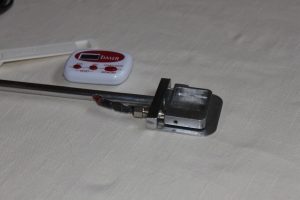 The handle used for this vaporizer is made of wood. It is rounded for your excellent grip even when you are wearing gloves on your hands. The handle is made to allow the electrical wire of the vaporizer to go through it. The wire goes through the aluminum tubing as well for its added protection. This vaporizer runs on direct current (DC) electrical power. It is best operated using 12 volts (V) power from a battery or other suitable source. Batteries such as for cars, lawn mowers, some motorcycles and tractors are suitable for use with the vaporizer.
Bonus items that come with this version of Scott Bee Farm's oxalic acid vaporizer are a digital timer and an acid measuring scoop. The timer is very useful to beekeepers. It helps you determine when your oxalic acid has been fully vaporized. The timing of acid vaporization is important. You do not want to under-treat the beehive and have low mite death rate per treatment. At the same time, you do not want to have the vaporizer still heating up after the acid has vaporized. A heating period of 2-3 minutes is advised for this vaporizer when in use with a properly charged battery.
Check Price and Availability of the Scott Bee Farm Heavy Duty Oxalic Acid Vaporizer v.15.12
Pros and Cons
Pros
The vaporizer is great for all types of beehives. It works best with the Langstroth beehive but can also be used with other types of hives. It only needs a clearance of ½ inch or 12 mm at the hive entrance.
The glow plug used in this oxalic acid vaporizer is easy to replace if it burns out. It is a standard glow plug easily found in department auto parts stores.
The handle of the vaporizer is made of wood. It does a good job of preventing beekeepers' hands from coming into contact with the aluminum tubing that may sometimes get hot – especially with repeated use.
This oxalic acid vaporizer is safe to use in beehives. It vaporizes oxalic acid well and fast. It has very low risk of causing a fire when used properly and with precautions taken.
This vaporizer has very solid construction. Electrical parts are soldered where possible and well insulated. It is also nicely put together to ensure it lasts for long.
Cons
The vaporizer needs cooling time between use in one hive and the next one. A bucket of water comes in handy for this. However, there are other competing oxalic acid vaporizers that do not need cooling time between hives.
This type of vaporizer needs you to be very vigilant about it coming into contact with wax. If it does so, and is left to heat up too much, it may light a disastrous fire in your beehive.
An On/Off switch would be a nice feature on this vaporizer. It would make switching the vaporizer off easier for beekeepers. A switch is more convenient than having to remove one plug from your battery.
Further Thoughts
Expandability features highly in the making of the Scott Bee Farm oxalic acid vaporizer. It consumes little power and heats up quickly. This allows beekeepers with more than a few beehives to purchase a number of these vaporizers and use them simultaneously. You can connect more than one of these vaporizers to a battery and not drain it too fast. This will allow you to work through several hives and reduce the total amount of time you spend at the apiary treating hives. Expandability saves you time and makes more efficient use of your power source.
Conclusion
The Scott Bee Farm heavy duty oxalic acid vaporizer is an advanced version with great features for added stability when in use It is useful to beekeepers and is of very high quality. It easily takes enough contents to adequately treat a single hive with oxalic acid to control both Varroa and tracheal mites. This vaporizer is easy to power with batteries for most home and farm machinery. It does not come with its own battery, but that is just fine.
Have you ever used the Scott Bee Farm Heavy Duty Oxalic Acid Vaporizer? Leave a comment below and let us know what your experience was like.
Check Price