I found it pleasing that the Ridgeyard Pro 3 Frame Manual Stainless Steel Honey Extractor is made of food grade stainless steel, effectively ensuring its durability. The two Plexi glasses that come with this item helps in keeping debris out and for a quick observation while operating. I have a vast selection of frames for use with this product because it allows shallow, medium, and thick frames. My hobby is keeping bees, and this product fits my hobby well. I can also establish my home business for as long as I have this honey extractor.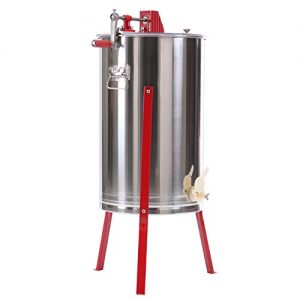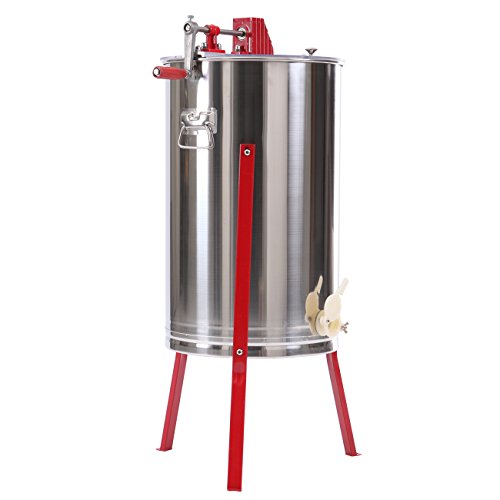 It is easy to carry around this honey extractor because it has two handles that help in its carriage. The metallic gears are enclosed for keeping them clean and distinguishing them from honey. The inside bottom of the drum is shaped like a cone, which helps in extracting the honey from the drum with ease.
Cleaning this honey extractor is easy because all that's needed is warm water and soap and it shines like it is new. Assembling the crank and legs is also easy. I do not need a manual to assemble it because it is a pretty straightforward task.
The manufacturing company – Ridgeyard Pro, packages this item well for secure packaging during shipping operations. It weighs 38.5 pounds.
The manufacturer arranges for warranty information and documentation when purchasing it. It comes with an operational manual in the event I need to make a reference on the functionalities of some elements of the product.
The Ridgeyard Pro 3 Frame Manual Stainless Steel Honey Extractor is a solid investment, and one that will ensure that you get the required service, producing quality honey for your home business or hobby. It is an extractor that provides great value for money.
Check Price and Availability of the Ridgeyard Pro 3 Frame Manual Stainless Steel Honey Extractor
Pros and Cons
Pros
It is extremely durable thanks to its food grade stainless steel.
I found it easy to assemble when I bought it and served my beehives well.
The bottom of the drum is conically shaped for removing honey efficiently.
Cons
The three legs of the item do not give it maximum stability.