If you purchase an independently reviewed item through our site, we earn an affiliate commission. Read our affiliate disclosure.
The Ridgeyard Pro 3 Frame Manual Stainless Steel Honey Extractor is made of food grade stainless steel, effectively ensuring its durability. The two Plexiglass lids that come with this extractor helps in keeping debris out while allowing for a quick observation while operating. This extractor comfortably fits shallow, medium and deep frames.
It is easy to carry around this honey extractor because of its two handles. The metallic gears are enclosed for keeping them clean and distinguishing them from honey. The inside bottom of the drum is shaped like a cone, which helps in extracting the honey from the drum with ease.
The Ridgeyard Pro 3 Frame Manual Stainless Steel Honey Extractor comes unassembled, however it is pretty straightforward to put all the pieces together. It comes with an instruction manual just in case you might need it.
Check Price and Availability of the Ridgeyard Pro 3 Frame Manual Honey Extractor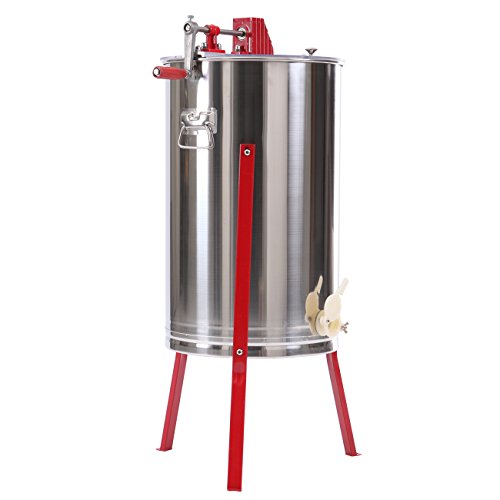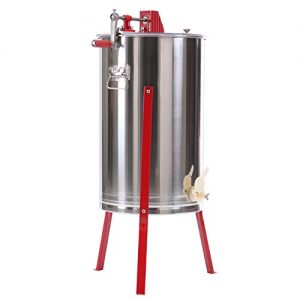 About the Ridgeyard Pro 3 Frame Manual Stainless Steel Honey Extractor
This extractor happens to be one of the most highly rated units online. Most of the beekeepers who got for it feel fortunate to have considered it. Some of its strong points include the following:
It is built with two handles that makes it possible and easy for the user to carry the unit around.
It is ideally a manually operated extractor and that means you can use it irrespective of your locality. Those who practice beekeeping in remote locations will find it useful. The pro beekeepers also love it since it comes in handy as a back-up to an electric extractor.
The unit has metal gears that are built in enclosed locations to prevent honey from coming into contact and clogging the extractor.
The extractor has a bottom interior that is conical in shape. This is preferred by designers since it helps prevent honey from sticking on walls. It helps direct all the honey extracted out of the drum into the stopper of valve where it can be collected.
The stainless material that makes up most of the unit's parts makes it easy to clean it. All that you need is warm water and soap for cleaning.
You are required to assemble the legs and crank which is quite easy to handle.
It is important to note that the extractor's legs make it easy for you to place the honey collection container underneath the unit.
This is a 3-frame manual honey extractor.
The honey gate or valve tap outlet measures 2 inches in diameter.
The drum diameter is approximately 14.76 inches or 37.5 cm.
The drum height on the other hand measures 24.8 inches or 63 cm.
The total height for the unit is 34.11 inches.
Weighs 38.54 lbs or 17.48 kg, when empty of course.
Check Price and Availability of the Ridgeyard Pro 3 Frame Manual Honey Extractor
Pros and Cons
Pros
It is very durable thanks to its stainless steel build which can withstand rust and abrasion. It is made of acceptable food grade material.
I found it easy to assemble.
The bottom of the drum is conically shaped for removing honey efficiently.
Good quality product at a reasonable price.
Easy to clean with warm water, soap and a rag.
No need for electricity in order to use it.
Comes with built-in legs to allow the user place a collecting container underneath the extractor.
Relatively lightweight and therefore easy to carry. It also has two handles to make this easy.
Cons
The three legs of the extractor do not give it maximum stability while in operation.
Further Thoughts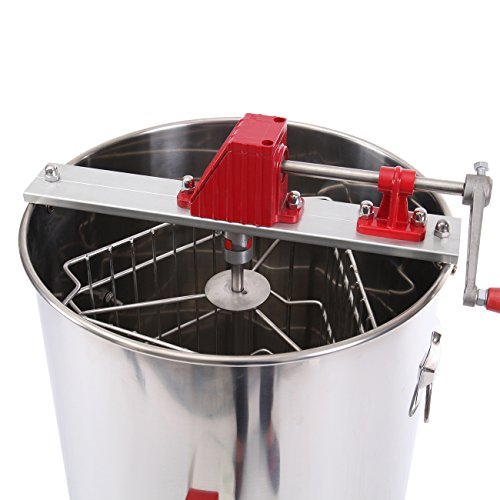 The Ridgeyard Pro 3 Frame Honey Extractor, being a manual unit makes a great investment to the savvy buyer. It is pleasing, not only at first glance but also when you use it. It is a well crafted unit that boasts an appealing exterior in addition of highly functional interior. Its gears work efficiently and are hidden to prevent honey from clogging them. This unit is also easy to carry and has a conical bottom that guarantees efficiency of the extraction process.
Conclusion
Honey harvesting and extraction can be highly demanding and financially draining if not planned for in advance. This is especially true for the beekeeper that waits until when honey is ready to be harvested so as to procure the honey harvesting and extraction equipment. The wise one will buy the equipment early enough, since a last minute dash may mean settling for an expensive one or settling for any unit available. Others would even prefer to rent one from local beekeeping clubs or other beekeepers. Luckily, you do not have to suffer when the fruit of your labor is ready for harvesting. Buy your extracting equipment in advance.
A good place to start is perhaps by typing the word "Top Beekeeping Extractors or Top Honey Harvesting Equipment". What reviewers (like BeeKeepClub) say about a product can be extremely helpful if you are considering any beekeeping equipment. The Ridgeyard Pro 3 Frame Manual Stainless Steel Honey Extractor will make an excellent buy for anyone, as it will ensure that you get the required service, producing quality honey for your business or hobby. It is an extractor that provides great value for money.
Have you ever used the Ridgeyard Pro 3 Frame Manual Honey Extractor? Leave a comment below and let us know what your experience was like.
Check Price