If you purchase an independently reviewed item through our site, we earn an affiliate commission. Read our affiliate disclosure.
The Popsport Wooden House Beehive is a great companion in housing both your bees and your honey. Honey is one of the sweetest naturally occurring substances. Ever since humans have tasted honey, they have learned to tame the bees that make it. To add to its sweetness and why there are so many beekeepers today, honey has a host of health benefits.
Methods that we use in beekeeping keep getting better with time. In beekeeping, the house for your bees, also known as the beehive is perhaps the most vital equipment. The Popsport Wooden House Beehive employs modern beekeeping methods and technologies. Let's check it out.
About the Popsport Wooden House Beehive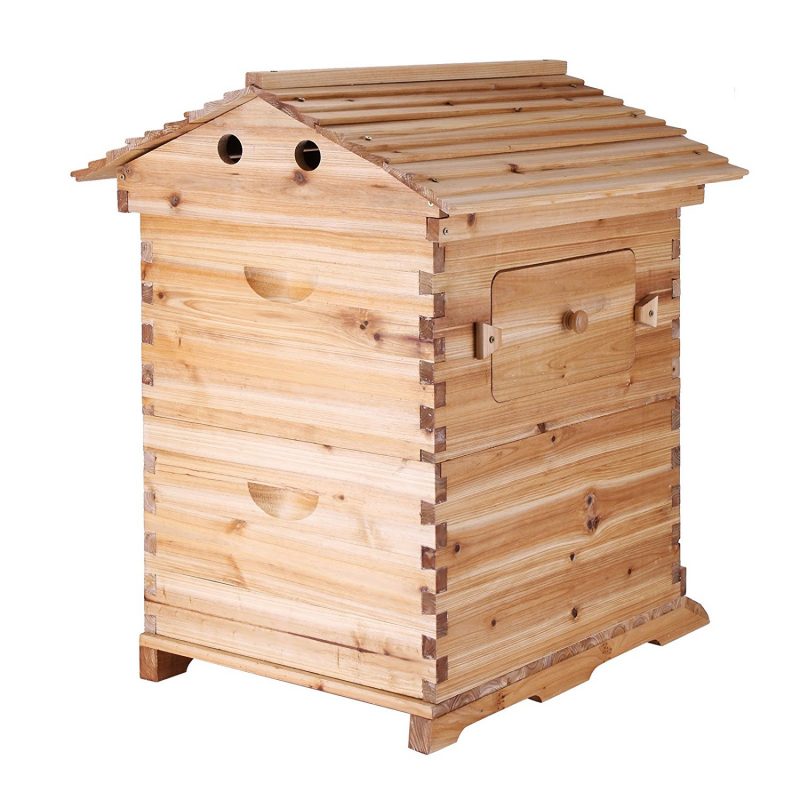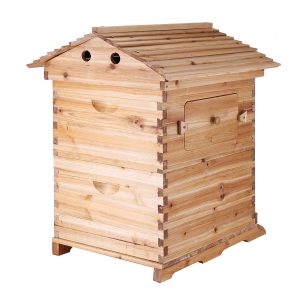 The Popsport Wooden House Beehive utilizes the newer Auto Flow Honey technology. This technology is incorporated into the whole beehive, particularly the frames. The frames are mostly man-made and have a small opening on one side. This opening is joined together by the bees using wax. Turning on the Flow tap causes the wax holding the frames to rupture. The honey is then released and flows from your hive to a collection jar/ bucket.
Instead of traditional methods of honey collection, you do not have to open the hive and remove the frames for extraction. This gentle process of honey collection/extraction allows a farmer to collect even more clean honey. The honey comes from the source, straight into your collecting container.
Whether you are a new beekeeper or an experienced one, the Popsport Wooden House Beehive is ideal for anybody. You do not need a manual or other set of instructions to set up this beehive. The manufacturer is however kind enough to include them. The separate pieces are cut to precision and do not require any extra trimming. This ensures that the different pieces all fit like a glove.
Materials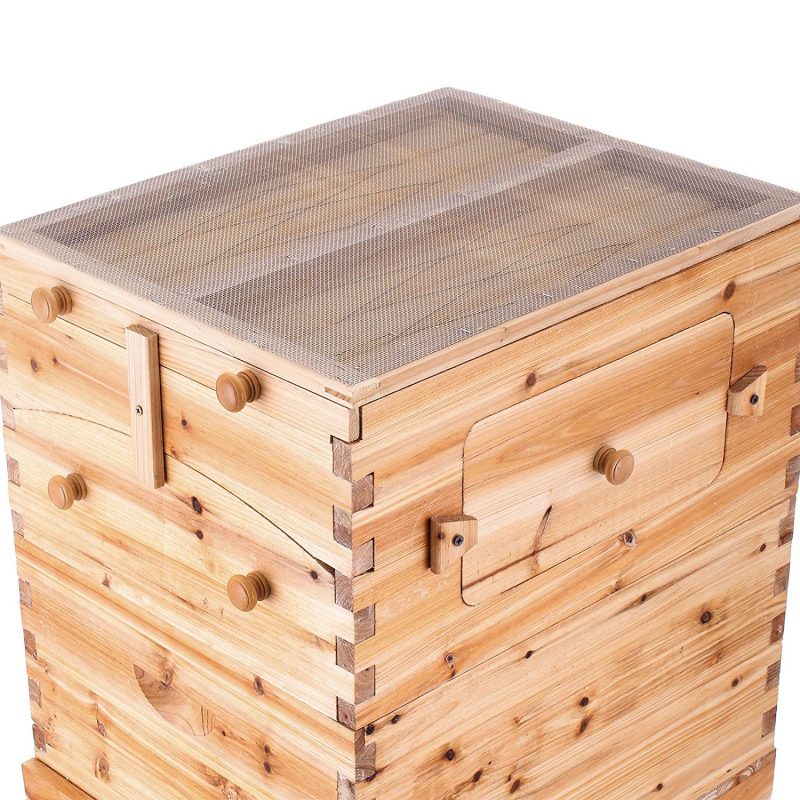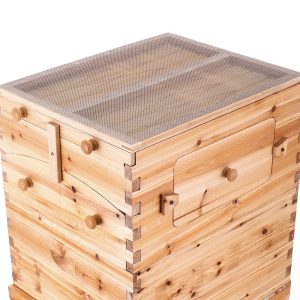 Built from some very high quality pine wood, the Popsport Wooden House Beehive is quite hardy and strong. The pine wood is natural and untainted. You can opt to coat it with a layer of varnish to strengthen it. Even without the varnish, Popsport guarantees this hive has a shelf life of more than 10 years. It is resistant to extreme weather conditions, including rain and snowfall.
The wood used to make this Popsport bee house has been tested and proven safe for both the bees and humans. The high quality pine wood also makes this hive quite attractive. It can be kept in open sight; it is not an eyesore. The materials used to construct this great hive are not only environmentally safe but also safe for use with food.
You are free to explore light wood preservation methods with this bee house. Such methods should not interfere with the ability of your hive to attract a swarm of honey bees to colonize your bee house. They should also not add any flavors and odors to your honey. Make sure not use preservation methods you are not familiar with.
Size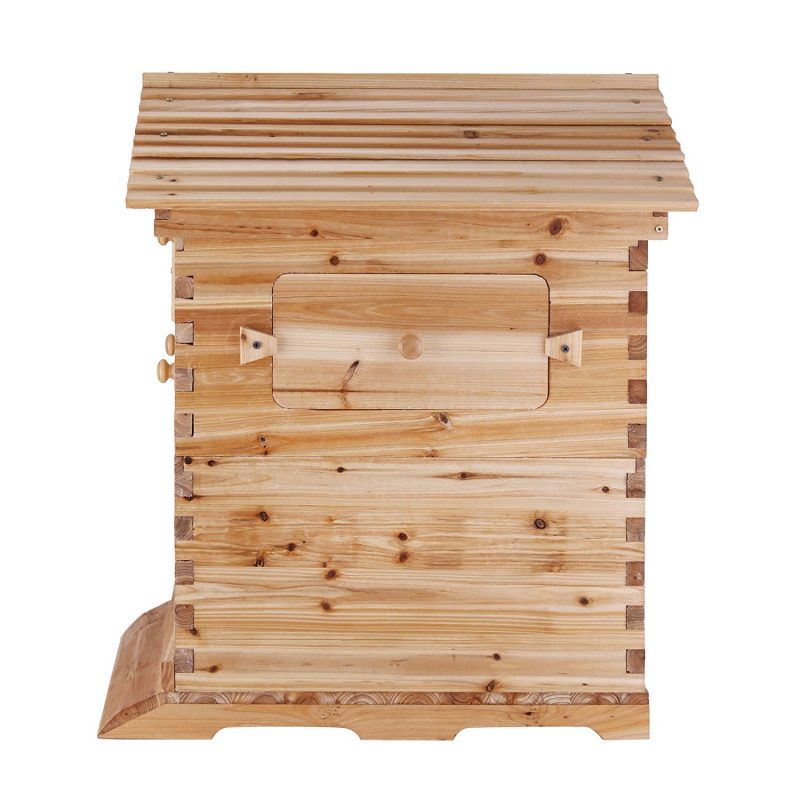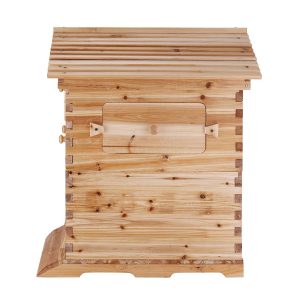 The Popsport Wooden House Beehive comes at a great size. It is not too bulky and doesn't take up much space in your backyard. This hive measures in at a height of 20 inches, width of 10 inches and a length of 16 inches. With this size, this hive can house quite a substantial amount of bees. It is therefore ideal for a person with a small amount of yard space that still wants to reap a substantial yield. This size and the quality of materials used in construction of this beehive make it quite light. Weighing less than 32 pounds, this bee house is quite light.
Check Price and availability of the Popsport Wooden House Beehive 
Pros and Cons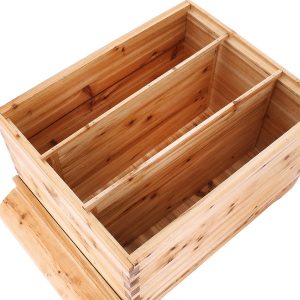 Pros
The Popsport Wooden House Beehive has the following benefits:
It is quite spacious and provides plenty room for the bees.
Built with high quality wood which is food safe.
The high quality materials and finishing make this product not only beautiful but also quite durable and handy.
Cons
This beehive has a few shortcomings that need revisiting, to better serve its purpose.
It does not come with any frames.
The ventilation holes are large and may allow some predators to get in.
As an extra precaution, some joining of the joints should be enforced. Use nails, staples or glue just to make your joints firmer and more durable.
Depending on where you buy this hive from, you may not be given the full package of components that accompany it. Purchase only from an authorized dealer.
Conclusion
Apart from these minor hiccups, the Popsport Wooden House Beehive is a good product. Getting your own beehive is convenient. You can easily purchase it online. The bee house is a good deal and it gives you good value for your money.
Do you own the Popsport Wooden House Beehive? Leave a comment below and let us know what you think of it.
Check Price