As a beekeeper, there are some beekeeping equipment and accessories without which beekeeping becomes a headache. The honey extractor in particular makes it possible for the beekeeper to safely collect the fruits of his or her labor – pure honey collection. If you have no clue about extractors or simply want to know what exactly to look out for when buying one then do not worry since you are in the right place. We shall explain in a nutshell what honey extractors are all about then review OrangeA 2 Frame Electric Stainless Steel Honey Extractor, one of the most sought after honey extractors in the market.
What is a Honey Extractor?
In simple words, a honey extractor is a device that is designed for safely removing honey from honeycombs. You can use whichever method to remove the honey combs but not all methods leave the combs reusable, hence making it hard for the bees to reuse the used combs. You have two options when it comes to honey extractors: tangential or radial honey extractors.
Important Features to Lookout for when Buying an Extractor
In a nut-shell, consider the following before making a purchase:
Capacity – in order to get the best extractor you need to know how much of honey you expect to extract. 1 to 60 frame ranges are available and thus you have to choose depending on the number of hives you have.
Mode of operation – by this we mean whether manual or electrical. The electrical extractor uses electric power and is more efficient when compared to the manual extractor. The manual on the other hand might be labor-intensive but it saves on utility bills. They also result in minimal honeycomb damage since it uses manual labor. In terms of price the manual extractor is cheaper.
Budget – your pocket will dictate the type of extractor you can afford. Nonetheless, for starters it is wise to start off with something cheaper and then buy sophisticated ones as their beekeeping business grows.
Check Price and Availability of the OrangeA 2 Frame Electric Extractor
About the OrangeA 2 Frame Electric Stainless Steel Honey Extractor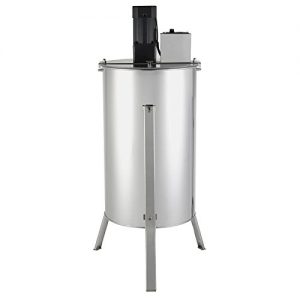 The two frame electric honey extractor from OrangeA is one of those units that require electricity to operate as its name implies. The unit has a 120W 1.1A variable speed motor that efficiently spins the honeycombs for maximum honey extraction. It has 3 stainless steel legs as well as a plastic honey cage. Available also within the unit are 2 clear Plexiglas top lids that allow the user monitor the honey extraction process. It is a tangential extractor that ideally a good choice for the beginner. It is also easy to use.
Features
It is a 2-frame stainless steel honey extractor that has a stand or legs.
The stainless steel built is quite sturdy and the overall built is strong and durable.
It comes with 2 clear pexiglas top lids that prevent dirt or debris from contaminating the honey during the draining process. They also make it possible to monitor the extraction process.
The honeycomb basket is somehow rounded to the inner side. This is designed to prevent the honeycombs from breaking.
The food grade stainless steel material is safe for use and is resistant to rust and abrasion.
The motor is 120W 1.1A. The voltage is AC110V 60Hz.
It uses high-precision bearing and therefore it has a high rotation speed and serves for many years unlike other honey extractors.
This unit is ideal for the hobbyist or small beekeeper.
The barrel has a diameter and height of 24 and 15 inches respectively.
It has a drum that measures 12 inches tall and 15 inches in diameter. The entire height including the stand is 34 inches.
The unit has a dimension of 15.8 x 15.8 x 35.4 inches and weighs 37.5 pounds.
Pros and Cons
Pros
Easy to use and clean.
Durable unit.
It has 3 legs that provide stability when the unit is in use.
An ideal unit for starters. It is small but enough for the small beekeeper or hobbyist.
It is an electric honey extractor and that means it is more efficient.
Rather affordable for an electric honey extractor.
Made of food grade stainless steel that is safe. This is also resistant to rust and abrasion.
Has a conical shape bottom and a stopper at the outlet all of which help prevent honey wastage during the extraction process.
It has excellent rotation speed which delivers more within a short time.
Its motor is not loud when in operation.
Cons
You have to raise the unit for it to fit the honey bucket.
Check Price and Availability of the OrangeA 2 Frame Electric Extractor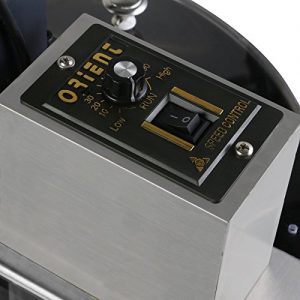 Further Thoughts
The OrangeA 2 Frame Electric Stainless Steel Honey Extractor is an effective and efficient unit. It is also sturdy and durable, and a great option for the hobbyist beekeeper. The mechanics of the extractor works well and it does the job quickly, even giving you the option of a variable speed control, which I found very appealing. On the small downside, I had to raise the unit using bricks so as to allow honey collection using the honey bucket. However this was nothing major.
A Final Word
The OrangeA 2 Frame Electric Stainless Steel Honey Extractor is a high quality honey extractor that has been built to endure. It is made of food grade stainless steel material which is not only durable but also safe for users. It will not contaminate the honey collected. The unit is also resistant to rust and abrasion thanks to its stainless steel construction. This unit being an electric extractor makes it easy to collect honey. Its powerful motor has an excellent rotation, turning the machine into a honey engine. The interior of the barrel is designed in such a way that no honey is wasted during the collection process. You will also use the stopper to regulate the honey collection and minimize wastage as well. Overall, this is one of the best extractors for any beekeeper.