If you purchase an independently reviewed item through our site, we earn an affiliate commission. Read our affiliate disclosure.
The Humble Bee 412 Polycotton Beekeeping Suit with square veil is a head to toe protective clothing. It is a beekeepers' favorite that protects you from a nasty zap. Angry bees cannot find their way through this piece of protection. It features well thought-out features and design to be a top class beekeeping suit.
About the Humble Bee 412 Polycotton Beekeeping Suit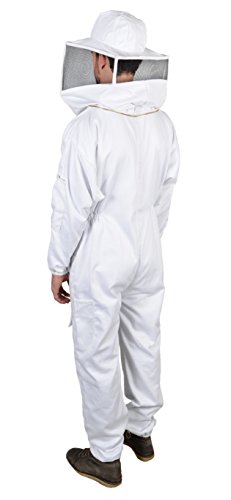 Heavy duty zippers made of brass on the Humble Bee 412 beekeeping suit give you ease and smoothness in your work. These zips last long and give you a refreshingly smooth glide. There are ring tabs on the zips to make your hive inspection, maintenance and honey harvesting time a walk in the park. The ring tabs are large and make it easy for you to pull the zipper closed or open even when your hands are covered in gloves.
Pockets on the Humble Bee 412 Polycotton protective suit are double-stitched. The pockets are all designed to keep what gets in them inside them. You comfortably and securely bring with you as much as you want.
There are 4 pockets for your hive tools down the front, and two more for whatever else you want to bring along.
The back of the suit has 4 extra pockets.
Once you are inside your Humble Bee 412 Polycotton Beekeeping suit, you know that you have more than adequate room for your tools and other accessories.
Square Veil
Honey bees can be aggressive at times. They are not happy that you are intruding into their space. Interference with their affairs is not something bees are happy about. You are sure that your face is safe from determined worker bees due to the square veil on this protective suit. The veil is large and wide in all directions to give you excellent view of your hives, equipment and surroundings. The mesh on the veil gives you a clear view through it.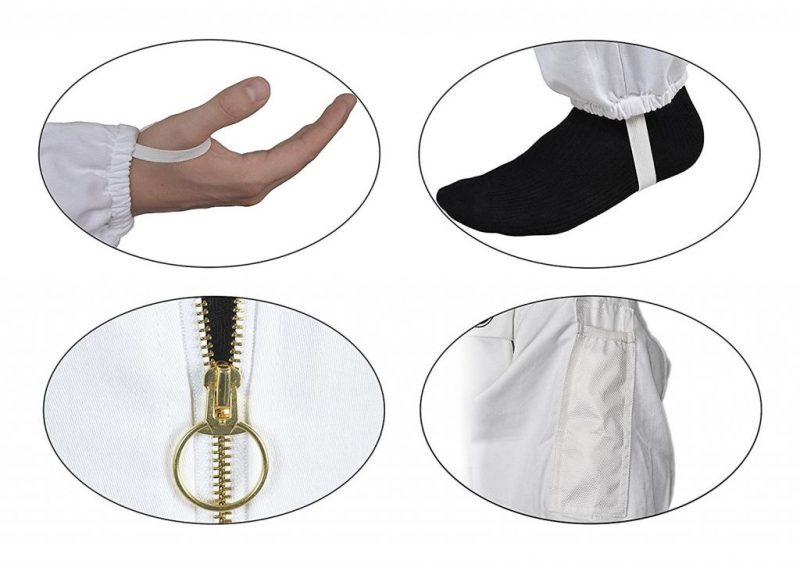 The whole upper veil and top hat setup of the Humble Bee 412 Polycotton beekeeping suit is foldable. It is also very easy to remove once you have finished your work around bees. Attachment of the veil and the protective suit is achieved easily and comfortably using a zipper. The zipper holding veil and suit together rests around the shoulders in a wide circle. Removal of the mesh for purposes of storage and cleaning is thus super easy with this beekeeping suit.
If you are a prescription eyeglasses wearer, then this beekeeping suit is worth your consideration. It has enough space between the veil and your eyes. This allows you to comfortably wear your eyeglasses. The space under the veil section keeps your upper body well ventilated and cooled.
Sizes and Materials
The Humble Bee 412 Polycotton beekeeping suit is available in different sizes. There are 8 unique sizes with varying heights and chest widths. Usually, you will be wearing something under the suit. The recommendation is to go for one size bigger than your every-day-wear clothes. A one-size-bigger suit goes easily over what you wear under the suit. At the same time, the suit remains not too buggy.
The material used in making the Humble Bee 412 beekeeping suit is an excellent blend of polyester and cotton. It is made to medium weight to give it all the protective properties it needs without being too heavy.
Blending cotton and polyester makes the Humble Bee 412 protective suit an excellent piece of equipment since it is suitable for wear in all weather. Even in the hotness of summer, you will be able to harvest honey with convenience. The thickness and toughness achieved in the fabric of the Humble bee 412 Polycotton beekeeping suit gives you all the cover you need from bee stings.
To make everything easier for you, the Humble Bee 412 beekeeping suit has elastic wrists and ankles. Additional elastic on the waist gives this protective suit excellent comfort capabilities. The waist elastic gives the suit a good grip on your waist for your easy movements. Foot and thumb holds on the wrists and ankles keep the suit in place all the time.
Check Price, Sizes and Availability of the Humble Bee 412 Beekeeping Suit
Carrying Case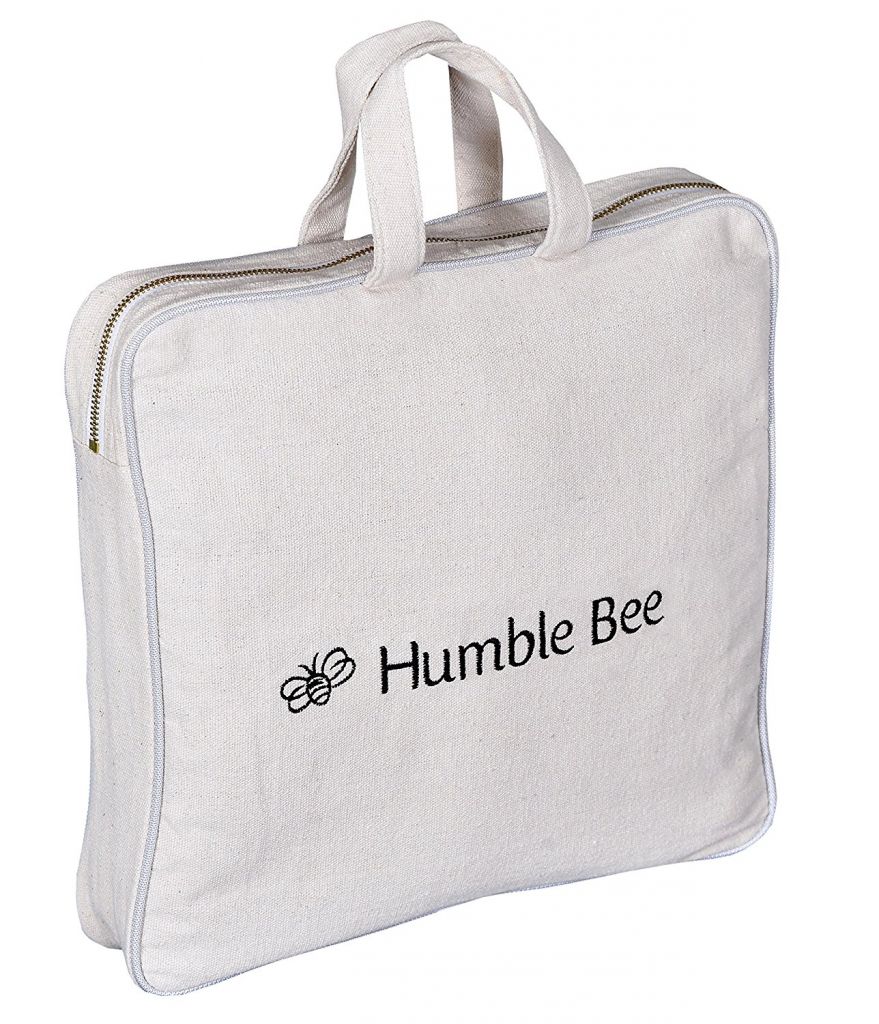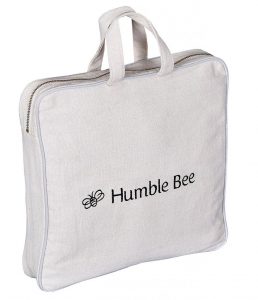 Neatness too, is considered in the design and packaging of the Humble Bee 412 protective suit. A carrying case made of tough canvas is included in purchase. The same canvas is found on the strap handles of the carrying case. To seal everything up in the case is a durable brass zipper.
The zipper on the case is similar to the ones on the protective suit itself. It has the same ease of use and durability.
Once you have removed the veil from the suit and folded it up, everything fits in nicely into the carrying case.
Cleaning
Cleaning the Humble Bee 412 Polycotton beekeeping suit is easy. Just detach the veil and have some water nearby. Hand-wash the suit and only do the same on any cleaning job you do on the veil too. You may use a cloth on the detached veil in place of hand-washing. It is advisable not to bleach the suit. Subjecting the protective suit to dry cleaning, ironing and tumble drying wears down the cloth over time. This eventually robs your beekeeping protective suit of its ability to protect you from being stung.
Pros and Cons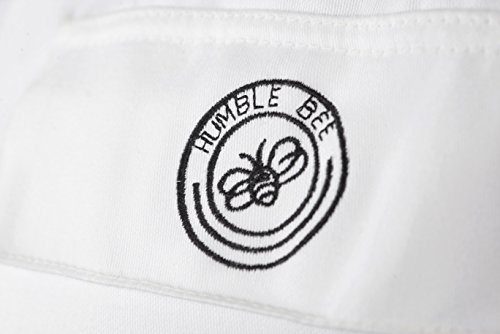 Pros
The veil is not cumbersome. It keeps the bees away from your eyes while giving you an excellent view.
The suit works well with your other beekeeping equipment such as the tool belt, smoker and buckets.
Once the suit is in its canvas bag, it can comfortably occupy the same space with the rest of the tools and equipment without suffering any damage. No special treatment and care needed.
Cons
The beekeeping suit is best used with a light layer of cloth under it. Your usual day clothes work well in overcoming this challenge. Beekeeping socks and boots meld with the protective suit to prevent any bees getting under the suit and stinging you.
Conclusion
Beekeeping is fun for both men and women with the Humble bee 412 Polycotton Beekeeping Suit with square veil. The suit is designed in a unisex way to suit both men and women. With increasing calls for bee conservation, many more people are venturing into beekeeping. Bees help with pollination, and honey is a delicacy we love on our tables. It is good to contribute towards not-for-profit activities. There are many such efforts being undertaken to encourage beekeeping. Every purchase of a Humble bee 412 Polycotton beekeeping suit with square veil leads to a donation towards bee conservation.
Do you own the Humble bee 412 Polycotton Beekeeping Suit? Leave a comment below and let us know what you think of it.
Check Price
Check Price (Australia)