If you purchase an independently reviewed item through our site, we earn an affiliate commission. Read our affiliate disclosure.
Review Overview
The Hardin Professional 2 Frame Manual Honey Extractor works great and is suitable for beginners but finds itself on the more expensive side.
The Hardin Professional 2 Frame Manual Honey Extractor comes from a company with a reputation for manufacturing quality equipment in various industries. This includes equipment to work with wood, metal and other materials. This honey extractor is used in beekeeping to extract honey from beehive frames. It is largely made of stainless steel. It can accommodate 2 beehive frames at a time and allows observation of honey extraction progress through the clear lids at the top.
About the Hardin Professional 2 Frame Manual Honey Extractor
This manual honey extractor is great for beekeepers with small apiaries. It is suitable for beekeepers with between 1 and 10 beehives in their apiary. The Hardin Professional 2 Frame Manual Honey Extractor can take frames from deep, medium and shallow beehive boxes in pairs. You are able to extract two frames at a time, which is good for beginners.
Usage
Using the extractor is easy. Once you have the extractor assembled and cleaned you are ready to start using it. To extract honey, follow the steps below:
Remove the Plexiglas tops and place your frames on the basket of the extractor.
Once your honey frames are seated on the basket cover the extractor with the Plexiglas tops.
You may then proceed to cranking the honey extractor. Beekeepers should make sure that the honey gate of the extractor is sealed to avoid honey leaks.
During honey extraction, you should extract half the honey from one side of each frame, and then extract all honey from the opposite side of the frame. You then extract the half that remained on the first side of your honey frame. This process of extracting honey in halves from frames helps prevent blow outs. A blow out is when honey comb ruptures due to the weight of the honey it holds.
Blow outs destroy already drawn comb and give bees additional work rebuilding the comb. Beehives with already formed comb give a higher yield of honey since the bees are able to begin storing honey earlier in the honey season.
Materials and Cleaning
A simple stainless steel design is used in the making of the Hardin Professional 2 Frame Manual Honey Extractor. Stainless steel is food safe. It does not impart a metal taste onto honey. Additionally, stainless steel does not add unpleasant smells to honey. The interior of the stainless steel drum making up the extractor is smooth and easy to clean. A little soap and some warm water is all you need to clean the extractor. Cleaning is recommended after you have finished extracting honey. Do not store the extractor with honey inside it. Beekeepers aiming to maintain high standards of hygiene should clean the honey extractor before each use as well.
Legs
Beekeepers using this honey extractor are given a choice of a leg stand. They may use the leg stand or place the extractor on a low table. The cranking mechanism of the honey extractor is easy to use whether you use it with its legs stand or on a working surface of your choice.
Warranty and Assembly
A lifetime warranty is attached to the Hardin Professional 2 Frame Manual Honey Extractor. It is an assurance to beekeepers that the manufacturer stands behind their product. Both amateur and professional beekeepers can purchase the honey extractor due to this assurance of quality. This extractor comes is a semi-assembled state. Beekeepers are provided with a nice instructions manual on how to assemble the extractor. The extractor measures 15 x 45 x 24 inches. It weighs 18.9 pounds once fully assembled.
Check Price and Availability of the Hardin Professional 2 Frame Manual Honey Extractor
Pros and Cons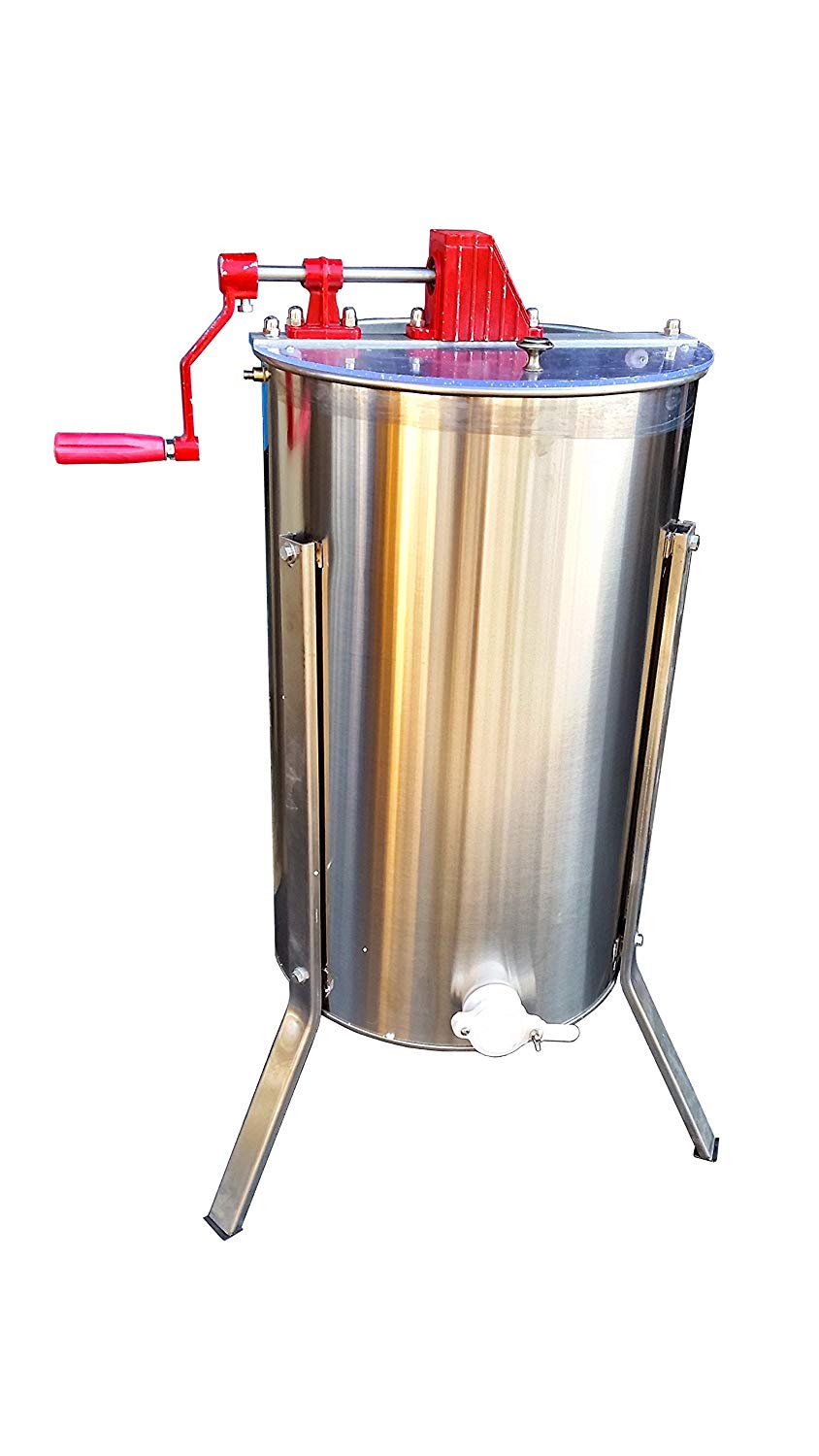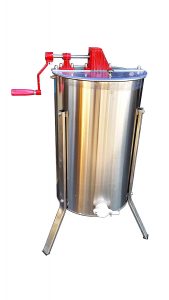 Pros
A Plexiglas top on the extractor allows you to see how much honey has been extracted from the honeycomb. The Plexiglas covers seal tightly and allows easy use of the honey extractor.
The honey extractor has a stand you can use for easy collection of honey. The stand is tall enough to allow most beekeeping honey containers under it.
A sealable honey gate is included on the drum of the honey extractor. It allows beekeepers to quickly drain away extracted honey from the drum of the extractor. The honey gate of the extractor seals up well. It does not leak away your precious honey.
Cons
Rather expensive for 2 frame manual extractor.
Further Thoughts
Manual honey extractors eliminate the presence of electrical components that are prone to breaking down. Electric honey extractors employ a motor that may break down sometimes and leave you not able to extract honey from your beehive frames. The Hardin Professional 2 Frame Manual Honey Extractor cranking mechanism is made of strong metal. It does not break down and it works smoothly to achieve efficient honey extraction. This manual honey extractor is a great gift item for beekeepers. It turns honey extraction into a social activity full of fun and enjoyment. Beekeeper can invite friends, spouses and favorite persons to help them with honey extraction.
Conclusion
The Hardin Professional 2 Frame Manual Honey Extractor is of a nice size. It is not too big to take up too much space neither too small to not fit beehive frames well. During cranking, the frames and the frame basket in the extractor do not come into contact with the sides of the extractor drum. The extractor is not problematic to move and position. It can be used indoors or outdoors. Beekeepers with their beehives in a far off place can easily carry the extractor to the apiary, extract honey and carry the extractor back home.
Have you ever used the Hardin Professional 2 Frame Manual Honey Extractor? Leave a comment below and let us know what your experience was like.
Check price