If you purchase an independently reviewed item through our site, we earn an affiliate commission. Read our affiliate disclosure.
Beekeeping is a science that has been with us for thousands of years. Its history is essential in the development of multiple methods and equipment. But, what's more important is how it continuous to shape the food industry and how it keeps the bee population which is a crucial part of the ecosystem. That said, humans learned how to make beekeeping a sustainable industry throughout the years through innovations in techniques and equipment.
Many beekeeping equipment are products of great inventions aimed to improve the processes involved in taking care of bees and extracting honey. Beekeepers continue to find ways to increase the sustainability of bees and they continue to create tools to make the activities more efficient and convenient. One of the most important equipment in beekeeping is the actual home the bees live in. Just like any animal on the planet, a home provides shelter and protection from the harmful elements and potential predators. This article the Happybuy Langstroth Beehive Box Kit. However, before we proceed to the details of the product, let us know more what a hive frame and a hive box is about.
About the Bee Hive Box
History
Petro Prokopovych invented the first beehive with hive frames in 1814. Before his invention, early designs had large gaps between frames and were difficult to install. Prokopovych designed the frames to be only placed in the honey chamber. This design allowed the bees to build their combs freely in the chamber. In 1848, Jan Dzierzon improved the design by adding grooves into the side walls of the hive and by removing the wood strips. This new design resulted to more convenience in frame removal. Dzierzon also corrected the distance between combs. In 1852, L.L. Langstroth designed a movable hive frame which is now the most common used structure in beekeeping. Due to its popularity, modern beekeepers simply call it the Langstroth. When beekeepers talk about beehives, they usually think of Langstroth. Over the years, countless attempts to re-invent the beehive failed to dismantle the Langstroth design. The only reason for its survival is its ability to do what it is intended to do. And, it does it very well. The Happybuy Langstroth Beehive Box Kit, as the name suggests, is a Langstroth hive.
Frames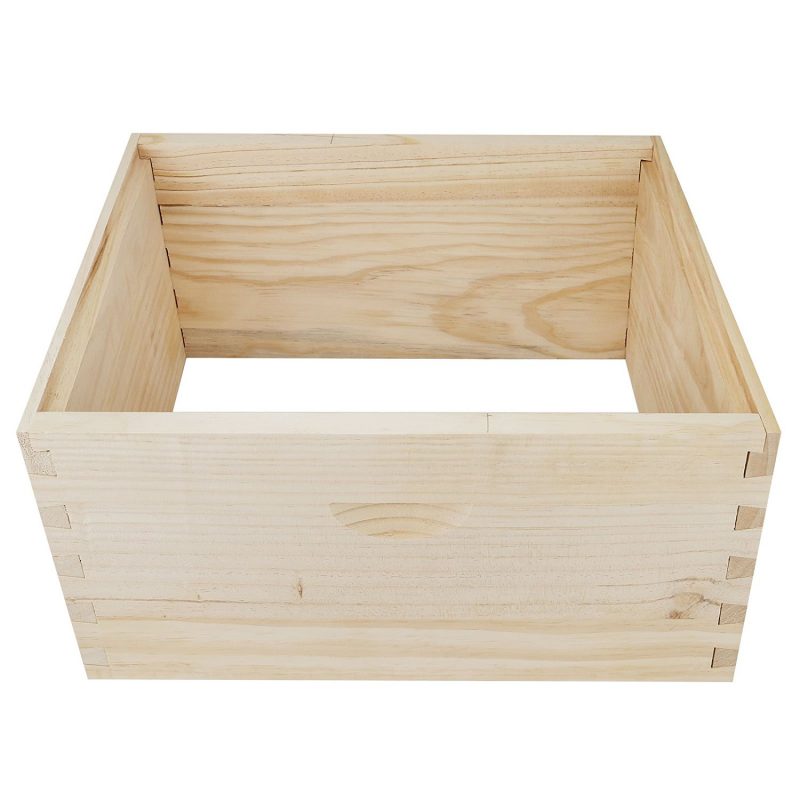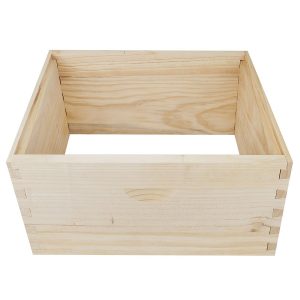 A hive frame is a structural component of the beehive that holds the brood comb or the honey comb which is enclosed with a hive cover or box. It is a key component of the modern man-made hive also called as movable-comb hive. The beauty of this component is its feature to be removed from the hive for inspection and for honey extraction. The beehive box, on the other hand, is the structure that surrounds the frames. It acts as the protective barrier to keep the entire colony safe from outside elements, weather, and predators. There are different beehive box sizes, but most of them are made out of wood materials.
Size
Bee hive boxes come in different sizes: shallow, medium, and deep. Deciding on which one to get is one of the most confusing periods of a beginning beekeeper's life. The are many options on the market. If you're new to this career, you must consider convenience, efficiency, and weight during you search. Please also note that the frames are designed to fit the corresponding box size. Hive boxes can also fit different numbers of frames. Smaller boxes can fit 3 to 5 frames while the larger ones can fit up to 10 frames. There's no specific size for every level of beekeeper. Like said, it depends on the convenience, efficiency, and weight based on your needs. It also doesn't matter to the bees. They don't care on how big the hive box is as long as there's enough space for them to move around. So before you gear up to buy a hive box, make an honest assessment.
Check Price and Availability of the Happybuy Langstroth Beehive Box Kit
About the Happybuy Langstroth Beehive Box Kit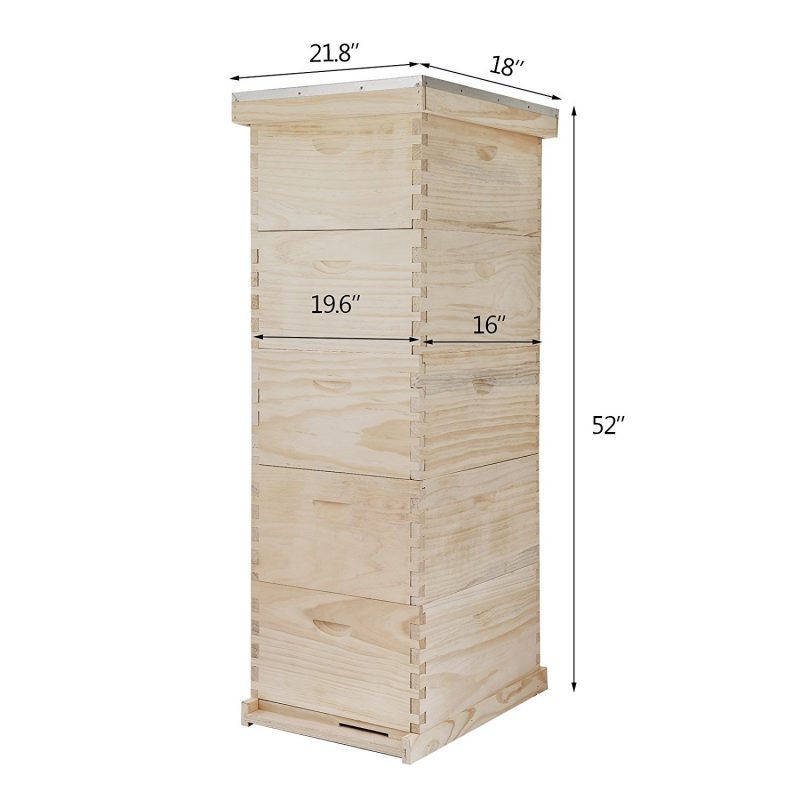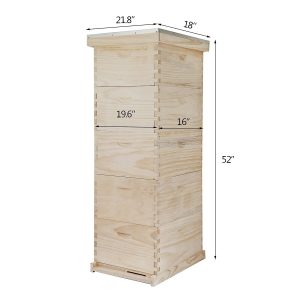 Now let's go down to the that was mentioned earlier. The Happybuy Langstroth Beehive Box Kit ranks highly on the three main aspects of consideration – convenience, efficiency, and weight. This Langstroth beehive features a beautiful construction made from New Zealand pine wood. The kit contains 4 supers and 1 brood box. Each of these can hold 10 frames each. It is lightweight so moving it won't be a hassle. It is easy to assemble and use making it one of the most convenient hive boxes available on the market.
This beehive comes unassembled and has dimension measures 23 x 20 x 11 inches and has an overall weight of 23 kilograms.
Pros and Cons
Pros
Features 4 supers and 1 brood box with pre-drilled fingers for easy installation. Each can hold 10 frames, so in total you can have 50 frames in this beehive.
It comes with an undercut in handle to provide rot resistance and superior grip.
The newly-designed handle offers a superior grip and rot resistance.
The inner cover allows additional entrance and allows excellent ventilation.
This hive box also features a bottom board to protect the hive from predators and insects.
It features an assembled telescoping top made of heavy gauge aluminum and high grade plywood.
Provides great potential for long term growth and expansion as the colony grows.
Cons
On a negative note, the Happybuy Langstroth Beehive Box Kit unfortunately lacks does not come packaged with any frames. You have to buy them separately which means you have to spend a few more bucks to complete the hive.
The manufacturer's product description is confusing. This item actually features a 50-frame setup, but the name suggests a different number. To make it less confusing, the 4 supers and the 1 brood box can hold a total of 10 frames each. It's easy math that's true, but consumers want it direct to the point.
Despite its easy to assemble cuts, this product lacks the instructions which can help first timers.
Conclusion
There you have it. The review on the Happybuy Langstroth Beehive Box Kit is composed to help you decide on your first beekeeping equipment. Despite the lack of frames, it's still an amazing product that you can enjoy and use for a very long time. It is recommended for both the beginning and the veteran beekeepers.
Do you own the Happybuy Langstroth Beehive Box Kit? Leave a comment below and let us know what you think of it.
Check Price