If you purchase an independently reviewed item through our site, we earn an affiliate commission. Read our affiliate disclosure.
Quick Overview
The Goplus Large 2 Frame Stainless Steel Honey Extractor is an affordable easy to use equipment for beginners.
The honey extractor is one of the most essential tools in beekeeping. It is not only ideal for the commercial beekeeper but it also suits the hobbyist beekeeper. The essence of this tool is to boost the speed and yield from your honey business. It not only makes it easier for you to harvest honey from the honey combs but it also ensures minimal damage is incurred on the combs. This makes it easier for the bees to make future honey. To get the best out of your honey combs, extract the honey when it is still warm and just came out of the hive. Honey flows more freely when it's warm. If you want a high quality manual honey extractor then the Goplus Large 2 Frame Stainless Steel Honey Extractor is well worth considering. It has been designed with excellent features.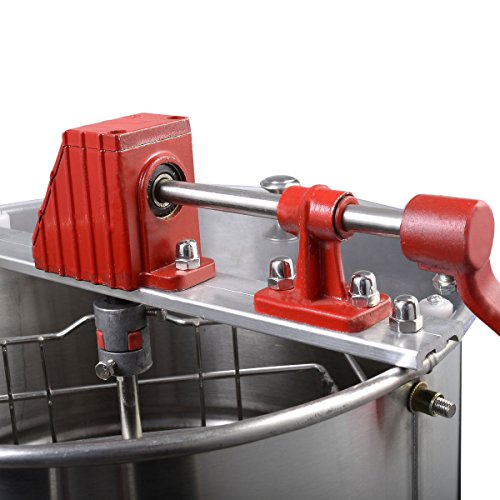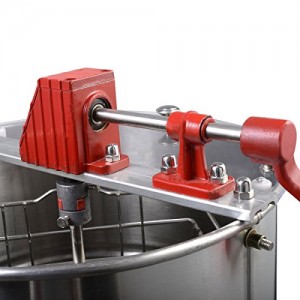 Types of Extractors
You can buy either tangential or radial honey extractors. For the radial baskets, the top bar of the frame faces outwards. The tangential baskets on the other hand have one side of the combs facing outwards. You can also choose between a manual or electric extractor. Each of them has its pros and cons.
The radial baskets are mostly used by large companies that engage in honey extraction as a business. This is due to the fact they depend on the upward slope of the bee comb cells. This makes it easier for them to extract honey with the use of centrifugal force that is applied against the force of gravity. Radial extractors are available in small and extremely huge sizes. You can get a small one that holds 2 frames as well huge ones that are used by commercial companies. The bigger ones are capable of holding up to 100 frames.
Benefits of Manual Honey Extractors
The manual extractor is operated manually using your hands. The only difference between the electric ones and the manual is the electric motor. The manual, just like the electric extractors have a drum with a shaft on which the frames can be attached for spinning. They usually hold 2 to 4 frames.
The manual extractors have the following benefits:
Can be operated in places where there is no electricity.
Less expensive unlike the electricity extractors.
They never take up any share of your electricity bills.
They do not damage the delicate wax combs since the spinning speed is easily manageable while using hands.
About the Goplus Large 2 Frame Stainless Steel Honey Extractor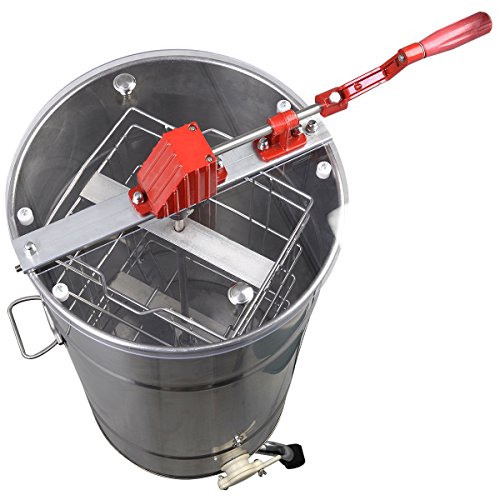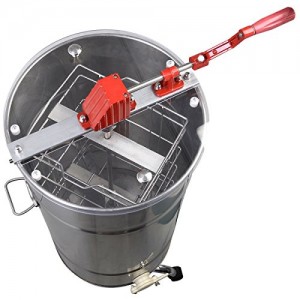 The Goplus Large 2 Frame Stainless Steel Honey Extractor is easy to use and comes at an affordable price. It is ideal for small hobby beekeeper who wants an excellent product for a low budget. It is made of stainless steel that is sturdy and durable. It will serve you for a long period and save time and energy when you extract your honey. It is capable of accommodating shallow, medium and deep frames.
Features
High quality extractor made with smooth stainless steel finish.
It has two lids that help keep debris out.
Can fit shallow, medium, and deep frames.
Made of stainless steel material in addition to a Protactive Film.
Has a product dimension of 15.7 x 30.3 inches in height. It weighs approximately 22 lbs.
It has a stand.
Check Price and Availability of the Goplus 2 Frame Honey Extractor
Pros and Cons
Pros
Excellent for the beginner.
Very affordable.
Easy-to-use.
Has a protective film that secures the stainless steel.
Its two clear lids keep debris out.
Easy to assemble. Takes less than 5 minutes.
Cons
Not ideal for the commercial beekeeper.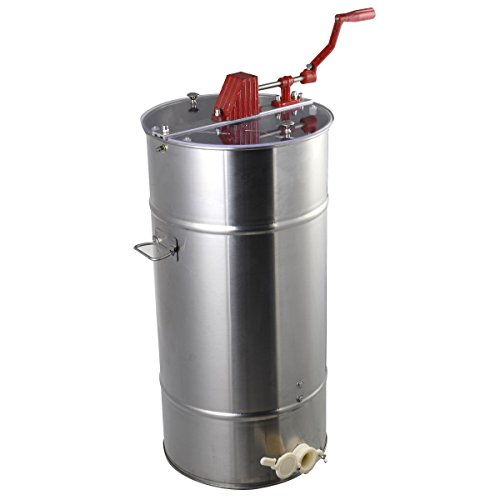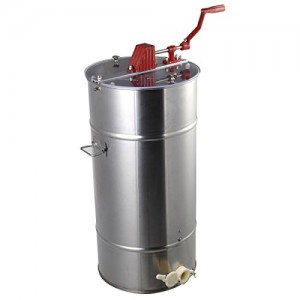 Further Thoughts
I'm overall pleased with the Goplus 2 Frame Honey Extractor, and for the beginners out there, it's hard to be disappointed with it, especially when its price is factored in. It has all you may demand of a manual honey extractor. The fact that it is made of stainless steels that has a Protactive film also adds to its durability.
I was also pleased with the shipping from Amazon. The product arrived quickly with no damages and it took me about 5 minutes to assemble it and I was able to extract honey with no problems, though with this being a manual extractor, your hands are bound to get tired after a while. But it's part of the game, get used to it.
I like the protective film that covers the stainless steel, acting as a nice little extra layer of protection. The Goplus 2 Frame Honey Extractor is also easy to clean, making maintenance less of a hassle.
Conclusion
One of the most enjoyable and perhaps a rewarding part of beekeeping is when you are harvesting your honey. The honey extractor is very crucial when it comes to honey extraction and will make the process of honey extraction easy and hassle-free. Irrespective of whether you are a commercial beekeeper or a hobbyist, you need a manual or electric honey extractor that best meets your needs. The Goplus Large 2 Frame Stainless Steel Honey Extractor works well, especially if you are a beginning beekeeper. It has been built with stainless steel that is covered with a protective film that adds to its durability. Overall, this product is of good quality and comes at a reasonable price. If you are under a tight budget then it's hard to wrong with Goplus.
Have you ever used the Goplus Large 2 Frame Stainless Steel Honey Extractor? Leave a comment below and let us know what your experience was like.
Check Price