If you purchase an independently reviewed item through our site, we earn an affiliate commission. Read our affiliate disclosure.
The Frugal Farms Ultra Ventilated Premium Stingless Master Beekeeping Suit (whew, what a mouthful) is, quite simply, a practical product. Frugal Farms has a number of quality beekeeping products in the market. This premium stingless master beekeeping suit is made of premium 3 layer ventilation foam mesh that is very durable. Strong white plastic zippers with D rings seal up the suit well. You get a comfortable fit with this beekeeping suit, and you can see clearly through the veil – it does not get in the way of a great beekeeping experience. Let's see what makes it so great.
About the Frugal Farms Premium Stingless Master Beekeeping Suit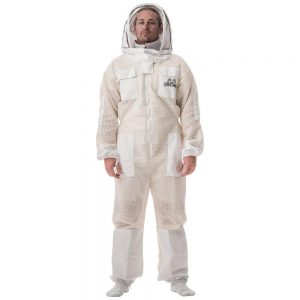 Both professionals and amateurs can find safety and comfort in this beekeeping suit. It is easy to use and maintain. It is very well ventilated to keep you cool. The suit is completely meshed to make sure ventilation is top notch. As for pockets, there are large ones, placed in pairs on the chest area and on the legs where you would find pockets on trousers. Knee pads are found on the lower ends of this suit's legs.
Frugal Farms have put elastic on critical areas of the beekeeping suit. It features elastic bands sewn into the foot and wrist closings. The suit also has thumb holds to keep the sleeps securely in place.
The Frugal Farms Premium Stingless Master Beekeeping Suit works well with other beekeeping safety equipment. Although a full bee suit, it does not come with gloves. It would be necessary to purchase gloves, boots, and a thick pair of socks along with the suit. Make sure to get the best of these accessories, as it does not make much sense to have a protective suit, but get stung on your feet and hands.
Material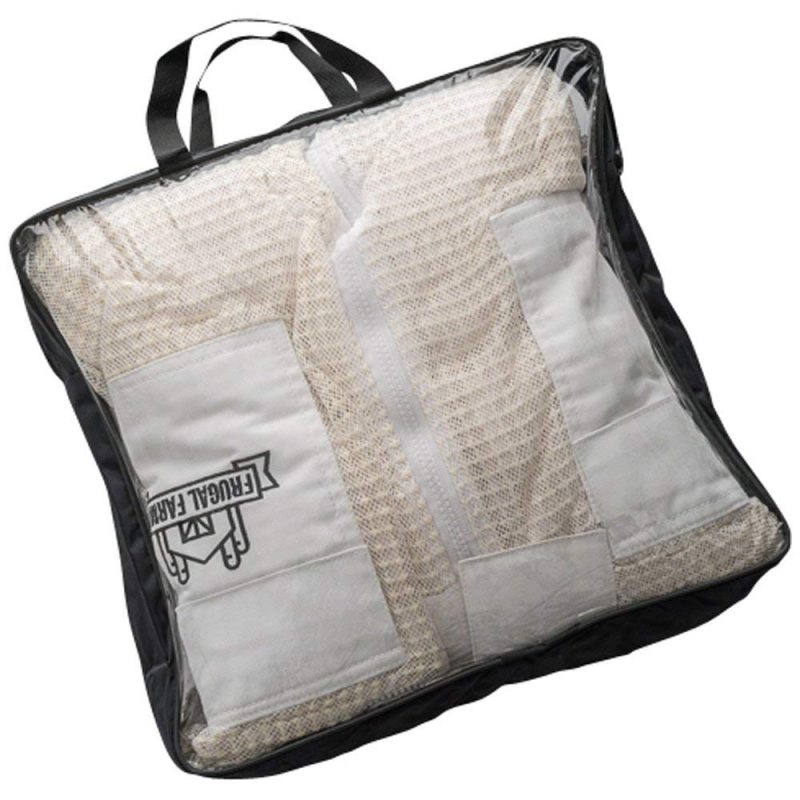 Weight is greatly reduced on the Frugal Farms Premium Stingless Master Beekeeping Suit. The material used is a rubber-type waffled material. It is then layered between net-like woven material. The result is a light durable suit with a thickness that bee stings cannot get through. Not only that, it allows the suit to be highly ventilated and free allow breeze to flow through.
Interaction between beekeepers and bees should not be injurious, and this suit succeeds with its protective, yet bee-friendly fabric. The material does not hold bee stings. Additionally, it does not tangle up bees' legs. This allows the bees that may land on your suit to get off it easily. Those that may try to sting not only fail but get to keep their stings and remain alive. No alarm pheromones are released, keeping the bee colony calm.
Fencing Veil
The fencing veil on this beekeeping suit is also made of the 3-layer foam mesh. It does not cling to your skin and allow bees to sting you through it. The veil has good clearance from your skin at all times. It allows easy working on your bees and beehives. The fencing veil design gives you nice visual angles that are difficult to attain with other veil designs. The mesh on the veil goes to the back of the head to ventilate you.
Color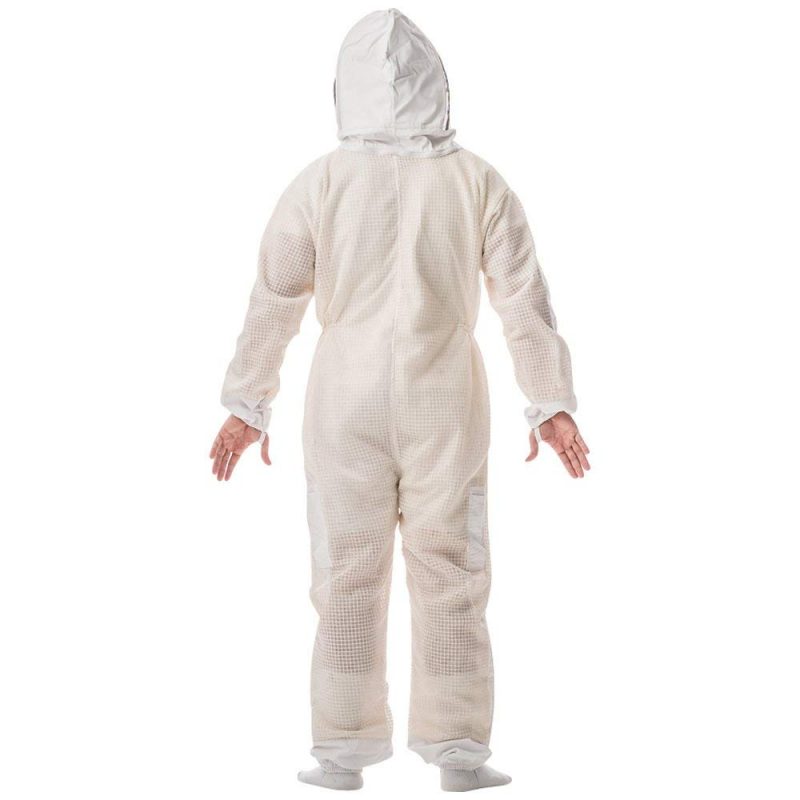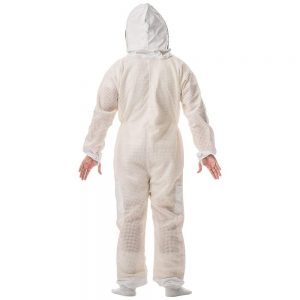 A color scheme following white is seen on the Frugal Farms Premium Stingless Master Beekeeping Suit. The material gives it a hint of cream and makes it very fashionable. This color is light and very non-aggressive to bees. The suit is also able to keep you cool since white color reflects light and heat away. Darker colored suits tend to stir up the emotions of your bees. While you may not get stung, you do not want to stress out your bees during hive visits. A Frugal Farms logo features on the upper front left of the suit. This is great assurance that you are buying a safe and authentic product.
Check Price, Sizes and Availability of the Frugal Farms Premium Stingless Master Beekeeping Suit
Pros and Cons
Pros
This suit covers you from head to toe and is very well ventilated. It is very suitable for use in hot weather. You can feel the breeze through the suit, giving you an awesome time around bees.
The suit gives you excellent protection from bee stings. The material used to make the suit is layered to make sure no stings reach you even if a bee tries.
The veil on the suit is detachable for stowing away and cleaning operations on the suit.
A carrying case made of strong durable material comes with every purchase of the beekeeping suit. This is a great accessory that comes in handy when you are done with being near bees and need to safely store and transport the beekeeping suit.
Cons
Wet weather is a problem when wearing this beekeeping suit. It is not weather proofed. Although, even when wet, it gives protection from bee stings.
The zippers on this suit are made of plastic. These are known to break earlier than metal zips found on other suits in the beekeeping protective wear market. Careful working of the zippers is the best practice to ensure the zips on this beekeeping suit stay working for long.
Conclusion
The amount of money you spend on the Frugal Farms Premium Stingless Master Beekeeping Suit is a fair deal for the protection and comfort you get. This suit is highly recommended for beekeepers in hot regions. Even in the heat of summer, you will go about your beekeeping in a cool suit and get your work done in no time. Purchase the suit in the various sizes you may find it in. Frugal Farm has made available a sizes chart that details the measurements of this beekeeping suit.
Do you own the Frugal Farms Premium Stingless Master Beekeeping Suit? Leave a comment below and let us know what you think of it.
Check Price