If you purchase an independently reviewed item through our site, we earn an affiliate commission. Read our affiliate disclosure.
Do you need pure undiluted honey? Honey as it was from the comb devoid of any form of contamination? The manufactures of this wonderful manual honey extractor – FoodKing – have done the necessary research before coming up with this wonderful honey extractor. The FoodKing 3 Frame Stainless Steel Manual Honey Extractor is indeed an improvement over other components that were before it – at least for now. The manufactures are no pretenders unlike many who come into the fray for purely economic purposes. The extractor comes with the exact specifications needed to get undiluted honey in one of the most hygienic ways that you can ever get today.
About the FoodKing 3 Frame Stainless Steel Manual Honey Extractor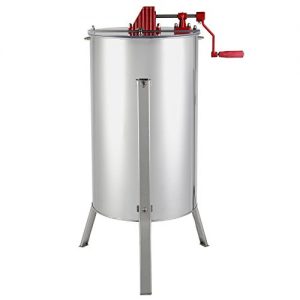 Taking a step in establishing a bee hive is a necessity towards getting honey – for sale or other purposes. But it can becoming quite frustrating when it comes to reaping the dividends and the simple process of extracting the honey becomes problematic. The FoodKing 3 Frame Honey Extractor is designed to bring out the beauty in honey extraction.
Are you experienced in this act of honey extraction? Or put conversely, are you fresh in this business? This manual extractor is designed to suit your purpose in whatever side of the divide you find yourself. It is so convenient to the extent that you can easily have a comfortable view of the honey as it drops from the honey comb through the extractor.
Features
The raised bearing creates an allowance of space between the honey and the extractor preventing the honey from coming in direct contact with the extractor. This achieves two chief purposes:

hygiene is boosted, which is critical to our well being as humans who will be consuming the honey,
makes cleaning of the outer layer much simpler.

It can hold 3 frames at a time. The shallow, medium and deep frames all fit into each other very well without any issues.
It is made of high quality stainless steel material which is coated to prevent corrosion.
It has two distinct separate lids to keep out debris during the process of extracting the honey. With some manual equipment, problem arises when unwanted impurities finds their way into the honey. With the two lids in place in this model, your honey comes out pure devoid of impurities.
The height of this extractor is also an advantage. It is of drum height, convenient and easy to handle. Sn added luxury is the fact that you can conveniently watch your honey as it drips out. The height is 24 inches with a diameter of 15 inches.
One of the problems encountered in extraction of honey is the breakage of the honey comb in the process of extraction thereby disrupting the chain of extraction. With this little giant, the mesh of the basket is in conformity to ensure that there is no breakage of the honey comb.
It is very durable and is able to withstand long, repeated use without any problem cropping up. The stands are sturdy enough to carry the weight of the entire extraction process.
It is great for all manner of beekeeping with the makeup of its 304 stainless material made from steel. The durability is guaranteed. With this extractor, you'll be comfortable with all manners of beekeeping activities that you might want to engage in from the comfort zone of your backyard.
It is a manually operated unit. This means it works well for those who do not want to be limited by electric power. It will also come in handy in case there is a power outage and you are unable to use the electric honey extractor.
Pros and Cons
Pros
Price is very affordable, providing good quality for money.
It is durable.
It is easy to assemble and use.
Convenient and easy to handle.
Easy to clean.
It is lightweight and therefore anyone can use it comfortably.
It does not require electric power to operate.
Conical shaped drum means all spun honey is directed to the bottom of the unit without sticking on walls. This eliminates any wastage. It also makes it easy to clean the unit after use.
Fitted with a stand and legs to make honey collection easy and free from losses.
Food safe unit.
Ideal for all skill levels.
Since it can hold 3 frames at a time you can complete the extraction process quickly with no issues.
All hinges and movable parts of the unit operate seamlessly making the entire process hassle free.
Its overall design is appealing. It is not easy to ignore it.
It does not break the honey combs due to the ways its mesh baskets have been designed. They are slightly rounded towards the interior.
It has an impressive height making it one of the best to use.
Two main lids provide a huge advantage at all times. This serves to ensure the honey is well covered from potential contamination at all times.
The entire unit is not prone to abrasion or corrosion.
Its well-designed bearings are a huge advantage.
It makes it possible to monitor the honey extraction process.
Cons
Plexiglas is not very durable and may even break during shipping.
Poor packaging.
Check Price and Availability of the FoodKing 3 Frame Manual Honey Extractor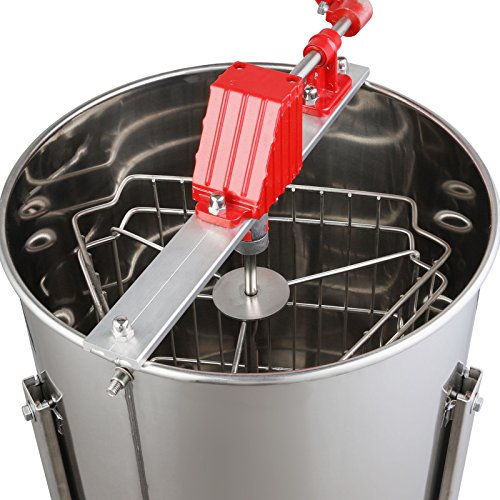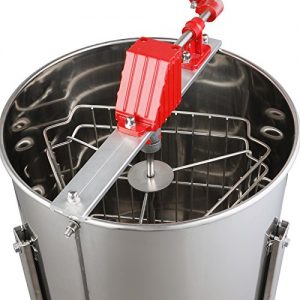 Further Thoughts
One of the things that will catch the eye of any savvy beekeeper upon purchase of the FoodKing 3 Frame Stainless Steel Manual Honey Extractor is the overall design. The stainless steel material makes it a sure catch at first glance. The finishing is also impressive. Checking out its interior you will notice it has a conical shaped drum meaning it does not allow collected honey to stick on drum walls. The mesh of the baskets is also an instant allure. They make it difficult for honeycombs to break during the spinning process. Another great feature that got my attention with this unit is the bearings. They have been raised to keep the honey away from the extractor walls. This means chances of contamination are greatly minimized. It also makes it easy to clean the unit's outer layer. It is also worth noting that this is a manually operated unit and that guarantees two things: you can use it without electric power and will act as an excellent backup to an electric unit.
When it comes to pricing, I love how the FoodKing 3 Frame Stainless Steel Manual Honey Extractor has been priced. Its price is lower when you compare it with similar units across the market. Other brands that come nothing close to what this unit offers cost much more. For the most part, this is one of the units that have been designed with the end user in mind. For instance, when you check out the legs or stand, they are well designed to offer best stability and also allow some space for the collecting jar or container to fit underneath the extractor. This makes your work so much easier and prevents the unit from tipping over when it use. The honey extractor is strikingly lightweight too and that means you can carry it around with ease. This also makes it easy to handle it when in operation. Two clear Plexiglas lids have also been provided to allow the user monitor the honey extraction process. This is a huge advantage since it ensures the entire process is seamless from start to finish.
On the downside, I will be honest in pointing out some weaknesses of this unit. The shipping package that the FoodKing 3 Frame Stainless Steel Manual Honey Extractor came in was a mess. I had to clean it before use to clear the metal shavings. The drum also came scratched up a bit. Common sense is needed when using this equipment to avoid injury from the sharp edges.
While extracting, it did not vibrate like other extractors until it hit top speed. At that speed, I had to hold the drum to control the vibrations. I was able to extract a single hive within a night. I would recommend this extractor to any beginning beekeeping with around 10 hives or so.
As I mentioned prior, the packaging is very poor. I've heard of others saying that the Plexiglas was broken on arrival and that their lids came all scratched up. It's such a shame that FoodKing has treated the packaging as an oversight, because it does affect how one views the final product. Better quality assurance is certainly needed.
Overall though, the FoodKing 3 Frame Stainless Steel Manual Honey Extractor a good performer and I think the price is worth it considering the performance.
Conclusion
The FoodKing 3 Frame Stainless Steel Manual Honey Extractor performs its function well but it is not perfect. Poor packaging and manufacturing defects prevents it from being truly great. However, it has great features and performs its primary function quite well. The pros however far outweigh the drawbacks which are ideally not package related. The price is also impressive. Most of those who have used it are well pleased with it and I also do recommend it.
Have you ever used the FoodKing 3 Frame Stainless Steel Manual Honey Extractor? Leave a comment below and let us know what your experience was like.
Check Price