If you purchase an independently reviewed item through our site, we earn an affiliate commission. Read our affiliate disclosure.
Mason Bees are non-social, native type of bees that pollinate spring fruit trees, flowers, and vegetables. These bees do not live in hives. By nature, they nest on hollow stems, woodpecker drillings and holes found in trees and woods. Mason bees do not produce honey, but they play a vital role in the pollination process. They add beauty, activity and pollination to our plantings. If one you're trying to attract native bees or plan to introduce mason bees into your backyard, then the Crown Bees Mason Bee House set is a great way to start.
This Mason Bee House is manufactured by Crown Bees, a small company which started as a hobby of raising mason bees, and eventually has grown into a business. The company manufactures all materials needed for raising mason bees. These spring mason bees are considered to be central pollinators and will always be the core of Crown Bees's business, hence, they have studied, experimented and came up with a most durable and efficient equipment that produces great results.
The set also comes with a Mason Bee Chalet House and a Mason Bee Nesting Tray.
For more information on high quality mason bee houses, be sure to check out Crown Bees, a highly reputed company specializing in mason and wild bees in the United States.
About the Crown Bees Mason Bee House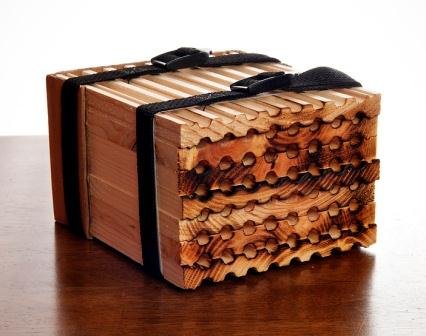 The Crown Bees Mason Bee House is made of northwest cedar. Cedar wood is known for its flexibility and good tensile strength. The outside surface may be painted or stained; however, you should refrain from using wood preservatives as it affects bees inside.
Attached to this chalet is a roof that provides protection from the midday sun or rain. It has a one-inch overhang that protects the nesting holes from water especially during the rainy season. It keeps the straws, trays, reeds and bees dry. On its attic is a room to place a cocoon release box. With a dimension of 10 x 9 x 11 inches, the mason bee chalet house is perfectly sized for smaller stacks of nesting trays.
The Crown Bees Mason Bee Nesting tray includes a forty-eight hole wood tray perfect for 20 to 25 male mason bees. The tray is designed for owners to easily manage their bees during harvest. The nesting trays are re-usable which cuts down on year-to-year costs.
Each tray has side notches that lock into neighbouring trays, and help to keep out pests from entering from the sides. On the front portion of the wood trays, they are arranged at varying depths which are burnished to create a unique pattern that helps with to orient the mason bees.
The Crown Bees Mason Bee House is quite easy to install and I recommended it especially to those who are new or are planning to start mason bee raising. With this product, mason bees are safely kept during the colder temperatures, which readies them for the Spring, where mason bees break their dormancy, and actively pollinate.
Conclusion
You should be careful to not moving the entire mason bee house, especially the trays during the weeks of active nesting. Once the nesting has stopped, mason bee house should be moved to a shelter such as a shed or areas where bees won't be easily disturbed. To see our rankings of the best mason bee houses, click here.
Do you own the Crown Bees Mason Bee House? Leave a comment below and let us know what you think of it.
Check Price