If you purchase an independently reviewed item through our site, we earn an affiliate commission. Read our affiliate disclosure.
The BestEquip Wooden Bee House is a great beehive for getting started in beekeeping, though it is suitable for both beekeeping newbies and professionals. The bee house is a modified beehive with a double slanting roof like a house.
About the BestEquip Wooden Bee House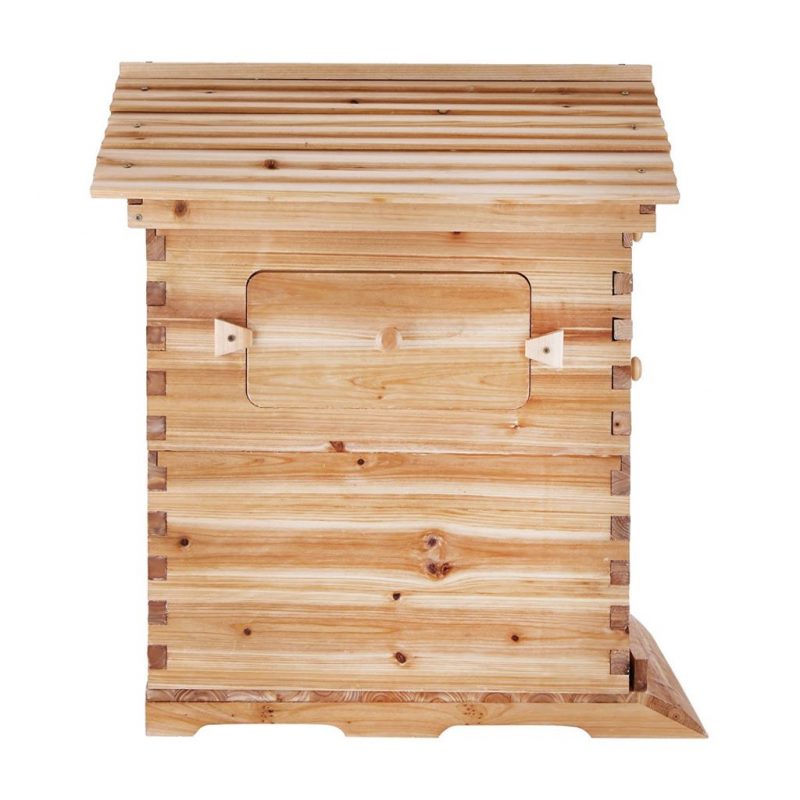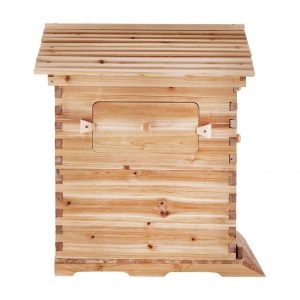 BestEquip has made this beehive quite spacious. It measures an impressive 20 inches long and 16 inches wide. 10 inches of height gives your honeybees ample room for their hive activities. Adequate space in a beehive is important for efficiency. On average beehive compartments measure 19 inches long, 16 inches wide, and are 9 inches high. The extra space in the BestEquip Wooden Bee House is great for breeding and also ensures you have a bountiful harvest of honey. With enough space to store honey, you are sure that your bee colony in will survive winters.
Design
BestEquip was wise when they used pine wood to make this beehive. Pine is light and does not split easily. It also maintains its size with minimal contraction and expansion. With pine wood for your beehive, you keep your honey free of any aromas and tastes that may be found with other types of wood. I like the BestEquip Wooden Bee House due to its ease of hive inspection and maintenance. The application of foundation is also easy on this wooden beehive.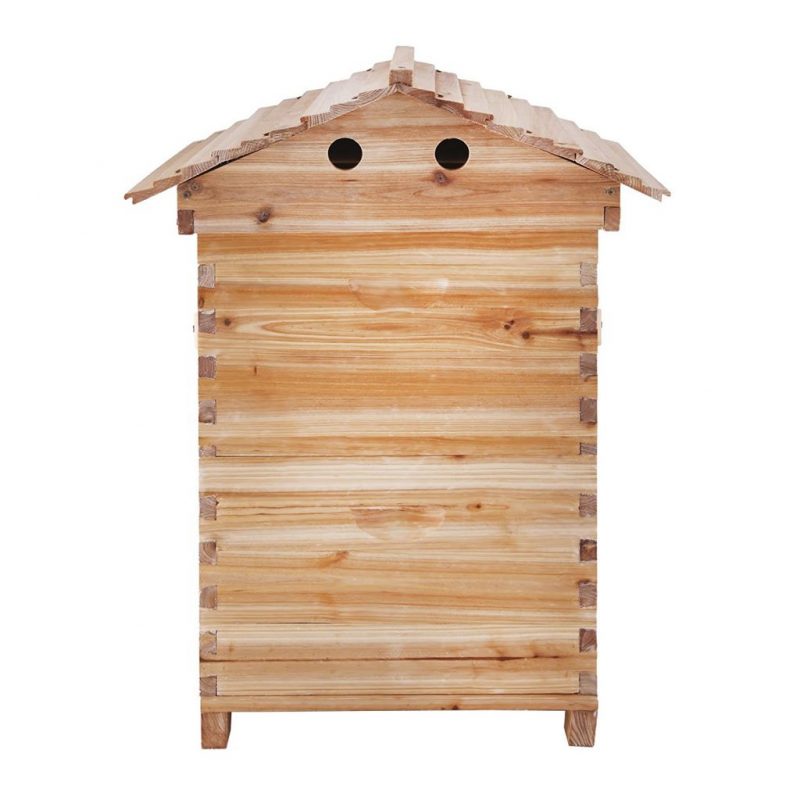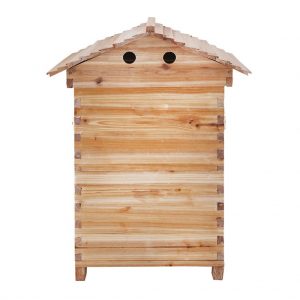 The Roof
In making the roof, BestEquip utilized wood slats. The slats interlock and cascade rainwater down and away from the beehive. This ensures that the environmental conditions of your hive remain excellent for your bees. Water in the beehive in large volumes can be dangerous to the bees as they can drown. The roof keeps out the elements very well. The circular openings on the triangular supports for the roof help in aerating the hive adequately. Between the aeration openings and the hive itself, there is a screen to ensure no animals or insects can get to your bees or honey. If you so please, you are free to add a screen to these aeration openings.
Hive Safety
Safety is a major consideration for any beekeeper. Predator insects and animals such as mice can ransack beehives, spread disease and could make your bee colony migrate from your hive. The BestEquip Wooden Bee House is built with safety in mind. It has an entrance reducer and has a sturdy base for the whole beehive to rest on your elevated stand. The base also allows for an external feeder to hold some water for your bees. Honey bees use water to cool the hive and dilute honey when they need to feed on it during hard times.
Queen Excluder
The BestEquip Wooden Bee House is a Langstroth hive. The Langstroth design is loved because it allows for the easy inspection of the beehive. It also allows for sectioning off the queen using an excluder screen. The queen excluder screen is a mesh or net that allows bees to go through it while keeping the bigger queen bee away from some sections of the beehive.
Viewing Window
A clear panel on one side of the BestEquip Wooden Bee House allows you to easily check when your bees have ready honey. You do not have to open up your beehive, you only need to take a peek.
Assembly
Assembling the BestEquip Wooden Bee House Beehive is quite simple. The kit comes with easy to follow instructions, along with everything you need and all the pieces for the beehive. The only thing left out is the bees themselves (of course). This beehive is built to last; it boasts a lifespan of not less than 10 years. This beehive is a superb piece of equipment for your beekeeping endeavours.
The bottom super of this BestEquip beehive is sold with two dividers. Start putting the bottom brood box together first. It has only four pieces and is pretty much straightforward. For the rest of the sections of the wooden beehive, there are pre-drilled holes in all the pieces. All you need is a good supply of screws and a screwdriver. Just make sure that the pieces are all well aligned and mating well before tightening them up.
Check Price and Availability of the BestEquip Wooden Bee House
Pros and Cons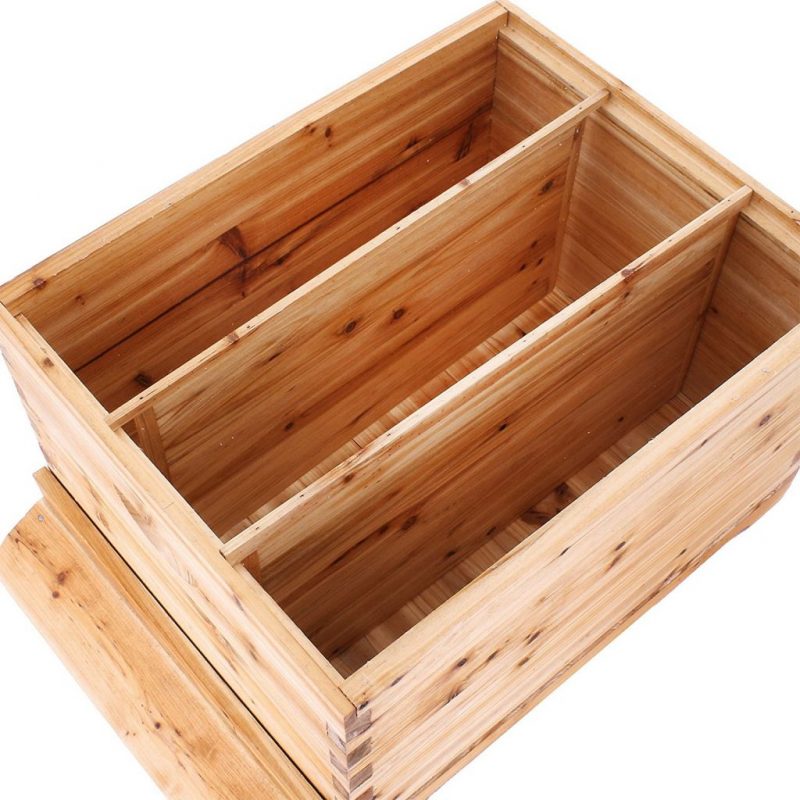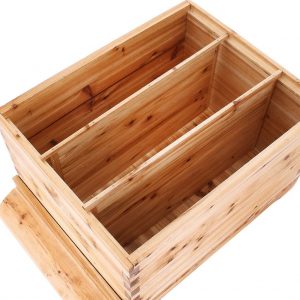 Pros
The size of the beehive gives you and your bees adequate space.
Safety and security of your bees is assured. They are well protected from intrusions by predators. The elements are also very well kept out.
The pine wood used in making the beehive is durable and keeps your honey's natural taste and smell.
Cons
The only weakness of the beehive is the large ventilation holes at the top. There is also some space at the front that may allow intruders into the hive. These however can be easily sealed off or reduced in size to increase the security of the bees in your hive.
Conclusion
Beekeeping is a great form of livestock agriculture. It gives the beekeeper a source of income through the sale honey and other honeybee products. It additionally helps agriculture since bees pollinate plants in their search for nectar and pollen.
The BestEquip Wooden Bee House is a great hive for your apiary. This beehive definitely worth your consideration, as it will allow you to get great rewards from your beekeeping efforts.
Do you own the BestEquip Wooden Bee House? Leave a comment below and let us know what you think of it.
Check Price