If you purchase an independently reviewed item through our site, we earn an affiliate commission. Read our affiliate disclosure.
Beekeeping has been in existence for centuries and the global demand for honey is high due to its many benefits. If you are an aspiring beekeeper then you are fortunate to live in this age of technological advancement. You can now begin and profit from beekeeping thanks to the availability of knowledge and the affordability of equipment. Speaking of affordable, the Best Choice Products 2 Frame Stainless Steel Honey Extractor is one of those tools that are essential in apiculture once the bees are capable of producing a substantial amount of honey per season. However, before we dive into the review of this product, let's talk a bit about the extraction process.
Which Extractor should you buy?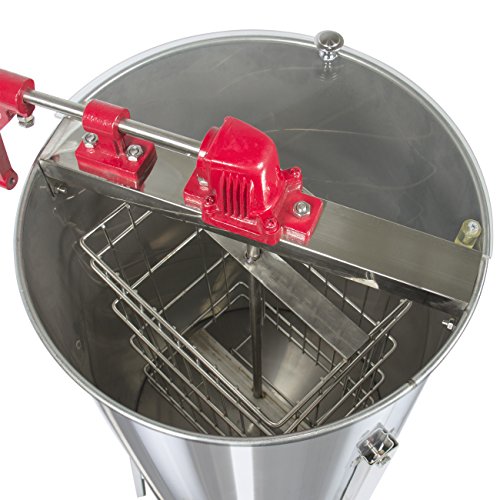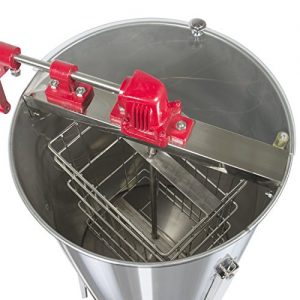 One of the major things to consider before buying any particular honey extractor is the amount of hives you have, or the amount that you plan to have to have. The time it takes to get there should also be considered. One of the best approaches to employ is to purchase an extractor that will be sufficient enough for you when you quit expanding. A honey extractor is an essential beekeeping equipment, so it's purchase should be considered as an investment.
You also have to choose between a manual and an electric extractor. You should also consider its mechanical features. For instance, when you buy a tangential extractor, you have to stop half way when through with the first side. You then remove the frames, reverse them and put them back and extract the second side. You have to repeat this process until the honey is extracted completely from all the sides. If you go for the manual extractor, then you also have to understand how to use and maintain it. Each of these extractor types has their pros and cons.
Basic Honey Extraction Tools and Equipment
Once you are capable to producing honey from your beehives, you should have the right honey extraction tools at hand. These items can be procured from local suppliers but you can still opt for some homemade alternatives.
Honey extractors – utilizes centrifugal force in spinning honey out of the combs. They come in various sizes and styles to meet the varying needs and budget. An ideal one is a model that can accommodate a minimum of four frames.
Uncapping knife – the cells that contain honey are usually sealed by wax cappings. Therefore these airtight seals must be removed before honey is extracted. When you have the uncapping knife, you are able to slice quickly and cleanly through the cappings.
Honey strainer – once honey has been extracted it has to be strained before being bottled. The strainer helps remove the sticky bees, wood, and small bits of wax from the honey.
Other useful tools – a bottling bucket, uncapping fork, and double uncapping tank are also essential honey extracting tools.
About the Best Choice Products 2 Frame Stainless Steel Honey Extractor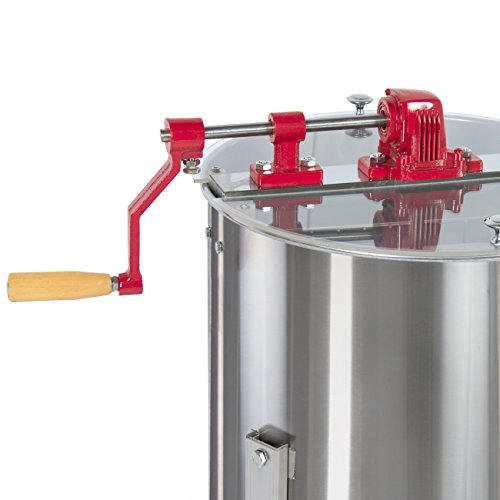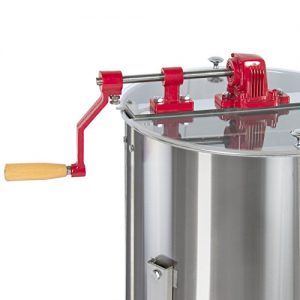 This 2 Frame Honey Extractor from Best Choice Products has been designed specifically to meet the needs of the pro-beekeeper as well as the hobbyist and beginner. The entire unit can be quickly and easily assembled so you can begin extracting your honey right away. It has been made with a strong stainless steel material that is easy to clean and maintain. It also has a sleek and attractive finish. This product also has a metal crank that allows its gears to turn smoothly and efficiently thus facilitating maximum extraction of the honey.
One of the other features that intrigue me with regard to this honey extractor is its clear and double sided lid. This makes it so much easier for me to monitor progress when extracting the honey. You are also able to spin two frames at once using this unit thanks to its 16 inch diameter and 23.5 inch drum height. It also has a honey gate that allows you to collect your honey with ease. Furthermore, it comes at a very affordable price.
Check Price and Availability of the Best Choice Products Honey Extractor 
Features
Stainless steel construction.
Inner baskets which can hold up to 2 frames at once.
It has a solid metal crank which turns the baskets smoothly and quietly.
Product dimensions of 16 x 16 x 38 inches.
Weighs about 21 pounds with a shipping weight of 25.2 pounds.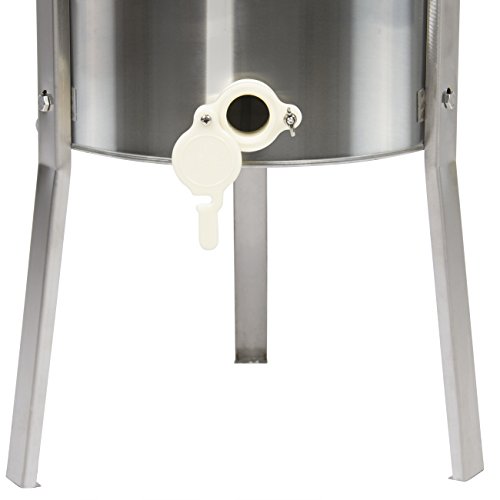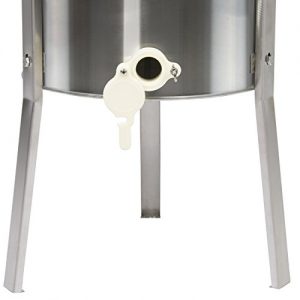 Pros and Cons
Pros
Easy to clean.
Light and easy to carry.
It has a clear lid for monitoring progress.
Smooth and quiet gears.
Easy to assemble.
Excellent price.
Cons
Razor sharp edges on the 3 metal legs, must be careful when handling.
The legs are a bit short.
Conclusion
The Best Choice Products 2 Frame Stainless Steel Honey Extractor is a solid piece of equipment that serves its purpose well. It is easy to assemble and has all you may demand of a standard honey extractor. While advanced beekeepers with plenty hives should consider looking elsewhere for something a bit more heavy duty, this extractor is a great and affordable way for beginner beekeepers to reap their first honey harvest.
Have you ever used the Best Choice Products 2 Frame Honey Extractor? Leave a comment below and let us know what your experience was like.
Check Price