If you purchase an independently reviewed item through our site, we earn an affiliate commission. Read our affiliate disclosure.
The honey extractor is a beekeeping equipment that comes in handy once your beehives are established and the is ready to be honey harvested. Of course, you have to invest in other beekeeping equipment such as the hive box prior to purchasing a honey extractor. In fact, most beekeepers never consider procuring their own extractor until later on, when they are forced to borrow or lease an extractor from other beekeepers. Other essential beekeeping accessories that never come to mind when starting out in beekeeping include the uncapping tool and honey tank.
Fortunately, you do not have to wait until your honey is ready for harvesting so as to begin shopping for these items. Save your time and money by investing early in all your required beekeeping equipment and accessories. The BEAMNOVA Electric 4 Frame Stainless Steel Honey Extractor makes an excellent unit for every beekeeper. It offers all you may ask for from a good quality honey extractor. It is built to last thanks to its stainless steel construction. This material is not only food safe but it also sturdy, resists rust and abrasion and lasts much longer. All inner and exterior features complement the unit's functionality.
Reasons for Beekeeping
Everyone has their own reasons for venturing into beekeeping. Some keep them for the honey, others for fun, and others for environmental benefits. Bees are not only useful as producers of honey but they also play an important role within the environment. Some of the reasons to keep bees include the following:
It is an enjoyable and therapeutic hobby.
Provides safe and healthy source of food.
Helps boost the productivity of gardens and farms.
It is highly rewarding and profitable. Commercial beekeepers make fortunes from beekeeping.
It helps propagate fruit trees and vegetables. This not only increases yields but also helps keep the environment green.
Honeybee products are used widely: cosmetics, hospitals, food stores, industries, and many others.
Bees are used for educational purposes in most institutions.
Beekeeping is a sustainable and clean venture.
Irrespective of your reason to engage in beekeeping, success in the enterprise will only be possible if you have the right equipment for the job. A reliable honey extractor will enable you safely remove the honey from the combs and still leave them clean and reusable for the bees. This means that the bees do not have to make replacement combs.
About the BEAMNOVA Electric 4 Frame Stainless Steel Honey Extractor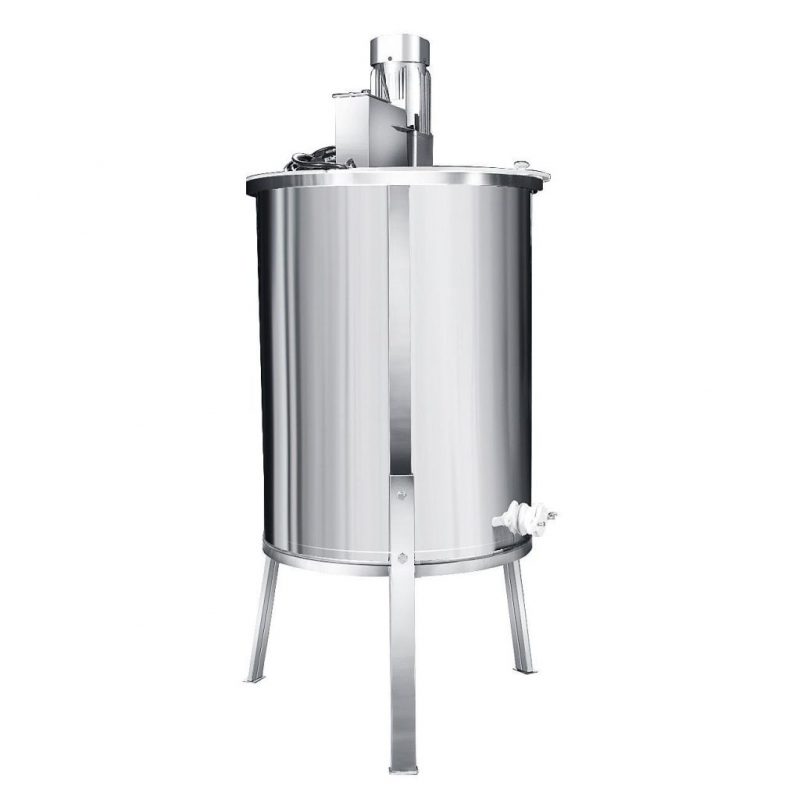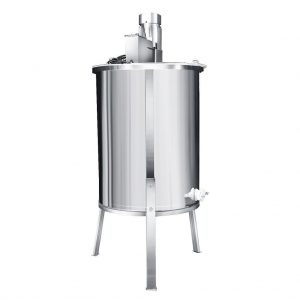 The BEAMNOVA honey extractor is an electric unit that has a drum height of 24 inches and drum diameter of 19 inches. It is powered by an AC power of 110V and its quiet motor is desired by many since a few people desire noisy gadgets. This unit boasts a huge capacity thanks to its stainless steel tank with its height of 24 inches and diameter of 19 inches. It is not only sturdy and strong but it has a well-built base that ensures the unit is stable when in operation. The extractor is also fitted with 2 clear Plexiglass top lids which make it possible to monitor the honey extraction process. You will also be blown away by its conical shaped bottomed complemented by a stopper at the honey outlet. This ensures no honey wastage and drains all that is collected to the bucket set underneath the extractor.
Features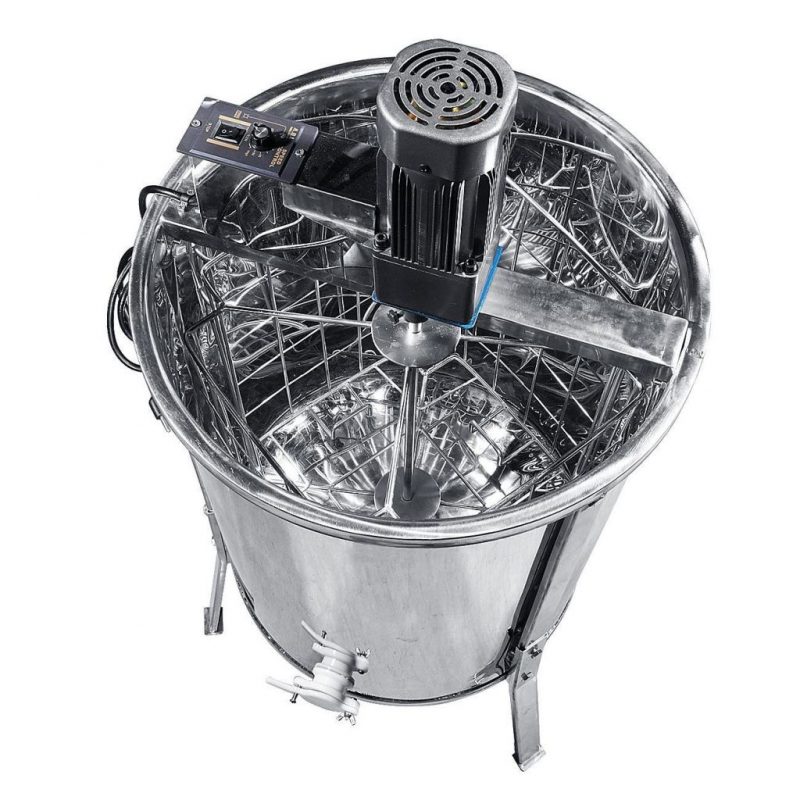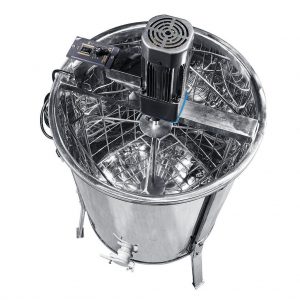 At the top of the extractor are two Plexiglass top lids that are transparent. This is necessary for monitoring the honey extraction process. The lids also helps keep off dust and other unwanted debris or material.
The unit has 4 frames and the drum measures 24 inches in height and 19 inches diameter.
Powered by a 110V AC power and generates power of 120W.
Made of stainless steel and boasts a strong and durable construction.
It is an electric powered extractor that is food safe.
It has 3 legs/stands that allow the beekeeper to place a bucket underneath the unit when draining the honey out of the honeycombs. The total height of the unit is 34 inches with the legs.
The interior of the drum has a conical shaped bottom which helps drained the honey completely out of the drum walls into the honey gate or stopped located at the bottom of the drum. The stopper has an opening of 2 inches.
Its bearings are high-precision so as to guarantee a higher rotation speed and longer life.
The honeycomb basket has slightly rounded mesh which helps prevent the honeycombs from breaking. This ultimately ensures the combs remain in good condition even after spinning.
It fits deep frame size of 16-1/2 by 10-1/4 inches.
The legs or stand are made of stainless steel so as to withstand pressure and last longer.
Check Price and Availability of the BEAMNOVA Electric 4 Frame Honey Extractor
Pros and Cons
Pros
The clear lids make it easy to monitor the honey extraction process.
The unit is built using stainless steel material which is not only food safe but durable and sturdy.
It is an electric powered unit and that means it can complete the work faster and more efficiently than a manual extractor
It has a spacious interior to fit deep frame size of at least 16-1/2 by 10-1/4 inches.
The stainless steel stand or legs are stable and strong. They are also made of stainless steel which is strong and durable.
The conical shaped interior eliminates honey accumulation on drum walls.
Stopper at the bottom regulates honey collection and eliminates any wastage.
Slightly rounded honeycomb basket mesh helps prevent the honeycombs from breaking.
Cons
It cannot fit a 5 gallon bucket underneath the stand.
Further Thoughts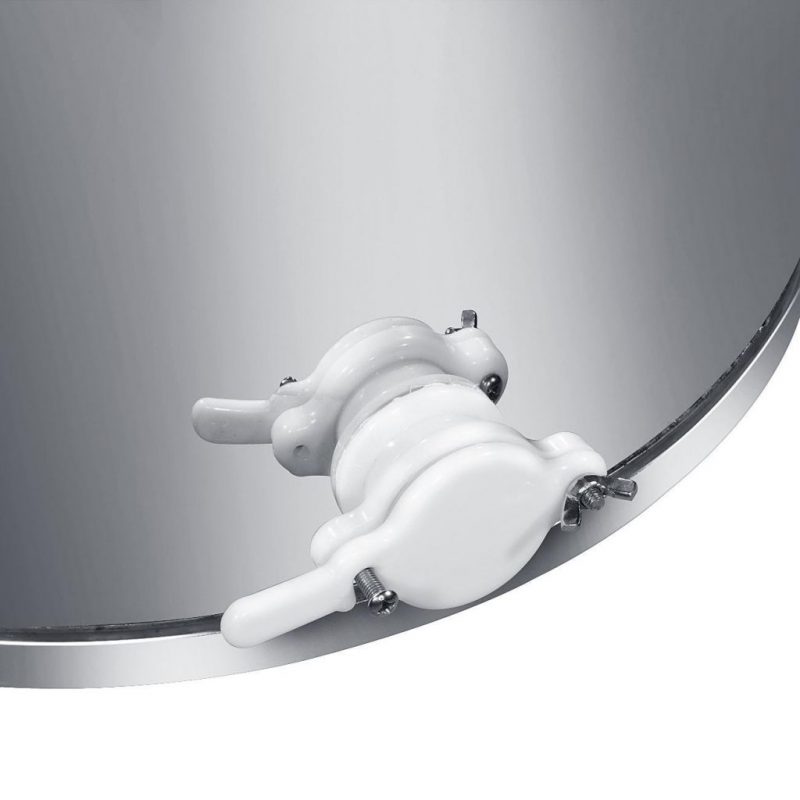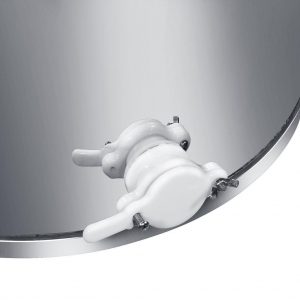 The BEAMNOVA Electric 4 Frame Stainless Steel Honey Extractor offers all you may desire of any electric honey extractor. It has a powerful motor that spins the honeycombs efficiently and its spacious interior can spin a number of frames at once. All inner components are also built in such a way that they do not damage the honeycombs. The transparent lid also makes it easy for the user to monitor the work. This electric extractor will suit both the beginner and professional but for its price, it would be a better buy for an established beekeeper with a dozen or so hives.
Conclusion
Those who need an efficient task master to extract their honey should definitely consider this extractor. The BEAMNOVA honey extractor is efficient, durable, spacious, and appealing. It also has a design that eliminates honey wastage. This is definitely worth your consideration.
Have you ever used the BEAMNOVA Electric 4 Frame Honey Extractor? Leave a comment below and let us know what your experience was like.
Check Price