If you purchase an independently reviewed item through our site, we earn an affiliate commission. Read our affiliate disclosure.
The Arboria 10 Frame Cedar Beehive Kit provides you with everything but the bees. The kit comprises of a telescoping cover, an inner cover, a ten frame medium honey super, a ten frame deep super, a queen excluder, a solid bottom board, 10 deep frames, 10 medium frames and 20 frame foundations. The kit also comes with waxed screws and nails for assembly.
About the Arboria 10 Frame Cedar Beehive Kit
Materials
The supers and frames in this beehive are all made from grade 1 all natural unfinished cedar. Cedar wood is extremely durable and rot resistant. Cedar also resists warping and cracking over time. With qualities like these you can be sure that the Arboria 10 Frame Cedar Beehive Kit will last a long time before any boxes need to be replaced.
Cedar wood traps heat which makes it great for keeping the hive insulated, especially if your bees are from a cooler climate. It also means that your bees will be kept warm during the winter months.
Since this is unfinished wood, you can either paint or varnish your beehive. You can even leave it as is and let it develop a patina over time.
Pros and Cons
Pros
The Arboria 10 Frame Cedar Beehive Kit is the quintessential DIY project. You can easily turn this into a family bonding experience by having your kids and spouse assemble it with you. The beehive is made of unfinished cedar. This means that it is basically a clean slate which you can infuse with your own personal style. It can either be painted in a colour of your choice to add a bit of decorative flare to your yard, or you can use your favourite wood seal on it. If you don't want to do either, you don't have to. Left alone, the hive will develop a beautiful patina with age since the wood has very few knots or blemishes.
Only premium grade 1 Cedar was used to make the Arboria beehive. Cedar is resistant to rot, warping and cracking. The result is a beehive with supers and frames that are strong and durable.
The Arboria beehive comes with everything you need to put it together, right down to the screws and nails. The instruction manual is included and it's very easy to follow so assembly should be a cinch.
New supers can be easily added to the Arboria beehive as your colony grows.
With the Arboria beehive, you won't have to worry too much about keeping your bees warm during the cold winter months. Cedar is a good insulator and will keep the colony comfortable even in harsh weather.
Cons
Virtually every part of the Arboria beehive needs to be assembled, from the supers to the frames. This can be a bit tricky and intimidating to the first time beekeeper. Not every aspiring beekeeper has the time, patience or even the desire to go through the hassle of building a beehive from scratch. They would much rather start their project with a hive that requires very little assembly. Even an experienced beekeeper might shy away from having to take on a mini construction project before they even get their bees.
Cedar is a good insulator, which is a good feature for wintertime but what about during those hot summer months when bees need to be kept cool? How easy is it to increase ventilation or airflow into the hive? So far the Arboria beehive has exhibited no special features that will allow the beekeeper to keep the hive cool and moisture free during days of sweltering heat.
Check Price and Availability of the Arboria 10 Frame Cedar Beehive Kit
Assembling the Arboria 10 Frame Cedar Beehive Kit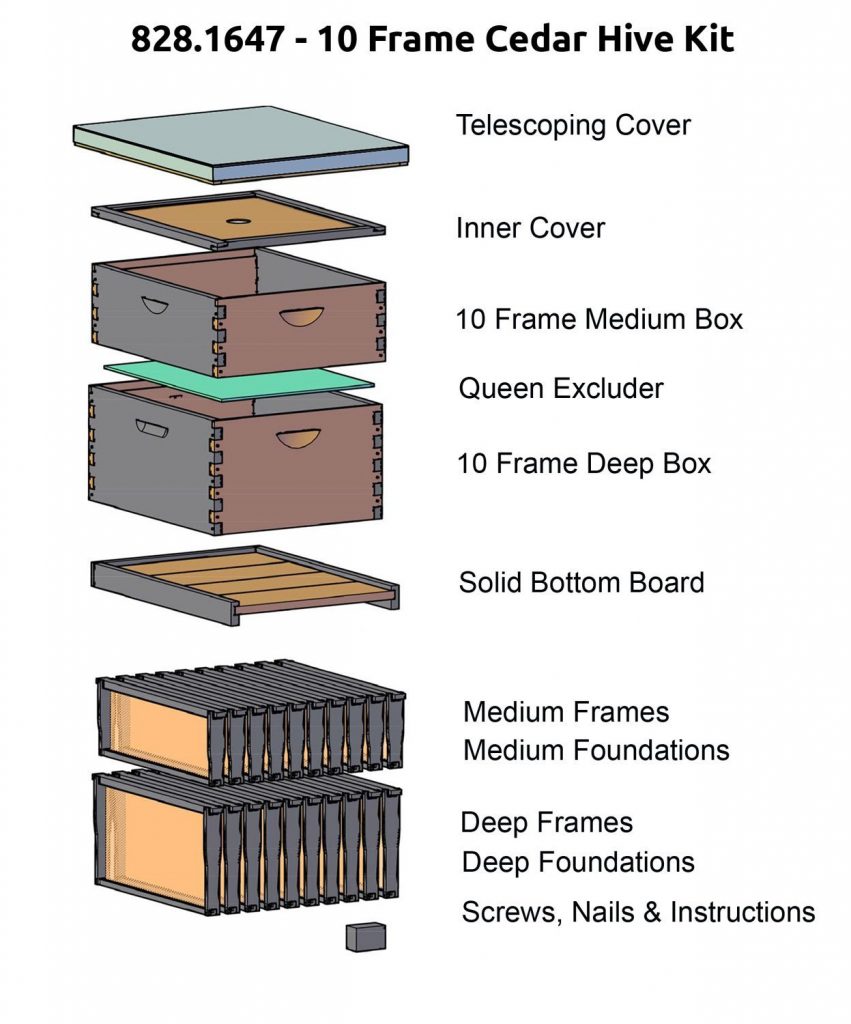 Every aspect of this beehive needs to be assembled by the beekeeper but don't worry, the good people at Arboria have included a complete set of easy to follow instructions. If you enjoy DIY projects then you should have no problems getting this set up. For more information, you can check out our article on assembling a Langstroth beehive.
Putting together the Arboria beehive kit can be a group project or a great way to spend some quality time with your family. Both the frames and supers need to be assembled before any bees can be added to the hive. Along with the instructions, it also includes all the parts you will need such as waxed nails and screws.
After assembling the Arboria 10 Frame Cedar Beehive Kit, you now need to install and care for your bees. Cedar is a natural insulator, so if your bees come from a cooler climate it won't be a problem. The wood will also help keep your bees warm during the winter. Cold weather however is not the only threat that your bees will have to face. Heat and moisture are also dangerous to bees and can affect the health of your hive during the hot summer months. The Arboria beehive has no feature geared towards keeping the hive cool and well ventilated during the summer.
Conclusion
Arboria's 10 Frame Cedar Beehive is a great for an experienced beekeeper who isn't adverse to a DIY project.
Unfortunately this beehive is a bit intimidating and not the best choice for the novice just embarking on their beekeeping adventure. Even with instructions, having to build your own beehive can feel quite daunting to a first time beekeeper. This may very well become one of those things you plan to do but never actually get around to doing.
However kit has everything needed for making a beautiful 10 frame cedar beehive right down to the nails and screws. The cedar wood used in its construction is practically blemish and knot free. Since the wood is unfinished, it is a blank canvas. You can either varnish it or use a wood seal on it. You can even paint it any colour you want. If left alone the wood will develop a beautiful patina over time.
Do you own the Arboria's 10 Frame Cedar Beehive? Leave a comment below and let us know what you think of it.
Check Price